On a home computer, web browsers are a personal preference. (Some people like Coke, and some like Pepsi. And so on.)
But at work, employee browser software is a business tool and an extension of your company. And depending on the product and how it's used, that software has unique benefits and risks.
A few household names in this category dominate the conversation, and the market itself. With more than 4 billion internet users around the world, browser technology is perhaps the most widely used software in history, aside from operating systems.
Another way to look at it is, these "household name" products are at Elvis Presley-level name recognition. Pretty spiffy for little pieces of software.
If you manage an office, or if you just have workers who use smartphones, employee browser software will ultimately affect your business' performance. It is also your best cyberdefense in the minefield that awaits your employees on the internet. We've compiled recent browser statistics to provide a snapshot of this software space. As the Browser Wars continue across desktop and mobile platforms, your company's choice of browser will be a consequential one. These stats should offer insight into the software landscape and the role these tools play in our lives.
General browser statistics
---
Mobile browser statistics
---
Threat and security statistics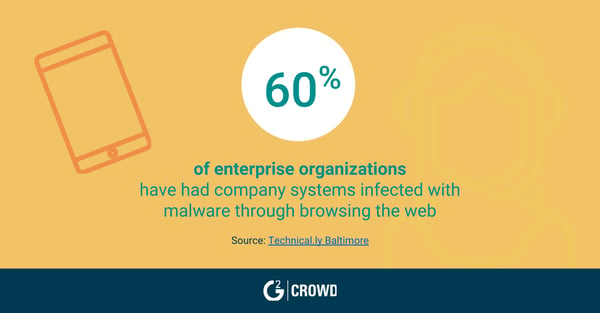 ---
Other browser statistics
---
In our frenzied lives — both at work and away — browsers should not be an afterthought. Each is its own beast, with features and performance aspects that appeal to different groups. You may choose to enforce a certain browser across your organization, enforce certain browsing rules, or recommend a browser to new hires and offer basic guidelines.
Small business security is closely tied to the software your team uses. To keep operating at the highest level, your team's choice of hardware and web browsers is as important as anything. Consider these statistics and test drive some browsers for yourself to best understand their differences and make an informed choice.
And hey! You can also write a review of your experience after using a browser tool to help others on their browser search.