In our digital age, when we are overloaded with information and advertising, the real things we strive for are authenticity and honesty.
Finding a quality product or service is already not enough. We are looking for genuine and transparent experiences, we want to feel good about the brands that we choose and associate with.
Ninety percent of consumers say authenticity is important when deciding which brands they like and support. Authenticity is a critical deciding factor in brand choice for Millenials. For Generation X and Baby Boomers, it's important as well.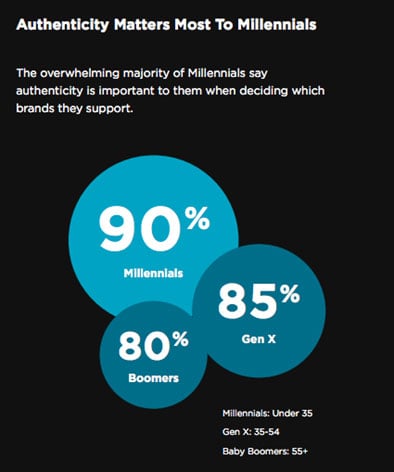 Source: History Factory
That's why we've decided to talk about how to build your brand authenticity and why it's vital for your success.
What is brand authenticity?
Brand authenticity is all about being genuine and real. When you're an authentic company, you're very honest about your mission and values. Your policies are transparent, and you create an emotional connection with your clients.
What's more, you always align what you say and how you behave (the brand) with the shared perceptions of others (the reputation). It helps you bridge the authenticity gap between your audience's expectations and the actual experiences with your brand.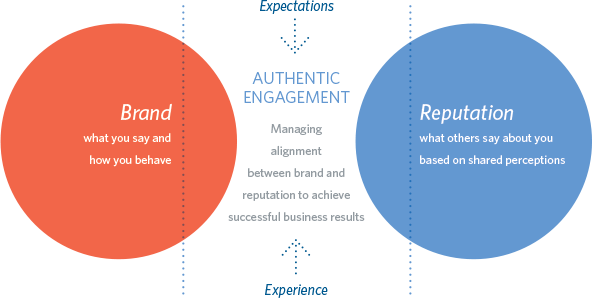 Source: FleishmanHillard

Brand authenticity has four key components:
Continuity (brand being faithful to itself)
Credibility (true to its consumers)
Integrity (brand that cares about the customers and is responsible for its actions)
Symbolism (support consumers in being true to themselves)
How to create brand authenticity
Authenticity has become a big marketing trend, and it's not going anywhere. Your clients want to learn everything about the service they are purchasing, they want to know if you can be trusted, if your brand is true to them, if it stands for what they stand for, and if it helps them be true to themselves.
Let's look at the main ways to build your brand authenticity and grow your business.
Be real and honest
Years pass and many companies can get lost in the day to day routine and forget why they have started their business in the first place. The initial step to building brand authenticity can be coming back to your roots: remembering what your main purpose as a company is, what your values are, and what you stand for.
Obviously, studies show that successful brands have their own clear mission and purpose to support the products or services they sell.
If you want to keep in step with the times, you should totally build up (or maybe find again) the basis of your brand goals and intentions and see what matters to your business, to your target market, and to your audience. It makes building trust and loyalty an easy task. And being authentic and telling your stories about your growth and challenges as a brand will be the next logical step.
Connect through stories
People like to hear stories. Not just promotional and marketing texts but real stories about the challenges your brand faces and how you overcome them to grow your business. Your clients would love to read the stories that add value, educate, answer their questions and give useful tips.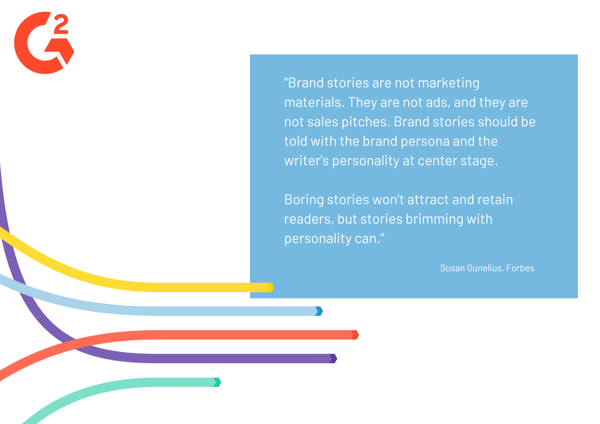 Creating an authentic brand story helps you to connect with your audience on an emotional level and improve trust. Brand storytelling is really the future of marketing. And it's what authentic brands do: they communicate with their customers and always keep in touch by offering them valuable expert knowledge.
Become a trusted expert in your field
You have the insight, wisdom, and practical knowledge in your subject and field of expertise. You probably take it for granted, but your deep knowledge comes from experience, which is extremely valuable for your audience.
Being authentic also means being open to sharing what you have with the world. You don't have to give away your business secrets, but if your company uses a certain approach that no one else in the industry does, brag about it. If you've worked out a useful method, tell people how you got there.
A great way to do it is for a brand to strengthen all the media channels they have — be it websites, blogs, social media, or even communities of brand enthusiasts. Using these channels will help you to engage prospects early and become their trusted and helpful expert advisor. To build brand awareness, drive engagement, and ultimately inspire first and repeat purchases.
Keep your brand consistency
In our modern world when everything changes in the blink of an eye, it's very important for your brand to keep its consistency through all marketing and sales channels you got. This way, your audience can recognize you in an instant and know that your article, video, email, etc. can be trusted.
First of all, make sure that your branding and design are consistent everywhere your content is: on your website, marketing materials, newsletters, and social media.
The digital era gives you all the opportunities to keep consistency in your marketing content by creating digital ebooks and brochures. You can brand such documents by adding your company logo, custom background, and your own color palette to match your company style perfectly. This way, your digital content will always look professional on any device and will help you stand out from the crowd.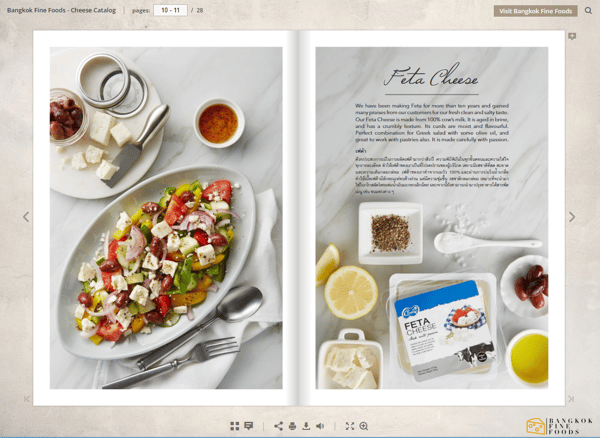 Image source: FlippingBook

Plus, remember to use the same voice and tone in all of your marketing channels. It's an essential factor in showcasing your brand authenticity. Creating style guides can help a lot in this task.
The way you speak to your audience, your brand language, shows what kind of a company you are: all about business, loving to have some fun and giggles, or simply friendly and easygoing.
Create easy and clear communication with your audience
When you've established your voice, the next step is to develop a comfortable communication with your clients. Good communication can work real wonders for brands. The most essential part is to remember that you're not just informing your audience about your news and releases, you're inviting them to find new approaches and solutions together, to discuss pain points and ideas that are relevant to both you and your clients.
A great approach is to be everywhere your customers are. Research what social media they use the most, where they reach out to you, and make it very convenient for them to get their answers and leave their feedback whenever they want.
Because when you're always there to answer your clients' questions, when you listen to what your clients have to say about your products or services, and when you're open and honest with them, it significantly contributes to cultivating your brand authenticity.
Don't forget about innovation
While getting back to your origin and identifying your brand story and purpose is an excellent way to set an authentic foundation, don't forget to look ahead to the future. Keep with all the trends in your industry, stick to high quality standards, and be open to everything new.
In 2017, the top rated authentic brands were chosen not just because of their honest approach and purpose, but because they "continually demonstrate a commitment to innovation." Amazon was the first on this list, followed by PayPal and Burt's Bees.
As you can see, being innovative is one of the keys to establishing a truly authentic relationship with your clients.
Why brand authenticity is so important
Building your brand authenticity may seem like a challenge at first. But it's totally worth it. Because nowadays being authentic is one of the factors that can help your business be successful and can bring many benefits, not only to your customers, but also to your brand.
When you put honesty at the heart of what you do, it becomes much easier to talk about your purpose, uphold your brand mission, create amazing marketing and sales campaigns that will help you raise above the competition. Being simple, honest and true to the values of your brand and your audience.
Plus, being authentic helps you to create your own loyal audience, earn a good reputation, and become a successful brand.
Don't forget that your clients crave for authenticity as well. Because they use brands not just out of necessity, but more to express themselves, show their values and be true to themselves. Brand authenticity matters because personal authenticity matters. By choosing and being loyal to authentic brands, people are also saying something about their personal authenticity.
Want to learn other ways to boost your brand? Check out our resource hub with over 30 unique, useful pieces of content to help you get started.