Your company signs a new client and the email comes in: you're traveling to their San Diego office in November to help with implementation.
You go to book your flight first, and the idea of flying back the same night that your business obligations end is a bit depressing. So the idea hits: bleisure. You book a flight back on Sunday and get a free weekend to hit the beach.
What is bleisure?
A fusion of the terms "business" and "leisure," bleisure is the phenomenon of adding leisure or personal time to a business trip.
Bleisure, one of the hottest business travel trends, can add a whole new element of personal travel to a business trip. Suddenly, traveling for work isn't so bad.
How bleisure is disrupting the business travel industry
The rise of bleisure travel has changed the landscape of business travel for employees, companies, and travel management tools.
Before diving into these changes, it's important to define what bleisure is not in addition to what it is. Bleisure does not mean that you can swap out meetings for sightseeing or expense personal time to the company. It also is not an excuse for expensing personal time for reimbursement from your company.
Bleisure is adding time on a trip for personal use and is paid for by the traveler. You should always check with your company's policy regarding added time before turning one of your scheduled business obligations into a bleisure trip.
We'll examine the various ways bleisure is shifting the business travel landscape from the established ways of going on business trips.
Incentivizing business travel
The benefits of bleisure can suddenly make the hassle of a business trip turn into a perk of being on the job. Bleisure enables travelers to add an itinerary that excites them onto a pre-existing business trip. In fact, 75% of young professionals now view being able to travel for business as a perk, according to a recent study conducted by Hilton Hotels & Resorts.
Bleisure benefits business travelers by providing unique travel opportunities through work. It also benefits companies in industries where travel is plentiful and a necessity of the job. From a traveler's perspective, a travel assignment can now come with an added element of new sights to see and attractions to explore. From the company's side, it is now easier to convince your employees of the benefits of traveling for work if they are able to use the benefit of personal time.
Millennials are known as a generation that values experiences over things. Travel is of the utmost importance to many with the ability to spend money on leisure, and capitalizing on necessary business trips to provide an easy employee perk is a no-brainer for companies looking to attract young, top talent.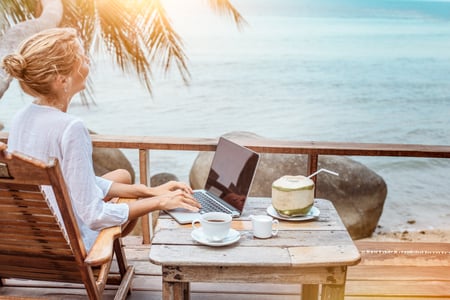 Boosting business in attractive destinations
The opportunity for bleisure travel not only benefits business travelers themselves, but also attracts business to high-profile cities. Conferences are a great example of this, as they are the most common type of business trip that is used as a bleisure opportunity, according to research from Expedia Media Solutions.
Traditional cities for conferences, such as New York, Las Vegas, Orlando, and San Diego, are also all cities that carry appeal for tourism and vacations in addition to having more than adequate space for large business functions. Bleisure increases the appeal for companies to host conferences in cities where there is a strong pull for leisure. In turn, these conferences potentially achieve greater attendance than they would before bleisure became a widespread trend in business travel.
Producing higher quality interactions
An underrated aspect of bleisure is the ability to get to know the destination outside the walls of an office building. From eating at a popular restaurant to attending a concert or sporting event, personal travel allows for multiple ways for a traveler to get to experience the feel of a city.
What is the benefit of this type of experience outside of personal vacation? Getting a feel for a city that differs from one's own can help you interact with those you are conducting your business obligations with that are from that city. It's also nice to be able to find things to discuss with those you meet with, such as the performance of a local sports team or a particular area of the city you find interesting.
Making more productive trips
Overall, bleisure travel is shown to generate more productive meetings and better performance among business travelers than regular business trips. Thinking about the scarcity of time on a business trip is a good way to conceptualize this. With personal time on the horizon, employees are motivated to make the most of their time working when on business trips.
Bleisure creates a trip where instead of the fluidity of work and rest on a normal business trip, there are clear-cut lines between the parts of your trip set aside for work and for leisure. Travelers know when it is time to maximize their work efforts, and then can have a stress-free reward, fully committing to personal time instead of having to balance the two. This clearly-defined barrier between personal and professional time on a business trip will lead to a more comfortable and productive experience in terms of both business and leisure.
Cutting business travel spend
Allowing flexible booking dates for employees via bleisure travel actually helps save companies money on business travel. According to research at SmarterTravel, flights are proven to be more expensive on Sundays, Mondays, or Fridays, days that bookend the week and are most common for business travel.
By allowing travelers to book their trips with flexible dates, you're avoiding flights on the same dates that most business travelers fly, which drives up fares. In a business travel economy where so much money is wasted on employees blindly selecting flights on travel management software without regard for price, having a system in which travelers are able to fly on less popular dates benefits a company's travel budget.
A change for good
With reports (such as this one from the GBTA) suggesting that more and more travelers are extending their business trips for leisure, there is no stop to the bleisure phenomenon on the horizon. Bleisure is creating higher-quality business trips, boosting employee morale, and saving companies money on business travel in the process. Going forward, it's easy to see why this trend will continue to take off in the business travel world.
Bleisure is all fun and games as long as no mistakes happen! Take a look at the 8 most common business trip mistakes to keep your bleisure time as smooth as possible!