Writing a professional email blends writing style, etiquette, and the pressure of having to deliver a key result effectively.
With these factors all in play in the process of learning how to write a professional email, it is easy to lose track of what is necessary to include both in terms of format and substance. This guide takes you through the necessary components of a well-written and effective professional email. Here's what we'll cover:
Writing a better email
This article outlines the basics of writing a better email and getting the points you want to get across delivered clearly, concisely, and mistake-free.
How to write a professional email
An eye-catching subject line, greeting, and opening sentence are important ways to win the time of your email's recipient and have them engage with your email. Think of every sentence as a competition to keep their attention.
A strong opening creates a good chance that you can lock them in for the email and effectively deliver the message you are getting across. Another key aspect of writing a professional email is perfect spelling and grammar. Before sending, make sure your email is error-free and communicates the message that you want delivered as clearly as possible.
When writing the email, keep the length concise and provide key takeaways and next steps for your recipient. By establishing exactly what you want from your recipient, you are providing explicit instructions to get the most efficient and effective response to your email possible.
Finally, be sure to conclude with a cordial sign-off and provide your contact information in your email signature.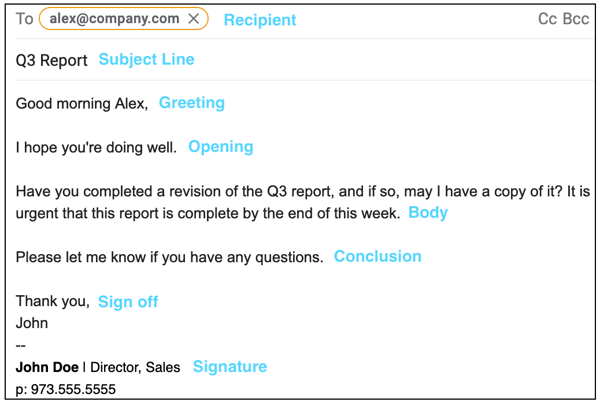 Common professional email mistakes
All too often, professionals fall into the same traps again and again when composing emails and commit these common professional email mistakes. The most widespread mistake made in professional emails is imperfect spelling and grammar. This mistake is easily avoided by proofreading your email multiple times before sending, as well as using a grammar and spelling extension or other AI writing assistant software.
Another trap that many professionals fall into when writing emails is straying too far away from the main takeaways and points of the message. Try to keep emails concise and to the point, instead of trying to impress with didactic language. A lengthier email risks losing the attention of the reader as well as diluting the most important information in the email.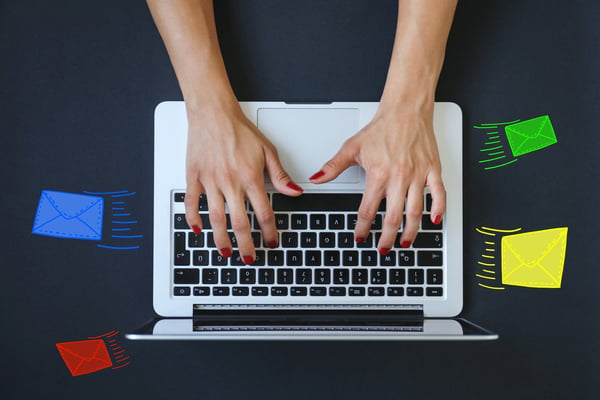 Subject lines that work
The subject line provides an opportunity to grab your recipient's attention as well as provide some context as to what the message will contain. Some of the best email subject lines are so effective because they stand out from the others in your recipient's inbox, either in terms of length or the type of language and message you are conveying.
For attention-grabbing effect, try a simple or single-word subject line. These subject lines will stand out from the rest of your recipient's inbox and beg them to open your email. In higher-stakes situations or when your email contains more important content, try to generate a subject line that is concise but also a good representation of what your recipient will be reading in the email.
Key elements of a professional email signature
Finally, you'll need to end a professional email with a well-executed professional email signature. You should aim to have a signature between 3-4 lines for the sake of readability and not overwhelming the reader with unnecessary information.
Provide an easy way for them to get in contact with you, and feel free to add a headshot and links to professional blogs or social media accounts to further the strength of your professional persona and work. For help developing a well-designed professional email signature, feel free to browse some of the best email signature software.
Summing up
From start to finish, it is necessary to make sure that every component of your professional email has your recipient's interest in mind. Using this guide will ensure that all aspects of your professional email will be effective and of interest to your reader.
This guide to writing a professional email is just the start to sustained professional email success. To check out how to up your email game even more, here's a guide to the best email software available.