When was the last time you asked for someone's opinion before buying a product?
In the current digital age, the incessant amount of advertising is to be expected, but luckily, we've trained ourselves to block out the noise. When it comes down to it, the entire buying decision process has changed over time. We often do our own research before purchasing a product, ask around to get opinions, or take the advice of influencers we trust.
A suggestion made by a friend means a lot more than some dude on the TV telling you how great x product is. People like authenticity and will more likely trust their peers or family members before a marketer whose job is to sell you a product.
This is where the magic of word of mouth marketing comes in.
What is word of mouth marketing?
Word of mouth marketing (WOMM) is the process of encouraging organic word of mouth discussion about a product, brand, organization, or event. WOMM is essentially free advertisement from a customer resulting from a positive experience with a brand.
These customers are considered brand evangelists and openly recommend a brand to their friends, family, or even strangers online. This is incredibly helpful to any company trying to reach more people organically.
In this article, we'll talk about the reasons why word of mouth marketing is so effective and how you can implement it into your marketing strategy.
Word of mouth marketing: the importance
The core reason marketers and companies seek word of mouth marketing is because of how powerful it is.
If your customers are talking about a brand without provocation, that brand's market presence, reputation, and customer base skyrockets. No work must be done when word of mouth marketing is at play. The brand can pull away from trying to get their name out there and focus more of their time on nurturing the customer/brand relationships that already exist.
Why word of mouth marketing is so effective
Before we can understand why word of mouth marketing works so well, we need to look at the trust consumers have in brands. An overwhelming 92% of consumers trust recommendations from friends and family over advertisements. In fact, studies show that when asked where they get info on potential purchases, 46% of American consumers said they ask family members, 45% said they ask friends, and only 37% said they get info from TV or radio advertisements.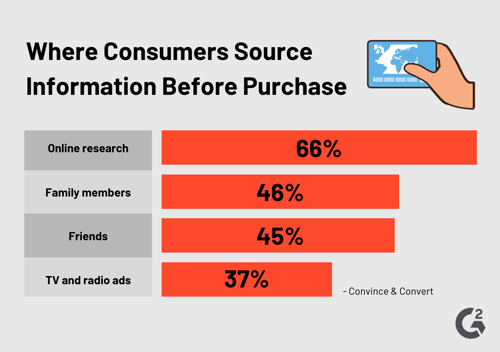 The only answer that received a higher score than asking family or friends was the 66% of consumers that said they conduct their own online search. This data is essential to understand the shift that has happened in the past 50 years. Consumers have less trust in brands and instead turn to people they trust in real life.
Because trust keeps dwindling, word of mouth marketing is the one avenue that will always be in style. Let's talk about what makes this marketing technique work so well.
1. Establishes brand loyalty
When someone is a brand evangelist, they go out of their way to recommend your brand to everyone they can. They love what you bring to the table and believe in your mission. Imagine how powerful it is when someone talks highly of your brand to their friends, family, and followers online. Eventually, those people will favor your brand over others. It creates a domino effect.
That's the power of word of mouth marketing.
2. Increases brand awareness, sales, and market presence without ad spend
Every business wants to get the best bang for their buck when it comes to budgeting.
According to Bain & Co, it's estimated that a 5% increase in customer retention can boost a company's profitability by 75%. How does one increase customer retention? It usually has a lot to do with being transparent about what your brand stands for.
If you can hook customers with your mission, a creative campaign, or a memorable event, you're golden. Instead of having to spend some of your budget on placing ads on social media, you can strengthen the relationship you have with your customers. The simple act of replying to their tweets or liking their posts can go a long way. Take Wendy's Twitter account for example.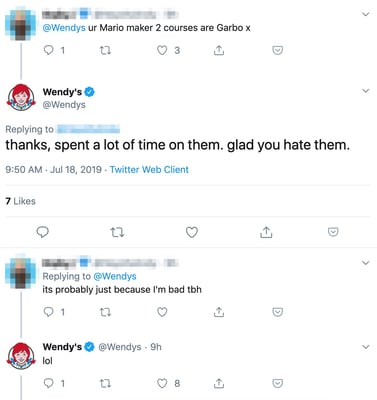 People love tweeting the Wendy's account because they know they have a good chance of getting a reply. The snark of their social media team has captured the attention of thousands online and created loyal customers (not to mention a constant stream of mentions). They've capitalized on their Twitter persona and in-turn, boost their brand awareness ten-fold.
One sassy comment can really make a difference, so don't underestimate engaging with your audience online.
3. It's authentic
Now more than ever, people like authenticity.
When a company capitalizes on word of mouth marketing, a community is being created around trust and authenticity rather than pressuring people to buy because it's what everyone else is doing. It's much more valuable to foster customer relationships that people that are genuinely interested in your product or service than to advertise to the masses in hopes that you'll see an increase in sales.
Building a community of dedicated customers works wonders when you launch new products. They're more likely to buy it just because they already love your brand. Brand evangelists will buy more often, speak highly of your brand, engage with you on social, post about you organically, and in the end, give you a better return on your investment for the time you spent on your strategy.
In short, word of mouth marketing is worth it.
How to use word of mouth marketing
There are a plethora of ways to use word of mouth marketing, but some may work better for you than others.
To even be able to use WOMM, you have to establish a good relationship with your followers first. You may have millions of followers, but do you talk to them? Are they engaged with your brand? Do you know what interests them?
The first thing you should do to get to know your audience is digging into your analytics. Knowing where your audience lives, their age, and the topics they enjoy consuming content about can really help you out when you're planning your next campaign. Think about your audience and create for them.
You can put all of this into practice by choosing the right social media tools. You can use social media monitoring tools to tune into the conversation and track your engagement with social media analytics software. These tools can turn your data into actionable items for your marketing and sales teams.
Related: Ready to put it all together? Browse the best social media suites according to real G2 users.
User-generated content
Content created by your followers and customers can be much more powerful, sharable, and engaging than your typical company posts and updates. Having open communication with your audience can open the door for them to start repping your company online without you even having to ask.
According to Adweek, 85% of users find user-generated content more influential than brand photos or videos. When you see someone standing behind a company online, chances are you're going to be interested in it and check it out for yourself.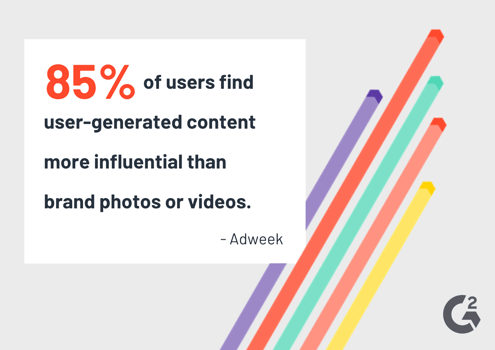 You can encourage your audience to create their own content by holding a contest. For example, say you're a small ice cream shop that needs designs for t-shirts. Instead of hiring a designer to do the work, holding a t-shirt design contest that offers a prize to the winner can be some of the best engagement you'll see. It brings the customer/company relationship to the forefront and everyone wins.
Sharing the designs on social is another great idea. The designers will get a shout out and feel even closer to your company. Repurposing content, no matter where it comes from, is a genius way to get people talking about your product while you enjoy the free engagement that comes along with it.
Your customers may be creating content for you without even knowing it. Their positive (and, if you have a great marketing team, negative) reviews of your company can be used to further justify what you're saying in your blog posts, marketing materials, and advertisements.
Influencer marketing
Influencer marketing is the digital age's best invention. The younger generation is more likely to listen to and take advice from their favorite YouTuber or Instagram influencer than they are a commercial on TV. Integrating influencer marketing into your strategy will widen your reach and boost your reputation.
Running a small business and don't think you can land a major celeb for a collaboration? Micro-influencers are perfect for companies that are just starting out and looking to get their name out there.
Influencer marketing is a win-win situation. Before reaching out though, make sure the collaboration makes sense. If you're a sportswear company, you wouldn't see great results pairing up with a foodie Instagram influencer. Pair with an influencer that would use your product without the partnership deal. If all goes well, both your company and the influencer will see a boost in engagement.
Pop-up shops
Another great way to use word of mouth marketing is to run a pop-up shop.
Brick-and-mortar stores may be the norm but there is an air of exclusivity that comes with organizing a pop-up shop. But it doesn't offer just that. One of the main reasons a company decides to run a pop-up shop is because of customer interaction. Seeing your customers in person gives you the chance to talk to them one-on-one and give them an experience they'll never forget.
Another key benefit of pop-up shops is the design of the shop. If the shop looks cool, people are going to take photos and post them on social media. Create a hashtag for the event so you can go back on social later and collect photos that your customers posted. The social aspect is just another reason why this technique is so effective.
Talk it out
No other marketing strategy can match WOMM in terms of social engagement, cost-effectiveness, and viral content potential. Although the techniques mentioned in this article are a great way to boost your brand within the market, at the end of the day it comes down to offering your customers a good product or service and building a strong connection with them.
If you can nail both, people are bound to talk about you.
Want to learn more about different types of marketing? Click through to read up on content marketing or field marketing.