Running a business is never easy, and when you're selling wholesale – especially when you're just beginning a wholesale business – there will be major problems you will face along the way.
However, if you get it right, there's plenty of potential in this space.
In 2018, the wholesale trade sector was worth about $8 billion in the U.S. alone. The industry is growing, and slightly under a million businesses will operate as wholesalers in 2020. Don't view them just a competition. Consider those businesses opportunities for you to learn, without having to make the most common mistakes.
This guide will help you prepare for some of the most common challenges, plus a few hidden dangers down the road.
Wholesale businesses: explained
A wholesale business is one that sells goods in bulk, and only sells to other businesses. Generally, you're selling large quantities to someone else who will turn around and sell these products individually.
We often think of them as the middle of a supply chain. A manufacturer creates a product, then a wholesaler finds a large market for that product and sells to the businesses and companies operating in that market.
What's new is that the rise of e-commerce for personal shopping is now extending into all kinds of sales, impacting how every wholesaler operates.
All commerce is e-commerce
Ecommerce customers are shaping the way everyone buys products. When corporate buyers and sales reps go home and shop online, they have the same habits as the rest of us. But they're bringing those habits and expectations – such as speedy delivery and high-quality service – to B2B.
Wholesalers need to adapt and understand how ecommerce is creating new demands for their businesses, most of which were possible to avoid even in the early 2010s. So, here's how modern retailers need to react to the ecommerce marketplace.
You have to have a modernized website
Online sales are driving many new sales and traditional wholesalers are faced with new, small competitors that are working in a digital-only arena. To compete, these e-commerce wholesalers are providing everything the customer needs right on the website, and it's all modeled after leading ecommerce services.
So, potential buyers now see high-quality photos and color options on product pages, landing pages highlighting specific deals linked to digital ad campaigns, user reviews, and even deals like free shipping on large orders.
The bulk catalog has gone digital and is including the interactive features you'll find when browsing on Amazon or eBay. But you still have to meet the B2B buying demands of your customers. That means including product descriptions and schematics when appropriate, answering common questions, noting interoperability if you're working in industrial sectors, and much more.
Everything your sales team would say on the phone needs a spot on your website.
B2B faces B2C customer service demands
This screenshot from BigBuy shows off another significant change in the world wide web that wholesale businesses should understand.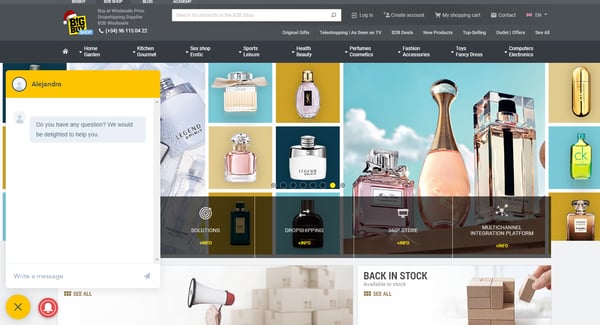 The little chat button at the bottom puts the visitor in touch with a live agent. They're able to ask questions and get answers at any given moment, which is important because websites never close.
Buyers are active 24/7, and customer service needs to step up and be available 24/7.
Chatbots and online help desks give you a way to provide this customer service. Chatbots rose in many B2C environments where products and questions are straightforward. Things like size charts, shipping dates, and refund policies can be parroted by computer programs. Complex questions can then be forwarded to live agents or sent to a helpdesk email.
Your business has all of these options available to it, and the latest round of chatbots can answer more complex questions that your buyers might ask. Things like availability based on volume and production schedule, order minimums, shipment options, carrier requirements, and more can all be answered.
SAP even uses chatbots for its efforts and wholesale partners, using analytics to look at chat logs and see what customers ask, if help is delivered, and to uncover trends.
New channels emerge monthly
Did you know there are wholesalers on Instagram? The #wholesalers is also popular on the service, not only to sell products but also to promote the lifestyle that owning a wholesale company gives to its owners. Social channels are celebrating your business and you.
It's amazing – and it's a great place to find customers, too.
Head over to that #wholesalers page and you'll find a big mix of posts. What you might be most interested in is that you're not just seeing ecommerce wholesale businesses. You'll also find companies selling to regular people at "wholesale prices." And that's likely your audience.
There is a constant flood of new sales channels, and many target the average consumer. Small businesses and sellers know this and often jump in, especially for fashion and beauty brands. Look for the people who are doing this direct selling and getting significant traction, and then perform your sales outreach.
It's going to be much more active and dynamic than many traditional wholesalers are used to, but right now it's also a relatively untapped market. The entrepreneurs dominating Instagram and TikTok, for example, are hungry for a deal. Why not feed them?
Thinking about your customers and their customers in the same place and at the same time leads us right into our next area where today's wholesalers are experiencing challenges.
Shipping for the modern wholesaler
Inventory management is growing more complex, especially as B2B customers start looking for immediate shipping options. Responding to customer demands changes how a warehouse operates, and this growth means companies need to restructure their operations in both workflow and physical layout.
It might also mean you need to keep an eye on the competition to ensure your offerings don't fall behind.
Responding to customer 2-day demands
One of the biggest challenges you're going to face is the growing demand of customers who want to be treated like B2C buyers. That ultimately means looking at expedited shipping options and fast turnaround times for your services.
People want things fast and you're going to need to have the right partnerships and capabilities to meet those demands. This might mean partnering with manufacturers for more direct shipping, running multiple warehouses, or working with 3PLs that understand your growing needs.
The good news is that, as a wholesaler, you've got fewer customers and can expect lower fulfillment and shipping costs.
Shipping via pallets and crates instead of individual orders minimizes the work that your team needs to do to breakdown boxes and ship goods. So, your new efforts will typically be around pre-positioning products at your warehouse and distribution facilities. This method gives you the best chance of having carriers who can turn around and give you fast freight options.
Carriers do make this available to you. However, many have stipulations you should research. For example, FedEx requires advanced confirmation and booking via its Ship Manager for its 1, 2, or 3 business day freight services. Skid sizes and weights also place additional restrictions and approvals.
Take your average order size and contact carriers with this information. See who gives you the best rate for each of your customers' locations and then work to get pre-approvals and other necessary authorizations ahead of the next shipment so you can have the best rate for fast freight.
Scale creates a disorganized warehouse
The ability to scale your operation is necessary for survival, but it's also difficult. Adding new product lines, filling higher orders, expanding into niche markets, and other efforts all compound the work your warehouse team needs to perform. Scaling also takes up a lot more space in the warehouse too.
You'll want to continually look at the physical layout of your warehouse to see how goods move throughout, and where waste might live. Look at how your receive goods from manufacturers and then store them. If a product or crate is returned to you, how is this inventory checked and then added back to your stock if it is okay?
Do orders for different carriers pile up in the same location, making pickups difficult? Is your team keeping up with orders? Are barcode scanners and pack stations able to keep up with higher volumes?
One of the best things you can do is look for a warehouse management system designed for wholesale business needs. Software has improved enough to not only help you allocate orders and perform advanced tracking, but analytics can also help you properly position goods within your warehouse to minimize trip distance and speed up your average order fulfillment times.
The warehouse is largely an internal threat and has internal solutions. However, wholesalers like you also face some external market threats.
The risk of disintermediation is growing
Everyone is looking to grow their margins, leading retailers and manufacturers to try and cut out distributors. To successfully respond, wholesalers must turn threats like dropshipping into new channels and rely on tech to help them provide value-added services that manufacturers can't. Bank on your experience to help weather these storms.
Responding to the danger of dropshipping
Disintermediation is the reduction of the use of intermediaries between the people who make something and the end-customer who uses it. It is an attempt to cut out the middle of a supply chain. Thankfully, many companies are struggling to achieve it while also providing "good enough" customer service to keep buyers happy.
Dropshipping is the baby step of this problem. Instead of having a wholesaler who buys goods and then gets them to retailers, manufacturers are working dropshippers that act just as a storefront. The dropshipper's website takes orders and finalizes sales, but then the manufacturer does the actual shipping to the end-customer.
They're generally focused on smaller orders and niche products or come from a manufacturer large enough to support complex international orders. However, dropshipping usually means weeks of waiting for the end-consumer because the goods they buy are often made and shipped from overseas. To make up for the delay, costs can be slightly lower and margins thinner for the dropshipper – which is okay for them because they've minimized overhead by only working on the sales side of a business.
The wholesale business has two ways to approach this opportunity. First, if your manufacturer is providing this option for others, consider entering into an agreement and trying your hand at it. You could end up with a small revenue channel that has minimal work, paying off nicely.
We've even seen some wholesalers become a dropshipping partner and then do so well that the manufacturer uses that wholesaler to handle all their shipments. The service is good at filling orders and minimizing expenses, so the manufacturer wins as well by not having to scale its fulfillment costs.
That ties into the other way to fight dropshipping: Show your manufacturing partner why it isn't worth it. Work with your partners to demonstrate the efficiency and savings you provide. Note how they only need to deal with one company in terms of customer service or product issues, instead of hundreds or thousands of individual websites. Explain how you're a way to control and minimize their costs.
Tech goes from threat to opportunity
Let's keep rolling with that final point concerning dropshipping. You, the wholesale business, are able to provide a wide range of benefits and advantages for a manufacturer. They and their market are experiencing a lot of change, and they'll be looking for ways to stabilize demand and the adjustments they must make.
You can be that calming influence by embracing technology and providing services that manufacturers can't or don't want to right now. To stay ahead, it's time to look at all this new tech. We're talking beyond websites and chatbots to mission-critical systems such as vendor managed inventory tools (VMI).
Much like a warehouse system automates functionality for fulfillment, VMI tackles distribution automation. It helps you achieve the best rates and order flow, manages the order lifecycle, and can even integrate with your customer's management tools so your warehouse starts prepping an order as customer inventory levels dip toward a resupply threshold.
Not only do you help manufacturers by reducing their workload, but you can help retailers and customers automate on their end to prevent costly stock-outs. When a manufacturer develops a new product – whether entirely new, or a variant such as a new color – your platform can accommodate it and even notify customers about the additional options.
Final thoughts
E-commerce wholesale businesses have a growing place in the modern economy because they're well-positioned to take advantage of the latest technology and customer service tools to meet growing needs.
You have experience handling a variety of customer requirements and demands that manufacturing partners don't. At the same time, you can operate more reliably and deliver higher-quality service so both your upstream and downstream supply chain are able to run smoothly.
Thriving depends on your ability to determine the right technology to use and new channels to seek out, while prioritizing service and availability. The challenges are great, but the rewards are even greater.
Look to G2 for more insight into the future of e-commerce marketplaces for wholesalers and other businesses alike by seeing the top-rated e-commerce tools for your business.