Have an e-commerce business idea?
From learning how to sell on Etsy to discovering the capabilities of Shopify, there are many ways to get started in the e-commerce industry. And why wouldn't you want to get into this business?
E-commerce sales in the United States amounted to $504.6 billion in 2018 and are projected to surpass $735 billion in 2023. Those numbers prove the need for e-commerce platforms like Shopify, WooCommerce, and BigCommerce.
Since Shopify is the current category leader on G2 with five times more reviews than any other product, so let's learn more about what it is and how it works.
What's a Shopify store?
A Shopify store is a shop developed to sell and ship products using Shopify's online selling platform.
People always say if you're looking for answers, go directly to the source. So I interviewed Shopify employee Brian Peters about the e-commerce platform and where he thinks the future of commerce is heading.
If you're here for specific information, feel free to jump ahead using the links below. If not, it's time we learn the basics about the market leader in this multibillion-dollar industry.
What is Shopify?
Before jumping into the inner-workings of Shopify, it's good to get a baseline idea of what Shopify really is.
According to Peters, "Shopify is a commerce platform that allows anyone to sell online, at a retail location, and everywhere in between. Powering more than 800,000 merchants, Shopify provides the tools needed to sell in multiple places, including web, mobile, social media, online marketplaces, brick-and-mortar locations, and pop-up shops."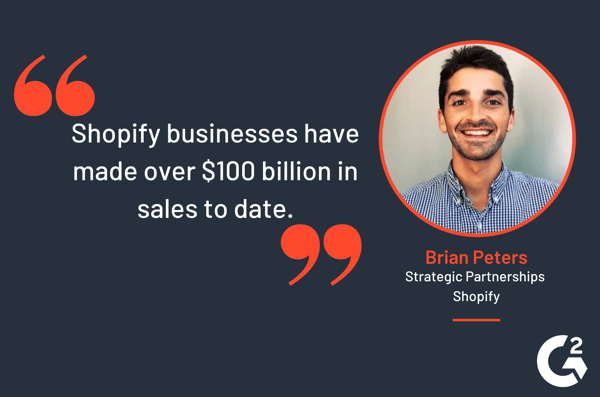 How does Shopify work?
Before investing in a product or platform, it's always smart to learn about how it works. There's an abundance of platforms out there, and each one brings something different to the table with regards to function.
"Shopify is completely cloud-based and hosted, which means there are fewer security concerns about upgrading or maintaining software or web servers," said Peters, "this gives you the ability to access and run your business from anywhere with an internet connection."
Tools like a payment gateway, customizable templates, and domain names are included within the Shopify platform.
There are different pricing plans that allow you to "make your store work for you," Peters said.
Because learning how to build an e-commerce website is intimidating, Shopify provides support for any and all questions you may have.
New Shopify owners often times struggle with being profitable, but once you determine a Shopify pricing strategy, you'll be making money and not losing it.
How much does Shopify cost?
Like most e-commerce platforms, Shopify offers a free 14-day trial. E-commerce platforms are more than just a website for selling dog socks or coffee mugs. Depending on the software and the package they have things such as:
Online Store (Includes e-commerce website and blog.)
Unlimited products
24/7 support
Sales channels
Manual order creation
Discount codes
Free SSL certification
Abandoned cart recovery
Print shipping labels
Fraud analysis
Shopify POS app
Hardware peripheral support
Third-party POS apps
After your trial, there are three different plan options from which to choose: Basic Shopify, Shopify, and Advanced Shopify.
Basic Shopify
This plan is $29/month and includes two staff accounts. Other than that, there are no extra perks.
The online credit card rates of this package are 2.9% + $0.30 per sale. There is also a 64% shipping discount within this plan.
The Basic Shopify plan provides the basics for starting a new business.
Shopify
This plan is $79/month and includes five staff accounts, gift cards, professional accounts, USPS Priority Mail Cubic® pricing, register shifts, and unlimited Shopify POS staff PINs.
The online credit card rates of this package are 2.6% + $0.30 per sale. There is also a 72% shipping discount within this plan.
The Shopify plan provides everything you need for a growing business.
Advanced Shopify
This plan is $299/month and includes 15 staff accounts. On top of all of the benefits the Shopify account has, the Advanced plan provides advanced report builder and third-party calculated shipping rates.
The online credit card rates of this package are 2.4% + $0.30 per sale. There is also a 74% shipping discount within this plan.
The Advanced Shopify plan provides exclusive features for scaling your business.
Shopify success stories
Now to the fun stuff. It's always nice to see examples of success so that you can use their story as inspiration for your own shop.
According to Peters, "There are almost too many interesting Shopify stores to count! From small mom-and-pop shops to shops generating more than $1B in annual GMV, the Shopify merchant community is truly incredible."
Below are three Shopify stores that Peters highlighted as his favorites in 2019. These can help inspire your business plan and show you all the possibilities within an e-commerce platform.
- Tattly
Shopify alternatives
It's always best to make the software work for you, not the other way around. Each platform brings something unique to the table. The platform you chose will ultimately depend on your company's budget and goals for the fiscal year. There is no one size fits all, so be sure to check out other top performing platforms.
Together these e-commerce platforms work to provide the best-in-class solutions for sellers and personalized experiences for buyers.
The future of commerce
Technology is ever-evolving. With new platforms, tools, and businesses popping up every day, it's hard to get ahead of the curve. The future of e-commerce is bright, with all sales projected to grow in the next 10 years.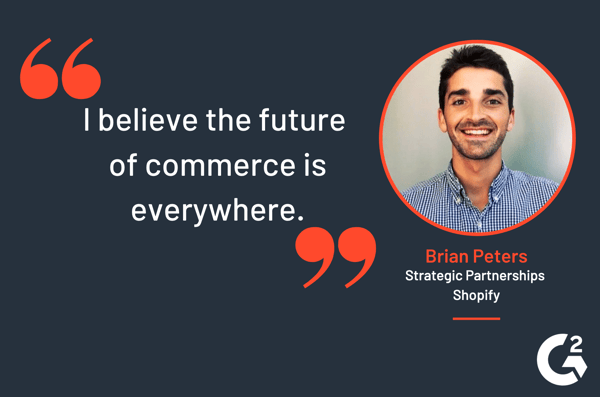 "What I mean by that is that right now, buying a product is fairly straightforward: You visit a store, retailer, or marketplace online or you visit a store in-person and you purchase a product, said Peters, "In the not-so-distant future, consumers will be able to purchase products wherever and whenever is convenient for them using a suite of new technology. Some experts refer to this as headless commerce and some call it multi or omnichannel commerce. Whatever term you use to describe it, this future will be powered by merchants enabling seamless shopping experiences from one place to the next."
Research, then buy
When looking for a platform for your e-commerce business, always research what each platform has to offer and what others are saying about its ease-of-use and overall function.
---
Are you an expert on a specific industry? Join G2's Guest Contributor Network to share your knowledge with more than 1.5 million monthly readers.