Education is constantly in flux.
Knowing this, education-based technologies have to be as well. The education sector has recently been implementing advancements in education technology from the elementary level to post-secondary ed. These technological additions include educational hardware and software for both students and educators.
What is edtech?
Edtech, short for "educational technology," is the implementation of technological resources to improve education and learning. Edtech comes in the form of physical hardware and computer software as well as other technological tools to enhance learning at all levels.
How has edtech changed over the years?
If you think edtech is a new phenomenon, you might be surprised to learn about its history. Education has always been ripe for innovation, and technology is constantly changing how we learn. While edtech seems to be trending in 2020, older forms of educational technology had already been a regular part of classrooms throughout the years.
Not convinced? Let's look at an example:
Graphic courtesy of Lauren Pope
Though some classrooms utilize a combination of the above technologies, many are trying to break into the 21st century with tech advancements and innovations to keep up with their students' unique and varied needs.
4 benefits of AI in education:
AI in education in 2020
As edtech evolves, artificial intelligence continues working its way up the education ladder. We've seen a shift in attitude when it comes to using technology in the classroom. What was once seen as a distraction to some student learning is now becoming standard in the classroom. Instructors are becoming more comfortable with the idea of students using laptops, tablets, or their cellphones in the vicinity of a learning space. Technology is not only welcome, it's encouraged with open arms.
Seventy-four percent of educators believe that marrying education and technology together improves overall student motivation. With nearly 3/4ths of all instructors believing that edtech is useful and necessary for engaging students, it's unsurprising that more classrooms at all levels are trying to implement advanced technologies like artificial intelligence in their day-to-day instruction.
Technology in the classroom isn't something that's meant as a replacement for traditional instruction; rather, it's being used as a supplement to traditional learning. The purpose of using AI technology in the classroom is to assist students who learn differently or who need extra help as well as instructors who want to speed up and automate monotonous administrative processes.
To see where instructors are most readily utilizing AI in their classrooms in 2020, read on for four examples you can use to bring your classroom on board with artificial intelligence edtech.
1. Provide in- and out-of-class teaching/tutoring assistance
Most students could benefit from tutoring, regardless of if they are highly-skilled or struggling to keep up. Due to natural fear of failure and judgment from their peers, students who have questions about the material you're teaching may feel too afraid or anxious to speak up, raise their hands, and ask for additional help.
On top of that, many classrooms have an overabundance of students, meaning one-to-one instruction time is nearly impossible. For some students who learn best with a hands-on approach, they need one-to-one instruction to succeed to the fullest degree. However, in standard classrooms, something like this is nearly impossible.
As a solution, researchers at MIT in the Personal Robots Group have come up with a plush-like AI robot companion who acts as a tutor, educator, and friend. Tega, the educational bot was created as a platform for young children (early elementary and below) to amplify additional education opportunities. Tega is capable of speaking, moving, answering questions, and projecting seemingly human-like emotional expressions.
As seen in the video below, Tega is used as a secondary assistant to what the students have already been learning in school: vocabulary, reading, and most importantly – speaking. Developing linguistic skills is crucial for preschool-aged children, and this is the main goal of the Tega bot, which can be used at home and in the classroom.

As you can see, the language understanding isn't perfect, but Tega is utilizing natural language processing (NLP) as a means to communicate with the student, giving a more natural, conversational interaction between the robot and the student. Something like Tega helps with word association, person-to-person interaction, as well as reading, speaking, and inference skills.
Although Tega is intended for preschool to young elementary-aged children, similar educational robots already exist for older students at higher education levels.
2. Schedule conferences and meetings with parents and students
For elementary and high school-level instructors, meeting with parents is not only a wise thing to do – it's mandatory. Because of parents' busy and conflicting schedules, it may be difficult to find a meeting time that works for both you and the parents.
Whether it's for a parent-teacher conference, to discuss something that happened with their student, or to provide additional assistance and recommendations to parents, finding innovative ways to schedule meetings and meet remotely is something that artificial intelligence can help with.
As an instructor, your schedule is already inundated with meetings, deadlines, and personal business that potentially overlaps with work-related functions. To better manage your time, you might benefit from using online appointment scheduling software that can automate meeting creation for you.
Websites like x.ai use artificial intelligence to automate scheduling meetings by providing you with a personal assistant bot who helps take care of the stress and mess of finding time in your calendar to meet with parents, other instructors, and your friends – you do have a life outside of work – we know!
Image courtesy of x.ai
As shown above, x.ai is a web-based service where users can get appointment scheduling help from a personal chatbot who takes the pain of scheduling meetings away. You can access it via your calendar, email, their webpage, or your Slack account.
Although x.ai is not a free service, first-time users can try them out with a 14-day free trial to see if AI appointment scheduling software is right for your needs!
TIP: Want to learn more about x.ai? Read real customer reviews to see if they're the right AI scheduling platform for you!
After scheduling a meeting with a student's parents or one of your coworkers, you can choose to either meet them face-to-face or have a video conference use to meet remotely. Something like this benefits working parents as well as you. Let's say the parent of your struggling student is only able to meet on the weekends. If you're comfortable using your Saturday morning for a remote meeting, you can do so from the comfort of your home office or a local coffee shop via a video conference. Quick, easy, and painless – as long as you use the proper video conferencing software!
3. Allow homebound students to attend class remotely
Students who are homebound or hospital-bound, whether due to illness, extenuating family circumstances, or something else that prevents them from regularly attending classes in person, are able to utilize AI technology to be in class without physically sitting inside of the classroom.
Technology like VGo, an interactive robot that integrates video technology and mobile capabilities, has been beneficial for students who are physically unable to go to school. For students like Mason (featured in the video below), Leukemia and other diseases can hinder active attendance and participation in school activities.

Rather than subjecting a child to an in-home tutor, online classwork, or something else that distances them from human interaction, VGo allows students to pseudo-physically attend classes and interact with their peers. This keeps students engaged and prevents them from falling behind in their coursework.
This AI-powered robot is controlled by the user via the internet, along with a connected computer and video camera. Thus, the robot can move around the classroom, look face-to-face in real time with student peers and the instructor, and allow the remote student to feel like they are a part of the classroom in terms of social and educational interaction.
Even in television pop culture, the idea of robotic mobility is explored, albeit in a humor-centric manner.
4. Receive feedback from students via chatbot technology
At the end of every academic year, instructors at all levels – but specifically high school and college – administer evaluation forms to receive feedback on their performance from their students' perspectives. To do this, instructors have historically used paper feedback forms that were then placed in an envelope and taken down to the front office by a student volunteer.
Recently, however, many schools have required both a paper evaluation and an online evaluation, or an online evaluation alone. While online forms were intended to persuade students to actually complete the evaluations (in a timely manner), they often backfired in actually convincing the completion of online evaluation forms.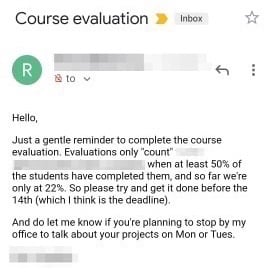 The implementation of online evaluation forms was imperfect from the start; although students were prompted to complete them, they could easily delete the reminder emails and go about their day ignoring the request.
So, if classrooms got rid of paper feedback forms and online questionnaires are imperfect, what's an alternative that instructors can use?
Chatbots!
Chatbots, or "chat robots," are AI-powered conversational robots that can be accessed online, either through a website or independently via a link or social media site, like Facebook. Chatbots are becoming widely used in industries like retail and marketing. Outside of business industries, they can also be used in the education sphere.
The main purpose and benefit chatbots provide is answering questions and providing solutions to people's problems. That means if instructors decide to build a chatbot programmed to interact with and ask questions to students, they will be able to respond in real time as if they were sending instant messages to their friends. Instructors can have their students access the chatbot while in class so that they can respond to questions about the instructor's methodology, the class difficulty, and feedback on improving the course structure altogether – all while remaining anonymous.
The growth of edtech beyond 2020
It's obvious that as edtech is skyrocketing into the educational sphere, more artificial intelligence advancements and technologies will be implemented into the learning processes of instructors at every level.
While education is one of the many fields safe from total automation, using AI to benefit student learning is something that will continue providing positive results overall.
Want to learn more about artificial intelligence innovations? Read about how AI is positively impacting the fields of marketing and healthcare in 2020!