Any relationship, personal or professional, can be dictated by first impressions.
The importance of a cordial welcome applies to the relationship between your brand and its newsletter subscribers just as it does anyone else. After you've mastered how to build an email list, you'll want to begin your relationship with your subscribers on the right foot. To accomplish this, a welcome email is necessary to send to subscribers once they sign up for your newsletter.
The welcome email serves a few key purposes. It confirms your subscribers' engagement with your brand, sets expectations for what they can get out of your newsletter, and inspires further actions you can expect your subscribers to take related to your brand.
A Return Path study that monitored 100 top retailers' email campaigns found that only 75% of retailers even sent welcome emails in the first place, and those that did found higher performing emails in terms of subscriber engagement.
5 reasons a welcome email is essential:
Timeliness
Establishes a friendly and familiar brand identity
Helps recipients further engage with your brand
Can add social media clout
Finds the most engaged subscribers
In this article, we'll go through these elements of a welcome email that show how essential it is to start your email newsletter with one.
Why a welcome email is essential
When your subscribers sign up for your email newsletter, chances are they'll be thrilled to receive an initial source of outreach from your company. The welcome email provides a way to make an immediate impression on your subscribers with a friendly introduction to what they can expect from your email newsletter. Here are five reasons why your email campaigns absolutely must begin with one:
1. Timeliness
The welcome email is the proven best time to reach out to your subscribers. Your brand is fresh in their heads after they have just signed up to join your email list or engaged with your brand via a purchase, and reaching out with a welcome email is a perfect time to extend your stay in the minds of your subscribers.
The quick timing of a welcome email also allows the sender to enable a few different attention-grabbing techniques (potentially enlisting the help of email marketing software) that can actually warrant a click from your reader with your brand fresh in their mind. An eye-catching subject line can differentiate your email from others in the subscriber's inbox, and the timeliness of your email right after an engagement can trigger further engagement right away. A strong call to action for a special deal can also be employed here to capitalize on your recipient's current interest in your brand.
2. Establishes a friendly and familiar brand identity
Just as you would extend a sense of general courtesy and politeness if you were welcoming someone into your home or office for the first time, the welcome email provides your brand with an opportunity to show respect and care that they may not receive from other brands.
To make subscribers feel that your brand does care about them, feel free to add personal touches to your welcome emails such as personalized names, locations, or deals for your subscribers based on any history they have with previous engagements in your company. Personalization is a key component of any email marketing campaign. Including a personal appeal to subscribers right off the bat in your welcome email enables your brand to appear that it does appeal directly to the personal interests of your customers and unique reasons why your subscribers engage with your brand.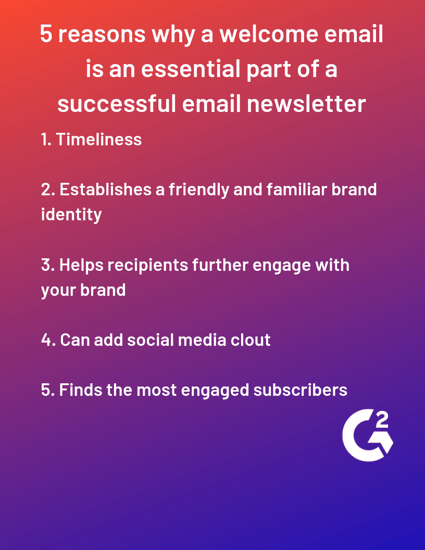 3. Helps recipients further engage with your brand
After setting this initial reminder in your subscribers' heads via them simply seeing an email from your company populate in their inbox, you are also able to push further engagement in your brand in the email. The welcome email provides an easy opportunity to deliver content immediately to your subscribers' inboxes as soon as they sign up for your newsletter.
The welcome email can help achieve further engagement via links to new or informative content from your website, listing out different categories you cover so they can find what they are interested in, and a link to a feature such as a "getting started" guide or article that provides an overview of your brand, website, content, or products.
4. Can add social media clout
A welcome email presents a great opportunity to add links to your social media accounts, which will inform your subscribers both that your brand is active on social media and provide them with the ability to find your content through channels that aren't your website or email newsletter.
If subscribers signed up for your newsletter in the first place, there are high odds that they'd also be interested in following your brand on social media. The welcome email, along with all emails in your newsletter, is an easy way to promote your social media accounts to gain followers and grow your social media presence.
5. Finds the most engaged subscribers
Your welcome email should always include an option for recipients to unsubscribe from your email list, in case they have second thoughts or accidentally signed up in the first place. Including this link narrows your list to subscribers who choose to remain engaged with your brand instead of unsubscribing and are more likely to read and take advantage of your newsletter.
An email list of subscribers that care about the content you present in your newsletter allows for further personalization as well. If a higher percentage of your subscribers engage with your brand and demonstrate a real interest in your content or products, you'll be able to further tailor the emails they receive to the aspects of your company they are most likely to engage with.
Let's get started
These elements of a welcome email display just how essential it is that you provide your new subscribers to your email list with one. Ready to continue to take the next step with your email newsletter?
Take some advice from some email marketing pros with these other proven and highly effective email newsletter strategies.