You've clicked Publish. Your website is live. Now what?
There are many directions you can take with your website once it's live. However, you shouldn't go for the "set it and forget it" approach. There's still a lot to do once your website is out in the world for all to enjoy, and no time to waste. Let's get started to ensure it's seen by your target audience.
What to do post website launch
Once the website building stage is complete, you'll have a lot on your to-do list to ensure it gets off the ground. If you aren't sure where to start, just keep reading.
1. Get traffic to your website
Now that your website is live, you obviously are going to want visitors to come and enjoy all of your hard work. There are many ways you can go about getting traffic to your website and soon you'll have your "best traffic day ever" followed by an even bigger traffic goal.
But first, you need to reel visitors in. You can do that by creating engaging content with clickable headlines, guest blogging, targeting the right keywords, and so much more. Explore all of these tactics and implement them to your website. The sooner the better!
2. Gauge success using website analytics
Getting massive amounts of traffic to your website doesn't necessarily mean it's a success. There's more to it than that, and there are additional website analytics that you can measure to deem whether or not the site is on track for success.
For instance, not only should you care about the number of visitors, but also the percent of new sessions, the channels in which you receive the most traffic from, how high (or low) your bounce rate is, and more. Roll up your sleeves and get lost in the data and determine how your website is perceived by your target audience.
3. Track website KPIs
Your website KPIs, or Key Performance Indicators, are the metrics that help you determine its performance. You may be saying to yourself "but there are many performance indicators I want to track!", and you're right, but these are the key metrics that are most important to help you understand the big picture surrounding your website.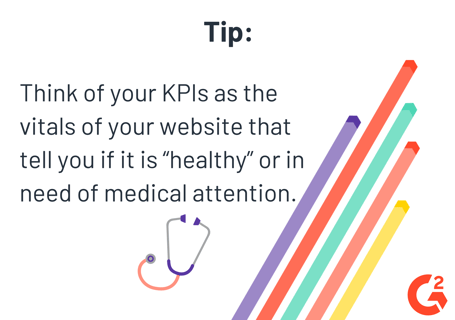 These website KPIs are going to depend on the size and type of your website, but for the most part, you'll find that you'll want to track your top landing and exit pages, traffic distribution, pages viewed per session, on-site search queries, and others.
There's no denying that the performance of your website is key, and tracking these metrics is an absolute must. Chances are its performance will surprise you!
4. Implement website marketing strategies
If you market it, they will come.
That's easier said than done, but there are eight website marketing strategies that you can implement once your website goes live.
To make sure your website is seen by the public, and your target market, utilize SEO, invest in PPC ads, write original content, share on social media, create a Google My Business page, and more.
No matter if your website just went live, or your brand is already a household name, the job of implementing marketing strategies is never over.
5. Frequently perform updates
As a website builder, your work is never done. You don't get to simply move on once your website is pushed live, at least, not if you want to stay relevant.
You may be unsure how often you should update your website, especially since there isn't a hard and fast answer. To help bring some clarity, we asked the experts how often, and when, they update their website so you can get a better idea of the path you should be taking.
Make people know your name
Or, at the very least, the name of your company and its brand. If you work hard and nail these five post website launch tactics, all of your hard work building and designing for your site will have all been worth it.
Learn more ways to ensure your website stands out as you choose the best images and typography for your site.