In a world with an endless amount of data at your fingertips, how do you know what matters most?
If that's a question you find yourself asking about your website, you're not alone.
At some point, you have to decide which metrics you deem to be most important. When you do, those are your website KPIs.
What is a KPI?
A KPI, which stands for Key Performance Indicator, is a metric that is in place to gauge the performance of any business. It is what you determine to be the most important to your website when tracking its success.
What you decide to measure is going to depend on the type of website, business model, and the overall goals of your website. Regardless, these KPIs should establish a clear connection between your online efforts and your business goals.
Unsure what website KPIs you should be tracking? Find out more about:
Tracking website KPIs
Your website KPIs are what you'll use to analyze the big picture of your site and its goals once your website is launched. You can also use your KPIs as insights about your website visitors and effectively convert them into customers.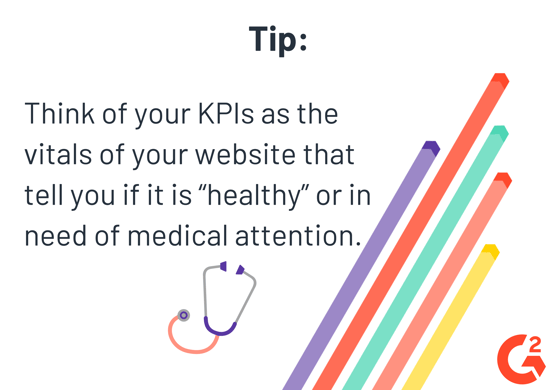 Let's break down which metrics you should consider key to your website's performance.
1. Traffic distribution
Traffic growth is great, but are you getting the right kinds of visitors? In order to have a better picture of your traffic, break it down by its referral source.
When you measure your traffic by both its channel and source, you can better determine how relevant your content is to your website visitors. Is most of your traffic coming in organically or direct? What do your social media and paid traffic look like? Are there areas for improvement.
Whether you're looking to grow organic traffic, drive email subscriptions, or get more clicks on advertisements, you'll be able to track the sources that send traffic that is more likely to convert into leads.
2. Top landing pages
A landing page is the first page a visitor of your website lands on. Whether that be the homepage, a blog with the highest traffic, your "About Us" page, or a certain product category, this is where users are finding you first. Whatever page it is, how do you use it to your advantage?
For starters, since that page is driving the most visitors, make sure that page is fully optimized and that it has a contact form to potentially acquire leads and drive sales. Or, if your company will be featured at a conference, this page would benefit from a banner or advertisement for the conference and a CTA to buy tickets.
3. Top exit pages
On a similar note, exit pages are where your audience leaves your website. On this page, visitors are losing interest and seeing the type of content that makes them want to leave.
Consider what you can do on these pages to keep your visitors on your site. Is the content not engaging? Does it not answer the desired question? Is it missing a CTA? One tactic you can do is change the language of your CTA, or shorten the required fields of your contact form. Or, if it's a FAQ page, then it's safe to say this page isn't answering the type of questions your visitors are asking.
Related

: Adding a WordPress contact form is easier than you may think and is a great way to get to know your audience!
4. Pages viewed per session
This metric allows you to see the average number of pages viewed during a visit on your site. This will gauge how compelling your content is and the ease of access. It also helps you to measure if your users are engaged, feed their interest, and encourage them to take the next step.
This KPI will help you track the interest and curiosity around your company and its products.
While you may think that a high number of pages per session is ideal, this isn't necessarily the case. This could mean that a user is struggling to find certain information or the answer to their question and having to navigate to multiple pages to find what they came there for.
This will ultimately be your judgment call, but also analyzing the bounce rate and average time on site will help you determine the number of pages that is "right" for your site. If your site has a high number of pages per session, low session duration, combined with a high bounce rate indicates a user isn't able to find the information they came for.
5. Leads generated
Your website might be generating thousands of visits a day, but if these visitors aren't converting, they aren't doing your website, or your business, any good. While email subscriptions can be considered a lead, there are other leads that you may find impact your website in a greater way. In most cases, these leads will come from a contact form submission or a request for a quote or more information.
To measure these qualified leads you'll want to set up destination goals in Google Analytics with a unique "Thank You" page for each. If you don't, all of your conversions will end up being one goal, making it unable to distinguish between forms.
When you want to know how many website visitors will actually purchase your product, or what page a visitor is viewing before completing a goal, this report will be vital to your website KPIs. Remember that these leads, or conversions, don't have to be about sales. They could be visitors signing up for your newsletter or downloading an e-book or template.
6. On-site search queries
Does your site have a custom search engine already implemented? If not, this should be something you install and link back to your analytics platform.
If you're wondering why search queries on your site is a KPI you should be measuring, consider how you browse a website. Do you find it helpful when you can type into the search bar and find exactly what you're looking for?
Chances are your answer is yes. When this is connected to your digital analytics software you can track the queries your visitors are searching, followed by the page they visited as a result.

Having this information allows you to create the type of content your visitors are searching for, and helps you locate areas where your website can be improved. Are visitors searching for something that your website doesn't have? This will tell you what content your website is lacking, what products or services your visitors are interested in, and if your website is answering the right questions.
7. Device usage
Gone are the days where you had to worry about how your website looked on desktop, and desktop alone. Now, visitors of your website could be viewing your content on their desktop, a smaller tablet screen, or an even smaller mobile screen. Understanding what device visitors are using can impact both your content and marketing strategy.
For instance, if 75 percent of your traffic is from mobile devices, then your website and its content needs to be created for the user experience of visitors on mobile.
Performance is key
You put your blood, sweat, and tears into the creation of your website, and if you aren't tracking its performance, what was the point? I know it can seem like a daunting process, and even if you're someone who doesn't get excited by numbers and graphs, chances are the performance of your website will pleasantly surprise you, and hopefully your boss.
In addition to tracking the performance of your website, let's break down the website analytics you should be using to measure its success and how often you should be updating your website.