When I think of large and never-ending places, I think of the ocean, space, and the internet.
With almost 2 billion websites on the internet, and with the number of websites growing each day, the world wide web can seem like a scary place, especially if you're looking to learn the basics of website building so you can cut a slice of expansive internet pie all for yourself.
There are so many things to consider when building a website, how do you know you're on the right track? Or, how do you know where to start? If you have something specific in mind that you need help with, or if there's a topic you'd like to learn more about before you start building, jump ahead to:
Website building 101
Sticking your toe into the realm of website building? You're not alone.
If you're interested in website building, and all of what it entails, it's easy to see why you may be feeling overwhelmed, especially if you're a first-time website builder. Learning the basics is a must before you start anything new, so let's dive right into everything you'll need to know before you start building your website.
Decide on a domain name
Before you do anything else, first you need to decide on a domain name for your website.
Your domain name is how your website will be known online. For example, in the URL https://www.g2.com/categories/analytics, the domain name is g2crowd.com.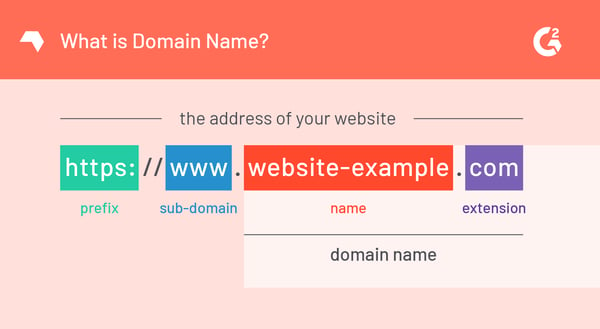 You want to make sure that your domain name is unique, but also relevant to your business and its brand. There are many popular domain registration providers that can help you check to see if the domain you're interested in purchasing is available.
When deciding on a domain name, not only do you want to make sure it remains on-brand, but also that it's easy to type, short and to the point, making use of keywords, and free of hyphens and excess numbers.
There are many domain name generators that can help you decide a name for a new website launch.
Choose a web host
Once you decide upon a domain name, you can choose a web host.
Website hosting is a service that allows businesses to create and post on the internet. Essentially, you take your website files (images, content, etc.) and upload them onto a web host, which then creates a website on the internet that your customers can view.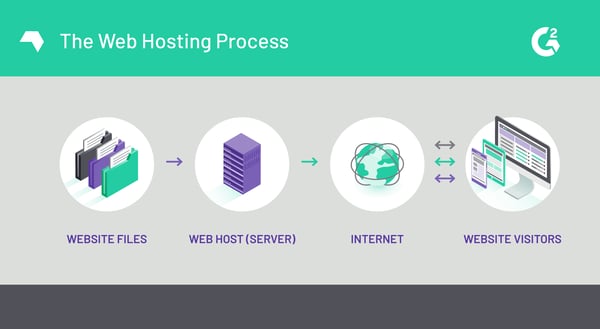 There are many types of web hosts to choose from, so it depends on your needs and the size of your business. Choose from shared, VPS, dedicated, cloud, or self-hosting.
Figure out the cost
Once you move further into the stages of website building, you might find yourself asking how much does a website cost? The quick and easy answer is: it depends. Of course, I'm not going to leave you hanging there.
How much a website will cost you is going to depend on how much time you have to spend on its creation, if you have any design or tech skills to build it yourself, and how much money you're willing to spend if you need help along the way.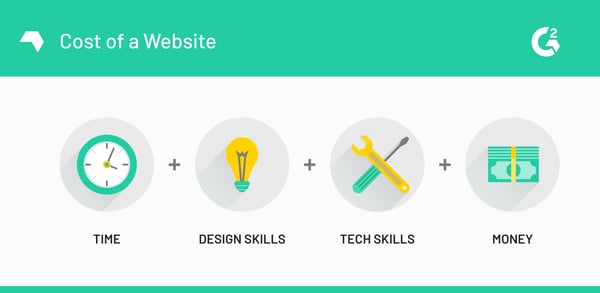 It's also important to consider other factors that come into play with the cost of building a website. For instance, think about the setup process, which I explained above (a domain name and web hosting). Next, think about the design your website will have. Will you select a ready-made and free template or employ a freelancer to create a design for you?
The same can be said for the content on your website. You can go the route of hiring freelancers to write content for you, or perhaps you have a content writer on your team whose job it will be to create new copy during the creation process, and every so often after its launch.
And of course, the maintenance of your website. Somewhere along the line, the technology used to build your website will need fixing or updating, and it's best to factor that in upfront when thinking about cost and creating a budget.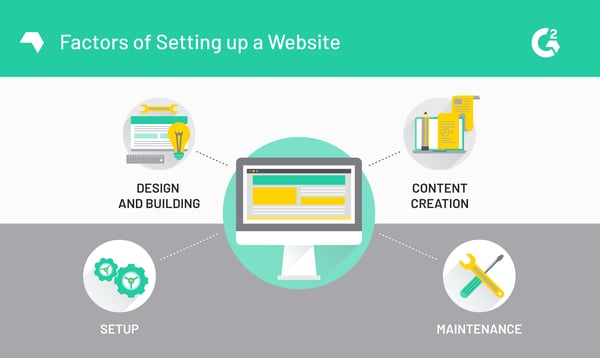 Deciding on a CMS
If you didn't already know, content is king when it comes to creating a business strategy and enhancing your website's SEO value in the eyes of Google.
As we move along through the basics of website building, it's time to mention the importance of a content management system (CMS) and all that they can do. If you're asking yourself, "what is a CMS?," don't worry, it's a common question.
Content management systems are an application that allows you to manage various types of web content all in one place. This can be anything from the display text, pictures, videos, articles, and more, that your website will feature. You don't need an extensive amount of technical skills, like the ability to code, to use a CMS. And, content management systems are great when it comes to collaboration, as multiple users can log in and contribute to edit existing content.
Choosing the right CMS for your website is important. Some are great for blogging purposes, while others are more suited for an eCommerce website.
Creating a timeline
Similar to the cost of a website, if you aren't sure how long it takes to build a website, the answer is the same… it depends.
Mainly, it depends on if you're going to hire an agency to build a website for you or use a website builder and do it yourself.
If you choose to hire an agency, it's likely that you need a larger, more in-depth website than what you'll get from a website builder. Because of this, the timeline from proposal to launch will be much longer. There are various steps the agency will take with you, each with an estimated time of delivery. While your website is in their hands, I can't stress enough the importance of providing timely and truthful feedback to the agency regarding aspects like mockups for the design and the ideas for content.
If you go with a website builder, it's likely you're creating a website on a smaller scale. Whether that be a website for your side job, a basic eCommerce site, or just an ordinary blog, you can probably get it started and finished in less than a day.
The world wide web is yours for the taking
Like most things you do for the very first time, it's best to dive in with both feet. And now that you have a grasp on the basics of website building, go out there and build the best dang website there ever was. Or, at least, one that will accomplish the goals that you have in mind.
While you're at it, check out these 42 must-have website features to bring your website to the next level.