I don't know about you, but my office doesn't look anything like the office where I worked many years ago.
Today, there are no cubicles, and meetings look a lot different, too. Rather than people cramming into a conference room and huddling around a projector (what a throwback), meetings today have several team members tuning in from remote locations via video conferencing camera. What else is different? Quick phone chats have turned into quick Zoom calls. Emails have turned into Slacks.
Overall, teams are becoming more and more agile and less confined to physical location. That has led to a few different types of teams that can exist in the modern workplace.
There are fully in-office teams, which are slowly dissipating with the growth in remote work.

There are virtual teams, also known as distributed or remote teams, where people all work from home offices or coworking spaces.

And finally there are

hybrid teams

, where team members work either in-office, remote, or switch between the two.
For this post, let's explore how virtual teams work and go through some tips for successfully managing a distributed team.
What are Virtual Teams?
Virtual teams are teams entirely made up of remote workers. These teams can exist within fully remote companies or hybrid companies - those that offer both remote and in-person options. For those managing virtual teams, they bring their own set of unique challenges and benefits, but overall the benefits outweigh the difficulties. For example, research has shown that employees who work remotely at least once a month are 24% happier than those who never do.
Companies benefit from remote work, too. Organizations that allow remote work see 25% less turnover than those that don't. They also see shorter hiring cycles, largely due to the bigger pool of applicants and the ability to offer flexible options.
Challenges for Virtual Teams
One of the biggest challenges for distributed teams is building team culture. When your team isn't able to go for drinks after work, have lunch together, or engage in office chit-chat, it makes team building activities more of a concerted effort. Virtual teams require purposeful and deliberate team building, which comes from the top down. As a virtual team manager, it is your responsibility to make sure that your team doesn't become totally isolated in their remote work environment. As a hybrid worker myself, impromptu video meetings help me to engage with colleagues around the country in a way that feels natural and parallels bouncing ideas off of coworkers in the office.
TIP: Virtual and distributed teams are one in the same. Learn how to manage a distributed team successfully in 2019
Tip #1: Enable your team with remote technology
This is the most important way you can support your remote team. Without proper technology, meetings feel more annoying than helpful. If you've ever been the remote person on a call where people in the room didn't know how to join and even gave up, you likely felt that you weren't valued in the conversation. Even with phone conversations, without that crucial visual context, it's extremely difficult to read the room, know who is talking, and have your voice be heard.
With this in mind, video conferencing hardware and software are essential for remote teams to effectively communicate. By giving everyone a face and a voice, you can have natural conversations that help with brainstorming, planning, strategizing, 1:1 meetings, and virtual team building. For video conferencing options for your remote team, I like Zoom or Google Hangouts for the best video conferencing, and the Meeting Owl conferencing camera
Next, your team will need a messaging software. Slack is one of the most popular at the moment, and any messaging platform should do the trick. The idea behind an instant messaging platform is that remote teams can quickly communicate without having to send emails or set up video calls for every little ask. When considering a messaging solution, make sure it has the ability for individual conversations, group conversations, and channels or rooms to allow for day-to-day banter surrounding a given topic. Many teams will have channels for different purposes like a marketing channel, general channel, fun and games/silly conversation channel, etc. Providing the space for conversation is simple remote team building strategy that doesn't have to break the bank.
Tip #2: Promote remote team building
As I said before, remote team building won't happen naturally, it requires effort on your part as a virtual team manager, as well as buy-in from your team. Some ideas for team building are a daily video standup, a weekly meeting on Mondays where the team can share what they did over the weekend, or a morning Slack conversation.
Some other ideas are creating random pairings of teammates for video coffee calls. Once a week or once a month, everyone is randomly assigned a coffee partner and they can set up time for a thirty minute meeting to get to know each other. This works well if folks on your team may not interact with each other naturally or if you are part of a larger remote organization. This will give your employees a chance to get to know people in a way that mimics bumping into people in the office.
Tip #3: Build remote culture (it's different than in person)
Building culture isn't easy at any organization. HubSpot's Dharmesh Shah was a champion for building and defining culture for their (then small) company. He explored what was important to the leadership team, employees, and managers, and created a manifesto of sorts, outlining what that culture meant and how to implement it. For your team, gather some opinions on what is important to folks. Do people feel like they hardly know their teammates? Do they feel like they don't know you all that well? By working with your team to build out a culture, you will create an open and honest environment where sharing is caring and people feel heard.
Tip #4: Meet in person at least once a quarter
Yes, this may sound completely counterintuitive, but trust me on this one, it's important. For virtual teams, it does not matter where in the world you are and choose to work, but relationships will be strengthened with occasional face-to-face interactions. While the benefits of remote work are extensive, the idea of having dinner as a whole group outside of the small box of your laptop at home can't be replaced. If you are able to meet as a group prioritize getting to know you activities, strategy and brainstorming, and team building. Anything that can be effectively done virtually can be saved for later. If budget is tight, HR experts recommend that virtual managers go to their direct reports in the case that the whole team can't get together.

Some team building ideas for your quarterly meetups are:
Escape room

Cooking class

Sporting event

Karaoke

Artistic activity (pottery making or painting class)
Let your team let loose, and working relationships will improve. There's really nothing like showcasing your rendition of "I Will Always Love You" with your team the first time you meet. Nothing...
Tip #5: Trust your remote employees
This should go without saying. Many leaders are still coming around to the idea that remote work does not mean less work. The Harvard Business Review conducted a study with Ctrip that found that when employees were able to work remotely, they completed 13.5% more calls from home, saved the company $1,900 per employee over nine months, and on top of that their job satisfaction increased.The many myths around remote work have since been debunked: remote workers are more productive, happier, and cost less than traditional office workers. When 3,000+ global employees were asked their primary reason for working remote, the top response was productivity and focus.
Tip #6: Check in daily or weekly, and schedule regular career growth conversations
Remote workers can feel out of the loop with career growth conversations. One of my prior colleague was trying to have a conversation asking for a raise with her remote manager, and his connection was slow. He was breaking up the whole time she was trying her best to bravely discuss why she deserved more money. Needless to say, it wasn't a great experience. (Important reminder that your remote employees need access to working technology and Wifi!) Remote managers can have an unintentional bias to prioritize those they work with most closely, and thus might be more prone to having career conversations with those they most often communicate with. If you are a remote manager, make sure you regularly check in on your team's growth and progress towards goals (and check your connection before you start the conversation.)
Tip #7: Use calendars and keep them up-to-date
One major issue for remote folks is not knowing where team members or managers are at a given time, if they're working, or offline, and why they aren't responding to Slack or email. As a courtesy to your team, make sure your calendar is up-to-date. Even if you are going to be away from your computer for a lunch, make sure to share that so your team members can quickly see that you're busy and that you'll get back to them later in the day.
Managing a remote team is fun, challenging, and ultimately, rewarding. If you remember anything from this post, it's to check in with your remote team frequently, and make sure everyone gets the (video) face-to-face time they need. If you're building a virtual team, arm them the tools they need to be successful, so they can look like this!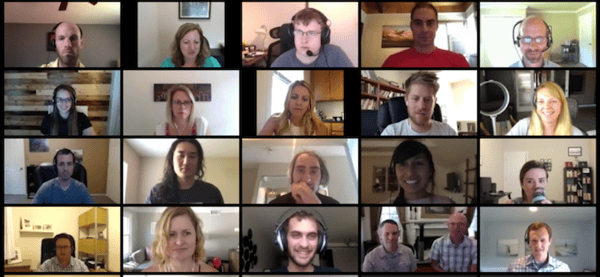 Image via Aha!