Email is still one of the most effective marketing channels for driving website visits, leads, and sales.
Getting that prime real estate in someone's sacred inbox is a big deal, but think about how many emails a single person gets each day. If your audience is anything like the average office worker, they're receiving around 121 emails per day. With this metric in mind, how do you even begin to stand out among 120 others?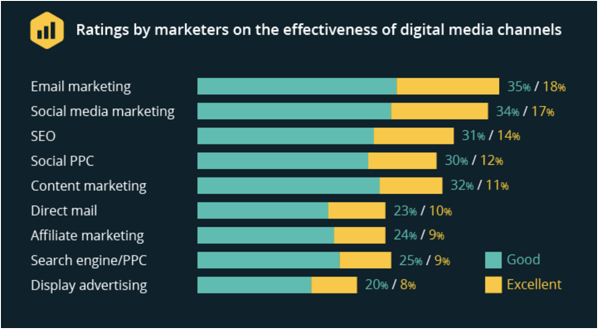 The answer is video.
Marketers who use video in their email campaigns in some form or another see higher click-through rates, an increase in engagement, and website visitors spending more time on their page.
If you haven't heard about the waves video is making in the marketing world, you've been living under a rock. In fact, moving image (also known as a GIF) is one of the most powerful ways to get your message across and connect with a wider audience.
So how do you get started, and what kind of videos should you be incorporating into your email campaigns?
4 ways to use video in email
Tap into the power of GIFs
Create moving screenshots (screen recordings)
Keep things short and sweet
Create a landing page
How to use video in email
The following steps will show you why it's more important than ever to amp up your emails with visual content, including videos, GIFs, screenshots, and more.
1. Tap into the power of GIFs
GIFs are everywhere.
How many times today alone have you got stuck in a GIF loop watching the same scene play out over and over again? They're addictive, they're engaging, and more importantly, they're human.
GIFs are a great way to showcase your stunning brand personality and to resonate with your subscribers. After all, GIFs are an important part of their daily scrolling habits.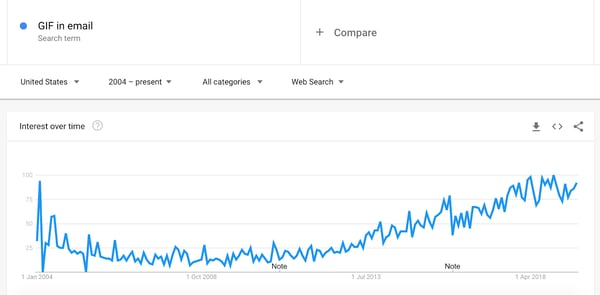 As GIFs have grown in popularity over the years, incorporating them into emails has also grown in popularity. They can spruce up what can be a fairly dry, inherently text-based form of communication. Plus, they say a picture speaks a thousand words...so think how many a GIF says.
Not only do GIFs spice up your design, but they are also a better option than embedding a video into your email as this isn't supported by all email providers.
So when's a good time to use GIFs in your emails?
To reinforce an important message (or any message, for that matter)
To highlight the important parts of your email (people tend to skim read chunks of text, but will always take the time to stop and look at a picture or a GIF)
To emphasize certain features of your product or service
To add some fun and excitement to your message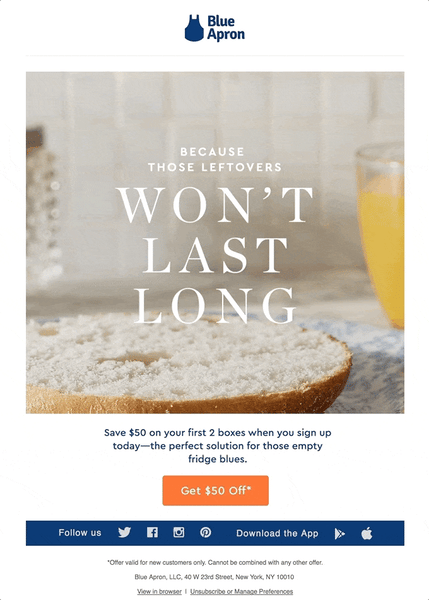 GIF courtesy of BlueApron
Blue Apron uses a mouth-watering GIF of a sandwich to convince their audience to purchase their product. Not only do they show a GIF of the delicious food you'll get, but they offer a discount code as well.
2. Create moving screenshots (screen recordings)
Screenshots really help your subscribers visualize a process or an action that you want them to take.
Say you've just downloaded a new piece of software but you're not sure how to use it to your advantage. Are you more likely to follow a set of instructions laid out in bullet points, or would it be easier to watch someone carrying out that action via a recorded screenshare?
It would obviously be the latter, right?
Inserting a video into your email provides a quicker set of instructions someone can follow along with rather than written instructions they may not fully understand.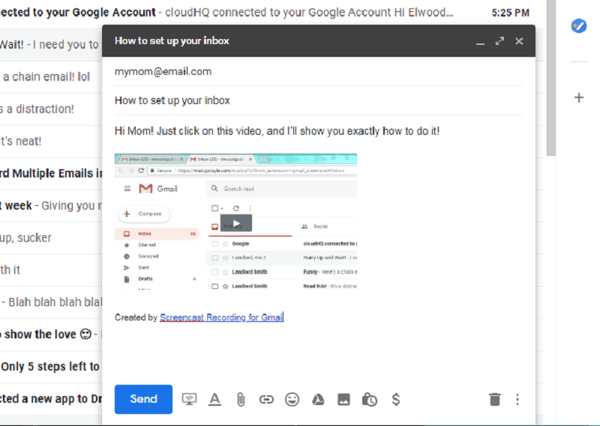 Screen recordings can be used for:
Running through specific features of your product or service
Showing subscribers how to take a specific action
Providing an overview of the inside of your product or service
Offering a visual case study of how a past customer used your product
3. Keep things short and sweet
Consumer attention spans are decreasing by the day (around eight seconds today), which doesn't give you much chance to make an impact. This is why it's important to keep your videos short and to the point, providing only the details your subscribers need to take a specific action or get the gist of your message.
Research shows that video views decrease with video length. This means that more people are likely to watch the entirety of a one-minute video than a two-minute video.
That being said, two minutes is the sweet spot. If you can keep your message to this length, you'll get more views, more click-throughs, and more engagement.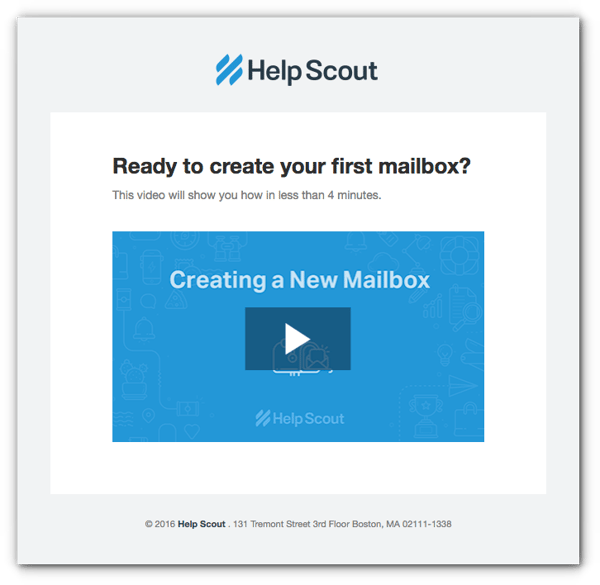 Image courtesy of HelpScout

In the example above, HelpScout actually tells its subscribers how long the video is, helping someone decide whether or not they want to watch. This sets expectations early, which means that people who click through and watch the video are likely to stick around for the entirety of it.
4. Create a landing page
As mentioned previously, not all email providers support video embeds...so how do you get around this?
You'll see that many brands have a simple but effective solution. Rather than embedding the video into the actual email, they share a screenshot from the video with a play button over the top. Subscribers then click on that and are taken to a dedicated landing page where they can watch the full video.
Once you've got your subscribers to the landing page, you can dress it up depending on the action you want them to take when they're there.
For example, you might add a call-to-action (CTA) that encourages them to browse through your products, or you might add some social sharing buttons to get them to share the video with their friends and followers. You can get creative with it, too.
Look at the example below.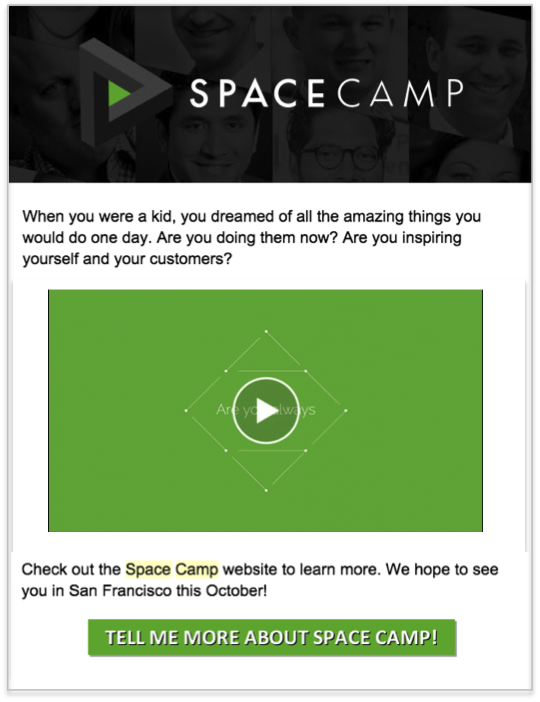 Image courtesy of SpaceCamp

As you can see, SpaceCamp has embedded a screenshot from their video into their email with a play button that subscribers can click to watch the whole video. But they take it one step further.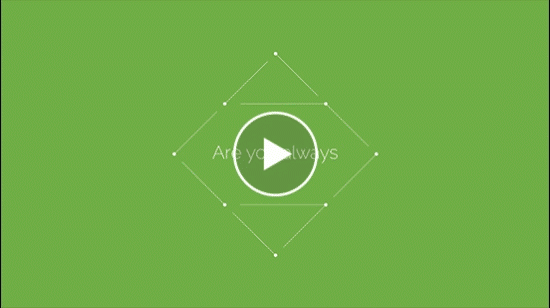 GIF courtesy of SpaceCamp

Their screenshot is actually a GIF that adds a sense of excitement around the video and increases the engagement. In other words, it makes that play button all the more enticing.
Start adding videos to your emails today
As you can see, there are numerous different ways you can incorporate video into your emails to increase customer engagement and click-through rates. GIFs are perfect for sprinkling your personality into your emails; moving screenshots make complicated messages far easier to understand; and landing pages give your subscribers a space to watch your videos away from the distraction of their inbox.
The big question is: which one will you try next?
Still not convinced? Read our video marketing statistics roundup to see just how powerful videos are for your email marketing campaign and more.