As you think about the design of your website, what key factors are you keeping front and center?
If you don't immediately think of your website users and how they will interact with various pages, think again.
During the website building process, a lot goes into the overall design. From the color scheme to the design of the logo, it's easy to get overwhelmed. That being said, it's also easy to forget that you aren't designing the website for you. You're designing it for a user or a potential customer. How does your website look from their perspective?
If you aren't sure, then it's time to consider these tips for a user centered website design.
What is a user centered design?
Before we get too far into the tips, let me explain what a user centered design actually is.
What does a user centered design mean?
User centered design is the process of understanding the people you're trying to reach and designing from their perspective. It puts the user at the center of all design decisions.
You may be wondering how this applies to your website and its design. Essentially, you're taking the goals of your business, your user's needs, and information you gather along the way to create a winning user experience on your website.
5 tips for keeping your user at the center of your design
At the end of the day, the user centered design of your website should improve the user experience (UX), as it helps to understand their needs and preferences regarding your website and its product.
The average website user is smarter and more sophisticated than ever before, so the demand for user-specific content has vastly increased. Below are some tips for how you can keep the user of your website at the forefront of your mind as you go about its design.
1. Don't ignore the data
If you're giving your current website a refresh, take a look at the data from each page. Which blog post has the highest bounce rate? Which one has the lowest time on site? Think about why the user isn't engaging with this specific content and how you can improve it.
Unsure how to gather this information?
Maybe a blog post or product page with low time on site can be enhanced by using a video to get the message across instead of a lengthy article or sub-par images. Or perhaps the menu on the homepage needs to be reorganized. The answer may not be as front and center as you think, but subtle changes can make all the difference in the user's experience.
2. Design for the correct demographic
In order to design for the correct demographic, you need to know your audience. This can mean anything from age, gender, race, disabilities, and household income. For example purposes, let's break down how you would design based on age.
It feels weird to think of children as website users, but they are. How many children have you seen in restaurants playing on iPads as their parents enjoy a quiet and uninterrupted conversation? When this is the case, design using bright colors and easy-to-understand shapes and sounds. The design should also include simple fonts and typography that suits the brand.
On the flip side, maybe your audience is comprised of older adults or seniors who weren't raised using technology. In this case, the bigger, the better in regards to both font size and images; utilize white space to avoid a web page that is too crowded. It also may be in the designer's best interest to make the most of the best images for your website, that way there's no reading involved.
One of the finishing touches of your website should be adding (CTA). Think of them as the cherry on top of the banana split that is your website.
3. Utilize CTAs
One of the finishing touches of your website should be adding calls to action (CTA). Think of them as the cherry on top of the banana split that is your website.
The right CTA can increase your website's click-through rate in addition to traffic on other pages. For instance, the homepage of your website can include a "Sign Up" button so users can subscribe to your email campaigns, a "Read More" button to access more than just the introduction of a featured article, or a banner that promotes the time and date of an event or webinar your company is throwing
Regardless of what the CTA is conveying, think about where you place them on the website and how many are on each page. You don't want to bombard the user with pop-ups, unless you want to see your bounce rate skyrocket!
4. Listen to feedback
Have you ever gotten direct feedback from your customers regarding your website? Maybe you've heard that content loads too slowly, the page isn't mobile-friendly enough, or even that the links are hard to differentiate in your content.
Whatever the feedback you're getting is, whether it's positive or negative, take that into consideration when designing your site and any of its pages.
An example of this would be feedback that YouTube received from its users. Users viewing videos wanted to scroll through and read comments without having to press pause. Similarly, they wanted to scroll through recommended videos without missing a single second of the video.
YouTube listened and redesigned their page so both were possible. Because of this, YouTube is likely to see an increase of comments posted in addition to a click-through rate on recommended videos.
5. Keep mobile in mind
Considering up to 70% of web traffic comes from a mobile device, it's an absolute must that you acknowledge how your website is going to look on a smaller screen. Is the menu easy to navigate? Are the forms easy to type in? Are any pop-ups easy to close? These are just some of the questions you should be asking yourself when designing the mobile version of your site.
A great example of this is the mobile Airbnb site. Just like the desktop version, the site on mobile is uncomplicated and simple to use with a clean design. A user can easily do exactly what they came to the site to do -- find and book a place to stay.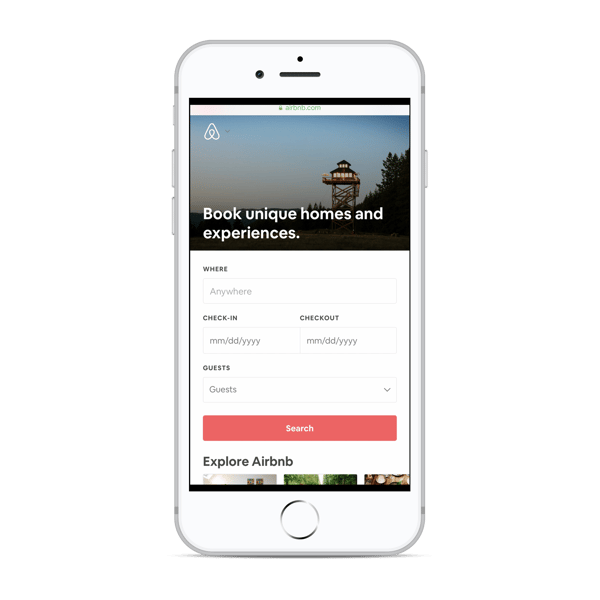 Source:airbnb.com
Make a good first impression
No matter your audience or the purpose behind your website, it should be designed with the user at the center. Once you establish their wants and needs, it'll be easier to design your website around them. After all, what is your website, and more importantly your business, without users?
Interested in learning more about web design? Find out how to become a web designer. Or, if website building is more your thing, find out all of the reasons why you should learn to code.