Social shopping has existed since ancient times, and there's even evidence of marketplaces as far back as 3,000 BCE.
It seems social commerce is in our DNA, and the Internet has caught added to that history in some amazing ways.
While many early e-commerce efforts focused on selling to people in a closed one-on-one interaction where others couldn't see or take part, social media has added new layers to social commerce. We're seeing groups and large interactions that can lead to multiple purchases and people talking about products with each other as well as the brand. It's becoming more popular and yielding greater sales, and it's time all online sellers start participating.
Social commerce is the act of selling products through social media channels, whether you do it through posts, comments, chatbots, forums, or any other means.
The important aspect of social commerce is that you're actively selling on the platform itself, instead of driving traffic away from the social media site and directly to your website. There's no navigating away from the social site, but you might drive people to specific sites or locations on that social platform.
Social commerce is growing more complex because of how successful it has become. There are now ways to combine multiple items and elements to create a compelling social experience. For example, you can create an Instagram Shopping post that allows people to buy products directly and then run these posts as advertisements, allowing people to see, click, and buy all on Instagram.
To understand exactly why more options are becoming available, let's look at some core advantages of social commerce.
Advantages of social commerce
Social commerce offers a variety of benefits for your business and customers. It gives you a better chance to sell, increases your discoverability, and can help people find the specific items they want. Your ability to interact with people directly also helps answer questions and remove barriers, all without them having to leave their favorite social site.
Social media is interactive and engaging when done right. This helps strengthen the bond between you and your audience, which can increase the chance of sales as well as customer satisfaction. Loyalty and trust can be built over time, while your sales messages have the potential for a broad reach because it is very easy for people to share, comment on, and discuss any social message you create.
Provide a personalized shopping experience
Social commerce is inherently personalized because you're in someone's feed, whether that's through their efforts to follow you or from ads or interactions of their friends. Social media itself is personalized, so you don't have to do much more than target your ads or create content. Thankfully, this reduces the work your team is doing, and customers work to personalize the purchases themselves — such as asking for your advice or help.
Get your products out in front of new audiences
Nearly 75% of consumers rely on social media to help guide what they buy. That means people are actively looking for products like yours on social. The big benefit for your company here is that you don't necessarily have to target your final audience. If, for example, your tweet gets popular and person A retweets it, then everyone who follows person A has a chance to see it. The same if they share your Facebook post. So, sales from their friends and family are all thanks to the fans and community you build.
Engage with customers and encourage them to buy from you
Social commerce is an authentic engagement at its heart. People have to find you or your post (or ad) and respond to it. Their action starts the sales process, and because this is social, their action is the beginning of a potential conversation. The groundwork of social commerce is posting and interacting with people.
Two-way communication enables them to ask questions, learn information, and much more. You can generate sales with high-quality posts that don't make a direct pitch, such as showing people having fun in the shoes you sell, that then encourage people to buy from you.
Reduce the friction of purchases
One of the best things about social commerce is that it all takes place on the social platform, including your shopping cart. That means you're working on usually one page and interaction, and you're getting some customer data from the social site. People stay on the platform, too, so they aren't forced to decide between buying and keeping reading what's in their feed. Making shopping seamless and frictionless removes hurdles for customers and makes the experience more enjoyable.
4 types of social commerce
Social commerce can happen in a wide range of ways depending on your platforms and audience. Some of it involves direct selling, while other methods are focused on creating community and expanding your audience with relevant content. We'll look at four of the common ways to support social shopping, but recommend that you use them as just a starting point. Your audience will help you discover what works best for them, and it might be something wholly unique.
Chat features customers can use to inquire about services or products
The Facebook ecosystem is a strong player in the chat sales game, especially because it bridges both Facebook and Instagram, as well as supporting WhatsApp chat. When customers interact with your ads, pages, or brand, you can include calls-to-action for them to chat with you via Messenger and others. On many Facebook pages, too, chat notifications pop up when you arrive.
People can come to your page to ask questions and get a quick response. You can also make direct sales pitches or share landing pages, too. Let the customer drive this social shopping experience for the best results.
The service is proving profitable for a wide range of companies. Now, even third-party solutions are integrating with chat to help you sell socially with less work. HubSpot is expanding its CRM to include customer actions on the platform. This includes messaging and automation as well as using HubSpot to assign the right sales team professionals to each chat interaction.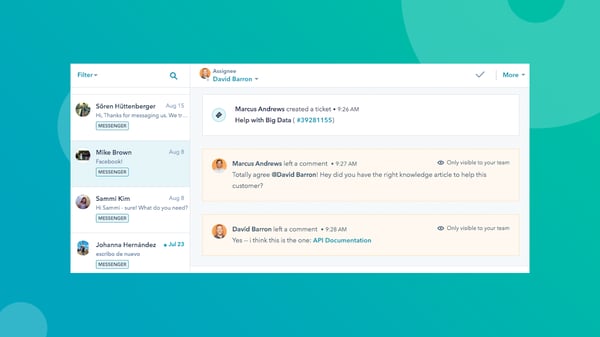 Look for the tools and platforms you use to sell and manage your eCommerce store, and you might find similar integration capabilities. There are also smart services that turn your chatbots and messenger interactions into specific goals and activities. LEGO uses a chatbot to help you find the perfect toy as a gift.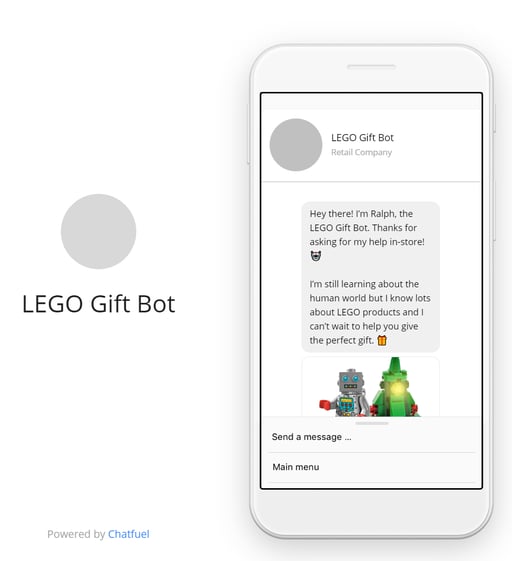 You answer a few questions and automatically get options delivered. Plus, you can buy within the platform and ship it out as a gift without having to leave Facebook. LEGO and its bot maker say the chatbot has reduced cost per conversions by 71%.
Electronic payments on social posts
The latest trend – and perhaps greatest for your audience – is the ability to buy things directly on social media sites. They can navigate to your post or click an ad that they see and experience social commerce without navigating away. It's a simple and direct interaction.
Thanks to smartphones, your customers can also have mobile-friendly options using their device. Companies are also launching their own payment systems to support these. Facebook Pay works on multiple channels to help them control the social shopping experience.
Forums and groups for buying and selling products
The early days of the Internet were driven by forums, and we see them continue in places like Reddit where you can share and discuss products freely, though there's not much selling going on in the platform itself.
You can join popular forums on Reddit, LinkedIn, and elsewhere even as a business. Post product information, links to sales pages, and more. However, the trick here is to gain an audience by building a community. Sharing information that's useful helps people trust you and keep reading what you post. If all of your messages scream "BUY NOW!" people are going to tune you out quickly.
So, stick to the golden rule of social commerce: let the customer direct purchase decisions and you be there highlighting benefits without an overly aggressive sales message. Be there to help a customer when they need it, with whatever they need.
These interactions have expanded a little bit thanks to Facebook buy and sell groups. These specific groups allow members to list items for sale, search for items to buy, and complete purchase transactions. Think of it as a smaller subsection of the Facebook Marketplace where you can have a local group focused on specific products or communities.
Stories and new social selling options
Video and temporary content are growing extremely popular on social media. So, social commerce has followed. One of the growing trends now are shopping options in these timed services. Facebook and Instagram are well-known options because they've made it easy for brands to promote products.
On Instagram, you can use product tags to highlight anything that you sell within your stories. They'll function like regular shopping posts and can get someone to a product with just a click, instead of multiple actions that were required in the past. Facebook has similar tagging and also includes the option to add a call-to-action on your Stories page.
These tools are time-sensitive, and most people will only look at them once and within a few days of posting, so you need to be continually cycling through them to be effective. It's a smart and savvy way to reach your audience with compelling content but will take some time.
5 real industry social commerce examples
Sometimes, seeing is believing. So, let's check out five of the best social commerce examples that we've come across lately. They'll inspire you and point out some new things to try. While these might be efforts from large brands, they're something that even small companies can emulate.
1. User-generated content
Your fans want to show off, and you can help them do that while also getting a sales win. User-generated content (UGC) is perfect for social selling because you're just sharing someone else's positive experience. They're a real customer, happy enough to create something thanking you on their own, and it comes off genuine.
Those are all the right moves for building a community. Beyond the sales side of things, you also get to make a very big, public "thank you!" to customers. You show appreciation and spread some love.
Warby Parker does this well on Instagram and has some photos that continually crop up when searching for this type of content. Here's one of our favorites: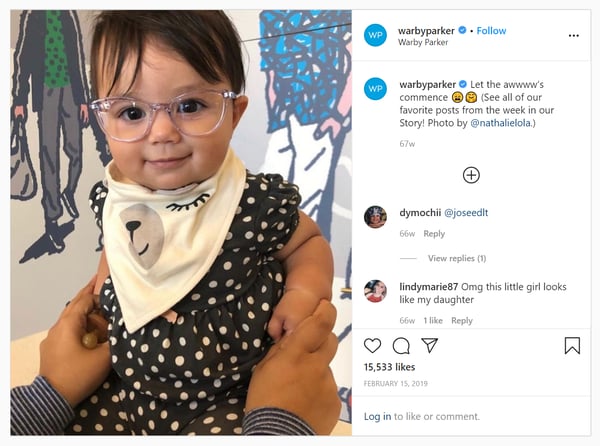 Not only is she adorable, but Warby Parker credits the original user, too. It's good practice and a great way to engage their audience. They also capture content from their Twitter feed and share it on Instagram, too, keeping branding and engagement going strong across multiple channels with the same piece of UGC.
The company also creates video campaigns around hashtags, products, and promotions. The best of these take user-submitted content to make their case.
The #StayAtHomeTryOn campaign makes it easy for their customers to stay engaged while also keeping the lights on. Again, it feels like the brand and is as simple as asking people to share their videos and then collecting them, repackaging, and re-sharing for greater reach.
2. Giveaways to encourage engagement
Many brands now host giveaways on social for customers to win free products and promote the brand simultaneously. Usually, they have specific requirements like following a brand, retweeting a post, or liking some content. They've been around for a while but are always popular.
It's a good way to grow your audience, too, by having a follow be part of your offer. What's even better is to ask people to do something with your specific post (this builds on the UGC mentioned above).
Here's a perfect example from Bridgestone Golf: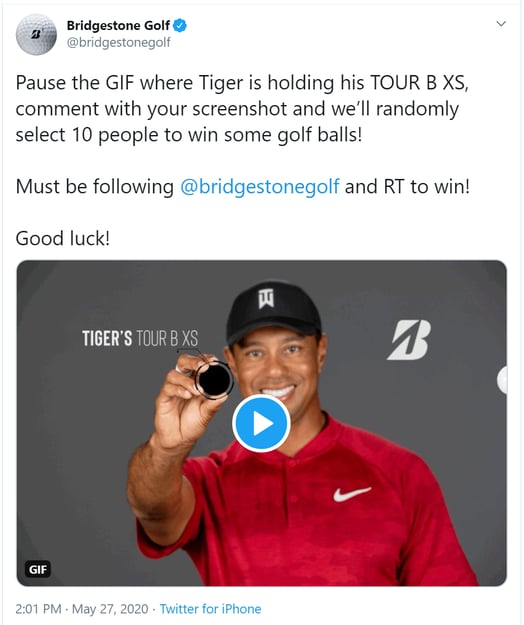 The image itself is interesting and exciting to their audience. The ask is simple, and you can keep trying until you succeed. Plus, you've got to follow and retweet for an entry. That's a lot of lift and expansion from a post they made – not an ad they placed!
You can lean into the "social" part of this selling too by working with influencers for the giveaways. Find someone who has a following for your product and partner with them to take a specific action and be eligible for a chance to win something.
This is huge in the video game space where companies will partner with popular streamers. They ask the audience to go and watch the streamer play a game and then giveaway a copy of that specific game.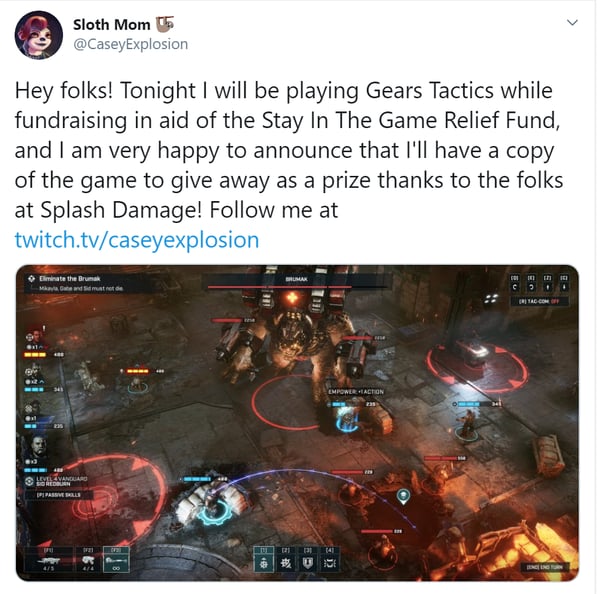 These streams create and sustain interest for the product while the viewers have a person that they can ask questions to or interact with and be part of a community. The positive experience of the stream gets associated with your product, too. In many cases, they only need to give away two copies (one to the streamer and one to the contest winner) while picking up a lot of potential sales opportunities.
3. Testimonials and user reviews
People trust user reviews more than your ads. So, use them instead of ads! User reviews and testimonials are perfect for places where you need something to showcase how great you are but don't want to do the bragging yourself. Think of times you want to tell people that you have fast shipping and fulfillment, long-lasting products, that they work great, or that they do a surprisingly good job.
That last one is a favorite of ours, especially this example from the Poo-Pourri homepage: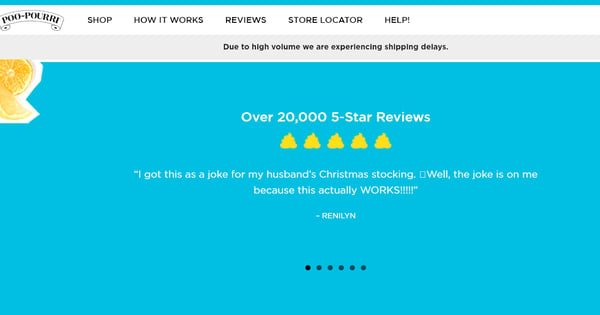 Silly is their mantra, and this helps the brand shine.
There are also ample opportunities to use testimonials as specific types of proof. Snap Kitchen does this well on its homepage with a set of three reviews that discuss its claims for losing weight, making healthy changes, and being affordable: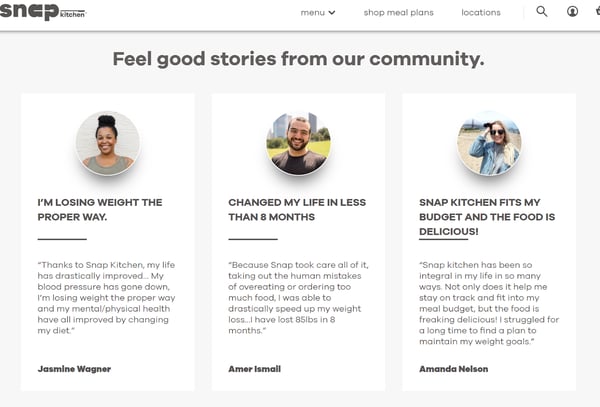 Visitors with a specific goal can see this and immediately start believing that Snap can deliver. It's a powerful blend of product quality as well as how much customers love the product.
If you're on the B2B side of commerce, you can also leverage your Net Promoter Score (NPS) which has become an industry standard for company reviews and recommendations.
4. Social proof
One tactic you can use for social commerce is getting proof and influence from users and stars. This is an indirect selling technique, but it is extremely common. Just think about how almost every podcast you've heard at some point was sponsored by Squarespace or Skillshare.
We're going a slightly different route, however, with social proof in the form of unboxing! This is an extremely popular YouTube phenomena that generates millions of views each month. What your brand wants to do is find someone willing to open up your product and talk about it, sharing genuine feelings and surprise.
The example we're highlighting is the Kinder Beauty Box being reviewed by Andréa Matillano. In it, Matillano discusses why she supports the brand specifically and how she shares its values. The video highlights the quality of the products but also builds brand trust because of the trust viewers have with Matillano. Kinder picked just about the perfect influencer to help spread its message here.
5. Quiz-based selling experiences
The final tactic we'll review are those quizzes people take to find their perfect fit product, or what '90s child actor they are. It's fun, easy to share, and informative. When done right for products, people walk away trusting the results. They will need some brand recognition and trust – either from the products or the company creating the quiz – to make those purchase decisions.
Makeup is inherently personal because looking great can depend on your skin, coloring, shape, hair, and more. So, skincare is personal, too. Allure is emphasizing this with a high-quality skin-care routine quiz on its website. When we asked around about social quizzes – an unscientific but useful poll because word-of-mouth is a strong seller – this one was mentioned the most overall and the most directly by name.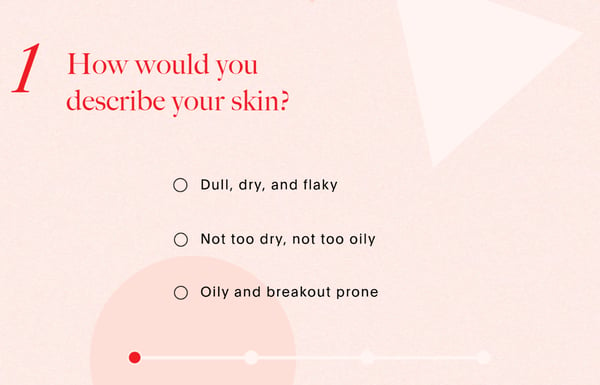 The quiz gets things right by being just four questions long, and they're all easy to understand and select. What you might like most, however, are the results. Allure provides a four-step system and makes multiple suggestions based on price point.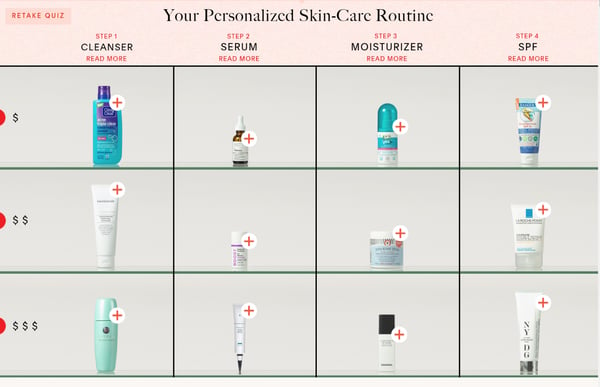 Click on the product and you get product details and selling points plus the price.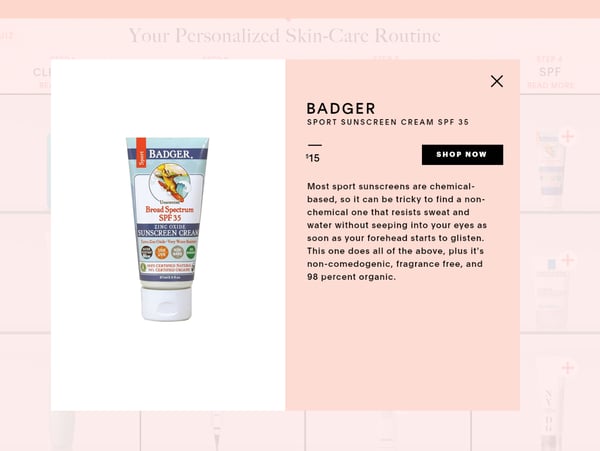 A "shop now" button will then take you directly to retailers like Target to buy the product. The whole thing is fast, easy, and feels authoritative. If you have questions, the quiz comes with a longer explanation below it to explain the process and some recommendations. The company also discusses its philosophy and shares some tips for you too.
4 popular social commerce platforms
Now, let's dive into some of the most popular platforms and tools on them. In many cases, you can sell directly from the platforms and only need an ecommerce solution to integrate with, while others may require you to start your own ecommerce website. We're highlighting solutions that are easy to implement and proven popular, so start with whichever makes the most sense for you and your audience.
Facebook Shops and Marketplace
Facebook Marketplace is essentially a free storefront for your business on their social platforms. In May of 2020, Facebook expanded its Marketplace to include Facebook Shops. The goal of this was to transform the Marketplace into something small businesses could use and create a service that worked on both Facebook and Instagram.

Essentially, Facebook Marketplace allows you to list just about everything you sell in a place that still feels like traditional Facebook in terms of branding. Facebook Shops then lets you select products and create a customized look designed to feel like your shop. These products are featured and easy to browse and promote.
People can find your Facebook Shops and Marketplace listings via:
Facebook page
Instagram page
User feeds and actions (likes and shares)
Stories
Ads
When someone visits your Shop, they can look at highlighted items, browse your entire collection, save products for later, visit your website, or buy them directly from you. If you have loyal customers, Facebook says it is also testing rewards programs in the Shops service and is in the process of rolling these out to stores.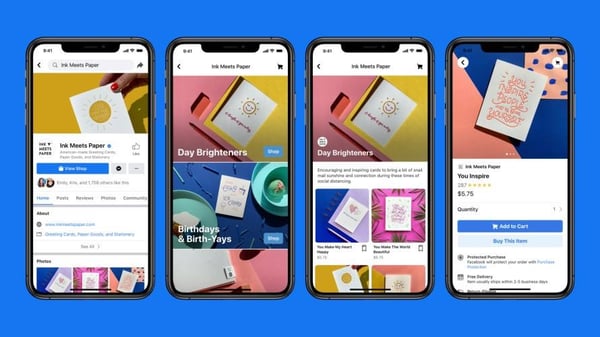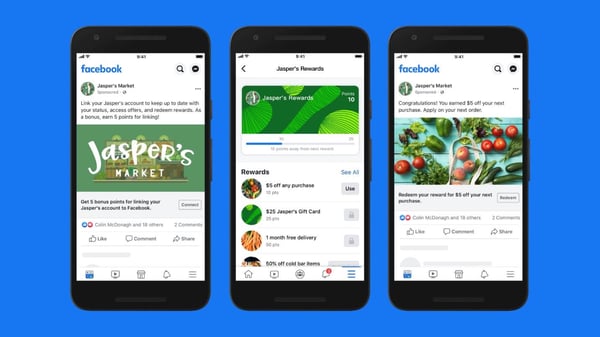 Another thing your customers will love is that they can ask for help via Facebook Messenger in both the Shop and Marketplace lists. Or you can link it to communicate via WhatsApp or Instagram Direct.
June 2020 note: Facebook says it is working on a Live shopping feature that will allow people to sell products in real time. It expects the rollout to begin happening in a few months with significant availability by year-end.
Instagram Shopping
Instagram Shopping ads are the go-to for Instagram social commerce. These ad units let you tag products in your posts to make it easy for people to discover and purchase them.
In the Instagram Ad manager, you can turn those posts directly into ads and when someone clicks, they'll go to a product description page that allows them to buy from you directly on the platform. This takes place in a window overlay and doesn't close the Instagram app or navigate users away from the location in their feed.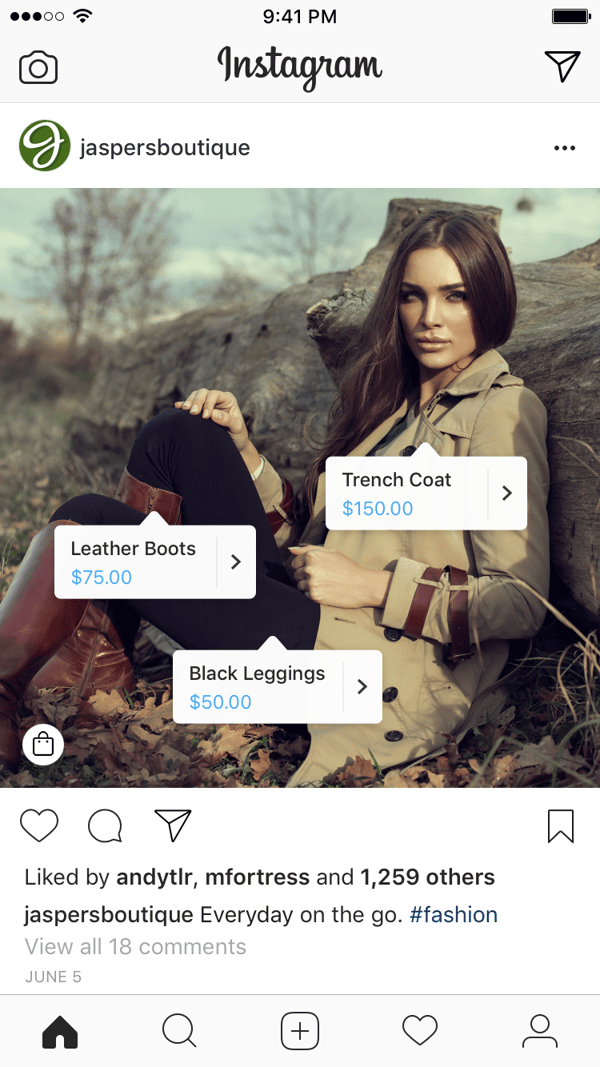 Instagram Shopping is available in stories, too. You just need to tag and link the product in the stories you make. A smart best practice is to keep names, product colors, and other information consistent so that someone clicks through and sees what they were ready to buy.
If you're considering influencer marketing as part of your overall social commerce plans, you'll be happy to know that you can integrate with other accounts and have them tag and sell your products from posts and stories, too.
Google Shopping ads on YouTube
Google's Shopping Ads work on YouTube and other platforms, focused on inventory tied to your store. You'll need a merchant account and to put product information in your Merchant Center to create the ads. From there, your campaigns are built out and can be spread to YouTube where they display like a normal text ad, but with one big benefit, Shopping Ads show:
Product image
Product name
Store name
Price
And more
You can use the system to created ads selling a single product, ads showing off multiple grouped products, or ads showing specific products to people based on their location.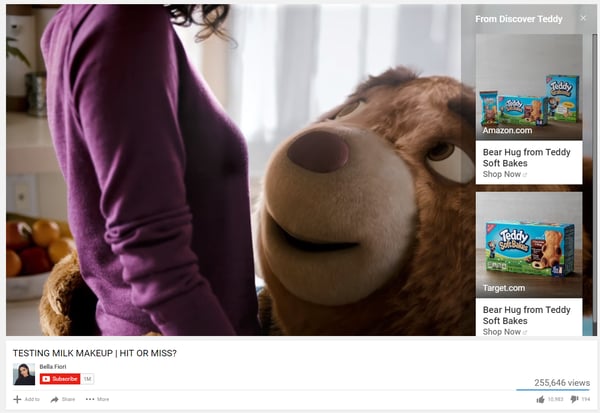 As an added benefit in all this, creating Shopping Ads on YouTube will also help you learn their system. Google has been expanding the platform significantly over the past year to include a variety of additional sources.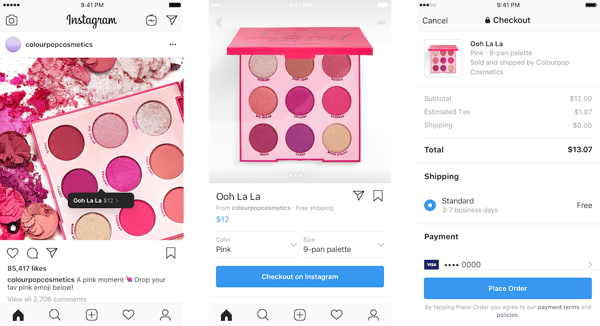 Source
Now, you can even check a box in the "Targeting" section that expands your ad to YouTube, Gmail, and the Discover feed.
Pinterest Rich and Product Pins
If your audience is on Pinterest and you've got a great eye for color, it's time to fire up Pinterest's Rich Pins and Product Pins. While they've been around for a few years, they're still popular and effective for many companies and have grown in functionality.
You can use them for multiple things like sharing articles and recipes, but what we care about for Rich Pins are the Product Pins.
The product versions of Rich Pins include a variety of product information to let people know they're shoppable, including things like name, pricing information, description, and if they're available. Some ecommerce integrations and third-party services can help you ensure that you're only advertising what's available, too.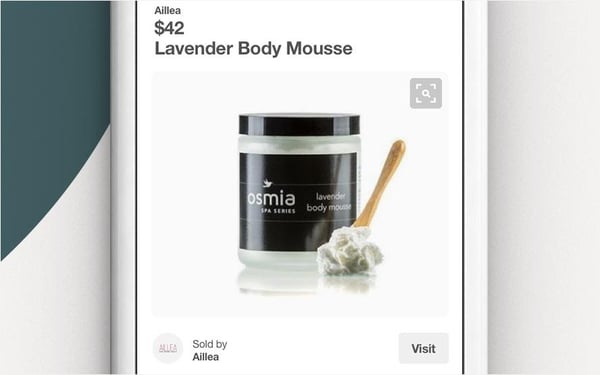 Product Pins allow people to buy directly from you, while catalog items make it easy to browse and then click through to take actions. There have been some big improvements to the service in recent months because of the growth of ecommerce.
For sellers, it's time to look at the Pinterest trends with renewed interest. The company has unveiled shopping spotlights designed to highlight popular people and brands. These will be guides that go out to users and should give you a great idea about trends and happenings.
While the company is starting with established brands, it has a prior history of similar pilots that become products for all companies to use. It's all about sharing and social shopping, which you can leverage.
Conclusion
Social selling is an amazing phenomenon that we're seeing grow and expand. Nearly every social platform has tools designed to help you sell, and they're becoming easy as well as popular. The prospect of what's next is nothing short of exciting.
Now is the time is right to start finding your audience and building out your capabilities. Take time to learn where your targets are and how they interact. Then, start engaging. You can work your way up from simple messages and shares to the more intense sales processes. Find what fits and works for you, then just keep going.