Search offers a far richer experience than ever.
As Google becomes better at understanding the intent behind vague search terms, content strategists need to create content that better addresses those queries.
Types of search queries
Looking at features with the SERP provides many clues as to possible ways of targeting any search query. In this post, we'll examine SERP features of some queries to see how to strategically target searchers.
7 types of search queries to target
Google Ads (text)
Carousel
People Also Ask (PAA)
Image carousel
Reviews
Videos
Featured snippets
Let's start with the search query "dishwashers," a great example for those interested in e-commerce SEO.
1. Google Ads (text)
The appearance of Google Ads either at the top or bottom of the page is a strong indicator of commercial intent.
A typical strategy is to create content satisfying the buying needs of searchers – such as comprehensive product pages and well-organized category pages. A well-defined site architecture is also important to getting sitelinks, like the ones you see in the first position of the organic results for the search below.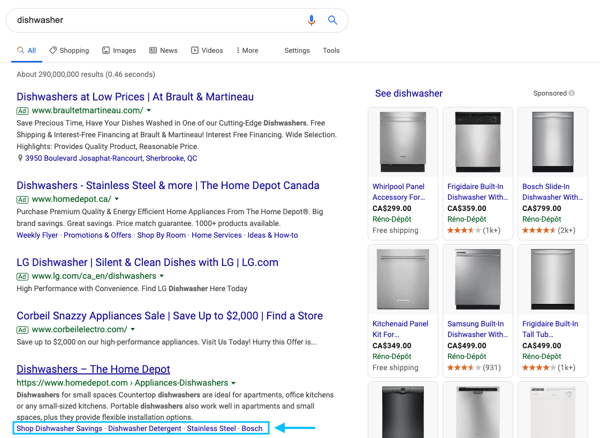 In a highly competitive and feature-rich SERP, paid advertising can complement a purely organic strategy. In this case there's opportunity for both text ads and image ads.
2. Carousel
The search query "dishwasher" is an excellent example of Google dynamically organizing search results using its Knowledge Graph and Topic Layer.
Immediately below, the first organic listing is a carousel of the best dishwashers. Each entry in the carousel has a link to a Google search for that model and two links to comparison articles where the particular model was mentioned.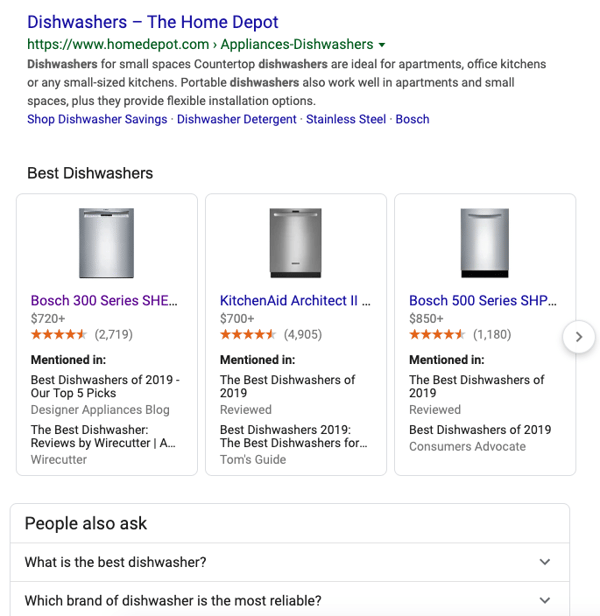 What this shows is the search engine's attempt to deal with intent fracture.
Searchers entering this query may have different intents. Some searchers want to buy the product. Others are looking for reviews and comparisons. So, Google presents results it believes will help searchers on their journey.
For this search term, one strategy could be to create a comprehensive review of the best dishwashers and include one of the models listed in the carousel. The topic "best dishwashers" is closely related to "dishwashers," and it's a search that Google has determined frequently happens in association with that term.
This is a great example of how an expert-level piece of content can rank well for multiple search queries. The Wirecutter review seen in the first panel also appears on the first page of the SERP for the term "best dishwasher."
The content targets searchers exhibiting comparative intent, not necessarily purchasing intent. Because it's well done, and it's one of the intent profiles Google is trying to satisfy, the page does well for this search term.
Further down the SERP is another carousel for the term "research dishwashers." It's another intent Google is attempting to satisfy for this search.
In order of importance, we see buy intent highest on the page (ads at the top), comparison next (best dishwashers carousel), followed by research (research dishwashers carousel).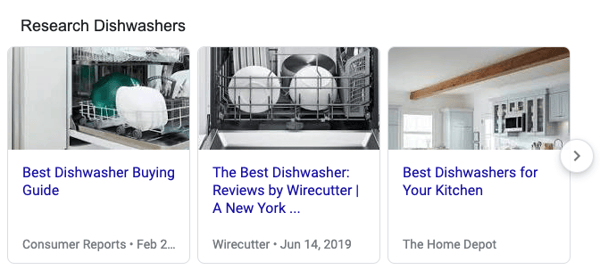 Interestingly, the Wirecutter article that appeared in the "best dishwashers" carousel also appear here as well. This is an unusual case where the same URL appears twice in the SERP. It's another instance where a comprehensive post can rank for multiple search terms.
The Wirecutter article is in second position for the term "research dishwashers" while Consumer Reports is in first position. One way to do this is by creating content that answers the questions that searches ask.
3. People Also Ask (PAA)
This accordion-style box reveals a host of questions associated with the search term "dishwashers." Head terms, those one or two-word general terms that define a topic, tend to be highly fractured. So it's no surprise there are so many questions surrounding the topic.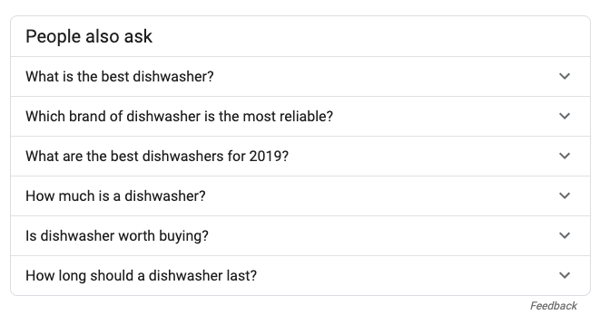 This can be a gold mine for content creation with one caveat.
Other than the last two entries, all the entries on the first page of the SERP for this term are category pages. The last two, from Consumer Reports and Wikipedia, are informational/comparative in nature. You're unlikely to displace these two sites from their position just by writing a similar piece.
However, there are a couple of approaches you can take.
One option is to incorporate all those questions in an ultimate dishwasher review or buying guide. In this case, the plan is to get in the "best dishwashers" or "research dishwashers" carousel.
The other option is to answer one of those questions to its fullest, using a combination of plain and concise language, coupled with structured data. Here, you're aiming to appear in the PAA list of questions and answers. In this particular scenario, it may be the most realistic option.
4. Image carousel
Near the bottom of the SERP lies an image carousel. This indicates that images are an important part of the search experience for this term. Take it as a hint from the search engine that your expert-level content should include relevant product images.
Further inspection shows that the images in this carousel come from high-ranking pages. By itself, your image is unlikely to rank. Instead, images should be considered an important element of a comprehensive page.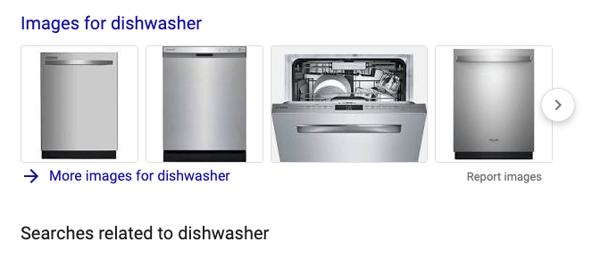 Here are a few tips to keep in mind when incorporating images in your content.
Use descriptive file names. Be precise when it comes to products and avoid the temptation to shorten the name. Use a full description instead.
Incorporate descriptive alt-text. The alt tag is used by screen readers to describe the image to visitors that are visually impaired. It can help search engines better understand the image as well.
Human-readable URL. Avoid using random combinations of letters and numbers. Sometimes, this occurs as a result of workflow meant to streamline operations. Instead, use a descriptive URL.
Optimize images. Serve the right size image that's sufficiently compressed.
5. Reviews
Long-tail keyword phrases are more specific than head terms. When search queries like this refer to product models, buyer intent is even greater.
In the example below of a search query for a specific dishwasher model, six out of eight organic results contain review ratings.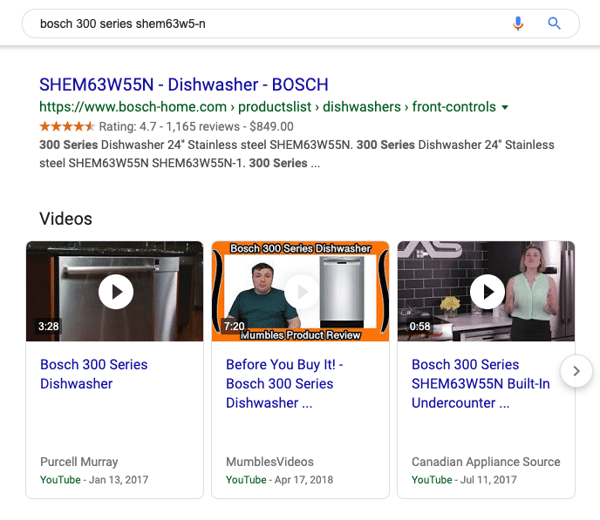 An obvious strategy would be to create a page on the dishwasher model that incorporates the review schema. When Google finds review or ratings markups on a page, they may display a rich snippet that includes stars and additional info, as seen above.
Review snippets can apply to a number of content types including:
Books
Courses
Events
How-tos
Local businesses
Movies
Products
Recipes
Software applications
6. Videos
Search queries displaying rich snippets, such as shown above, can also offer a video carousel – which provides another opportunity to target the term. Often, YouTube videos are easier to optimize for competitive search terms than non-video content.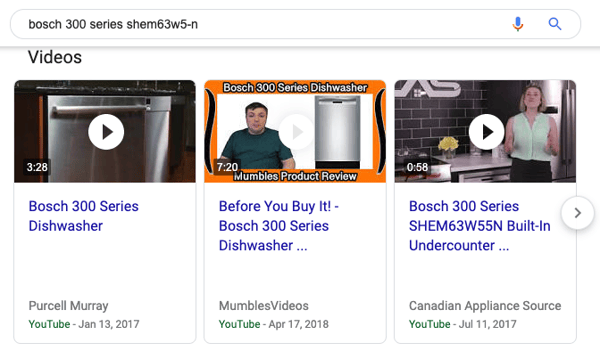 Google uses videos appearing in the top positions of the corresponding search query on YouTube as content for its video carousel.
For the search term "bosch 300 series shem63w5-n," these sites do not otherwise appear in the organic results. For them, video provided the opportunity to target a search query that would otherwise be out of reach.
Related: If you're not completely set on trying video out with your team, read our rundown of the top video marketing statistics to see just how much people appreciate your video marketing efforts!
7. Featured snippets
The featured snippet is a special block appearing above the organic search results and is often referred to as position zero. Typically, the featured snippet occurs for queries phrased as a question: who/what/when/where/which/why/how.
There are three types of snippets: paragraph, list, and table.
There is a standard approach to creating content that targets search queries with any snippet.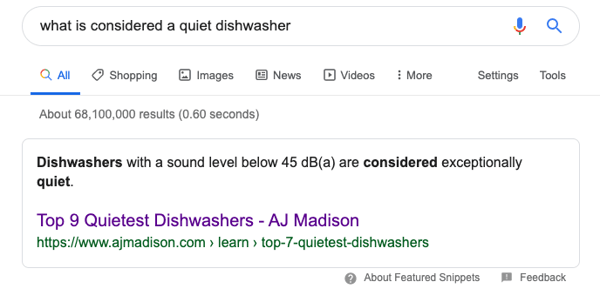 Create comprehensive and concise content targeting the query
Featured snippets are always taken from the content ranking on the first page of the SERP. The page that wins the featured snippet is the one that most directly answers the question.
For the search term shown above, the winner of the featured snippet comes from a page in position three. However, it's the first result to explicitly answer the question – which it did in the second paragraph of the page.
Format content to match what Google wants
Simple enough. If Google is looking for an unordered list, format your content that way. If an ordered list appears to be the favorite, do yourself a favor and order the list.
You don't always need to use a list. Proper use of header tags makes it easy for Google to create the list it deems necessary, but a proper hierarchy needs to be instituted.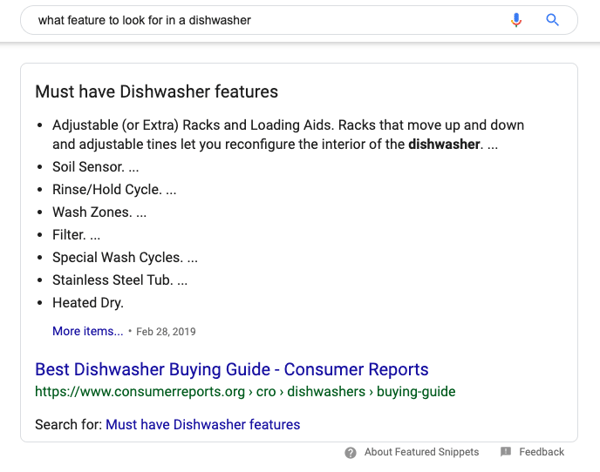 In this example, Consumer Reports was in second position for the search term.
Unlike the competition in position one, they made proper use of header tags.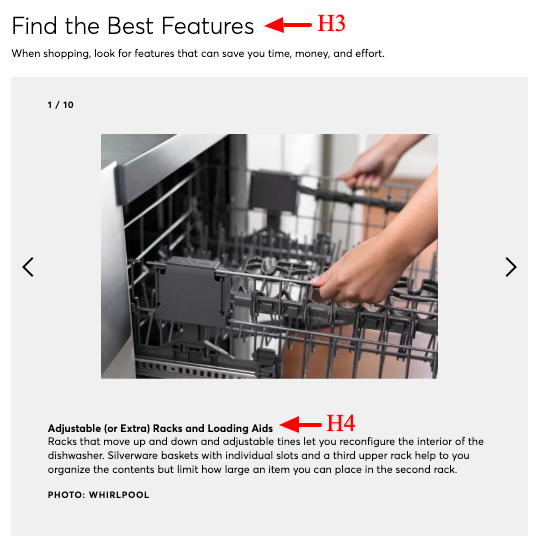 This page uses a carousel marked up with H4 header tags, from which Google is able to create a list of items under the H3 header tag.
Conclusion
Determining how to best target various search queries requires a good understanding of the psychology of your website's visitors, and how your page's canonicalization can be of use to the,. The best way to do this is by examining SERP features to better understand the needs of searchers using a particular query.
As Yogi Berra once said, "You can observe a lot by just watching," which is why it's imperative that content strategists pay attention to the SERPs.
Read what users have to say about SEO tools to find the right program to help better target your consumers' search queries today.