The act of tweeting — it's no longer made for the birds.
With over 330 million active users per month, Twitter is one of the most popular social media platforms. Yet, somehow, finding the correct Twitter header dimensions can be a struggle.
That's what I'm here for!
Twitter header size
Twitter banner dimensions: 1500 x 500 px
Profile picture dimensions: 400 x 400 px
Twitter header safe area: 1500 x 360 px
Accepted file type: JPG, GIF, or PNG
In this article, we'll look at:
With that, let's dive into the those Twitter banner dimensions and understanding what they mean.
The perfect Twitter header size
The perfect Twitter banner size is 1500 x 500 px. The safe area is 1500 x 360px, with a profile picture size of 400 x 400 px. The maximum file size is 2MB, and the accepted formats are JPEG and PNG files.
Tip: Read up on Twitter ads to learn how this platform is a marketplace.
Here you can see those dimensions for yourself:

The ideal YouTube banner size is easily found online. Thanks to the YouTube support center, your ideal dimensions are crystal clear for every device, including phones, televisions, and desktop computers.
Twitter, on the other hand, is a different story. Despite countless Google searches of blogs and images, it's difficult to find a template that ensures none of your banner design is lost when viewing Twitter on a computer, not a mobile phone.
Well, I'm here to let you know those days of struggling to find the perfect size for your Twitter banner are over. After many hours of research and consulting with a design firm, use the dimensions shown in the image above as your map to creating the perfect Twitter header.
When creating your image with the 1500 x 500 pixel dimensions, there are three pitfalls to avoid:
Even if your banner has the correct size of 1500 x 500 pixels, all important elements should be within 1500 x 360 pixels. (Use the Twitter header template to be safe!)
While Twitter will accept GIF files, animated GIFS are not currently supported for Twitter header images.
Be aware of the area in the lower-left corner; this is where your profile picture will be displayed. This area is noted on the free Twitter header template.
The recommended dimensions of 1500 x 500 pixels aren't foolproof. When researching for this article, I was truly surprised by some of the big brands (and I mean BIG) that dedicated resources to a Twitter banner with a gorgeous design and great call-to-action (CTA), only to have the text cut off. Oops.
To be safe and take absolutely all guesswork out of your Twitter banner, download the G2 Crowd Twitter header template that can be found at the bottom of this page. It is available in both PNG and PSD formats.
Armed with that template and this article's tips and instructions, you'll have the confidence and tools to create a perfect Twitter header.
Understanding the ideal Twitter banner size
Twitter provides the basic dimensions for your header photo (1500 x 500 pixels) and profile photo (400 x 400 pixels) in its help center. What it doesn't provide is the sizing information that considers the responsive design.
What does that mean?
Your Twitter banner won't look the same on different devices.
Here is the Twitter banner for Forbes Tech with a mobile view: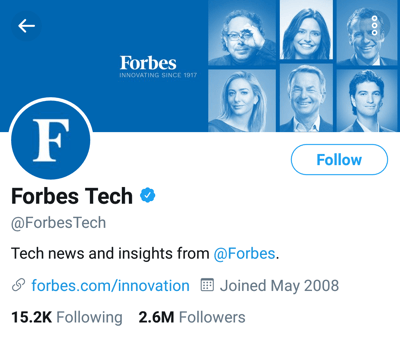 Here is the same Twitter header on a desktop view. Notice anything different?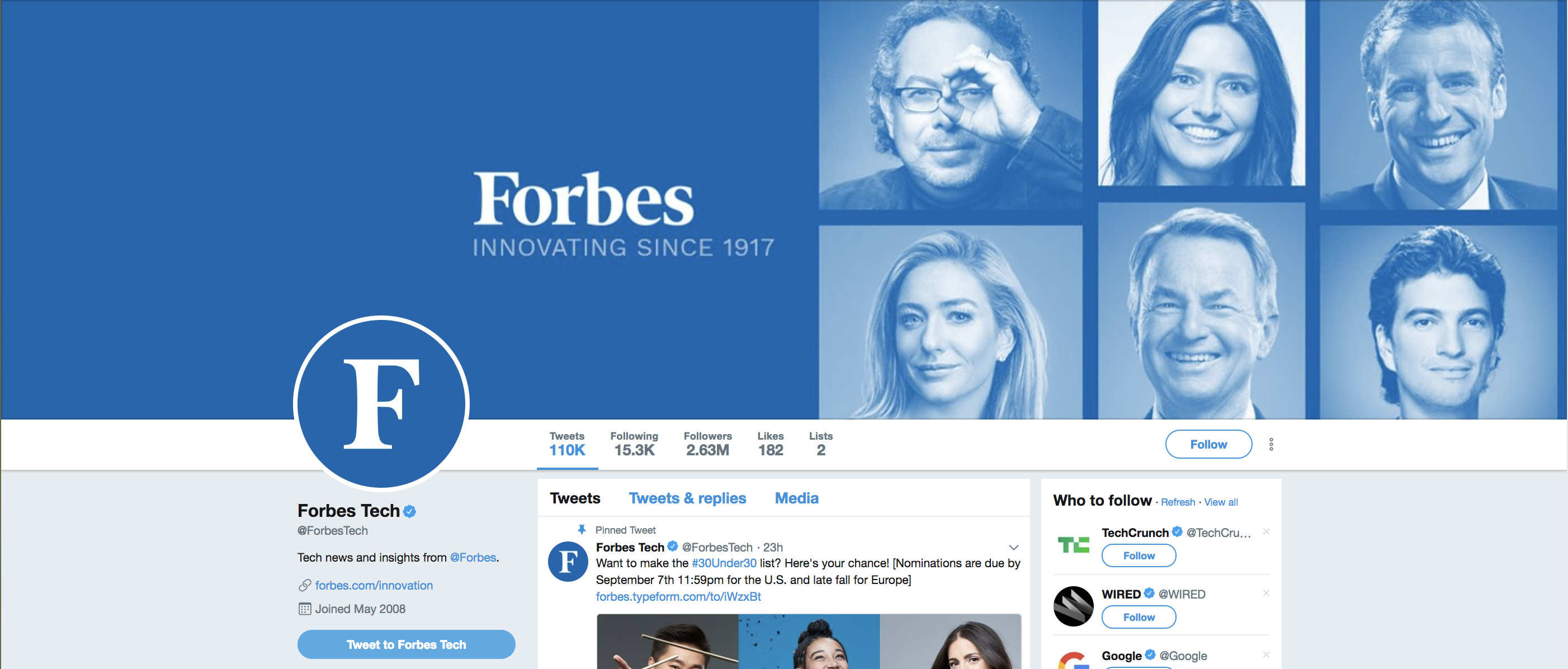 The top of the header has been cut off — there is no longer space above and below each of the six faces.
In addition, the Twitter profile picture (the "F" logo within the circle) has shifted its placement within the Twitter header.
This is an example of the responsive design — the Twitter header dimensions change based on the device your profile is viewed on.
What does that mean for you?
When you are creating your Twitter header image, be sure no critical information gets cut off. Risk areas include the top and bottom of your banner and the lower-left corner where your profile picture is found.
The cropped space at the top and bottom of your banner is minimal; 70 pixels on both the top and bottom. There's a good chance you wouldn't have put any important information here anyway!
Twitter header dimensions are a little bit trickier when it comes to the placement of your profile picture.
To show how the position of your Twitter profile picture shifts between devices, I've uploaded a detailed image as my Twitter header. (We'll walk through those steps later in this article!)
Once again, let's start by looking at the Twitter banner on a mobile phone. Notice that the profile picture image is overlapping with the teal party hat.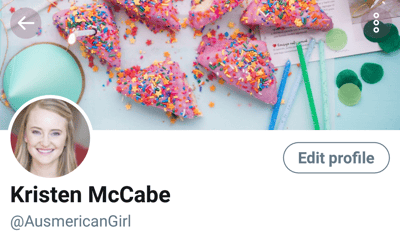 Now, take a look at the same Twitter header image on a desktop:

As you can see, my profile picture has shifted to the right — all the way over to those colorful sprinkles.
You cannot have any critical elements of your Twitter banner in this zone. That portion of your background image must be just that — background! On our free Twitter banner template, this "danger area" that could get covered up is marked as the "Responsive Profile Picture Area."
And, once again, you can see how the top and bottom of the image were cropped on my desktop. In the top photo, viewing Twitter on my phone, someone has taken a bite out of that delicious pink cake. In the bottom image, that bite has magically disappeared.
Now that you understand what the Twitter banner dimensions mean, let's look at why creating a Twitter banner is so important.
Twitter banner tips and best practices
Twitter is a platform where marketers, business professionals, or business owners need to have a presence. Consider the fact that on a busy day there are approximately 175 million tweets and 300,000 new visitors.
Even if you've used Twitter for years, when's the last time you thought about your banner image? If it's been a while or your cover photo was an afterthought, it's time to give your profile a fresh look!
Why are Twitter headers important?
Your Twitter banner is the first impression of you when people discover you on Twitter. One of Twitter's biggest benefits is increased brand awareness — it is where potential users find you and your brand.
Don't forget that Twitter headers also serve a purpose in supporting your marketing campaigns. They encourage users to take action. For example, Netflix used its Twitter header to promote its series "Orange is the New Black."

In addition, your Twitter header can have a huge impact on your number of followers.
I have a daily habit of checking who has followed me on Twitter. 99 percent of the time I follow back, but others are more selective. When you follow a new Twitter user, there's a good chance they'll do the same thing I do — click on your icon, check out your profile, and decide if they want to follow you back.
Whether you are representing yourself or a company, it doesn't take long to find a high-quality image and upload it to your profile.
If you don't take the 10--15 minutes to do the bare minimum, you're displaying a lack of professionalism and regard for your presence on Twitter. If you don't care about making your profile look good, why should people follow you? It's not a good indication of the content you will be posting!
What should I put on my Twitter header?
Your Twitter header is a representation of you and your brand. What makes you unique as a person or company? What do you stand for?
In a moment, we'll look at some examples to spark your creativity and some tips on how to create your banner.
Knowing your Twitter header reflects you, upload a banner that shows off what makes you your unique self. Even if you're using free stock images, it doesn't take long to source a picture with objects or themes you have a connection to.
TIP: Not all stock photos are appropriate for Twitter. Check out this compilation of weird stock photos so you have an idea of what not to do.
Take a look at Ann Handley's cover photo for MarketingProfs. Ann is the company's Head of Content, and one of the top content marketers around, if not THE top content marketer! Not only that, Ann is an author — an author who writes about writing.

Given that one of her best selling books is "Everybody Writes," and MarketingProfs has a dedication to valuable content, it makes sense that the cover image is a book.
Ann's personal Twitter profile is also an excellent example of a photo that serves a specific purpose — promoting her book. This banner shows how you can showcase your product through your Twitter banner.

Twitter header tips: Best practices for your banner in 2020
When creating your Twitter header, here are the top three best practice guidelines to keep in mind.
1. Make an emotional connection with your banner
In a moment we'll look at 10 examples of great Twitter headers. Throughout each of them, you'll notice a common theme — there is an emotional appeal. Whether it's showing a product that has an aspirational quality or making you relate to family values, none of these banners are boring.
Images have a heartfelt impact. Words do too, but they take more time. While well-written copy is scannable, an image can get your point across faster than any text. That's what you need your Twitter banner to do: Make an impact that will immediately get Twitter users to follow you and your tweets.
2. Keep the Twitter header design clean
In 2013, our attention span as digitally engaged humans dropped down to a mere eight seconds — less than that of a goldfish. And, if you think attention spans are short on Facebook, YouTube, and Instagram, imagine what they're like on Twitter, where content is limited to just a few sentences.
While your Twitter header needs to look professional, it can't have too much "stuff." In reality, people just don't take the time to look at the details. Make use of contrasting colors and negative space to ensure your message pops.
Aside from attention spans, you want people to be able to read any text on your header!
As of 2017, 80 percent of Twitter users were mobile. In the same year, the majority of phone screens had a diagonal length of 4.7-to-5.5 inches. That doesn't leave much room for small details.
Remember: clutter doesn't have impact.
3. Tie your Twitter header to your brand
Whether you are supporting a specific campaign or your brand as a whole, your Twitter banner should have a connection to your brand.
As we look at the following examples, you'll see how these Twitter influencers have used their Twitter banners to support their marketing messages.
Your Twitter tactics don't happen in a bubble; they are one piece of your overall marketing strategy. And, having omnichannel marketing approach means your Twitter header should be consistent with your company's messaging. When your banner reminds users of your brand, displays your product, shares company values, or supports a specific campaign, it will carry the most impact.
How to create your Twitter header image
Now you know the right sizing and what to consider, and you're ready to upload the perfect Twitter image that is engaging and reflects you and your brand. Well, first, you need your new header image!
Let's take a look at where you can find pictures to use for your Twitter header and how to customize those images for the right Twitter banner dimensions.
Where can I find images for my Twitter header?
Whether you find a picture online or use an image from your personal library, there are plenty of options available to you!
The simplest way is often with a stock image. You can download paid stock images for personal use (iStock is very common for this), or make use of a free stock image website.
Established in late 2017, Pikwizard is new site for free stock images, with 100,000 high-quality images, and 20,000 of them exclusive to their site. There is no attribution required, meaning you can use them as your Twitter header image.
Unsplash is another popular source for free stock images, and the photos found there are allowed to be used for commercial purposes. Other stock image websites include Pexels, Death to Stock Photo, Pixabay, Barnimages, and Rawpixels. Whatever image you choose, if you are a business, make sure you have the legal rights to use it in your banner.
On the other side of things, you might already have a great photo on your own! Consider pictures of your product, store, or event marketing functions. These are all great opportunities for your Twitter banner, especially if they were taken by a professional.
Instead of a picture, you can also use colors, text, and icons to create a Twitter header that reflects your business.
How do I create an image with the correct Twitter header size?
Here are three ways to ensure your cover photo is the correct size for Twitter.
1. Create a canvas with the 1500 x 500 px Twitter banner dimensions
You can use design software to create your own unique banner image. Paid programs, such as those found in the Adobe Creative Suite, are common for this. Other design software providers, such as Canva and PicMonkey, give you the ability to design a custom-sized canvas with free plans.
2. Download our free template to create your Twitter banner
Instead of creating your own canvas, you can download the free template on this page. The PSD template can be used in Adobe Photoshop, and the PNG version can be viewed on any computer and uploaded into a free design platform.
The template will give you a starting point and help prevent you from putting any text within the "danger zone" at the top, bottom, and lower-left corner of your page. This will ensure your message is still clear on desktops, where the top and bottom of your Twitter header are cropped out.
3. Resize your banner within Twitter
If you have an image you'd like to use, either from a stock photo website or your own collection, Twitter makes it easy to adjust how it looks on your profile.
As you'll see when we look at the steps on how to upload your Twitter header, you can use Twitter's scale feature to zoom in to a specific area of your image. By clicking and dragging the picture, you can also reposition it.
This feature makes it easy to utilize stock images for your Twitter banner. You can find an image, download it, upload it to your Twitter profile, and adjust its size — all within as little as 15 minutes! (See, there really is no excuse not to have a good Twitter cover photo!)
Examples and ideas for cool Twitter headers
You've already seen a few examples of Twitter headers. Now, let's look at ten more examples of Twitter banners that implement these best practice tips.
1. Holiday Inn's collage Twitter banner

The Holiday Inn Twitter banner shows the company's family values, along with the aspirational emotion vacations hold.
You can see a Holiday Inn hotel in the upper-right corner and a child in the middle center, proclaiming the brand's family-friendly policies. The bottom left corner appeals to those who want to get away and relax, and the bike ride represents hotel guests seeking adventure.
The message is clear: Whatever you're looking for in a vacation destination, Holiday Inn is the hotel for you.
Twitter banner takeaway: Just like your YouTube thumbnail image, collages work! While the messaging should have a clear focus, don't be afraid to incorporate multiple images into your banner design.
2. Shark Week's Twitter banner with consistent branding

Shark Week's Twitter header is an example of a banner that is visually integrated into Discovery Channel's overall marketing message and brand. And — just in case you don't believe me — here's the proof.
Check out the homepage of the Shark Week website: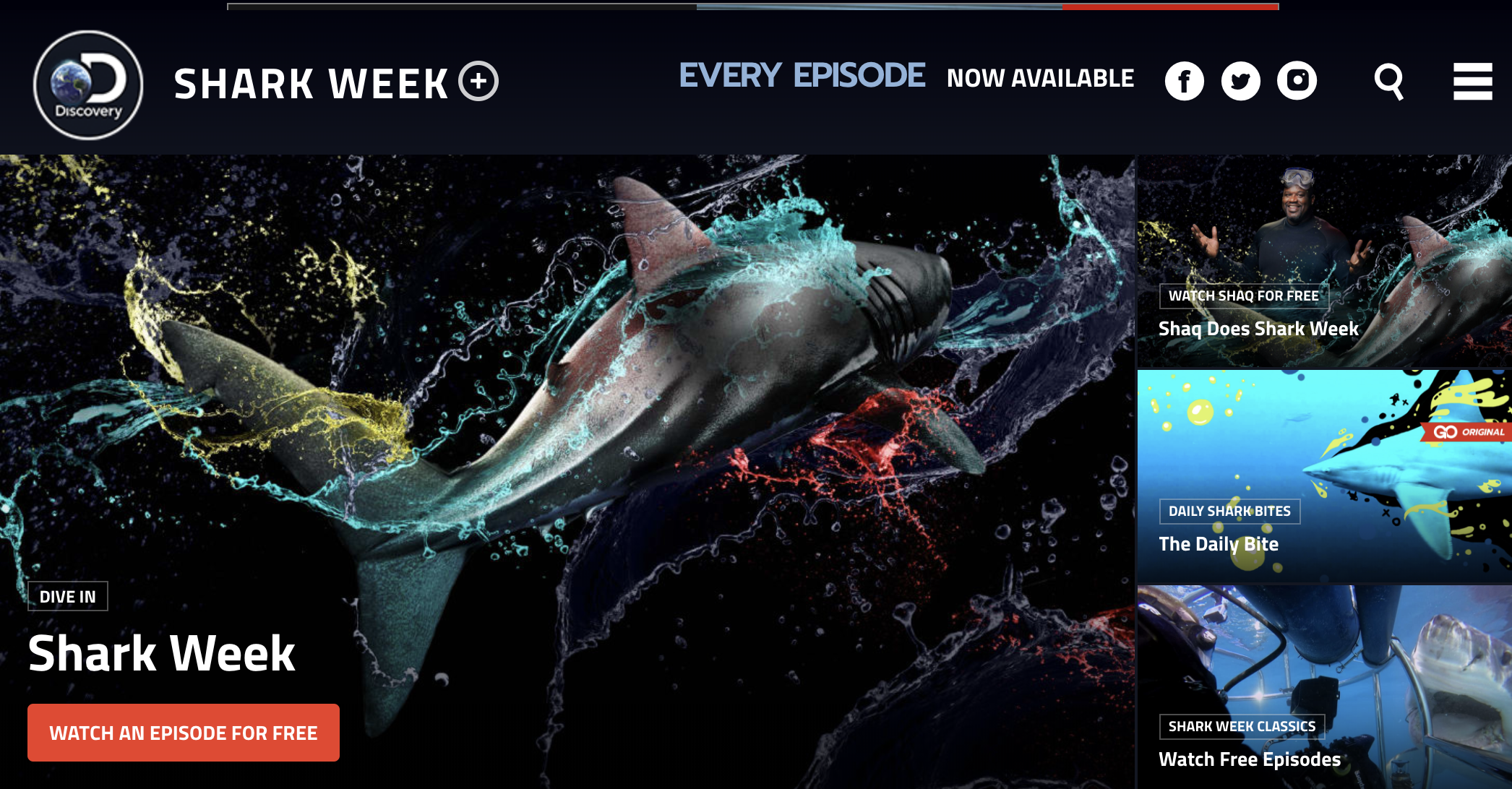 The colors and imagery match perfectly. When Discovery Channel viewers are binge-watching adrenaline junkies swimming with sharks, then want to tweet about it, they'll know they're in the right place as soon as they land on Shark Week's Twitter page.
Twitter banner takeaway: Keep your branding consistent. Just like your Facebook business page, when using the same elements across channels, you'll increase brand recognition and ensure your Twitter profile is properly integrated into your marketing efforts as a whole.
3. John Deere's audience driven banner

You know that emotional response we were talking about? John Deere has nailed it to a tee. Its Twitter banner tells a story that appeals directly to its target audience.
The tractor shows the brand's product, the silos behind shows where it is being used (a farm, of course!), and the sunrise gives the time of day, setting the story behind this picture. It look's like it has been taken directly from John Deere's Instagram marketing team.
It's the early hours of the morning. The roosters are crowing, the corporate world is still snug in their beds, but the farmers who work the land are up and beginning their day. With this image, John Deere lets customers know they are understood.
Twitter banner takeaway: Even if you don't have the budget of John Deere, look for the opportunity to use pictures that show your target market you know them. When you actively share a story your customers can relate to, they'll listen.
4. Mimco's aspirational Twitter banner

Mimco is a high-end Australian fashion brand. With the image on the right side of its banner, the company showcases one of its products.
The left-side image holds that aspirational quality fashion brands depend on. The woman is elegant and stylish, just like Mimco's products are. (Which is just what the women who buy the brand are looking for!)
Behind the woman, the background sets the stage that she's somewhere special. It looks expensive and sophisticated, which helps buyers justify the brand's luxury price tag. (Did I mention I am a customer myself? Let's just say, the company's branding works!)
Twitter banner takeaway: Look for ways to include your products in your Twitter banner. Like all marketing imagery, make sure the images are high-quality — just like your products!
5. System1's B2B Twitter header

System1 is a marketing agency with a focus on research. Like Mimco, it uses the split-style design for its banner. However, given the company is providing a service, System1 has neither a product to show off or a model wearing that product.
Instead, on the right, the company uses an image that displays exactly what its service does — understand the mind of consumers.
On the left, System1 has its value proposition: In one simple sentence, the agency is explained. The company predicts what makes effective marketing campaigns, which happens to be exactly what the brand's customers are looking for.
Twitter banner takeaway: Think about your ideal customer. What problem does that person face? How can you help them overcome it? Keep your message brief. Then, by using clean text on a colorful background, like System1, you can be sure your prospects will see it.
6. LUNA Bar's Twitter banner with emotional appeal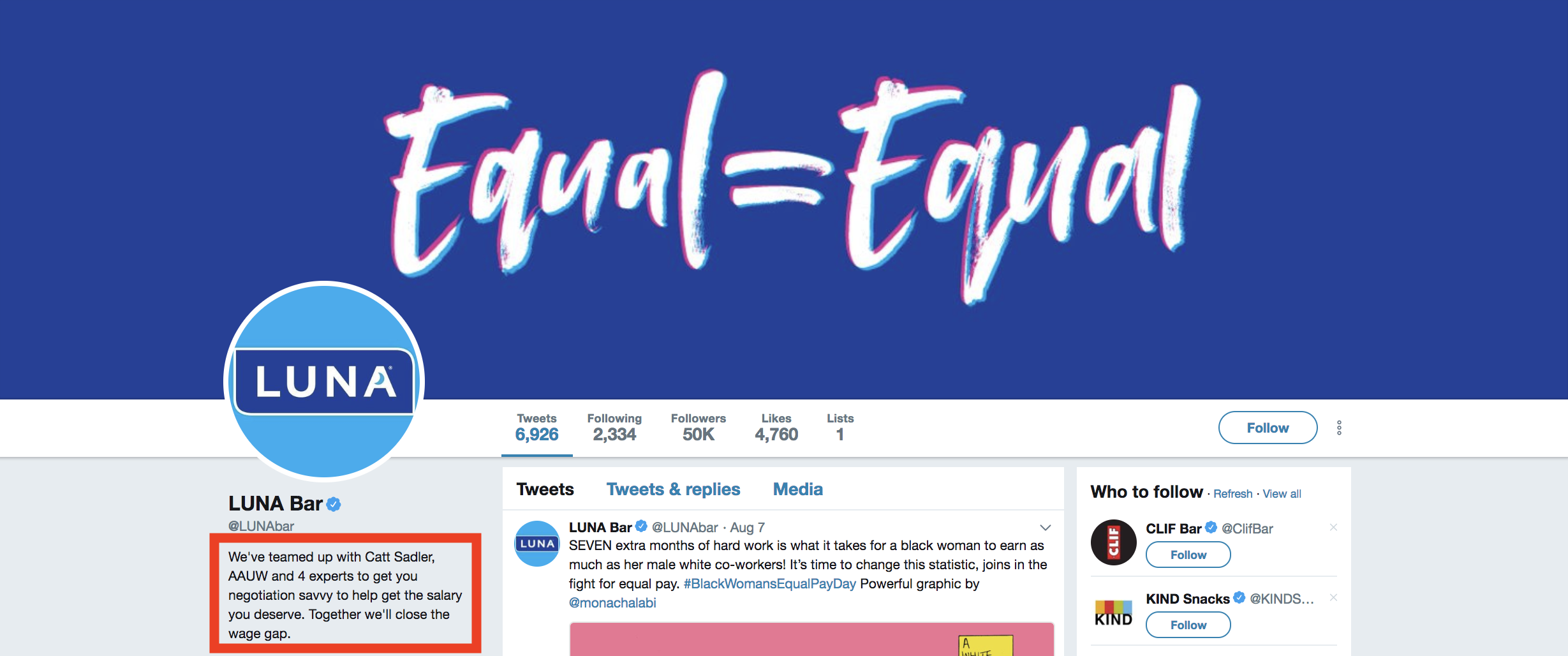 LUNA Bars are protein bars designed for women. Knowing its target audience is decidedly female, LUNA Bar has shown it cares about the same thing its audience does: equality.
"Equal = Equal" is not what I expected to find on the LUNA Bar banner. Once I did, intrigued, I had to find out if I was right in my interpretation of the meaning.
A quick look at the Twitter profile biography, noted in the red box, answered my question.
It reads, "We've teamed up with Catt Sadler, AAUW, and 4 experts to get you negotiation savvy to help get the salary you deserve. Together we'll close the wage gap."
This Twitter header works for several reasons:
It intrigued me. Of the many, MANY Twitter banners I have looked at, this is one of the few that caused me to read the brand's biography.

It shows LUNA Bar's commitment to its customers and highlights the company values. In addition, it raises awareness for the company's equal pay campaign.

The banner ties into a current trend, equal pay, which society, as a whole, has under a magnifying glass.
Twitter banner takeaway: What matters to your customers? What matters to you? Twitter is a place you can tell your story.
7. Chewy customer support Twitter account

Chewy is an online company that sells pet supplies. This Twitter header is for its customer support account. A huge part of what makes the brand successful is that it cares about both its customers and their animals.
The company's customer service philosophy comes down to treating each consumer not as a number, but as an individual. Customers are — wait for it — human beings. (I know, shocking, right??) The company's representatives take the time to listen and help each person.
Here, Chewy has done an excellent job displaying the faces on the other end of the phone, ready to help. Given that's what this Twitter account is for, it's a perfect use of the brand's Twitter banner. Plus, happy people (and happy dogs!) have that positive emotional impact we've been looking at.
The main Twitter account for the company also resonates. I mean, look at these four dogs — how happy are they?!

This screenshot was taken in summer and displays how Chewy's Twitter banner takes the time of year into account. The image represents the summer fun Chewy's customers want to have with their pets, including lounging on outdoor beds, a cool water bowl for hydration in the summer heat, and, of course, plenty of toys for fetch fun!
Twitter banner takeaway: Look for ways to personalize. Your company and customers are all made up of real people. How can you show that you are more than a faceless corporation? In addition, the second picture demonstrates you don't need to include any text in your Twitter header. A high-quality photo is all you need to resonate with users.
8. Katie Martell's individual Twitter cover photo

While many major businesses are on Twitter, a huge number of users are individuals. So, of course, I couldn't make a list of Twitter headers without giving you individual examples!
Katie Martell is an on-demand marketer who happens to be a wonderful event speaker. (She has even shared her personal tips for corporate event planning and how to maximize ROI by being anything but boring!)
Not only does Katie's banner show her speaking in action, the image shows the value her insights provide. You can see the words on her slides as she gets real with marketers: "Profiting from these insights while embodying the opposite is not clever, it's exploitation."
Twitter banner takeaway: For personal profiles, what's the one thing you want the Twitter universe to know about you? Brands need to have laser-focused messaging, and the same is true for individuals creating their banners. Like Chewy, Katie's banner also displays how one quality image is all you need for a great Twitter banner.
9. Mark Ritson's curiosity grabbing Twitter banner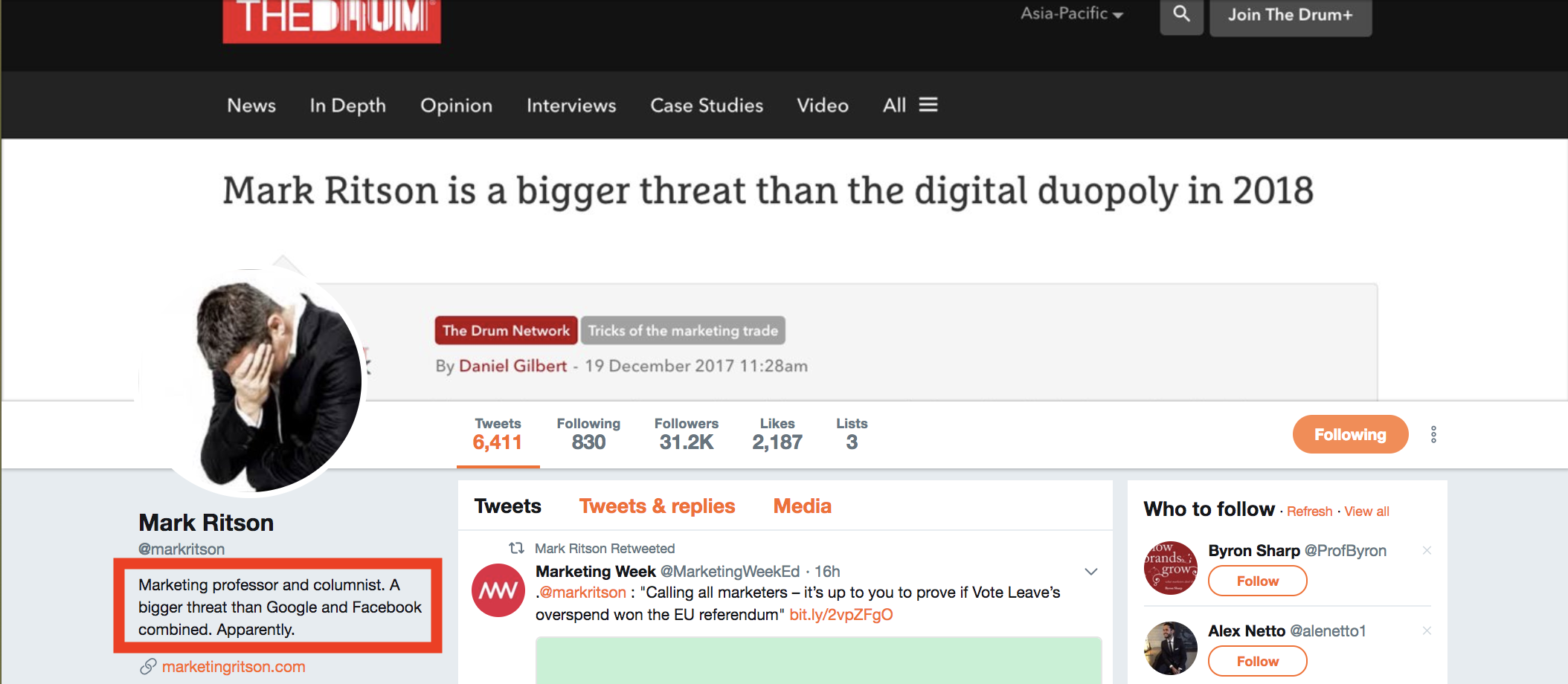 Mark's Twitter banner packs a punch — just like he does.
Why does Mark make headlines for being a threat? It's not just because of the heart-attack any sensor would have attending his presentation. He is a marketing speaker and consultant who tells it like it is, even when it's not what marketers want to hear.
With his Twitter banner, Mark shows that he's not afraid of criticism. In fact, he welcomes it. His banner includes a screenshot of an article written by one of his naysayers, who wrote a direct rebuttal to Mark's piece on fearing the digital duopoloy. Mark uses this article to prove that he stands by what he says, even when others disagree.
Twitter banner takeaway: What sets you apart from others? If the Twitter banner represents a company, look for points of difference between you and your competitors. For a personal Twitter profile, focus on what makes you unique. Don't shy away from it — embrace it!
10. The UK & Irish Packers banner
The Twitter page for U.K. and Irish Packers shows that you don't need to be an enterprise company to have a Twitter batter that resonates.
Instead of just having a URL in its biography, this group included it in its banner. The emblem is on the right, ensuring it is safe from the trouble area near the Twitter profile picture. The use of negative space (in the middle) also draws your eye to those two important elements: the website and logo.
And, of course, the background image is clearly branded to appeal to Packer fans with those green and gold colors and Packers logo. Fanatics can even find the words "Lambeau Field" without getting distracted from the important elements.
Twitter banner takeaway: It's okay to have the important elements on the right side of your header image, safe from the risk of your profile picture covering them.
Now that you've got ideas for your Twitter banner, let's look at how to add it to your profile.
How to add Twitter headers
Adding a banner to your Twitter profile is a simple process with just six steps. Here, we'll take a look at each one of them in detail.
Step One: Log into Twitter

Log on to Twitter and go to your Twitter profile page. (Simply click on your image to do so.)
Then, click on the "edit profile" button.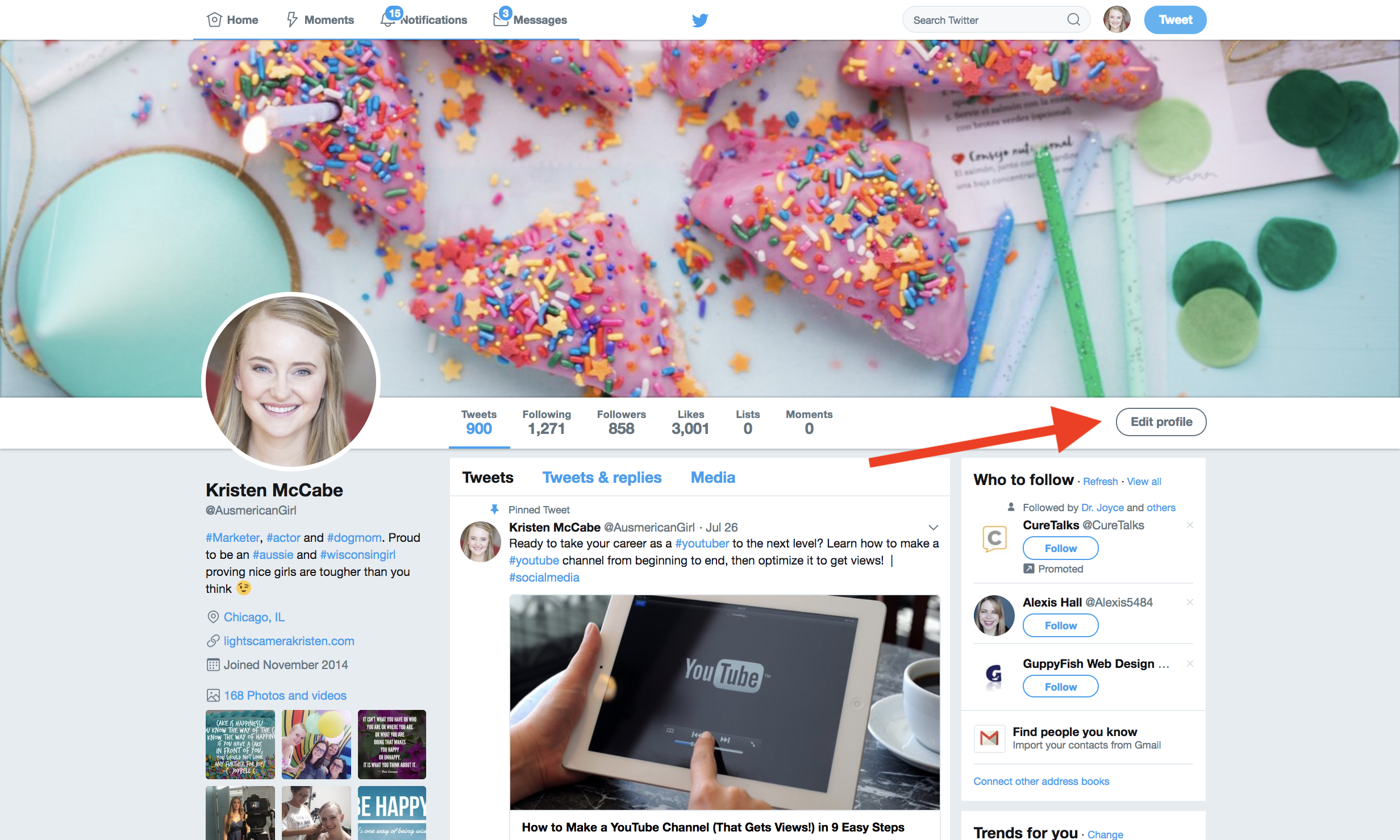 Step Two: Twitter editing mode

You are now in editing mode.
Here, in addition to changing your Twitter header photo and profile picture, you can change your description, website URL, location, theme color, and birthday.
To change your banner image, click on the icon above the words, "Change your header photo."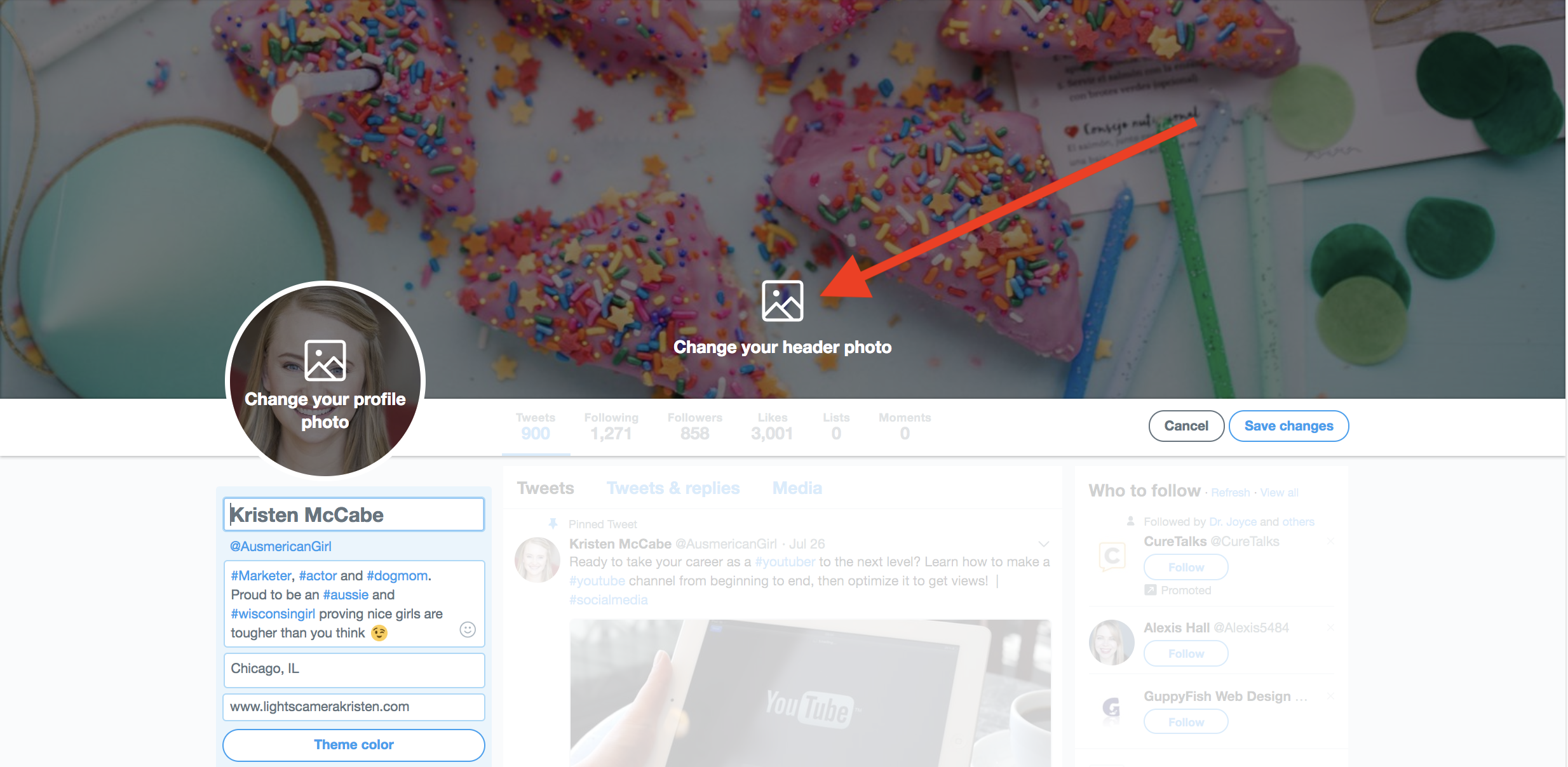 Step Three: Upload your banner with the correct Twitter header size

A drop-down menu will appear, giving you three options.
You can either remove your current Twitter cover image, upload a new image, or cancel — the perfect button for when you hit the icon by mistake!
Choose the "upload photo" option.

On the pop-up window that appears, navigate your files and select the Twitter banner image you would like to upload.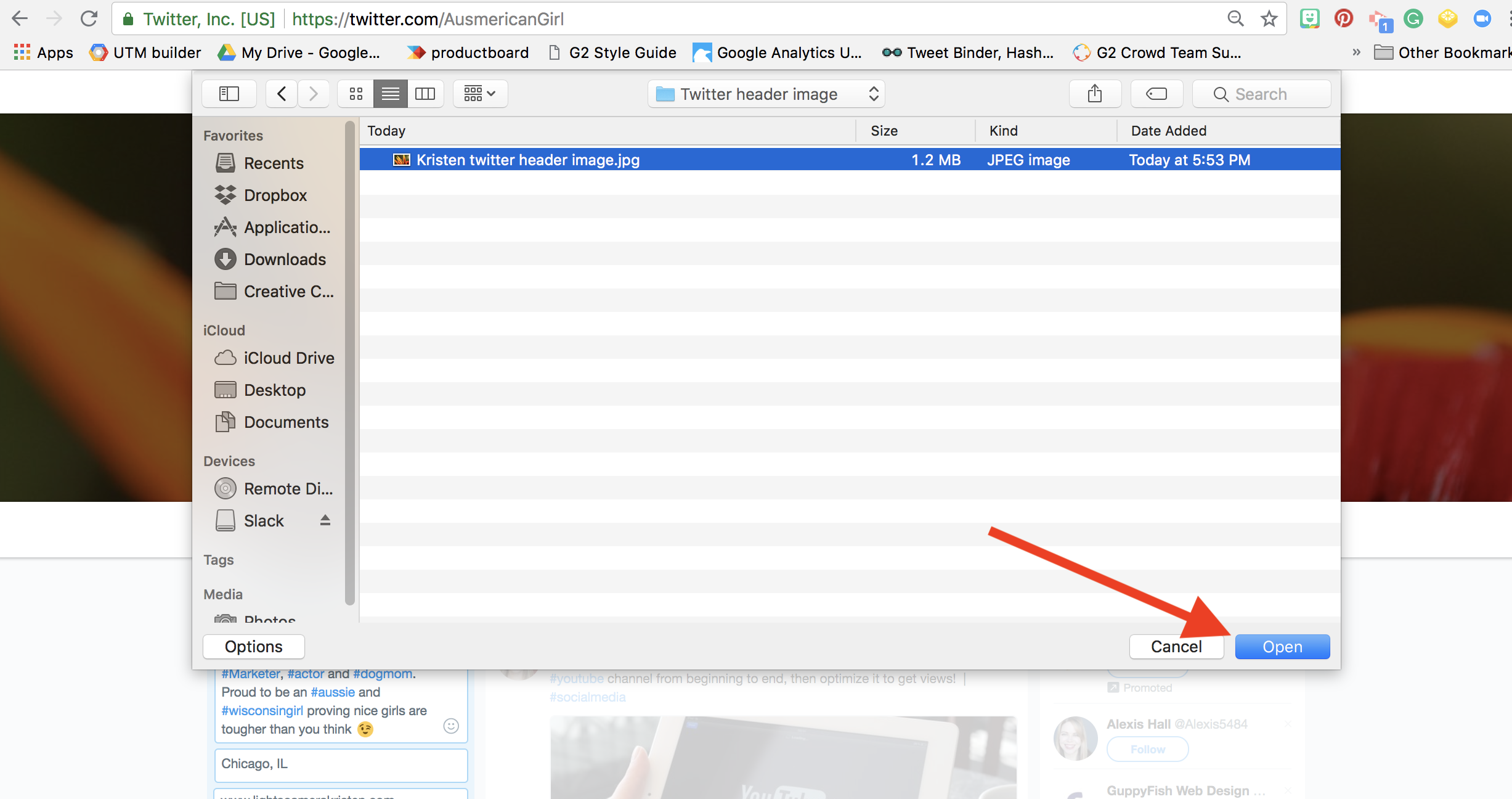 Step Four: Reposition and scale your Twitter header

The new banner image will appear, along with the option for you to reposition and scale the header.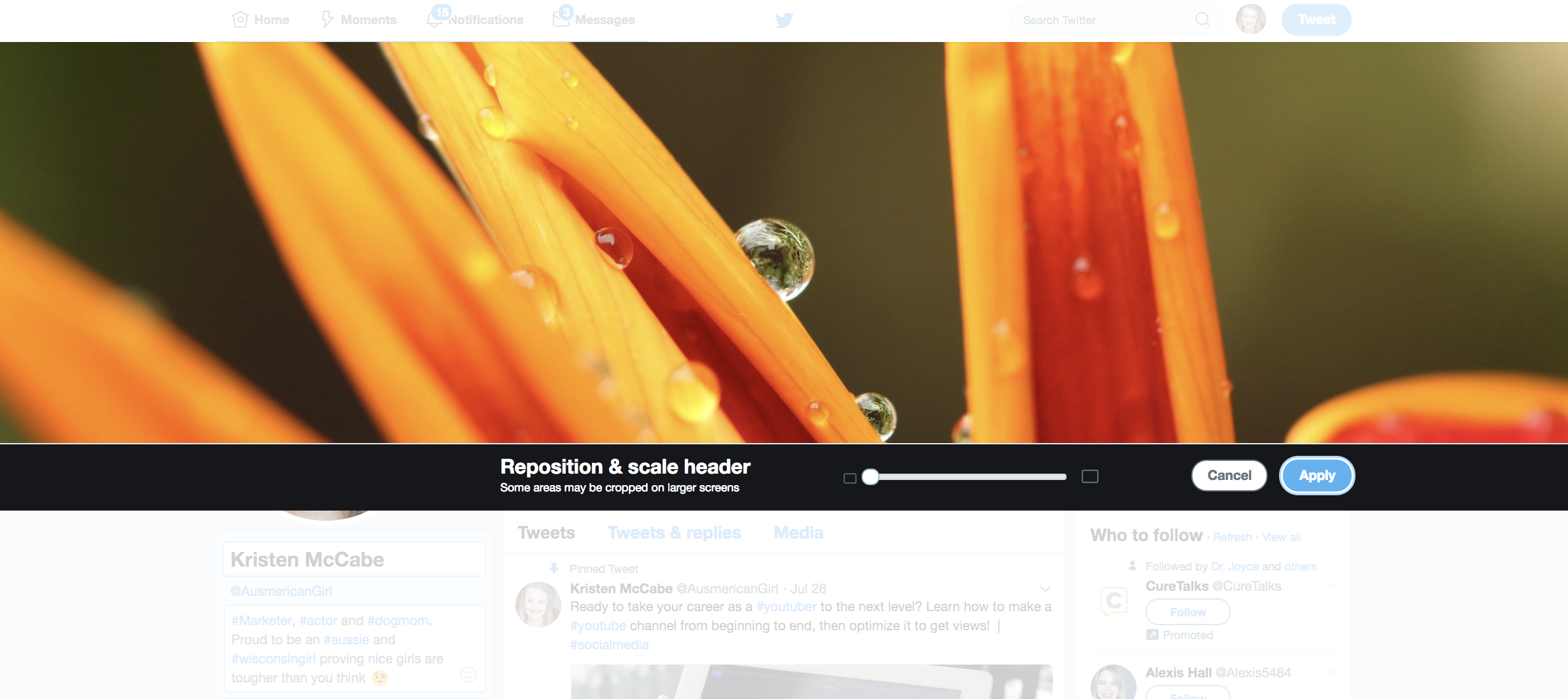 If your Twitter banner dimensions aren't set to the correct size of 1500 x 500 pixels, this is where Twitter makes it easy for you!
You are now able to do two things:
Click and drag your image to determine which portion of the image will appear on your banner.

Scale your header, zooming in and out with the white bar
When repositioning and sizing your header, don't forget — the top, bottom, and bottom-left corners may be cut off on some devices.
Step Five: Save your updated Twitter banner

Your new Twitter banner image will now appear on your profile page. Click the "save changes" button.

Congratulations — you have now uploaded your custom Twitter banner and sized it with the perfect dimensions!
You're now ready to use our free template and design your Twitter header image.
Free Twitter header template
Creating an image with the Twitter cover photo size of 1500 x 500 pixels is an easy process — especially when you have a template!
Use this template to ensure you have the perfect Twitter header dimensions — even with that pesky profile picture shifting left and right!
Whether you need a PSD or PNG file, we've got you covered.
Twitter header template - PSD
To view this file, you will need Adobe Photoshop. Once you open the PSD within the program, you can work with layers, add images and text, and customize your colors.
Twitter header template - PNG
This template doesn't require any software to view. While you won't be able to edit the file the same as a PSD in Photoshop allows, this template is still incredibly helpful when designing your Twitter banner.
The dimensions will guide you through your image selection and design process. If you're using a free design program, simply create a 1500 x 500 pixel canvas, upload the template, and build your header, using the dimensions as a reference point.
---
The perfect Twitter header size
Twitter headers are an important part of your social media marketing strategy. If you don't take the time to upload a professional image, you're missing out on one of the many the benefits Twitter provides. What's the point of having a Twitter profile if it doesn't look good?
When creating your Twitter banner, be sure to have the correct Twitter header size of 1500 by 500 pixels. In addition, be sure to account for your 400 by 400 pixel profile picture. As shown at the beginning of this article, your profile picture placement will shift between desktop and mobile devices. And, don't forget that the top and bottom of your banner will be cropped off of the desktop view.
Having a professional Twitter banner will increase both your followers and the time they spend interacting with your profile.
You can find a high-resolution image online, take your own picture, or create a Twitter header image with text. Whichever route you choose, make sure your banner ties into your brand and marketing strategy as a whole.
Use your banner as an opportunity to have some fun with your brand. Enjoy getting creative as you promote your presence in the digital world of social media.
If you're looking to take your Twitter presence to the next level through paid ads, discover the best Twitter ad examples on the web right now.