No matter how thrifty you consider yourself to be in your normal travels, the appeal of being reimbursed for your business travel expenses is going to be attractive.
With transportation, lodging, meals, and other miscellaneous items racking up a potentially costly business trip, how do you prepare for what will constitute your business travel expenses?
In this article, we'll discuss common expenses you should expect to encounter on your business travel and how to keep track of them.
What are travel expenses?
When traveling on behalf of a business, an employee may expense daily essentials like transportation, lodging, and meals. Some businesses offer per diems, or daily allowances, as an alternative to travel expenses. Employees can use this money how they see fit.
In certain cases, like if an employee is meeting with an important client, they may be able to expense a fancy dinner, a night-out, or even entertainment. This all depends on how lenient a business is with its travel expense policy.
3 common business travel expenses
This list outlines typical business travel expenses that you'll run into on work trips. From transportation to lodging to meals, this guide gives you a preview of which types of expenses you should expect to incur on your business trips.
Typically, most of these expenses will be able to be approved and reimbursed by your company via expense management software; you shouldn't have to worry about paying for any of these expenses out of your own pocket.
The number one rule regarding business travel expenses is to check with your company's travel and expense policy before your trip to make sure that everything you spend money on complies with the rules and restrictions that policy outlines.
1. Transportation
The point of business travel is to get to where you're going in a quick, timely manner. Transportation expenses assume a large chunk of the costs on any business trip. These can come from a variety of sources, depending on how far you need to travel and where your destination is. We outlined the types of potential transportation expenses below:
Flight
The most costly aspect of transportation for business travel is typically the flight. Depending on your company's travel policy and your individual status within the company, your airfare can vary from cheaper economy classes (standard for most business travel) to the high-priced and luxurious options of business or first class.
Typically, the type of fare you are allowed to book to stay within company policy is outlined for you before you begin the booking process. This way, your company will ensure that you are booking within policy and not spending more than you should on getting to your destination, and therefore keeping your own, hard-earned money in your pocket.
Of course, it's impossible to mention flight expenses without considering the litany of fees and surcharges that you may incur from flight changes, baggage fees, or other aspects of the modern air travel experience. If these fees are considered to be for business reasons (such as needing to bring a larger bag or purchasing WiFi on the plane to keep up with important emails), you should be able to expense them to your company.
Because of the numerous fees you could incur on a flight, it's best to confirm what can and cannot be expensed before your flight in your company policy.
Gas and mileage
If your business destination is relatively close and you don't want to deal with the hassle of air travel, you may find yourself in a position where driving is the most favorable option for getting to your business obligations. If your company approves of driving as an acceptable way for you to travel for work, it will typically be able to reimburse you for any gas and mileage costs that you racked up on your drives to and from your destination.
Not all companies allow for employees to drive their own cars to meetings, so make sure that your plans comply with your company's business travel policy.
Car rental
Depending on the location of your business obligations, you may need to opt for renting a car. If you're in a less populated city without a multitude of cabs or ride-share options, you'll almost definitely need a car to get you from the airport to your hotel and to your business locations. Your company will likely have a car class policy that you're expected to book under.
In cities with expansive public transportation systems like New York, Chicago, or Boston, it may be expected business behavior to not rent a car. This type of policy should be outlined for you once you receive a business assignment in a destination that does not necessarily lend itself to car rental.
Train and bus
Another mode of transportation you may incur as a business travel expense is rail. When traveling relatively short distances, such as within the Northeast Corridor of Boston, New York, Philadelphia, and Washington, D.C., it may be easier and more time-efficient to take the train between cities rather than drive or fly.
The train may not be the most expected form of business travel, so be sure to clear this with the overseer of your travel expenses before going ahead and booking a train ticket.
Cabs and ride-sharing
If you have obligations in multiple areas of the city or region you travel to, you'll also incur some costs getting around. In a city like Los Angeles without many public transportation options, this will likely mean lots of ride-share costs. If you prefer ride-share, using a rental car, or your own car over public transportation, it is generally expected that you'll be able to expense the costs these preferences assume as well.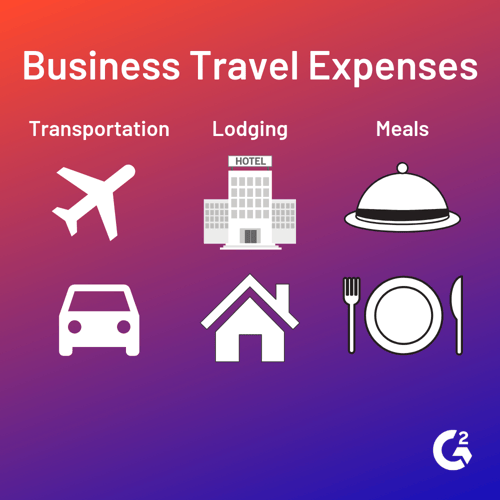 2. Lodging
Once you get to your destination, you'll need a place to stay. Most business travelers look for at least a 3-star option that is most convenient for their business obligations. Typically, hotels that are clean and well-kept but not too extravagant are ideal for most companies' business travel policies; they lack the features of luxury resorts but maintain a reasonable price for companies to incur.
As with flight or car rental policies, your company should have a policy as to what star class or price range your hotel can be under. Additionally, many hotels in cities that attract business travel offer special corporate rates or room blocks to specific companies depending on the volume of rooms available for particular conferences or meetings.
Recently, as the sharing economy has taken off, home sharing has become a popular option for business travelers. In fact, Airbnb has responded to this by launching an Airbnb for Work platform, which allows travelers to find more comfortable and sizable options to the typical types of hotels usually used by companies. If staying in a home and having a bit more relaxing time outside of the office appeals to you (as well as other aspects of bleisure), you may want to check with your company about the possibility of home sharing on your next trip.
3. Meals
Regardless of how long you're on the road for a particular trip, you're going to need to eat. Whether it's from a formal client dinner at a high-end steakhouse or gobbling down a sandwich on your way to the airport, meal costs will be a big part of any list of business travel expenses.
Your company should have a policy for how much money can be spent per day on meals for personal consumption. This policy may have special cases for instances in which you treat clients to coffee or a meal to foster goodwill. As with transportation and lodging, try to outline your plans for any high spending well before your trip so that you can get approval from your manager before racking up a big dinner bill.
Get to expensing
If this list boils down to one particular thesis, it's this: before traveling for work, consult your company's travel and expense policy to see how much you can spend and on what you can spend it.
Business travel is no cheap endeavor for any company, and managers can be particularly stingy when it comes to making sure that every dollar spent by an employee on a business trip is important.
After you've made sure you are booking in policy, then start to find the right options for your comfort, efficiency, and business performance on your trip. And most importantly, don't forget to get reimbursed! You can read our 5-minute guide on creating an expense report from start to finish, if you need help.
Spending outside of your company policy is first on the list of most common business trip mistakes. Read up on the other 7 to make sure you're well prepared for your upcoming business travel!