With an ever-worsening talent shortage, companies are focusing on improving time-to-hire.
Regardless of the factors at play, the fastest hiring teams have the advantage. Assuming, of course, that they can identify and hire quality candidates.
Time-to-hire vs. time-to-fill
Some companies track time-to-fill instead of time-to-hire. So how do we differentiate the two?
What is time-to-hire?
Time-to-hire is one of the most important hiring metrics. It is the duration of time (usually measured in days) from when an applicant enters the hiring pipeline until they accept a job offer. The candidate can enter the pipeline by applying to the job posting or being sourced.
Alternatively, companies define time-to-fill differently. Time-to-fill usually means one of the following.
The time from when the job requisition is submitted for approval until a candidate accepts the job offer
The time from when the job requisition is approved until a candidate accepts the job offer
The time from when the job is posted until a candidate accepts the offer
Regardless of when the clock starts, time-to-fill includes the processes before a candidate applies. After the applicant applies or is sourced, they both measure the same thing.
Why should you track time-to-hire?
Companies that use data to improve operational efficiency are more profitable. Startups that use data from the beginning grow faster. Fortune 500 companies and most large businesses track recruiting data. Not all SMBs leverage hiring data, but they should. It's easy with an applicant tracking system (ATS).
Time-to-hire quantifies a complex process with several sub-steps. There are many benefits of tracking it.
It helps you know if your hiring processes are working
It allows you to see whether you are faster or slower than the average hiring time for your industry, job position, or employment market
It reveals bottlenecks in your hiring process
It allows you to compare timelines for various hiring managers, job descriptions, department-specific policies or outside recruiting agencies
It helps you evaluate the candidate experience (which influences your employer brand and company reputation)
Time-to-hire measures recruiting efficiency
Hiring time metrics are most useful when they are broken down by stage. This allows you to pinpoint which workflows are causing a slowdown. Does scheduling an interview take several days? Does it take a long time to post jobs? How long after an interview does it take to collect feedback from the hiring team?
Tracking time-to-hire helps you improve the candidate experience
In this era of low unemployment and widespread skills shortages, job seekers have the power. Those that have many choices for employment will lose patience with lengthy, confusing processes.
Many candidates – especially entry-level candidates – abandon applications if they take more than a couple minutes. Over half of job seekers lose interest in a company if they believe the hiring process takes too long.
In a 2016 survey conducted by Robert Half, four out of 10 applicants said seven to 14 days is the upper limit. Twenty-three percent of participants said they would wait for just one week to hear back from a company they applied to. Contrast these perceptions to real-world hiring times. In some industries, the average time-to-hire is 40 days.
For technology job positions, it can be longer. A March 2020 HackerRank survey found that tech hiring can take 45 days. The study found that large technology firms get an average of 566 applications for each tech position. It's noteworthy that unlike some other industries, large tech companies (1000+ employees) have a longer average hiring time than smaller organizations. Large firms may be using lengthier assessments than their smaller counterparts. In addition, the job requisition process may increase in complexity relative to the size of the company.
How can you shorten time-to-hire?
To improve hiring efficiency and effectiveness, you need to combine best practices with reliable technology. Many steps of the hiring process can be handled by a good applicant tracking system (ATS). This allows hiring professionals to spend their time doing what only a human brain can do.
For example, you can create and manage job description templates in your ATS. But it takes a hiring manager with a keen understanding of the position to craft an effective job description. You can create interview scripts in your software. But you have to know Equal Employment Opportunity Commission (EEOC) regulations to write legal interview questions. Then you need to train your internal recruiting team and hiring managers on compliant interview practices.
Let's discuss the most common bottlenecks and how to eliminate them.
1. Slow candidate communications
If Glassdoor reviews and Reddit rants are reliable indicators, ghosting candidates seems to be the norm rather than the exception. Clearly, many U.S. companies do a lousy job of keeping job applicants updated on their status. It's not only inconsiderate—it reflects poorly on your company.
Recruiters who ghost candidates are short-sighted. Even if the candidate isn't a good fit for the position to which they applied, they might be a good fit for another one. Keep all applicants in your talent pipeline (ATS database). Be sensitive to their situation. Always politely tell them if you take them out of the running.
If they have the qualifications for another position in the future, you can invite them to apply and fast-track their application. After all, you've already done first-pass vetting. The applicant thought highly enough of your company to apply once. Don't treat them poorly and assure they will never apply again.
What's worse, they might leave a negative review on Glassdoor or another review site. Online business reviews are powerful, whether the review comes from a customer, employee, or applicant. Your company could lose a sale, client, or talented new hire if you accumulate negative reviews. Don't ghost candidates!
Solution: automated stage change emails
Back to the candidate communication bottleneck. Manually emailing every applicant can take weeks. Recruiters love automated candidate email tools in ATS. Configure your ATS to send an email when you change an applicant's stage in the process. Before configuring email triggers, you define your hiring stages in your ATS based on your actual processes and policies.
Many companies have the following stages:
Application received
Do not pursue
Schedule phone call
Assessment
Interview
Background/reference check
Make offer
Here is an ATS screenshot of a graph showing hiring stages: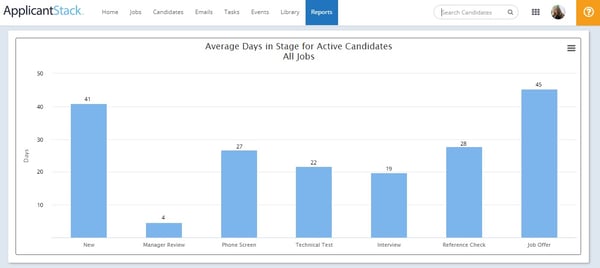 The first auto email is usually sent when the application is received. Your ATS can send a "We've received your application" email. Note that this isn't an impersonal form email. It can include the candidate's name, date of application, job description, and anything else you want.
This is how it works:
Create an email template for each hiring stage change. Use language that reflects the personality of your company
Insert merge codes to pull data (candidate name, application date, job position, job board, etc.) into the email
Configure your ATS to generate the appropriate email for the hiring stage
Some ATS have a nifty delay feature. When you receive an application for a candidate that you immediately change to the Do Not Pursue stage, you can set the auto-email to send in a specified number of days. That way, your candidate won't get the email immediately. Soften the blow – don't destroy their confidence by rejecting them ten minutes after you receive their application!
2. Slow first-pass screening
Let's assume your job posting attracts 100 applications. How do you isolate a small pool of qualified candidates to start engaging with? Reading 100 resumes would take a while. And it would be a waste of time to review applications for candidates who don't even have the minimum qualifications.
Solution: screening questionnaires
Screening questionnaires included in the application contain knock-out questions that disqualify candidates who don't meet the requirements. Let's discuss how this works.
How to write screening questions
Using the job requirements from the job description, create questions based on the qualifications. Good applicant tracking systems have questionnaire templates. Use binary (Yes/No) and multiple choice questions. Let's suppose you are looking for a pediatric nurse who can work flexible shifts. You would need at least two knock-out questions.
Do you have a current CPN (Certified Pediatric Nurse) credential? (Yes/No)
Can you work a mix of days, evenings, and graveyard shifts? (Yes/No)
If the applicant answers no to either question, your ATS will "knock" them out. Note that you will still have them in your applicant database, but they will be marked as unqualified for that particular position.
Weighted scoring
You can take screening to another level with weighted scoring. Weighting is a mathematical calculation that assigns varying levels of importance to questions.
For example, suppose you're hiring a junior developer. They must know Python and JavaScript. Ideally, the candidate would also know HTML, C++, and Ruby. Basic graphic editing skills and a familiarity with SEO analytics would be nice, but not mandatory. This is a junior position, so it's unrealistic to expect your applicants to have extensive experience.
In your questionnaire, you assign values based on the requirements. Suppose the development team uses Python most often followed by JavaScript. On the right is the point value (or weight) you would assign to the question in your ATS. Here are two example questions.
Do you have at least one year of experience using Python? (if YES, add 20 points)
Do you have at least one year of experience using JavaScript? (if YES, add 15 points)
Do you have basic graphics editing skills? This isn't a dealbreaker, so you don't assign any points but their answer will be included in the candidate record for comparison. The candidate completes the questionnaire before you decide whether to advance them to the phone screen stage.
Resume keywords
You can also use the applicant's resume for first-pass filtering if your ATS allows you to add points based on resume keywords. For example, if you are looking for an accountant, you can add points to their score if their resume includes "CMA." Consider how knock-out questions, weighted scoring, and resume parsing can weed out candidates you don't want to spend time on.
Your ATS tabulates the scores
Once your ATS has screened the questionnaires and resumes, it will tally the stores. Then you can sort your applicants with the top scoring candidates on top. Automated filtering tools isolate a pool of qualified candidates before you lay your eyes on even one resume. Your time is best spent engaging with the most promising talent.
3. Interview scheduling
Old-school interview scheduling is a slog. You email the applicant. It takes a day or two to get a response. Everyone on the interview team has to coordinate their schedules with the candidate. If something comes up after the interview is scheduled, the whole back-and-forth starts again.
Average time for interview process per industry
The interview process is a critical phase. This includes scheduling the interview, conducting the interview, manager/hiring team feedback and evaluation.
This pool contains your most promising candidates. You've weeded out everyone else. They are probably waiting to hear back from your competitors at the same time. It's important to expedite this process as much as possible while thoroughly evaluating each applicant. You want to make sure they will be an asset to your team.
Glassdoor published the following U.S. interview process analytics in 2017. Remember, this is just the interview process, not the entire time-to-hire.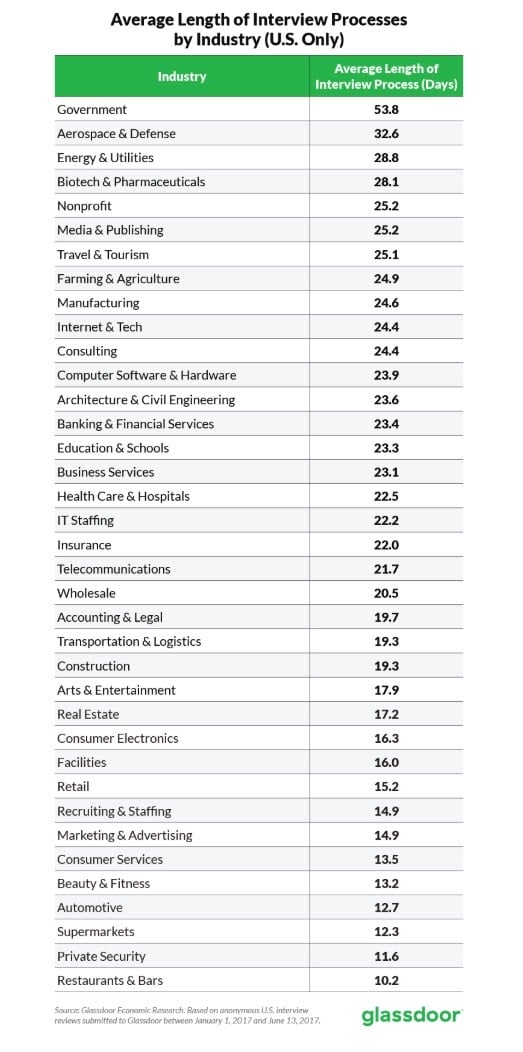 Now, consider job seekers' perceptions about the length of the hiring process.
We mentioned the 2016 Robert Half survey at the beginning. If you recall, 23% of candidates said they would wait just one week to hear back from a company after the initial application. Compare that to the Glassdoor chart. Thirty-nine percent of the respondents in the Robert Half study said a total hiring timeline of seven to 14 days was too long. No wonder both recruiters and job seekers are frustrated!
Solution: calendar integration
ATS integrate with third-party scheduling calendars like Google Calendar and Microsoft 365. In the calendar, each member of the interview team blocks out slots they aren't available. When all members of the interview team have indicated their availability, the candidate is sent an email with a link to the scheduling calendar. The scheduling calendar only contains slots that have been pre-approved by the hiring manager and any other interviewers.
When it comes to hiring process optimization, this is automation at its best. Don't waste time with an inefficient scheduling process.
Even a small reduction in hiring time can make a big difference
When you shorten time-to-hire by even two or three days, you can extend job offers before your competitors. It can mean the difference between snagging the top candidate and someone less desirable.
4. Juggling multiple job boards
The job requisition has been approved and you've created the job description. It's time to advertise the position. You want to post it in multiple places so you can attract a large pool of applicants. This includes your company careers page, your social media sites, mainstream job aggregators, and niche job boards.
To post on third-party job boards, you need an account. Suppose you usually post to Indeed, Monster, Glassdoor, Careerbuilder, LinkedIn, and ZipRecruiter. That's six usernames and passwords to keep track of. ATS integrate with job boards. This means you can post to multiple sites by signing in once. Note that you need to have existing accounts with the job boards.
This could mean the difference between posting the day the job req is approved, or several days after. In the recruiting timeline, a few days is a major delay. Manual posting is slower on both ends. We discussed the front end – when you post the job. The back end is when the applications start coming in. With an ATS, they all flow into your database regardless of the source. Before ATS, you had applications and resumes spread out between multiple systems and paper processes.
Manual posting links for niche job boards
To find candidates in your industry or hiring market, you probably use niche job boards. For example, Dice caters to the technology industry. Energy Jobline focuses on the energy, oil, and gas industry. Many recruiters use college job boards as well. Many ATS don't integrate with niche boards. That means you have to handle applicants from niche job boards manually.
Manual posting links solve this problem. Your ATS generates a link for the job position. When you post the job description on a niche job board, you include the link in the job posting. Applicants click on the link to access the application. Voila! They go directly to your ATS database.
5. High application abandon rate
This isn't technically a bottleneck, but it does reduce your applicant pool so the effect is the same: a longer hiring time. There are two main reasons for a high application abandon rate:
The application is too long
The application doesn't work on mobile devices
Solution: short, mobile-friendly applications
Consider how many questions you really need on your application. You may not be able to shorten applications for high-level senior roles, but these applicants are less likely to bail.
If you have a high abandon rate for lower-skilled positions, you can probably shorten your application. What does shorten mean? According to Indeed, applications with 20 screener questions lose 40% of candidates and the rate increases with the length of the application.
There's an idea held by some recruiters that longer applications attract higher quality candidates. Perhaps they equate patience and tenacity with quality. However, the evidence doesn't necessarily support this idea. When AT&T reduced their screener questions by half, they not only saw the candidate drop off rate decline by 55% but they received more high quality applicants.
Hiring time: how long is too long?
Not surprisingly, hiring data gathered by various organizations varies somewhat. But one thing is clear: time-to-hire has increased in the past few years. Here are numbers from 2017.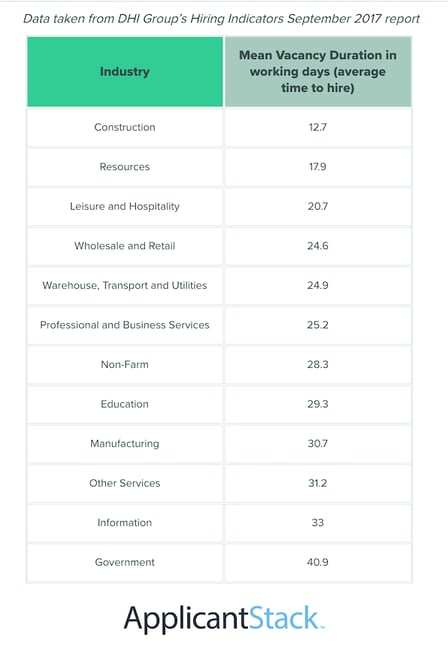 What is a realistic hiring timeline?
Of course, each job position and company process is different. Let's look at a reasonable hiring timeline for a home health aide as an example. Some of these stages run concurrently, so the total isn't a sum of the stages.
Hiring timeline for home health aides
Application complete: 1 day
Manager review: 6 days
Phone screen: 4 days
Interview: 8 days
Assessment: 2 days
Conditional job offer: 3 days
Reference check: 5 days
Technical test: 4 days
Criminal background check: 8 days
Job offer: 3 days
Total: 32 days
How to win the talent war? Use a capable ATS combined with your recruiting expertise.
An applicant tracking system can automate almost every process from job posting to interview scheduling to candidate scoring. But it takes experienced HR professionals to leverage the software for maximum ROI.
If you aren't currently using an ATS, consider how it could improve your hiring outcomes. Find the right applicant tracking software for your needs today.