If you run a small business, you certainly don't need me to tell you that employees are the backbone of your company.
And small businesses cannot afford any strain when it comes to aligning their employees with their company goals and values.
Before small businesses can focus on essential people management, from improving employee engagement to tips for avoiding unconscious bias during the hiring process, small-business owners need to make sure they are paying their employees accurately and on time.
What are time clocks?
Time clocks are essential for small businesses to accurately record employee work hours. Time clocks let employees clock in and out, and they also track breaks, meals and so on. Time clock solutions reduce the human power and cost necessary to track time and attendance data.
Furthermore, they automate exporting all data into payroll systems, guaranteeing an accurate and timely process. They also help to protect small businesses against the threat of payroll audits and potential lawsuits by providing essential data tracking.
TIP

: If you need help finding the best time tracking solutions for your business, browse the best time tracking software in 2019 for real-user reviews.
---
Factors to Consider When Selecting an Attendance App
Employee count — The cost of software-based time clock solutions is often dependent on the number of employees. These solutions often provide features to track each employee and process or integrate with payroll systems to process all data.
Type of employee — Are your employees remote workers or shift employees with overlapping schedules, or do they work a standard 9-to-5 at a single, physical location? If you have remote employees, for example, you are going to need a way your employees can track their time on the go, and mobile time clocks provide that option.
Time clock system — You need to consider the type of time clock system you would like to use. If you have mostly a remote workforce, as we discussed above, mobile time clocks will be the way to go. There are a variety of time clock solutions available to small businesses, so let's break them down.
Types of Time Clock Systems
Biometric time clock
Card punch time clock
Card swipe time clock
Key code time clock
Mobile time clock
Web-based time clock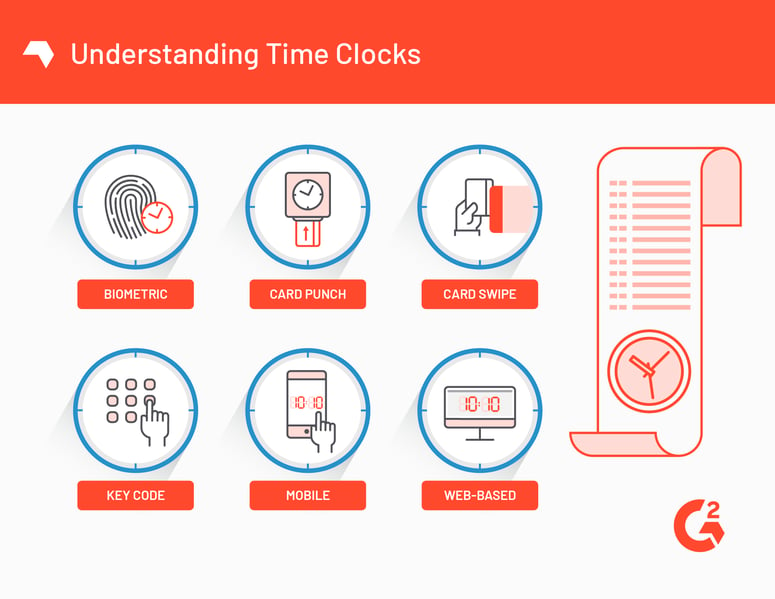 1. Biometric time clock
These time clock devices employ biometrics, including fingerprints, palm-prints, facial recognition, iris scans and voice recognition to confirm employees' identities. This time clock solution is often connected to an access area, such as a door, to record employees entering or leaving the workplace.
Biometric time clocks are easy to set up, operate and use. Employees use their physical self to clock in, omitting the need for passwords, key fobs or time cards. Additionally, these systems guarantee that the only person clocking in and out is the actual employee.
2. Card punch time clock
These systems are the original time tracking technology containing a hardware clock and punch card systems. Although revolutionary in the 1800s for advancing time tracking technology, this system is antiquated at best, and at worst, costs small businesses a lot of money.
From the potential for employees to partake in "buddy punching" to human errors during the manual and tedious process of inputting all the data into a payroll software, errors can very readily be made, whether intentional or unintentional — and these errors are particularly costly for small businesses where every dollar matters.
3. Card swipe time and attendance app
Employees use magnetic swipe cards to clock in and out. These time clock systems provide small companies with accurate solutions that are easy to use and can be carried in an employee's wallet, purse or clipped to their person.
Restaurants and retail operations with overlapping and random shifts often use swipe card time clock technology to manage shift employees. These solutions let small companies track all employee time and collect and maintain all employee data.
4. Key code time and attendance clock
These solutions let employees clock in and out with personal identification number (PIN) access. PIN-based time clock solutions are a secure and easy way to maintain employee attendance data.
Employees don't have to keep track of magnetic swipe cards or fobs but they do need to remember their four or six-digit numerical code. These solutions can be a little slower than card swipe clocks, as employees must manually enter PINs for clocking in and clocking out.
5. Mobile time and attendance clock
These software solutions run on computers, tablets or mobile phones and often integrate with GPS and GIS software for location tracking. Employees can use their own smart devices to access the time clock system, and employers can access employee time clock data from any device.
Small companies can easily track their workforce from any device, which particularly benefits small companies with mobile workforces. Managers can track and confirm employees' location (while respecting their privacy). Meanwhile, employees have the freedom to clock in from any location on any device.
6. Web-based time clock
These software-as-a-service (or SaaS) solutions provide employees with access to time clock via a web browser. Employees use a unique identity to clock in and out through a secure web site. These time clock systems can be accessed via any computer allowing employees to work from home or flexible locations. Small companies with remote workforces often employ web-based time clock solutions.
Time Clock Software in 2019
We've put together a list of five time clock tools that can help small businesses streamline all time clock processes in 2019. These time clock tools are a collection of highly rated solutions for small businesses from our time tracking software, time & attendance software, and workforce management software categories.
These products alone have well over 4,000 validated user reviews on G2 Crowd as of Jan. 5, 2018 and only represent a small portion of the time clock software offerings listed on our platform.
For products with G2 Crowd verified user reviews, we have included:
G2 Crowd star rating
A product overview
Product features
Reviews highlighting what users like
---
1. Deputy
G2 Crowd Star Rating: 4.7 out of 5.0 stars
Deputy helps companies manage their teams' schedules from any location and any device. Deputy serves restaurants and the catering, retail, health care, hospitality, staffing, government and enterprise industries.
Features:
Schedule builder
Auto-scheduling
Digital or on-site time clock
Team communication
Task delegation
---
2. TSheets
G2 Crowd Star Rating: 4.7 out of 5.0 stars
TSheets provides small businesses with time tracking and scheduling solutions. The time clock kiosk allows employees to clock in and out with a four-digit PIN. It also enables businesses to employ facial recognition for additional security.
Features:
Time clock kiosk
Mobile app
GPS time tracker
Time card options
Job and shift scheduling
---
3. Jibble
G2 Crowd Star Rating: 4.6 out of 5.0 stars
Jibble provides companies with time clock solutions, timesheets, reporting, employee statistics and regular alerts. Jibble provides solutions for digital agencies, construction, education, retail, startups, manufacturing, legal, hospitality and more.
Features:
Online time and attendance management
Daily, weekly or monthly timesheets
Team overviews
Detailed timesheets
Mobile attendance apps
Advanced mobile features include facial recognition, passcodes, geolocation and offline mode
---
4. ClockShark
G2 Crowd Star Rating: 4.6 out of 5.0 stars
ClockShark provides businesses managing mobile workforces with time tracking and scheduling solutions. Mobile workers can use mobile apps to clock in and clock out. GPS tracking provides visibility into workers' locations, and geofence technology reminds employees to clock in and clock out. There are also web punch clock options for office-based employees.
Features:
Time and attendance tracking
Employee scheduling
Emailed alerts
Job labor budget tracking
Mobile app with GPS
Kiosk time clock
---
5. Toggl
G2 Crowd Star Rating: 4.3 out of 5.0 stars
Toggl provides small businesses with free (up to five employees) time tracking and reporting solutions. Additional plans include team time management, business intelligence, reminders and additional special features.
Features:
Time clock from any location
Visual reports
Payroll integration
Mobile app
Customer support page
---
Next steps for managing employees in 2019
Those researching time clock solutions for small businesses online can sift through hundreds of verified user reviews on G2 Crowd to find the best option. To get started, check out the HR software categories where you can compare time tracking, time & attendance and workforce management products, discover available features and read user reviews.
TIP: Over 1,600 companies are managing software spend, usage, contracts, compliance, and more through G2 Track. Fight the SaaS sprawl and get deeper financial insights today.
Learn about how employee engagement can help gather valuable team feedback and improve overall company culture in 2019.
**Please note: Reviews have been edited for spelling and grammar.