To succeed in the digital era, a business needs to be active on social media.
From responding to customer complaints to posting snarky, on-brand content, building a social media presence is one of the best ways to boost your brand.
But for businesses that rely heavily on social media for its success, simply engaging with users just isn't enough. This is where social listening, a proactive way to study social media engagement, comes in handy.
What is social listening?
We know from our previous article that social media monitoring is the micro, reactive look at social media engagement. Through tracking comments, mentions, and relevant topics, brands can quickly elevate their social media presence.
But to take this engagement a step forward, it requires social listening.
Social listening definition
Social listening is used to collect, track, and study social data. This information is then used for sentiment analysis, topic affinity analysis, and to see how competing brands are performing.
Although social listening scrapes social media platforms like Twitter, Facebook, and Instagram, some tools can locate brand mentions on internet forums, news articles, and across the web.
How does social listening work?
Social listening is a multifaceted process, as opposed to social media monitoring.
While SMM simply collects and tracks data on synced social media accounts, social listening will aggregate, study, and visualize this data. If that sounds confusing check out our example graphic below of what a social listening platform may look like: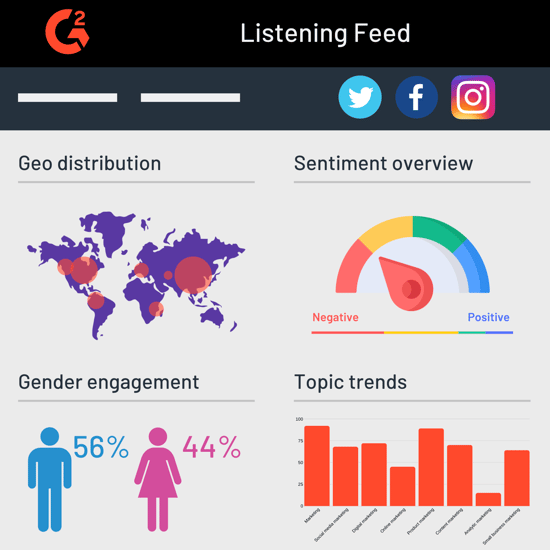 As you can see, there are number of things that can be studied through social listening. For example, we can see:
Where our biggest social media followings are throughout the world.

What time of the day we see upticks in social media engagement.

How these followers "feel" about our brand. This is also called sentiment analysis, and depending on the complexity of the social listening tool, this insight can vary.

Which gender is likely to engage with our brand on social media.

Any topic trends that our followers care about. This is also called topic affinity analysis.

What competing brands are both following and posting about.
The above examples are just a few of the many capabilities of social listening, but what exactly does a social media marketer do with this insight? Let's look at some of the benefits of social listening.
What are some benefits of social listening?
By now, we know social listening is essentially the finger on the pulse of what's being mentioned about your brand both on social media and around the web. When this insight is put to action by a savvy social media marketer, the possibilities and benefits are vast.
1. It creates meaningful conversations
Let's face it. Getting the attention of people who otherwise have no stake in your business to react and respond is difficult. Sending out what feels like a good tweet or posting what you think is an excellent photo, only to get little or no traction can seem counterproductive.
With social listening, you can identify what your customers are talking about, even when they're not talking about you explicitly. If you build your content around themes that resonate with the people who use your products or services, you'll likely see an uptick in engagement.
This benefit is especially useful for smaller businesses who are just getting started on social media or don't have the luxury of large followings.
Customer reviews are another way to create conversations with customers and build brand loyalty.
2. It helps field customer service issues
Not every social media or forum mention will be made directly to your brand, but that doesn't make them any less important.
Some customer service issues will appear online without your correct handle or a branded hashtag. Some customers may not be as tech-savvy, and others may not expect you to respond at all. But identifying these issues is made easier with social listening's scraping capabilities. This allows businesses to leverage their social media monitoring software to resolve complaints quickly and more efficiently. Additionally, these complaints can be used to measure brand sentiment.
3. It guides product development
If you're in the products and services realm, social listening can provide real-time social feedback from users. A savvy social media marketer will then vet through the insight and pass it on to their product development team.
When sifting through the insight, consider which features resonate with your users and which features don't. Take this feedback seriously, as it could help unveil new product opportunities, tackle bugs and errors, and inspire future updates and iterations.
4. It inspires new content
If you run a small business blog, finding new topics to write about gets more difficult as time goes on. Using social listening and topic affinity analysis, you can crowdsource content ideas from your followers.
Consider common questions, complaints, and compliments you've been tracking. This content will speak to trending issues in your industry, contain important primary and long-tail keywords that you know are being searched, and can be repackaged in a number of forms across all your social media channels.
Social listening does more than inspire content, you can use customer feedback to create content, too. And, given the reviews are the actual voice of your customer, it's content that has the credibility to convert prospects into customers.
TIP:

If you're a

B2B software or service provider, a free G2 profile

will give you the opportunity to do more than get reviews; you can connect and listen to over 3 million active buyers.
5. It informs you about the competition
What are your competitors working on? Just as you'll want to know what's working for your business, it's beneficial to stay informed about what your competitors are up to. Did they just roll out a new product or update, craft a new marketing campaign, or deal with a brand crisis? Have this insight at your disposal with social listening.
Competitive insights from review data also prove where you outrank the competition, giving your sales team a tool to close more deals.
6. It uncovers influencers
Influencers are social media users with the ability to affect purchasing decisions of others with their own organic words, posts, and content. Influencer marketing typically drives conversations that can lead to massive upticks in social engagement – at least in the short-term. Use social listening to identify high-ranking or persuasive influencer networks in your niche.
7. It focuses your attention on where conversations happen
Not all social media channels, websites, and forums are created equal. Depending on what kind of business you run, more conversations may take place on Twitter than Facebook, or they may be happening on Reddit, for example.
Rather than devoting an equal amount of time on monitoring all channels, social listening helps you decide how to best spend your time. Be proactive and go where the conversations happen.
Get the most out of your social data
When it comes to business, social media can only be reactive when monitoring and tracking comments, mentions, and topics. For staying ahead of the competition and being more proactive with your social data, consider the benefits of social listening.
Even better, data generated from both monitoring and listening can be quickly passed on to social media analytics. This allows for even deeper analysis but requires both a technical and creative mind to harness its insights.
If you're ready to learn more about social media, you can't afford to miss our compilation of the 80 most impactful social media statistics in 2019.