I'd like to think I'm pretty good at Snapchatting – so good that I've been told I'm "on fire."
Okay – not by anyone in particular, but the app itself told me! Maybe it has told you, too.
Have you ever seen a little fire emoji next to another Snapchatter's name? Wondering what that Snapchat emoji means?
It means you're on a Snapchat Streak! Aka – you're pretty good at Snapchatting.
What is a Snapchat Streak?
A Snapchat Streak – or as some call it, a Snapstreak – means that you and another Snapchatter have sent each other a Snap (either a photo or video) in the past 24 hours for at least THREE days in a row. If you do this successfully, a fire emoji will appear next to this Snapchat Friend's username, along with the number of days you have snapped each other consecutively.
Now let's talk about how Snapstreaks work and what to do if you've lost yours.
Related: Wondering how to unlock your Snapstreak Trophy? Check out our article on how to unlock it, along with how to unlock ALL of the Snapchat Trophies!
How do Snapchat Streaks work?
Starting and maintaining a Snapstreak with other Snapchatters isn't terribly difficult. In fact, it's fairly easy – there are just a few Snapchat Streak rules to keep in mind:
How to start a Snapchat Streak
To start the Streak, you and a Snapchat Friend must Snap, not Chat, each other within 24 hours for at least three consecutive days. Once you've done this, a fire emoji will appear next to the friend's name, along with the number of days you've been on a Snapstreak.
How to keep a Snapchat Streak
To keep a Snapstreak, all you have to do is send each other a Snap – a picture or video, not a Chat. You must Snap back and forth within a 24 hour period.
Note: Sending Snaps in a Snapchat Group doesn't count towards your Snapstreaks with individual Snapchatters! You must Snap them all separately. Same goes with Snapchat Memories and Spectacles.
Seeing an hourglass emoji? Your Streak might be ending soon! To spare yourself from losing it, make sure you and your friend Snap each other – and do it soon.
Lost your Snapchat Streak?
Snapchat Streak lost? Don't freak out yet. There's a chance it's not over for good.
If you feel there was an error and are wondering how to get a Snapchat Streak back, all you have to do is visit Snapchat Support, select 'My Snapstreaks disappeared,' and fill out the requested information. After submission, Snapchat will review your Snapstreak and get back to you!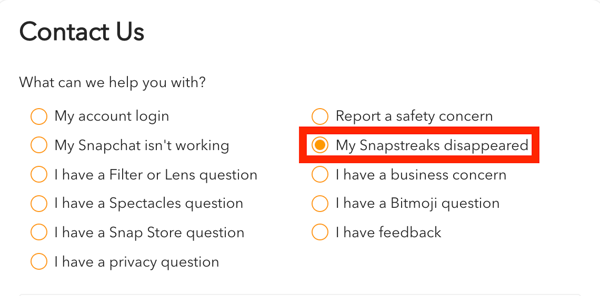 Start a Snapstreak!
Now that you know what a Snapchat Streak is and how to keep one, start Snapping your friends and see how long you can keep a Streak!
Want to learn more about how to use Snapchat?
Check out our articles to learn how to improve your Snapchat Score in 2019 and everything you need to know about the Snapchat Map!