The highest score always wins, right?
Alright, fine – not in golf. But generally, when you hear the word "score," your natural inclination is to want the highest (and thus, winning) score.
Did you know you also have a Snapchat score? Have you heard of it, but not entirely grasped what it was?
Not anymore! You may know how to use Snapchat, but this is your ultimate guide to your Snapchat score: what it is, how to find it, and more.
Here's exactly what I'll cover:
Let's get started!
What is a Snapchat score?
A Snapchat score is a number associated with an individuals Snapchat account that reflects their in-app activity. While the score has no practical use, it adds gamification to the media-sharing app and incentivizes users to continue to communicate via Snapchat.
Snapchat score in 2020
So now that we know what Snapchat scores are, let's dive into what you really want to know: how the heck is your Snapchat score calculated?
There's some speculation around this, so we'll give you the answer straight from the source. According to Snapchat's website, your Snapchat score, which appears as a single number, is the sum of all of the snaps you've sent and received, plus a couple of unidentified "other factors."
This means that every time you send a snap (whether your recipient opens it or not) or open a snap you received, your score increases by one point. And if you're a fan of Snapchat Stories, then you're in luck! Your Snapchat score will also increase by a point when you add a snap to your story. However, your Snapchat score will not increase from sending or receiving chats.
So, what could those other factors be? While Snapchat hasn't officially released this information, folks on the internet have openly shared their predictions. Some have claimed their Snapchat score will increase by a couple points at a time when they use the app for the first time in a while. Others have attributed an increased score to maintaining a Snapchat streak with a friend or sending a snap to Snapchat's handle, @teamsnapchat.
While all of these may or may not be true, they're certainly ideas of the factors that may contribute to increasing your Snapchat score. But until Snapchat decides to release this information, we just can't be sure. It is safe to say, though, that the majority of your Snapchat store is based on the snaps you've sent and received.
So, now that you know how your Snapchat score is calculated, aren't you dying to learn how to find out what your score is? Don't worry – that's up next.
How to see your Snapchat score
Finding your Snapchat score is easy! And now that you're curious, I walk you through the steps.
First, you'll want to navigate to your own profile in the Snapchat app. To do this, pull up the app on your mobile phone and tap on your Bitmoji in the top left corner of the screen (this button will appear whether you're on your Snapchat Discover page, your Friends list, etc.).
Keep in mind that if you have posted a Snapchat story in the last 24 hours, this button will look like a circle. However, it works the same. Simply tap the button in the top left corner to be taken to your profile.
On your profile page, you'll see your Snapcode, your display name, and your username. Under your username there will be a number. That number is your Snapchat score!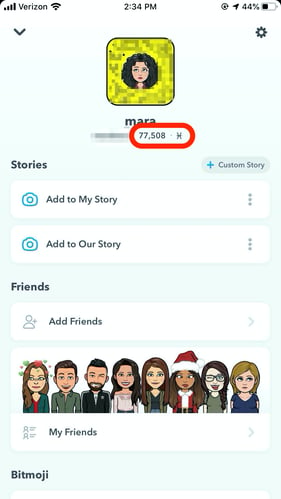 Easy as that!
If you want to see your Snapchat score broken down by snaps sent and received, simply tap on the number. You'll then see two numbers. The number of the left is the number of snaps you've sent and the number on the right is the number of snaps you've received.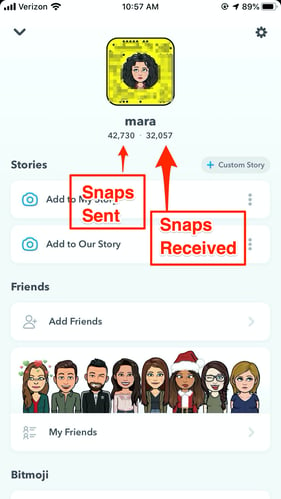 You'll probably notice that when you add these two numbers together, the total will not be the same as your Snapchat score. That's where those additional (and secret) factors come in.
Did seeing your own score make you wonder how it compares to your friends' scores? Perhaps, the scores of your favorite celebrities? Don't worry – how to find somebody else's Snapchat score is coming right up.
How to see somebody else's Snapchat score
If you're somebody who thrives off of a little friendly competition, you may want to see how your Snapchat score ranks in comparison to your best friends'. Luckily, this is easy – just as easy as seeing your own! To see somebody else's Snapchat score, open a chat window with the user whose score you want to check. Then press and hold down where their username is at the top of the screen
This will open up a menu with options to request their location, block this user, and more. At the top of the screen, however, you're able to see this user's Snapchat score! The number sits below their display name. Unlike your own score, though, you're unable to break it down to see snaps sent and received.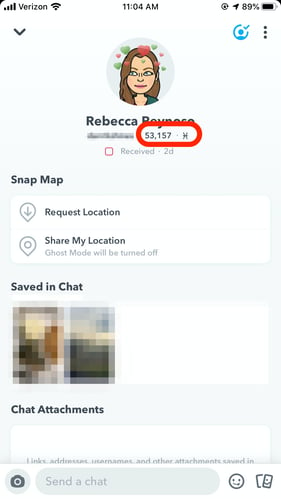 Is your friend's score higher than yours? Not for long! Next, we'll dive into how you can increase your Snapchat score.
How to improve your Snapchat score
Look – you may call this an arbitrary number (and perhaps it is), but if you're competitive (like I am), you want your score to be the highest.
While there are unknown factors that go into your Snapchat score, one thing that we know impacts in is the number of snaps you send and receive.
Essentially, what this means is that the more you use the app, the higher your score is going to be. If you want to continue increasing your score, you'll need to send and receive more snaps. You can do this by adding more Snapchat friends, sending snaps to celebrities (they won't check, unlike your friends who may get annoyed at your constant communication), or add to your Snapchat story more often.
Let's be real – for the most part, this score is essentially meaningless. That said, if you're trying to establish yourself as a Snapchat influencer of sorts, it may help your cause.
Using your Snapchat score to obtain Snapchat trophies
Did you know that a higher Snapchat score can help you obtain some of those coveted Snapchat trophies?
As a reminder, Snapchat trophies are emojis rewarded for certain activities you perform within the Snapchat app. You can receive trophies for anything from sending a snap with a filter to sending a snap with the temperature below freezing. We've put together a cheat sheet to show you how to unlock them all.
Like the score itself, Snapchat trophies don't have a practical use within the app. They are, however, another form of gamification and a unique method of incentivizing users.
If you want to keep building out your Snapchat trophy case, increasing your Snapchat score can help you do that. Here are the Snapchat trophies you can receive by achieving a certain Snapchat score and the score you need to achieve them:
| | |
| --- | --- |
| Trophy | Score |
| Baby Emoji | 10 |
| Glowing star emoji | 100 |
| Sparkles emoji | 1,000 |
| Circled star emoji | 10,000 |
| Explosion emoji | 50,000 |
| Rocket emoji | 100,000 |
| Ghost emoji | 500,000 |
Start snapping and watch your score rise!
Congratulations! You're officially an expert an all things regarding your Snapchat score. Now, start sending snaps to watch that score rise!
If you're interested in becoming an absolute Snapchat expert, be sure to check out our additional resources:
Have a different question about using Snapchat? Get your answer from the G2 community of social media experts!