If you're an avid social media user like me, you likely get excited when one of your favorite apps rolls out a new feature.
I remember the thrill I felt when Instagram took a cue from Snapchat (let's be real, Instagram copied them) and allowed users to post Stories in addition to photos. I felt the same when Twitter decided to increase their character limit (let the ranting commence). However, I remember being both intrigued and a little confused with the introduction of Snapchat Map.
Chances are you already know how to use Snapchat but are unsure what the Snap Map brings to the table, how to use it, and what you can expect. If that's the case, keep reading for a complete rundown of all things Snap Map.
What is Snapchat Map?
Snapchat Map is a quick and easy way to share your location with your friends, see where they are, explore what's happening in your city, or see Snaps and Stories from anywhere in the world. Snap Map updates your location when you are using Snapchat.
If you're looking for something specific about Snap Map, check out:
What is Snapchat Map
Snapchat Map, sometimes called Snap Map, is a feature within Snapchat that allows users to keep up to date with the locations of their friends, in addition to viewing Snaps and Stories. Launched in June 2017, Snapchat marketed Snap Map as a "new way to see the world" from on your phone.
What makes Snap Map exciting is that it's unique to anything on other social media platforms. While you can tag your location on Facebook, Twitter, and Instagram, Snap Map turns sharing your location into a visual experience.
Upon launch, Snap Map featured 30 million users. Its most popular day of the week for usage is Saturday, as people are more inclined to be interested in what friends are up to during their spare time.
Since its debut, the number of users on Snap Map has declined, whether that be because it's no longer new and exciting, or due to the potential dangers and privacy concerns of people being able to see where you are at all times.
There are a lot of elements that you can find on the map, so you may be initially confused as to what's what, how to navigate various features, and how to update your settings. For a full breakdown of what you can expect from Snapchat Map, read on.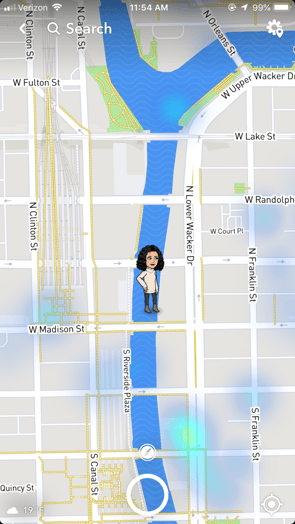 How to use Snapchat Map
Before you are able to use Snapchat Map and start exploring the world, you need to enable locations services. If you have an iPhone, simply open up your settings and scroll to Privacy. Once there, tap the switch to turn on location services. Then, scroll to Snapchat and select "while using the app."
This means that your location will only update when you're using Snapchat, so you don't have to worry about it updating in the background and draining your battery or using all your data.
How to open Snap Map
Ready for a new way to see the world? Opening Snap Map is easy. If you're an iPhone user, pull down the camera screen. If you're on an Android device, pinch your fingers inward from the camera screen.
Features on Snapchat Map
Once you're on the map, you might feel overwhelmed, as there is a lot going on. Let's break down exactly what's what on Snap Map.
Snaps
Whether you're in a highly populated metropolis or a rural town, you'll notice that Snap Map features a heat map that shows where the most Snaps are being taken (if you don't see this, zoom your view out to see more areas of the map).
Areas that are light blue or green are where Snaps are being taken. Areas that are yellow, orange, or red have an extensive amount of Snaps being taken. If you tap your screen on areas of the Snap Map that show one of these colors, you'll be able to see Snaps that people have taken and submitted to "Our Story."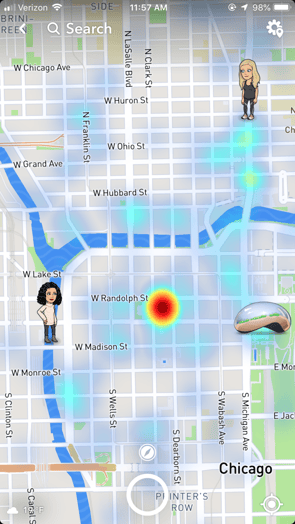 Stories
Stories differ from Snaps as these are created around specific locations or events. This can be anything from a museum, sporting event, or popular monument. For instance, if you zoom out of the Snap Map to New York City, you are likely to see Times Square as a highlighted location. Stories that are taken at Times Square appear within the circular Story.

Friends
If your friends on Snapchat have their location enabled, you'll see their Bitmoji on the Snap Map. If you aren't sure which Bitmoji is who, tap on them to be shown their name and when they were last active on Snapchat.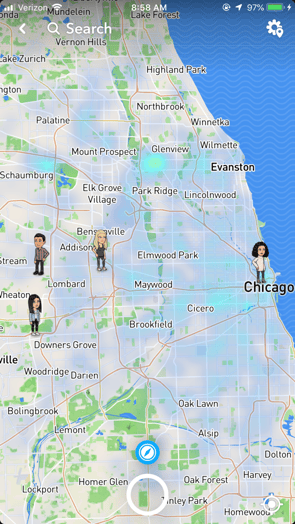 Highlighted Event
Snapchat features highlighted events all the time on the Snap Map. To find these events, either tap the specific event or compass icon directly above the "capture" button on the Snap Map screen.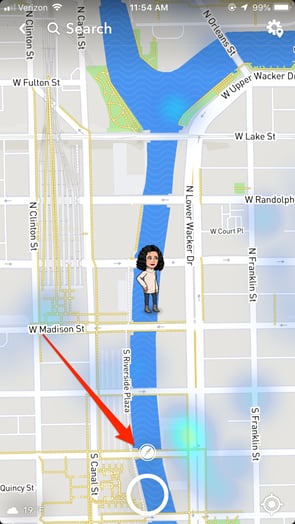 Once you do, you'll be taken to the event, where you can see a brief description and Stories that have taken place there.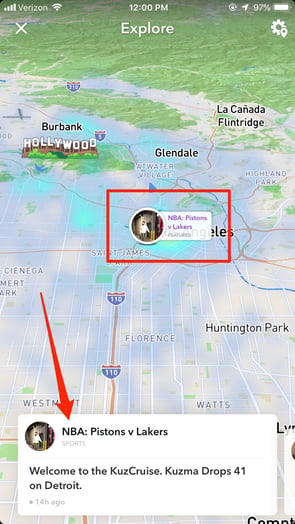 Monuments
Depending on where you are, you may also see various monuments on the Snap Map. Places such as the Statue of Liberty, The Eiffel Tower, and The Sydney Opera House are all displayed with a unique icon. If you're looking for more details about that monument, tap its icon to see additional information.

Search Bar
At the top of Snap Map is the Search bar. This comes in handy if you're looking for a specific friend, event, or monument.
Sharing your location on Snap Map
Ready for your friends to see what you're up to? Tap the gear in the top right corner of the Snap Map. There, you can update exactly who does, or doesn't, see your location.

Ghost Mode
Toggle this on if you aren't interested in anyone knowing where you are or what you're doing on Snap Map. This mode will automatically enable if you haven't been active on Snapchat for more than two hours.
My Friends
Choose this option if you'd like all your friends on Snapchat to see your location details.
My Friends, Except
This option is great if you have a select two or three friends on Snapchat that you don't want knowing where you are. Just scroll through your friend list and choose who won't be able to see your location.
Only These Friends
When you choose this setting, you can scroll through your friend list and pick which friends are able to know what you're up to.
Change my Outfit
Looking to give your Bitmoji a makeover? Instead of going directly to the Bitmoji app, you can easily update your outfit directly from this screen. This is great if you've had a change in fashion sense, or it's a new season and it's time to ditch the shorts and t-shirt look you've been rocking.
Time to start exploring!
Once you're all set, it's time to explore the world, see Snaps, watch Stories, and enjoy all that Snap Map brings to the palm of your hand. Or, if you'd rather not, that's okay, too! Snapchat realizes this feature may not be for everyone, and you can easily turn it off. Hopefully we have made it easier to decide if you'd like to be found or remain a mystery.
Related: Unsure if your business should be utilizing Snapchat? Check out the best social networks software

, brought to you free from G2!
Want to learn more about Snapchat? Check out our articles on: