It's enough that your e-commerce business has to compete with giants like Amazon and big-box retailers year-round, but the holiday shopping season presents even fiercer competition.
In addition to having to offer rock-bottom prices for Black Friday and Cyber Monday, you're also competing against local mom and pop businesses who attract customers for Small Business Saturday. However, just because you run your business online doesn't mean you can't also leverage this unofficial holiday the Saturday after Thanksgiving.
Small Business Saturday for e-commerce companies
It's important not to lose hope when you compare your sales to that of a huge company. However, you may be surprised to hear that there are things you can do for your customers that big businesses cannot. Read on to learn why you can and should try to beat Amazon this holiday season. Then, we'll go over some tips on how to do so.
Why you can – and should – try to beat Amazon
Standing up to an e-commerce giant like Amazon is daunting. The amount of sales the site does on an average day is astounding, let alone what they do between Black Friday and Christmas. But have faith—Amazon has a few weaknesses that you can leverage to your advantage, particularly on Small Business Saturday.
Amazon is a generalist, not a specialist
Amazon may sell millions of products, but it doesn't specialize in any one category. It's more of a one-stop shop, which may not be what your customers are looking for this time of year. If you have a singular focus with your e-commerce store, you can become a leader in that niche.
Customers go where the benefits are
Yes, Amazon offers free two-day shipping to Prime members and free returns on many products, but they don't have a patent on these loyalty tools, so there's no reason why you can't offer equally appealing perks to your customers. Free returns, for example, may eat into your profit margin a bit, but if you're generating more leads (and therefore, new customers) as a result, it's well worth the loss.
Amazon's diverse seller base works against it
From a distance, it might seem like pure genius that Amazon lets pretty much anyone sell products on its site as long as they meet the brand's requirements, but the result is a varied mishmash of product photo quality, and product descriptions that are often lacking or written in poor English.
Because so many Amazon products are sold from overseas, great marketing and content isn't always top of mind. That's where you can stand out: by taking stellar photos of your products and writing rich product descriptions using keywords.
Your Small Business Saturday strategy
Okay, now that you have some ideas of how to carve out a tiny bit of Amazon's market share this holiday season, let's get back to Small Business Saturday. The shopping holiday was designed to get people out into their communities to invest money in local small businesses. Even if your small business only exists online or outside of a retail district, your goal is to engage your customers before the holiday so they make plans to spend with you online first. Here are some strategies you can go off of.
Launch an email campaign
This time of year, consumers are paying close attention to the emails they get from brands because the deals in their inboxes help determine where they decide to shop. In fact, email marketing is responsible for about 20% of visits to websites during the holidays, and shoppers who subscribe to a brand's emails will spend 138% more than those who don't. A carefully designed email marketing campaign, along with a dedicated and optimized landing page can convince shoppers and increase your conversion rates.
Start promoting your Small Business Saturday email offers right after your Black Friday ones (or plan for a weekend-long mega sale and promote it that way). If you're separating out the deals, give shoppers a compelling enough reason to buy from you on Black Friday and again on Small Business Saturday.
Keep the emails simple: focus on one promotion per email, even if you have dozens of items marked down. You could simplify it by just including a coupon for 30% off of a single item or saying that everything is marked down 20%.
Let Black Friday sales drive next-day sales
Think your shoppers will be done with your site once they snag great deals on Black Friday? Think again. Offering a coupon with Black Friday purchases that is good only on Small Business Saturday will get them back and shopping on your site. Maybe a sweater that a customer bought for her aunt was so cute, she decides she wants one too, especially with the extra savings you offered her with the initial purchase. She'll come back on Saturday.
Make your product visible on social media
Social media platforms, especially ever-growing ones like Instagram (800 million users and counting), are a great way to showcase your product and put your business in front of potential new customers. More than 200 million Instagram users visit at least one business profile a day, and 60% of them do it to discover new products. Businesses like Coop Home Goods use their Instagram business profiles to not only sell their products but also to showcase user-generated content like customer photos and even partner with other brands.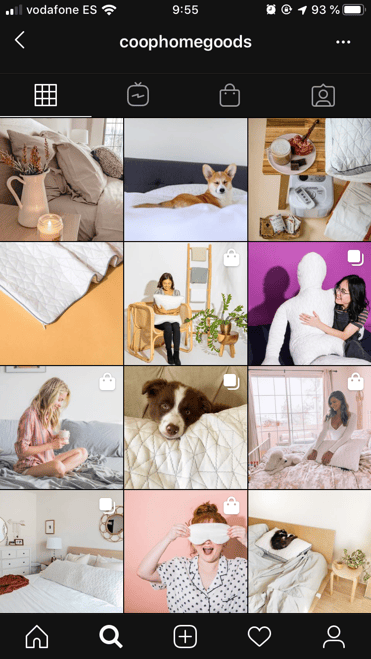 Source
Personify your small business status
It's easy for shoppers to feel like your e-commerce website is a giant corporation like Amazon if you don't make it clear that you're a small business, just like the boutique on the corner. Bring your brand to life in the weeks before Small Business Saturday. Post photos of you and your staff on social media. Tell the stories behind the brand. Give your fans a sneak peek or an unboxing of exciting products to make them feel invested in your brand. Sign your emails with your signature so subscribers know they're coming from a human, not a robot.
How to keep your customers coming back
While these tips will help you boost sales on Black Friday and Small Business Saturday, you want to keep the momentum going so that first-time shoppers you've attracted to your site come back for more. After all, customer retention is the key to successful sales: it's far easier and cheaper to get a one-off customer to become a returning customer than to bring in new customers. Here's how to get them excited about buying from your brand over and over.
Launch a referral program
Being your customer should come with fun perks. That's where a referral program comes into play: when customers tell others about your brand, they can get discounts and free products. The more they refer new customers to you, the more they earn—and the more you earn. Everybody wins.
While 83% of satisfied customers are willing to tell others about a brand they love, only 29% do on their own. Imagine how having more incentive to refer people might skew those numbers in your favor. Keep the referral program easy to understand, e.g. "Refer a friend and get $15 to spend!"
Encourage reviews after the sale
Online customer reviews can be a huge driver of sales for your e-commerce site: 82% of consumers read product reviews before making a purchase. It stands to reason that having more reviews for a given product (or for your site in general) will lead to more sales.
However, people don't automatically think to leave a review after they make a purchase, so they'll need a little nudging. After an order has shipped, send a personalized email asking how they like your product and asking them to leave a review for it. Include a link to wherever you want the review, whether it's on your own site, Google, Facebook, Yelp, or somewhere else.
Engage customers with useful content
The relationship doesn't end once a customer has made a purchase. You can extend the customer relationship (thereby increasing the odds of future purchases) by providing value post-sale through content marketing.
For example, you can create in-depth FAQs, articles, or videos about each product and then send them in an email after the purchase. This content could be anything you think is relevant to the audience.
You might have content on:
How to set up the product
Different uses for it
How to care for it
By creating content that suits their needs post-purchase, you're showing your customers that you care about their experience and want to continue to provide value.
Drive repeat sales with a loyalty program
In addition to incentivizing customers to refer others to you, you can also encourage them to buy from you again by establishing a loyalty program. Give them points for every dollar spent that they can redeem for discounts and gift cards, and they'll become rabid fans of your brand.
Use a marketing automation tool that pays attention to their purchases and sends customized offers, and you'll see an even greater uptick in sales from that loyalty program. For example, if a shopper buys tea towels from your site, you can send her an offer that makes her 10th tea towel free.
Show your customers you mean business
Small Business Saturday is another opportunity for you to prove your e-commerce site's worth to your audience. It's a matter of building a relationship with your customer base ahead of time, personalizing your brand, and giving them unbeatable offers.