$401. $456. $548. So it goes for spending an average weeknight in a three-star or higher-rated hotel in downtown San Francisco during the workweek.
As traditional hotel chains, airlines, and rental car companies continue to reap the profits of unwieldy business travel expenses, a new trend is emerging among many business travelers: participation in the sharing economy.
What is the sharing economy?
The sharing economy is a system in which individuals exchange entities, either free or for a fee, by means of the Internet. In business travel, the sharing economy is typically comprised of ridesharing and home sharing to cut costs on traditional hotels and rental cars.
Sure, getting a home share for a vacation can be a great way to save some money and maybe have a bigger, more relaxed space. In fact, the sharing economy is projected to grow to $335 billion by 2035, according to a recent report from PwC. But how did the sharing economy suddenly become one of the most popular business travel trends? Let's investigate.
The sharing economy is taking the business travel world by storm. Here's why:
We'll examine five key reasons why the sharing economy has become entrenched in the business travel world, and why it's not going anywhere any time soon.
Convenience
The sharing economy's popularity within corporate travel can be attributed to the same factor that has launched its entrenchment in the world as a whole: convenience. Instead of queuing in a long line at the rental car vendor after an even longer flight, business travelers can open their phone and call a car directly to their hotel in minutes via rideshare apps such as Uber or Lyft.
Corporate travel policies often limited business travelers to just a few hotel options, and sometimes these options are further away from the places where travelers have their business obligations all in the name of a company partnering with a certain hotel chain. With home sharing platforms such as Airbnb, business travelers are able to pinpoint the most convenient lodging locations for their business obligations and find a home sharing option that is free of being tied down by any hotel chain loyalty.
Increased market presence in everyday life
Corporate travel policies are bound to be influenced by larger travel industry trends outside the business world. And as the number of sharing economy participants increases at a rate of five million people per year (as research from Statista indicates), it's no surprise that there is greater demand to use these sharing platforms for work as well.
If a company's sales team jumps on the latest and greatest productivity software to increase their efficiency and performance, so should a company's travel policy by using the latest industry innovations that can simplify the business travel experience. In the case of business travel, the sharing economy is the latest example of an innovation coming along that can change the way a traditional business practice is done for the better.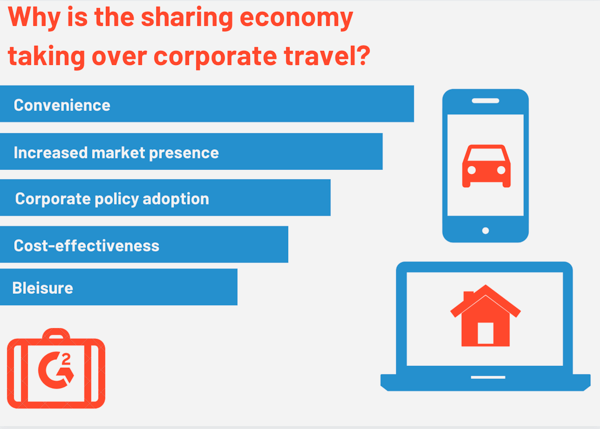 Corporate policy adoption
As the sharing economy becomes a more standard means of getting around and lodging, it also is being adopted by more companies within their travel policy. Business travelers are limited in their options for what they can spend on when traveling by a corporate travel policy. Traditionally, these policies were restricted to a few, if more than one at all, airline, hotel chain, or rental car company.
The sharing economy being adopted by corporate travel policies (a recent survey from the Global Business Travel Association found that 50% of those surveyed had a corporate travel policy that permitted rideshare use) is the ultimate kickstarter for it to take off in the world of business travel. After all, most business travelers are only able to book travel on platforms and with brands that their company gives them permission to, and the addition of sharing platforms to corporate travel policies provides a whole new plethora of options to business travelers looking to improve their experiences on the road.
Cost-effectiveness
Remember those room rates in downtown San Francisco that led off the article? A brief look at home sharing rates for those same dates downtown and in larger, higher-rated room produces the following results: $173, $198, and $208. From a cost-savings perspective, encouraging business travelers to use home and apartment sharing platforms is a huge win for corporate travel budgets on nightly rates alone, never mind the addition of a kitchen in an apartment to allow for cheaper meals than eating out every night.
A rise of new travel platforms that incentivize employees to beat a budget or save money on trips through offering rewards only heightens the importance of home and ride-sharing from a cost-savings perspective. As the market for business travel has led to greater waste and inefficiencies in spending, business travelers have started to treat their travel options similarly to how they look at vacations. They compare prices and value as opposed to selecting from a small set of options without regard for price. The cost-effectiveness of the sharing economy capitalizes on this trend and displays how it can benefit both employer and employee in the world of corporate travel.
Bleisure
The buzzword that is taking the business travel world by storm, bleisure is when a traveler adds personal or leisure time to a business trip. And for bleisure travelers who might not pay with their own money to spend personal time in the same type of hotel that their company would put them up in, a home or apartment share is a perfect option for an extended stay that includes personal time.
Instead of using the same travel management software to blindly select the most convenient flights and hotels that fit an employee's busy schedule, bleisure allows business travelers to think about how they are traveling, lodging, and getting around their destination more in terms of personal value. It's a guaranteed boost to a traveler's happiness to know that personal time in a new destination awaits them at the end of their business obligations, and having a home or apartment share can add an extra personal touch to add a layer of comfort during these trips.
Get sharing
The sharing economy has shown no signs of slowing down. Whether you're looking for convenience and want to avoid the hassle of having a rental car on your next business trip, or you want to extend a trip for a few days and have a whole apartment to yourself, partaking in the sharing economy when traveling for work has the potential to bring you relaxation, efficiency, and cost-effectiveness.