Software is changing the modern workplace.
Companies still have to face an internal transformation. The new digital era is still not totally understood by the majority of companies around the world.
In fact, live chat software is now the preferred channel for contacting support channels. Today's software enables the growth of fully remote companies, modifying the way companies communicate internally and externally.
More than the internal organization being rebuilt, buyers' journeys have also been deeply modified. With the growth of messaging channels, businesses have to face an ever novel way to respond to customers' needs.
Customers now expect to face consistent customer experience (CX) in every step of their buying process.
The power of a shared inbox
Recently, new software appeared on the market to help companies with the goal to create an all-in-one customer platform that centralizes every lead or customer conversation with your business.
The benefit is simple: create a shared inbox that will gather your team around one software to help companies unify internal and external communication.
In the beginning, shared inbox was only about dealing with emails' toxicity. However, Team inbox is much more than email. As messaging channels have highly grown over the last years, companies should be able to centralize all their channels into one multi-channel platform.
What is a shared inbox?
A shared inbox is all about email. It's expected that an average of 333 billion emails will be sent daily by 2022, meaning email is pretty much not dead.
Shared inbox definition
Shared inbox is an evolution of the traditional email inbox that involves every channel that a company is using to communicate with his customers or leads.
The modern shared inbox comes with a range of features that enhance the customer experience. For example, it offers live chat, social media messaging inbox, private notes, audio and video calls and shared browsing!
To fight the hassle of sending numerous emails, various answers have been brought to the market. Some internal communications software companies are fighting to reduce email usage and improve team collaboration.
Other companies simplify the way teams communicate with their customers through internal and external collaboration tools.
Purpose of a shared inbox
The purpose of a shared inbox is to bring efficiency and transparency to companies. When all your communication channels are centralized, all your team can work together toward one goal. Instead of forwarding emails, you can assign the right person or mention them behind the scene. No more CCing someone, no more different software, and no more information lost. Everything is simpler.
Shared inbox use case
Transparency is easy for small teams. Knowing what each person is working on or getting background context on a customer is fast. The company is not siloed.
As your team grows, the need for new tools appears. To avoid switching back and forth between tools, multi-channel shared inboxes have been designed to create the best experience for teams. By connecting your team inbox with other tools and channels, it brings efficiency back to your company.
Shared inbox for sales teams
As shared inbox brings the whole company around one software, sales teams have to use it too. Integrating tools like CRM or sales management tools to your shared inbox is a top practice.
You improve customers' data availability when support or marketing interacts with them. More than sales management tools, you should also think about Cloud VoIP Software.
Missed calls can be integrated as text messages in your shared inbox. It helps your sales rep to manage their follow-up straight from one inbox.
Shared inbox for support teams
Customer feedback is vital for companies. Marketing can better understand who they are targeting, sales teams can better qualify their leads, and product roadmaps are more highly focused. By connecting customer feedback tools or by having a customer feedback feature in your shared inbox, you centralize and enhance the customers' knowledge.
For support teams, it's the perfect way to improve customer service. Personalization is at the heart of conversational marketing. Having data at your team's fingertips is something you won't regret. You can offer better support when you bring knowledge to your customers.
Knowledge management systems can be integrated into your shared inbox. They help your team to avoid switching tools. It improves the first response time and makes everyone happier.
Shared inbox for product teams
By tracking bug and feature requests, your company is able to enhance the way they are building the roadmap. Better feature prioritization and bug management are key to transform customer experience.
If you are looking to improve your knowledge about shared inbox, here is a shared inbox guide that will walk you through a global review.
From shared inbox to multi-channel shared inbox
As mentioned previously, the buyers' journey has changed. Shared inbox has too. However, it's still not clear in the B2B field. The increasing number of conversation channels can be difficult to handle. At time of writing, only 40 percent of companies have a shared email in the United States.
Now, think about a multi-channel shared inbox. Modern shared inbox now helps to centralize SMS, live chat, social media messages, phone calls, and other channels.
What not to do with a shared inbox
Shared inbox is a powerful tool, but there are some things that you shouldn't do if you want to get the most out of this tool.
Here are the top three mistakes people usually make:
1. Only build a shared mailbox
Even if customer email management is still a very efficient channel, your customers may need some support on other channels. Facebook, Instagram, Twitter, SMS, or phone calls are channels that might need some dedicated support.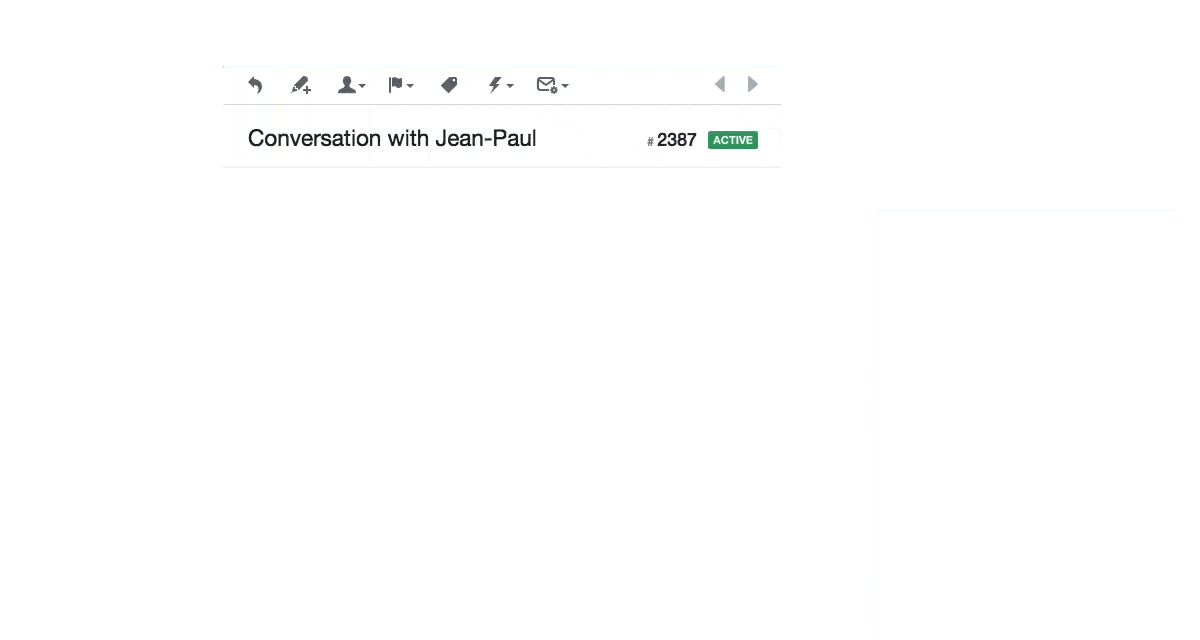 This way, your team is able to answer your customer from the same software, not depending on any other factors.
2. Gather one department of your company
Shared inbox is supposed to bring the whole company around one software, so it would be a mistake to only bring part. Shared inbox works to avoid siloed data.
3. Humanize every part of the customers' relationship
Your team has to have a high focus. They have to be able to handle customer requests with the highest level of quality. By humanizing every part of the buyer journey, you're not putting your efforts where they should be.
No, not everything should be automated, but think about the value of a human when asking: "How can I help you" or "Where do you want to go?"
Here's a strong example of humanizing a live chat system: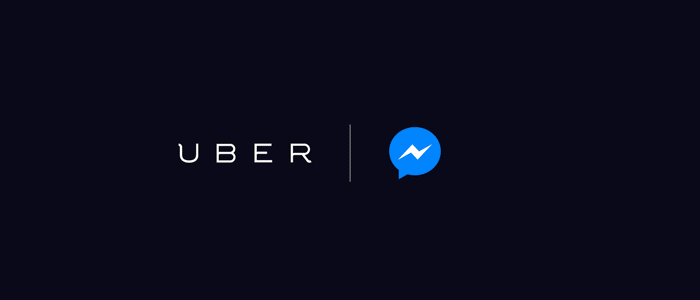 For B2B, it can be done too! Routing rule is a great thing we'll discuss later on.
"Despite the fact that automation tools are being developed, the support business can't neglect the focus on personal approach."
When should I move to a multi-channel shared inbox?
Most customers use social media to engage with brands, so it's vital for your company to be able to answer on every social media platform possible.
Your community is really active on social media
Social media customer service is growing among companies as customers use an average of seven channels to engage with brands. It doesn't matter the social media your business is available on, but your company has to be able to answer customers everywhere it is needed.
While building your shared inbox, make sure to set a social listening tool alongside your shared inbox. It will help your customer support to better engage with your brand.
Related: Read all about social listening and why it's important to implement for your company today.
You start receiving frequent support requests on new channels
Receiving frequent support requests means being able to monitor those requests. If you have separate tools, it's tough to create a dashboard that will centralize all your incoming requests.
Data is a key asset when building a multi-channel shared inbox. It's hard for teams to keep track of the origin of your contact. Once your shared inbox is set, you'll be able to enjoy the simplicity of handling multi-channel customer support. Even monitoring your incoming support requests will get much easier.
When setting a shared inbox, make sure to track every incoming request with a tag, mentioning the origin of the contact. It will help you to monitor and track the efficiency of your support from channel to channel.
You can't deal efficiently with urgent requests
Not being able to handle an urgent request is a matter of efficiency. Efficiency can be brought by different things: process, tools, and customer service training. As the pace of communication is growing fast, customers are expecting companies to resolve their concerns faster.
The average first response time for live chat is about 48 seconds. The average handling time to resolve a customer's case is about 11 minutes. Overall, it shows live chat is definitely the best channel to handle customers' requests efficiently and faster.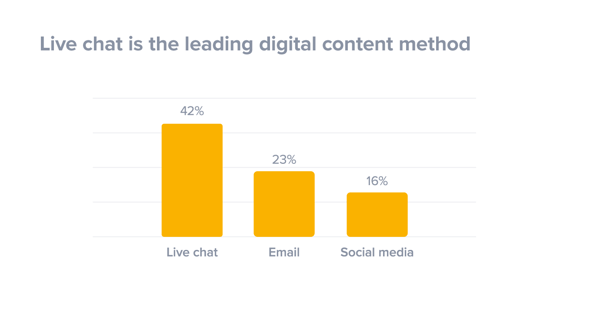 Live chat apps should be definitely part of your multi-channel shared inbox strategy if you want to decrease the number of phone calls or improve the number of net new leads for your marketing team.
When building a shared inbox, especially looking at live chat, think about the proactive and reactive way that you can interact with your customers. There are many ways to welcome customers with a chat widget. It's up to you to uncover what works best.
Why you should set a shared inbox in your company
As you're now an expert on shared inbox, the time has come to show you why you should build a collaborative inbox in your company.
The benefits of a team inbox are numerous, but here is a list that will resonate easily with every customer-centric company.
To improve customer email management
As we've seen, email is not dead. However, email management is having some difficulty. Shared inbox is about simplifying customer email management by streamlining the workflow process.
Thanks to dedicated features like private notes for internal collaboration, mentions between agents or teams, automated routing rules, and chatbots, companies can make customer email management efficient again.
Improvement in customer email management can have a big impact on average handling time and customer satisfaction. Collecting quantitative data from your inbox to drive success is vital if you want to be able to improve your customer email management.
By using a modern shared inbox, analytics will be available for your team, allowing you to create the best experience.
Customer email management can be improved by following the different things that shared inbox software fights for, including: confusing email threads, separate inboxes, and siloed information.
To create a social media messaging inbox
One of the greatest parts of collaborative inboxes is the ability to centralize all your channels. Messaging apps are the sweet spots between live chat and email.
That's why shared inbox is the perfect tool for customer service. By enabling this, you take your customer service to another level.
One thing you have to remember while offering a social media customer service through a shared inbox is that every conversation is conserved in one thread. Still doubting that people on Facebook Messenger will contact you?
Here's a quick graphic to eliminate any doubt: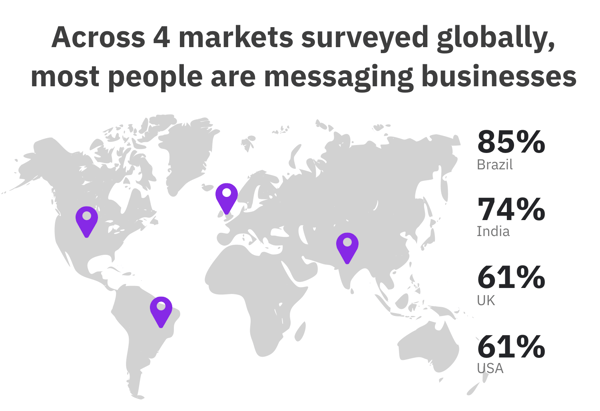 One of the main assets of messaging is that it's widely used and much less formal than traditional support channels. Furthermore, it's not just social media messengers, it's messaging apps that have grown outside of social media to become complex platforms.
Serving your customers using messaging apps can deepen your brand's relationship with customers. It brings an unrestricted communication option to your customers; every channel can be reached on a private basis, without any worries about waiting time or cost.
It enforces your customers to stay private about the topic they are reaching out to you about, better controlling your brand and your reputation.
To streamline customer data
As with your email data, shared inbox is the perfect place to enrich user data. Especially when you are using messaging apps for your customer service. Through better knowledge, you can send highly targeted messages based on user behavior. Ideally, much of those would happen automatically.
To make it work, segments (also known as tags) are a great way to group users based on their interactions. By building a shared inbox that also connects messaging apps, you're offering the best of the two worlds.
Best practices for shared inbox
Below outlines five of the best practices for shared inbox, including saved replies, building routing rules, creating chatbots, using knowledge management software, and bringing context to your conversations.
1. Create saved replies
Saved replies, also known as canned responses, are populated shared inbox replies. They allow agents to answer customers' questions in a wink.
A large catalog of saved replies can increase the customer service team's efficiency. By using template answers, you provide solutions to more customers. More than bringing efficiency, it allows to better control external communication by creating templates for generic messages like proposition value or advantages compared to competitors.
Saved replies for sales
Sales are busy, and they are not always ready to answer customers' questions quickly.
To counter this habit, a good practice is to create dedicated messages to sales questions. This ensures support agents have the right messages and offer more time to the sales team to focus on what matters the most.
An example of a follow-up using canned responses would be:
Hey [NAME],

I'm [NAME], [JOB TITLE] at [COMPANY NAME].

I saw that you requested a demo, but didn't go through the whole process.

If you would like to, here is a link to book a meeting with me:

[LINK TO YOUR CALENDAR]

Regards,

[NAME]
An example of a canned response for competitors comparison would be:
[COMPANY] is [PROPOSITION VALUE], that comes with [FEATURE 1], [FEATURE 2], and [FEATURE 3]. We are also integrated with many other platforms, such as [PLATFORM 1], [PLATFORM 2], and [PLATFORM 3].

If you consider moving from [COMPETITOR] to [COMPANY], we support most [COMPETITOR] features, and we also have included a few things that are not included in [COMPETITOR]:

- [MAIN DIFFERENCE 1]

- [MAIN DIFFERENCE 2]

- [MAIN DIFFERENCE 3]

But our customers will speak better than us. Have a look at why they've changed: [URL CUSTOMER TESTIMONIAL]
Saved replies for support
Support teams can also benefit a lot from saved replies. By linking knowledge base to your team inbox, you can leverage the power of knowledge to serve your customer.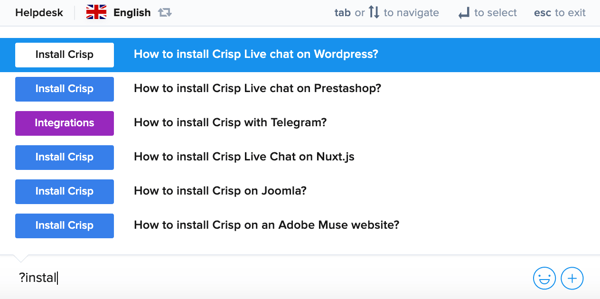 TIP: Do you have a shared inbox that doesn't offer this feature? Maybe it's time for you to look for another supplier.
2. Build routing rules
One of the greatest benefits of shared inboxes is routing rules. It allows messages to be routed directly to the right department depending on the customers' query.
Here is a process that could help you to set the right routing rules:
Create a tag for each department of the company.
Define the main subjects that could arise depending on each department.
Group people that are able to answer each specific topic.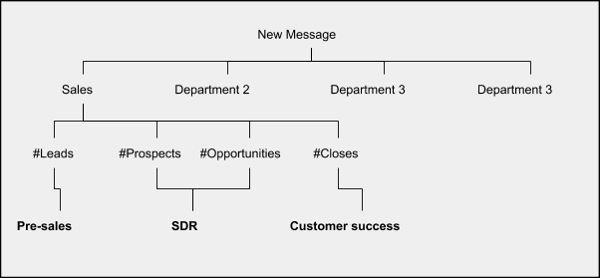 Here are the questions you should ask yourself while building your tagging system:
What department should be involved in customer service?
How can I better segment messages to route it to the right people?
What defines who's accountable for answering each message?
Who would be interested to know the details about this message?
3. Create a chatbot to put your lead gen on autopilot
Automation is a good practice in our global world. When your teams are asleep or spending time with their families, they are not answering your customers. As most modern shared inboxes offer the ability to build chatbots, it would be crazy not to step in.
You might think that your customers will hate chatbots, but that's simply not true. Chatbot statistics even state that 64 percent of internet users say 24-hour service is the best chatbot feature.
TIP: Read about companies using chatbots and see how easy it is for you to get on board with the latest communication craze.
4. Add a knowledge base
It feels like companies still have a long way to go to understand how a knowledge base can benefit its business. Still, knowledge management systems are great for large organizations to share, store, and manage bodies of content across teams and departments.
5. Bring context to your conversations
In order to deliver the best customer experience, your business needs to create a personalized experience. This means that your customer service has to go above and beyond satisfying customers' needs.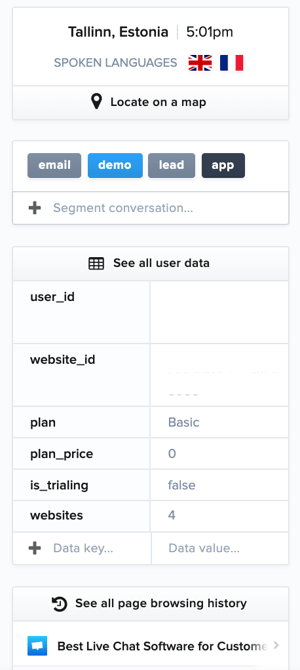 Delivering truly personalized customer service is tough. It entails making the customers feel like they are unique.
To bring context to your customer service and personalize the experience, you have to gather data about the customers' profile.
There is different data that you can access to offer the best experience to your customer, including: connecting your shared inbox to your CRM as your software may offer some native integration; automatically assigning tags showing the behavior of your customers; accessing browsing history; knowing the location of your customers; and knowing the languages of your customers.
Takeaways
Through this guide about the power of shared inbox, we've showcased how incredible a shared inbox is for business. With dedicated and centralized features, companies can now build the best customer experience ever.
If you're still not convinced about why multi-channel shared inbox can be powerful for your business, you could start by simply trying to better engage with your website visitors by setting live chat, knowledge bases, or video popups to interact with them.
Want to enhance your overall customer experience? Check out our extensive statistics roundup to see what's important to customers on a wide scale.