The lifestyle of the committed salesperson can be hectic and stressful. Luckily, there's someone to help create order out of the chaos.
Selling has been at the core of human work since the dawn of our current social epoch. The rapid expansion of technology that has characterized our particular chapter of this long history has brought unprecedented interconnectivity and communication. With this, the role of sales personnel in most organizations has transmuted far beyond the roaming product haulers of yesteryear. New tools have enabled countless leads to be tracked with the click of a button. The stakes have never been higher, and neither have the profits.
It takes an effective sales manager to truly unleash the potential of our digital age.
What is a sales manager?
A sales manager is a member of an organization who is responsible for guiding a team of other salespeople. Similar in practice to that of a BDR manager, their work is done less with client calls and more with team meetings and documents that outline goals, vision, and organization for their direct reports.
How many hours do sales managers work in a week?
Due to the high amount of responsibility that sales managers have on ensuring that core business functions are being executed, sales managers should expect to work more than forty hours a week, sometimes out of normal working hours.
If upper management composes the score, it's the sales manager that conducts the orchestra on how best to execute the company's vision. This requires sales managers to have a strong sense of entrepreneurship in order to help them find the best methods possible to execute on the roadmap laid down by the company leaders.
Sales manager responsibilities
The responsibilities held by a sales manager can vary wildly depending on the size or type of organization they work for. Despite this, most sales managers will be involved in a few of the same sorts of tasks regardless of where they land.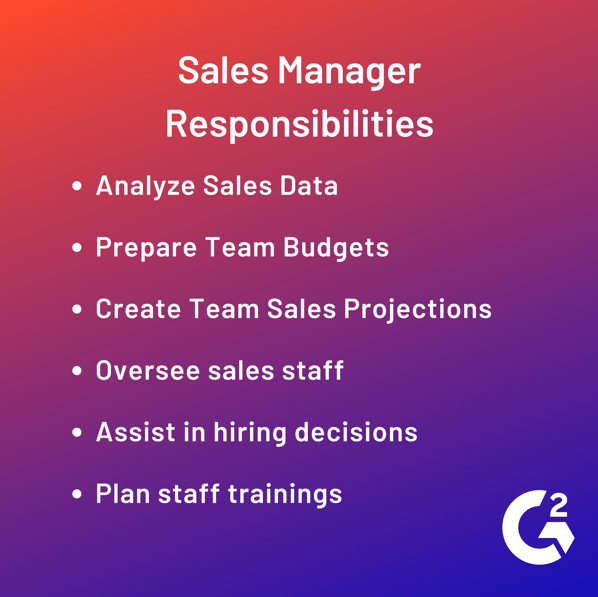 While a sales manager is not usually responsible for dictating the quotas that their team needs to hit — that task falls to upper management positions with more visibility into the high-level functioning and needs of the business — it is up to them to ensure that their team is doing everything it can to hit those goals. However, this is not to imply that sales managers are simply micro-management machines. It's important for a good sales manager to have a keen eye for the bigger picture, and be able to step up for the good of their team should a problem arise.
Of course, one of the most important parts of working in a sales operation of any significant size is knowing your way around a killer piece of CRM software. Check out G2's real user reviews on the best options on the market:
For a smaller company, a sales manager might have a direct hand in hiring new team members and be responsible for their onboarding so as to ensure the best possible fit with the rest of the company.
Sales manager job description
Below is an example of a job posting for a sales manager for a private lending firm taken from glassdoor.com:
Position Title: Sales Manager
Responsibilities:
Leading a team of three Sales Associates
Generating new business through direct sales and marketing efforts
Managing and growing relationships with existing clients
Introducing prospective clients to the Company's investment strategies and loan financing solutions
Building trust and earning new business
Serving as an ongoing resource for clients
Walking clients through the financing process
Managing critical timelines
Partnering with Team Members to ensure clients' loans are administered efficiently and effectively
Utilizing industry events, conferences and other networking opportunities to make connections and drive business development success
Serving as a liaison between Sales and Leadership
Qualifications:
A Bachelor's Degree
A proven track record of sales success of any type
Experience from within Banking, Commercial and/or Residential Loan Sales, Private Lending, Private Equity or similar
Advanced communication and presentation skills
Relationship building skills
The ability to lead, guide and mentor others
Intermediate to advanced proficiency with Microsoft Office Suite
What is a sales manager's salary?
Unfortunately, it's hard to provide a hard and fast salary estimate for sales managers, as there are several factors that all contribute to how much a sales manager might receive as a way of compensation. The average yearly salary across all industries for a baseline candidate is close to $65k; however, a sales manager in the right industry and with a good deal of experience can earn as much as $115K per year.
Primarily, the greatest deviance in salary expectations comes from the industry a sales manager chooses to work in. Below, you can find a graph highlighting the median salary for a sales manager with around 5 years of experience in a couple of common industries:
One of the beauties of working in a sales position is that nearly every company needs a sales representative of some form or another, so you get to choose the type of company you work for. This can either be for career prospects, expected compensation, personal values, or some combination of the three. Regardless of what you decide, it's important to know what you'll be getting yourself into before taking the plunge.
Sell yourself
Sales managers work to ensure the day-to-day operations of critical sales teams are running smoothly. It takes a strong know-how for managing clients as well as members of your own team to be truly successful in this role. Regardless of which industry you decide to build your career within, make sure you're ready to lead the charge on some of the most important accounts for the business.
Looking for more wisdom to help you advance your sales career? Check out our guide on how to write a sales call script!