If I asked you to tell me your favorite commercial, would you be able to? Even as millennials abandon cable TV in favor of streaming services, and marketing dollars shift with devotion to social media, you're likely still able to pick a commercial that has made you laugh, cry, or think.
Which is it? What is the commercial that you can practically play from start to finish in your head? Think about it for a moment, and when you have your answer, let me ask you this: What was that commercial for?
I'd be willing to bet it was for an everyday consumer product. Whether the commercial was this tearjerker or this laugh-out-loud clip, it reinforces a point: Consumer marketing is memorable. Marketing items associated with fun – beer, cars, new technology, and more – are catchy, sexy, and exciting.
B2B marketing, on the other hand, is not so easy. And we're not saying that marketing to consumers is easy, but it's certainly more traditional. The act of marketing copy machines or printing services presents a unique set of struggles and problems to overcome.
Take it even one step further, and you have SaaS marketing. Let's be honest – software isn't terribly thrilling. Compound that with the fact that SaaS tools don't physically exist, and the professionals who are supposed to market them find themselves in a bit of a situation.
What is SaaS Marketing?
SaaS marketers face a few significant challenges in their quest for their software to sell itself. As we mentioned already, SaaS tools have no physical presence, and how do you market something that doesn't exist? Selling intangibles places restrictions on what you can and can't do in your marketing efforts.
Additionally, SaaS tools are changing, almost constantly (What is SaaS? Learn more with our recent ultimate guide to SaaS). With updates and new features being released constantly, it's difficult for marketers to nail down even their most basic messaging before the next version is released.
B2B SaaS marketers also face the challenge of marketing their tools to niche audiences. Whereas your target audience for a car commercial may be the massive pool of middle-class adults over 30 who live in the midwest, your audience when marketing, say, password management software, is significantly more restricted.
Despite all of these challenges, there are still B2B SaaS companies that have excelled in their marketing efforts and become well-known in the tech industry and beyond. Below, we'll feature some SaaS marketing best practices and highlight the companies who have gone above and beyond.
Social Media for B2B SaaS Marketing
When marketing SaaS, it's all about building awareness. While the specific product may not have a broad audience, companies can build a social presence and content strategy that appeals to the masses. By utilizing consumer-geared social media platforms, such as Twitter and Instagram, brands can appeal to new audiences and show off their culture, which usually, is more exciting than their software tools.
Hootsuite, a social media management platform, leverages Instagram to show off to its 72,300 followers. Its content is rarely focused on the tool itself. Instead, it's creative, eye-catching, and features imagery that relates back to the brand, like this owl mural.
While it's fitting that a social media management tool would excel at social media, Hootsuite is a prime example of how B2B brands can appeal to new audiences by taking on a more consumer-focused marketing approach.

Content Marketing for SaaS Companies
Additionally, content marketing has become an invaluable strategy for B2B SaaS companies looking to increase brand affinity and reach new audiences. However, with 93% of B2B businesses utilizing this approach, software companies need to publish the best content on a given subject matter to see results. By publishing valuable, relevant content that positions their companies as thought-leaders, SaaS marketing teams can increase organic traffic and bring curious potential customers to their websites.
Zapier, an iPaaS software tool, has seen great success from its content marketing efforts. On its blog, Zapier features comprehensive guides covering a plethora of topics, from Google Sheets, to CRM software, to remote work, each of which is informative and complete as the others.
The critical factor that has made Zapier work so successful was writing content that appealed to a massive audience – one that extends much further than just its current customer base. It's probable that any professional – regardless of age, industry, or title – could find something of use from what Zapier calls "The Learning Center."
With each guide covering around 10 chapters, the reader can come in entirely uninformed and leave an expert. By positioning itself as a resource and optimizing the writing with specific keywords, the guides are easily accessible through a simple Google search. Ranking on Google and other search sites is a surefire way to get eyes on your content.

SaaS Free Trials
As we previously mentioned, marketing an intangible presents new challenges not often faced in B2C marketing. Unlike your typical consumer product, potential customers aren't able to pick up a software tool, turn it around in their hands, and see how it feels. Being able to touch something, try it out, and see how it fits is an integral part of the purchasing process – it's the connection that keeps brick-and-mortar stores in business as more and more consumers shift to online shopping.
B2B SaaS companies can attempt to imitate this feeling by offering free trials.
Allowing somebody to log into the software platform and explore is the B2B SaaS equivalent of letting them take a lap around your store in that new pair of shoes.
And just like consumers are more likely to buy when they have the help and support of a sales clerk, a SaaS product demo can help guide potential customers toward a purchase. DemandBase, a marketing account management software tool, utilized email marketing to connect with potential customers through an invite-only product demo.
As you'll see in the email below, DemandBase addressed the issues its potential customers may be facing and briefly explained how the tool would help solve them – of course, still leaving enough room for curiosity. The simple email directs readers to sign up for the demo with an intriguing subject line and a clear call to action.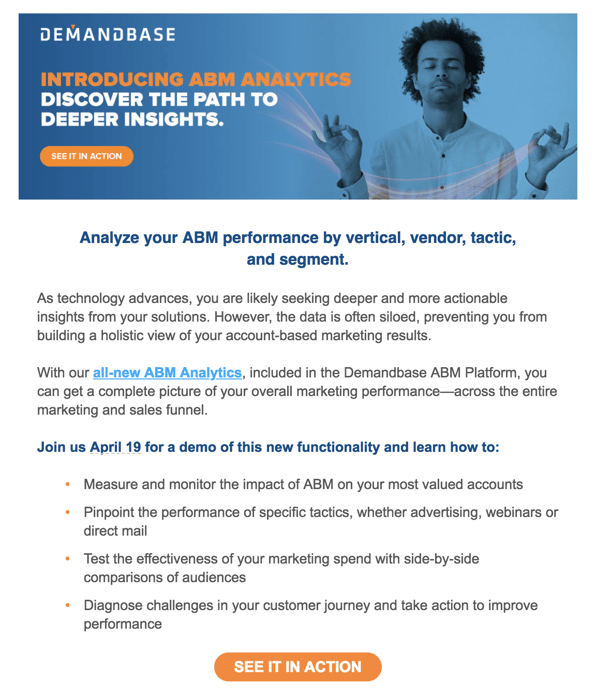 SaaS Marketing and Embracing Reviews
There's one more SaaS marketing best practice that we have to feature. Software reviews are gaining prevalence each day with SaaS marketers everywhere beginning to incorporate them into their strategies.
Customer reviews are incredibly valuable. First of all, they're free. For little-to-no cost, marketers can develop a campaign around the glowing feedback from their real customers. User insights also give potential customers a realistic expectation of the tool and how it will work for them. While it's easy for SaaS marketers to promise the sun and the stars, an accurate expectation is what will set the stage for a mutually-beneficial customer relationship.
This strategy, which has been long embraced by B2C marketers (think Amazon, TripAdvisor, and Yelp), has proved successful for the B2B SaaS companies that have become early adopters
SurePayroll, a payroll software, shares its user-reviews and accolades on its social media profiles. By embracing reviews and advertising them to its Facebook following, the company is inviting potential customers to learn more about its tool while gaining an understanding how it will fit the customers' specific needs.
We all know consumers love reading reviews (do you remember the last time you ate at a restaurant before checking it out on Yelp? Neither do I.), so the opportunity is ripe for B2B companies.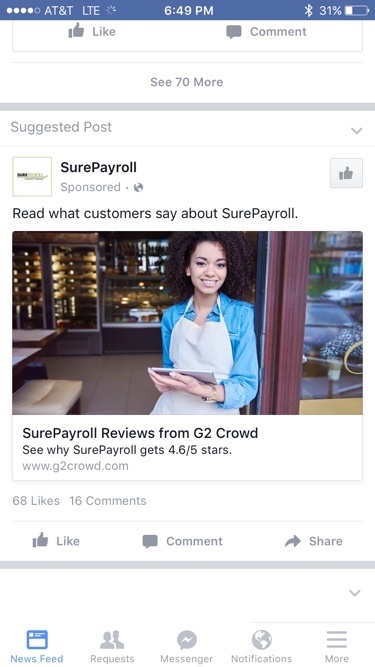 It's true that SaaS marketing presents a new set of challenges and headaches. But similarly, it offers new success, opportunities, and exciting wins. The above companies have all excelled in their own ways – continue checking back as we update with more best practices and featured SaaS companies.