Do you want to search for similar photos across the web?
Maybe you've downloaded thousands of images to your system and transferred some to your phone, but sooner or later you can't remember the source of those images. You asked yourself "where exactly did I get these photos?"
This article is for people who've no idea how to find the source of any image and what reverse image search is all about. In this complete guide to reverse image search engine for beginners, you'll learn the basic definition, benefits, how to use and perform reverse image search on your mobile phone or computer desktop.
Search engines that offer reverse image search capability include Google Images, Microsoft Bing Image Search, Yahoo Images, TinEye, and Yandex. Studies show conducting a reverse image search helps people to Include descriptive, succinct image alt text when photos are added to web pages.
In this article, we'll cover what a reverse image search is, why you need them, the benefits, and how to do them on your mobile device.
What is reverse image search?
Reverse image search (RIS) is a search engine technique that uses a sample image file as input query to retrieve related or similar images to the sample image and return image search results. It is an advanced option to search images without using keywords. It allows you to upload an image or provide its URL to search for similar images.
Reverse image search (RIS) definition
Reverse image search (RIS) is a content based photo retrieval query technique that provides the CBIR system with a sample image file to formulate a search query for information retrieval.
This innovative tool makes it easy to do an image search for commercial or personal use. With free reverse image search, professionals such as graphic designers, content writers, and web developers can quickly discover visually similar or related images across the internet. With reverse image search you can find the original source of profile pictures, photographs, memes, and graphic icons on your iPhone, iPad, or Android mobile phone.
Why you need reverse image search
What are the general practical uses of reverse image search and why do you need it. Here are some of the uses why every online user needs to use this handy and innovative tool for personal use or commercial projects:
Finding information about unidentified products and other objects by means of image upload instead of keyword searches.
Debunking fake images and new stories on social networking sites.
Ensuring that you adhere to compliance with copyright regulations and infringement policy.
Searching for duplicated images content across the web.
Finding higher resolution versions of any image you found online.
Locating the original source of information for an image.
11 benefits of RIS for internet users
Because the web contains trillions of images and some of these images are faked while others violate copyright regulations, you need a tool that can help you identify them. Reverse image search allows anyone to spot the fake images, and the websites that they appear.
1. Authenticating people using catfishing technology
Reverse image search makes it super quick to spot the fake images and the fake people who are using someone else's images online. If you perform reverse image searches on profile pictures on social networking platforms, what appears to be a celebrity actress making friends on Facebook might be a hacker trying to scam people.
You would often find these fake people have stolen their profile photo from another LinkedIn or Facebook user. Also, the same photos are being used to send 419 scam emails. Scammers often use photos of actresses, actors and writers to catfish online newbies. Reverse image search and image search catfish could save you from getting conned or being scammed by hackers.
2. Discover suitable recipes
It is possible to uncover the name of a recipe with only a picture. Reverse image search is helpful to find images and recipe content online. In this scenario, simply upload your picture into a reverse image search tool and get the comprehensive recipe online.
3. Track image usage
If you want to track your images online, the best way is to perform reverse image searching to identify websites where they are published online. Image processing by search engines involves a technique of extracting some useful information by converting the sample image into digital query instead of keyword and performing some operations on it.
So you can find and fight image theft by discovering how and where your photos are used online. Reverse image search technology lets you recover compensation for unauthorized use and take control of your creative work.
Tracking image use by reverse image search is not restricted to photographs, TV pictures, ecommerce product photos and drawings but include digitally encoded figure points within an image.
4. Debunk social media profiles and posts
Social media has become popular for creating viral news stories and connecting people worldwide. While using Facebook or Twitter you may come across mysterious faces and fake profiles. Reverse image tool lets you identify fake profiles by checking the authenticity of their profile pictures and random timeline photos.
5. Explore unlabeled products
You can use reverse image search to hunt for products without labels that are displayed on sites like Pinterest or Tumblr. For example, you can uncover relevant information of any piece of furniture without proper labels.
6. Identify different objects
Reverse image search is used by science students to identify animals, science projects and plants to find out their names, species and other relevant information on the web. For example, you can use your camera and take a picture of your cute cat or tree in your backyard. And upload its image in reverse image search to get its name and species within minutes.
7. Find out celebrities' names
You can find out the names of actress or actors from image gotten from film, magazine or TV programs. Reverse image search is a handy tool that can identify the name, hometown, and birthday or timeline history of any celebrity.
8. Find a suitable apartment
Want to find out the addresses of a house you want to rent if your realtor refuses to reveal its location? You can use reverse image search tool to track down the origin of the house and the location of the desired building and city.
9. Check authenticity of creative artwork
If you own artwork and want to check if any blog, website, or social profile is using your hard work without permission, try reverse image search. It can help you maintain its authenticity and identify sources where you artwork appears online.
10. Revolutionize fashion e-commerce
Sometimes you come across fashion products on the internet and thought "where can I buy this?" Visual search is a technology that helps you search for products using pictures rather than keywords. Surprisingly, 85% of e-commerce users in USA use visual content search before making any purchases. This visual search is caused by customers desire to look for alternative stores that are selling new brands and products.
11. Authenticating images
Digital image authentication by means of reverse image tools is an important benefit against fabrication of realistic image depicting fake events. You can authenticate any picture on the internet. That photo you're viewing has it been uploaded somewhere else? If you're on Instagram or Facebook, you know there is a high volume of fake photos and new stories that get shared and liked every day.
The sad thing is that the image is not even a part of the viral stories. And likely the image was originally published months prior to when the writer used it. The easiest way to check on this is to use reverse image search.
Here's how to authenticate a picture online using your browser
Here are two steps to authenticate a picture online.
Right-click on the image and choose "Search Google for this image".
Google will scan the entire web and display where else this image has appeared online with their posted dates.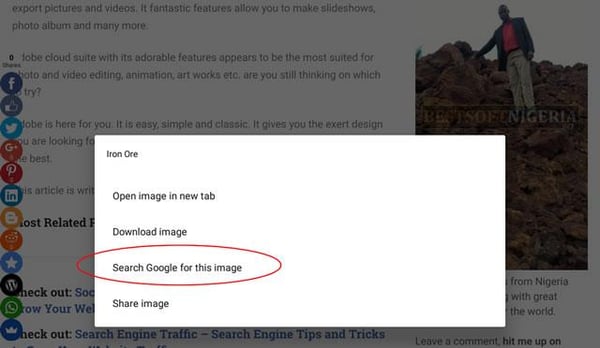 The benefits of using reverse image search include finding out fake people, authenticate information, unique ideas, living things and identifying their original sources.
How to perform RIS on your phone
Reverse image search is simple on a desktop computer but what happens when you're on a mobile device? Search engines have options for mobile phones. Performing a Facebook image search is a little bit different from yahoo reverse image search on tablets. First, let's take a look at reverse searches on computer.
How to reverse image search on your computer
Perform Google's reverse image search on a desktop computer is straightforward. Follow these steps.
Go to images.google.com on your Firefox or Google Chrome browser.
Click the camera icon. You have three options to choose from.
Google will fetch the web and display similar images to the sample photo you've just searched.
Drag an image from another window or browser tab.
Paste the URL of an image that already exists online.
Upload an image from your computer drive.
Note: Google may store the photos you upload in your search for 7 days. This is not a part of your search history, and Google only use them during that time to save reverse image search metadata and history to improve their products and services.
RIS on a mobile device
Fire up your browser app on your phone.
Visit https://images.google.com

in your browser.

You'll need to request the desktop version of Google images.
If you're using Chrome browser, tap the three dots at the top right to open the More menu.
Select the Desktop site option.
Tap on the camera icon to upload an image from your phone gallery or copy and paste the image URL you found online.
Browse through the image search results.
Conclusion
Reverse Image search gives you the tool to upload an image on search engines via phone, tablet, or computer to find visually related images, specific search results, and more. You can use a picture you stumbled on somewhere to find related images from the web.
Similar to having the right image technology software for RIS, you want to make sure that your website is accessible for all users. Find the best web accessibility software for your needs only on G2.