What will the future of retail look like?
Will there be intelligent sensors that recognize you as you enter the store? What about floating, holographic product displays that change as you explore the aisles?
Maybe an army of robots powered by artificial intelligence (AI) will serve you. Or a smart mirror with augmented reality (AR) technology will show your chosen outfit. You change the dress's color with a simple swipe and check out what boots might go with the dress. And once you finish shopping, you'll scan and pay—no waiting in line at the checkout counters.
Or maybe you'll simply shop from home using virtual reality (VR) headsets, and drones will drop deliveries at your doorstep. While many of these would've sounded unreal a few years ago, they aren't anymore. These technologies exist and are a reality today at a number of retail stores, online and offline.
Retail technologies are revolutionizing the retail landscape, from how consumers shop to how the retail industry operates.
What is retail technology?
Retail technology, or retail tech, includes a suite of innovative digital technologies brick-and-mortar and online retailers use to enhance and streamline various aspects of the shopping experience. It ranges from simple point-of-sale (POS) systems at stores to complex AI and automation software at the front and back offices of retail companies.
Let's explore the cutting-edge technologies retailers should know about and invest in as they integrate their online and offline businesses.
6 retail technology trends for 2023
We asked six retail experts around the globe about the technologies retailers should bet on as companies integrate their online and physical stores in the post-pandemic world. Here's what they had to say.
1. AI, machine learning (ML), and generative AI
AI and ML technologies have infiltrated all industries, including retail. In fact, the retail industry has been the testing ground for AI solutions for a long time. The most popular use of AI by a retailer is the recommendation engine released by Amazon over two decades ago. The ML algorithm recommends related products to customers based on their previous shopping history, location, and purchase habits of other similar customers. Going forward, retailers need to double down on AI and related technologies.
"Retailers should bet on ML and AI technologies to help analyze data from multiple channels. ML algorithms can help retailers optimize assortment, innovation, pricing, inventory levels, and supply chain operations."

Brad LaRock
Vice-President of Marketing, Datasembly
Gabriella Bock, director of editorial relations at Rethink Retail, noted that advanced analytics and AI enable retailers to gain invaluable insight into when, where, how, and why their customers choose (or not choose) to shop with them. AI's transformative capabilities have the potential to bring in an annual value of $400 billion to $800 billion for the retail industry.
AI in retail: Applications and use cases
Here are seven ways retail companies can use AI applications:
Demand planning and forecasting: Predictive analytics with AI enables retailers to analyze historical sales data, market trends, and external factors in real-time to accurately forecast future demand and plan inventory accordingly, minimizing costs associated with excess inventory or stockouts.
Personalized marketing: AI-powered recommendation engines analyze customer data to give personalized product recommendations, targeted marketing campaigns, and tailored promotions, enhancing customer engagement.
AI-powered chatbots: Chatbots and virtual assistants powered by conversational AI provide instant customer support, answer inquiries, and handle customer service issues, improving response time and overall customer satisfaction.
Product catalog management: AI helps retailers automate product tagging, create high-quality text and image content for products, and assort product catalogs for better search and discovery, improving the accuracy of product catalogs.
In-store operations: AI-powered smart shelves and video analytics in stores give insights into shoppers' behavior and help retailers with queue management, stock replenishment, product placements and optimizing store layout.
Dynamic price optimization: AI algorithms analyze real-time data on market conditions, competitor prices, and customer demand to dynamically adjust pricing strategies, helping retailers maximize revenue and optimize profit margins.
AI is also at the heart of next-generation retail technologies. For instance, computer vision, a field of AI, is the core of facial recognition, visual search, and driverless delivery vehicles. Large language models are foundations for conversational AI chatbots and voice assistants.
Another AI tech retailers should look at is the generative AI tools, made possible by the rapid advancement in deep learning models like ChatGPT.
What is generative AI?
Generative AI is a type of AI that creates various types of content like text, images, audio, codes, and synthetic data for questions asked in descriptive phrases in our natural language.
Shradha R, head of product marketing at Vue.ai, an AI solution provider for retailers, elaborated on generative AI use cases for retailers with the example of apparel brands looking to generate imagery of models with different body and skin types. "Brands don't have to take photos of models wearing their products and can completely automate their processes with this form of generative AI," she said.
Jeans retailer Levi Strauss & Co is already on this. It plans to use AI-generated models to increase the diversity of bodies shoppers see on its e-commerce channels. And many other retailers are also jumping on the generative AI train.
Shopify recently rolled out Shopify Magic based on generative AI tech. The tool can produce product descriptions based on the keywords brands wish to target in search results. Amazon plans to add ChatGPT-style product search to its web store. The use cases are endless.
Given the strong momentum, retailers should experiment with AI tools to avoid getting left behind.
2. Automation
Another area retailers must step up investments in 2023 is automation, the process of using technologies to perform repetitive tasks with minimal human intervention. The ongoing labor gaps have fuelled the need for automation in every area within the retail sector, from warehousing, inventory management, and order fulfillment to consumer-facing features like contactless payments, noted Gabriella Bock.
According to McKinsey, 52% of all retail activities can be automated with existing technology. It reduces human errors, improves quality and speed of service, boosts employee productivity, and saves money. Automation can generate 300 to 500 basis points of incremental margin, a godsend for retailers facing margin pressures. This makes automation not a choice but a requirement in the hypercompetitive retail environment.
The recent advancements in AI, ML, and robotics are powering a new age of intelligent automation where machines are capable of making data-driven decisions on their own.
For instance, marketing automation software powered by AI can analyze historical customer data and personalize promotions on different channels, ranging from SMS to emails and social media ads.
Retail automation examples
Automation finds its use across stores, supply chains, and corporate functions.
It includes:
In-store automation
Self-checkout terminals and self-service kiosks.
Electronic shelf labels that show product information and automatic price changes.
Facility management with cleaning robots.
Shelf-scanning robots for inventory management.
Automation in warehouse and fulfillment centers
Automatic product loading and unloading systems.
Product identification scanners.
Automated-guided vehicles (AGV) for product transportation with warehouses and fulfillment centers.
Automated storage and retrieval systems (ASRS).
Warehouse drones and robots for inventory counting and management.
Other retail automation
3. Augmented reality (AR)
AR is the next big thing for retailers. It has been popular for quite some time now in the retail space. But after the pandemic, AR technology has become more important as shoppers try to bridge the gap between online and physical shopping.
"As consumer expectations grow, demands have shifted from a customized to a more immersive shopping experience. (They) seek more virtual experiences... AR plays a pivotal role in making this happen."

Subhransu Sahu
Market Research Analyst, G2
Augmented reality provides interactive experiences by adding computer-generated digital content to real-world objects. Imagine you are shopping for sneakers on your smartphone. You find the one you like. With AR, you can simply point the camera at your feet and see how the shoes look on your feet.
Trying on products virtually has been one of the most successful use cases of AR. Fashion and makeup retailers have been the leading users of AR technology with virtual try-on apps and virtual fitting software.
60%
of millennials are willing to shop or spend more money with a retailer offering virtual fitting rooms or virtual staging capabilities.
Source: TCS
L'Oreal, for instance, has AR apps that allow shoppers to try on different makeup products without touching their faces. H&M is testing smart mirrors on its store floors for virtual try-on and styling.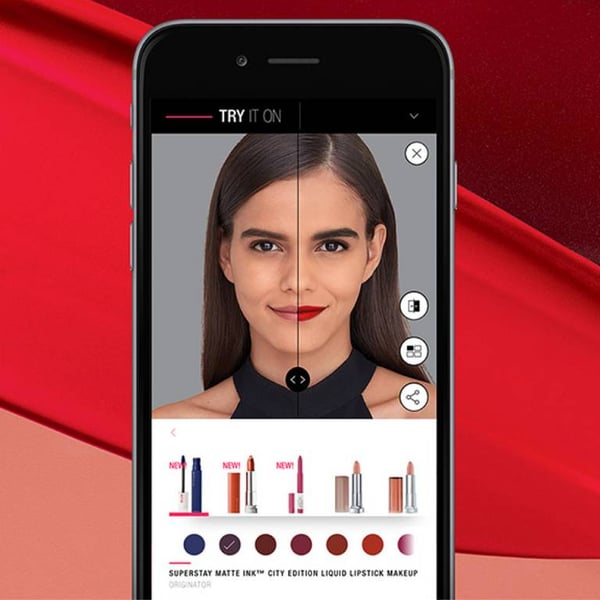 Source:L'Oreal
How is augmented reality (AR) used in retail?
Apart from virtual try-on, G2's market research analyst Subhransu Sahu lists the following applications of AR in the retail space.
Product visualization: AR enables customers to visualize products in their environment. For example, IKEA has an AR shopping app that allows shoppers to visualize how a piece of new furniture will look in their room.
Interactive in-store experiences: Retailers like Adidas have added interactive AR installations to their stores to create memorable and novel experiences for their customers.
In-store navigation: In addition to improving in-store shopping, AR tools can assist shoppers in finding what they need faster in large department stores, malls, and warehouses. Lowe's, for instance, tested an AR app to help with in-store navigation.
Marketing campaigns: AR experiences build brand engagement and are an organic marketing tool. For instance, shoppers interacting with AR makeup filters on Snapchat share their experiences with their social circles, creating an avenue for building brand awareness and engagement.
Numbers show AR is not without its benefits. 56% of shoppers say they are more confident about the quality of a product with an AR experience. Most importantly, customers who use AR while shopping browse longer and are more likely to purchase a product than those who don't. AR experiences also reduce the likelihood of returns.
However, Sahu said businesses are yet to add AR tech capabilities proactively. "Traffic to these (AR) categories (on G2) has been inconsistent, with many peaks and valleys in the past 12 months. However, the category traffic for Virtual Fitting Software has grown by 34%, which signals interest from companies trying to find out AR-based virtual fitting solutions is picking up," he stated.
Sahu also notes that most of the traffic comes from retailers and e-commerce firms looking for such solutions for their apparel divisions online. However, he still sees room for more active engagement of retail businesses in the AR categories.
4. RFID, QR codes, and other smart store technologies
Adopting smart store technologies is paramount for brick-and-mortar retailers looking to enhance their omnichannel experience. DeAnn Campbell, chief strategy officer at Hoobil8, noted that a top priority among them for any brand should be tools to manage inventory, including radio-frequency identification (RFID) and QR codes.
RFID and QR codes are technologies that help identify and track an item using tags and codes. It helps with real-time inventory checks.
"(These) tools are also important because they factor into other critical retailer needs like theft prevention and enabling customer experience enhancements such as AR, product education and endless aisle viewing..."

DeAnn Campbell
Head of Retail Strategy & Insights, AAG Consulting
Fashion retailer River Island, for instance, uses RFID tags on its products. Shoppers can scan the tags in fitting rooms and get product details like size and available colors on a smart screen. With a click, they can browse and ask for similar or related apparel from service staff, all from the fitting room.
With more than 70% of Gen Z and millennials willing to shop or spend more with retailers offering contactless checkout, retailers must implement self-checkout solutions like mobile-POS (mPOS). These deliver a seamless experience across all customer touchpoints, whether online, in-store, mobile, or social media.
Other smart store technologies that retailers need to consider include cameras and sensors that provide a 360-degree view of the customers added Campbell. Combined with RFID and advanced video analytics, they are a powerful tool to analyze customer journeys in-store. They can show a complete picture of the retail space, how people move through a store over time, what section is explored or not explored, or which section needs more staff.
Cameras and sensors are also essential to other upcoming smart store technologies, like smart carts that help with automatic billing and smart shelves that track inventory.
Amazon, for instance, has "just walk out" technology powered by sensors, cameras, and AI. Customers can simply grab the product they need and walk out as cameras and sensors track the product, bill it and detect payment automatically from the shopper's digital wallet.
5. Mobile technologies
The ubiquity of smartphones makes mobile technologies like shopping apps, mobile payment systems, and personalized marketing via phones inevitable in retail. Two-thirds of shoppers use their phones to look for more product information while shopping in-store. Further, mobile commerce or m-commerce, the shopping that happens exclusively via mobile phones, is set to exceed 10%of all retail transactions in the U.S. by 2025.
150
is the number of times people check their phones on average daily.
Source: The Economic Times
While the pandemic accelerated its adoption, Tim Koopmans, CEO and founder of Retail Rush, noted that mobile technologies have tremendous potential for enhancing customer experiences and optimizing store operations in the future. For instance, he highlighted the location-based promotions retailers can offer using mobile apps and push notifications.
"Leveraging GPS technology in mobile phones, (retailers) can send push notifications, alerts, and personalized offers to customers when they are in or near a retail store."

Tim Koopmans
Founder & CEO, Retail Rush
It helps retailers promote special events and deliver pertinent information to customers, driving foot traffic. In addition, Koopmans also highlighted the need for retailers to provide handheld digital devices to employees.
Equipping retail staff with mobile devices, such as tablets or smartphones integrated with payment capabilities, empowers them to conduct transactions anywhere within the physical store, he noted.
Warehouse workers can also rely on smartphones to streamline inventory management, while front-end workers can use them to connect with customers more easily. They can check product availability, locate products in-store, find deals for customers, and find upselling opportunities in real-time using the devices. This reduces stress, makes their job easier, and creates more time for associates to focus on high-impact tasks.
Combined with RFID, QR code, and other in-store technology, mobile technologies help with faster checkout, online order fulfillment, and better customer service.
6. Datafication
Finally, to fully harness the power of technology, retailers must leverage robust retail data analytics and insights platforms. Problems like siloed data, legacy infrastructure, and the inability to share and receive data from different sources often hold back retailers from fully utilizing analytics today.
"It's becoming increasingly important for online and offline retailers to buy systems that bring data together…to provide a unified view into a given channel, workflow, and business."

Shradha R
Head of Product Marketing, Vue.ai
Integrating granular store-level data collected from online and brick-and-mortar stores provides retailers with unprecedented insight, added Brad LaRock of Datasembly. These insights can be used for personalization, product management, price optimization, and streamlining store and warehouse operations, driving more sales.
Data collection sources for retail analytics
Here are some sources from where retailers can collate data related to customers, inventory, and other business data:
Websites
Mobile apps
Social media
Marketing platforms
Point-of-sale systems/Self-checkout systems
Enterprise resource planning (ERP) software
Customer relationship management (CRM) software
Inventory management systems
In-store sensors, cameras, and trackers
Supply chain management software
RFIDs and QR Codes
Syndicated third-party data
While leading retailers like Walmart and Amazon have adopted advanced analytics, others still use basic tools, missing out on a potential windfall. Retail companies must analyze where they stand and what processes can be improved with better analytics of existing data right away.
For this, retailers can leverage cloud data integration solutions and e-commerce data integration software to combine data from different channels and use analytics platforms powered by AI and ML to get actionable insights.
Data integrations and analytics provide a 360-degree view of customer shopping behavior and also visibility into inventory. "Having this shopper data allows retailers to quickly adjust their product mix, marketing, or merchandise display to boost sales, reduce wasted expenditures and grow customer and employee engagement–all critical aspects of improving bottom-line revenue," said Campbell.
How to get started with retail technology adoption
Given retailers face more uncertain times in the coming days with inflation, labor shortages, and competitive pressure, it becomes imperative for retail companies to invest in technology to reap its benefits and not fall behind.
But venturing into retail technology adoption can be daunting. The technology is new. The implementation journey is riddled with practical difficulties, ranging from risk-averse culture to a lack of knowledge. But the situation is not hopeless. Peruse what experts recommend to balance the need for innovation with the practical difficulties of implementing new technology.
Take stock and set goals
"Define the gap between your company's current capabilities and where you ideally should be to meet sales and valuation goals," noted Campbell. Audit your retail tech stack and see what technology you need to provide a novel customer experience. Do you have the time, money, and skilled people for the new tech adoption?
Understanding this is key to realistic goal setting for tech adoption. Chart a road map that breaks time and money investments needed into planned milestones. Once the initial assessment is done, the grunt work begins.
Get in the transformation mindset
Often, the primary sticking point for adopting new technology is an organization's resistance to change. Most companies are risk-averse and adopting new technologies like automation and AI can often feel overwhelming. It changes processes and procedures that have been in place for years.
To tackle this, Shradha highlighted the need for retailers to adopt transformation-based mindsets and change management processes. Retailers must have digitally-savvy leaders passionate about technology adoption and the transformation that follows. They need to champion the importance of the new technology internally and show how things work differently.
Further, Brad LaRock and Koopmans also underscored the need for comprehensive employee training on the new technologies. Formally training staff before adopting technology, accompanied by building staff confidence and the necessary skills to use technology with ease, is highly beneficial. It also combats any internal resistance to the technology adoption.
Run pilots
Experts pointed out the need for making targeted investments to run pilots instead of widespread adoption at the first go. For instance, IKEA ran multiple pilots at its warehouses with a number of vendors before scaling the usage of drones for inventory management. Such pilots help assess the real-world impact of the technology within a controlled environment and gather valuable feedback from employees and customers.
Retailers can also get insights into the potential benefits, cost-effectiveness, scalability, and overall feasibility of the technology, aiding in informed decision-making for wider adoption.
Measure the impact
Shradha also emphasized having key performance indicators (KPIs) and return on investments (ROI) for new tech projects.
"ROI is the name of the game. Every application has to show concrete ROI in terms of cost saving, revenue growth, and faster time to market and operational efficiency."

Shradha R
Head of Product Marketing, Vue.ai
By defining KPIs and setting measurable goals at the outset, retailers can track and analyze the impact throughout the implementation phase. They can make informed and data-driven decisions about further optimization or potential modifications based on their assessments.
Finally and most importantly, retailers should understand technology is not a one-size-fits-all for every retailer. "Adopting the next shiny new toy for the sake of being tech-forward is not recommended—what works well for one retailer might not make sense for another and can even result in driving loyal customers away," observed Gabriella Bock. Retailers should focus primarily on innovating with technology that alleviates customer pain points.
Ready to buy?
The consensus among experts is evident. At a time when consumers want flexibility, personalization, and promptness, retailers need to adopt new technologies to profit and outshine competitors. Smart brands are already at the forefront. Others are moving fast not to lose the advantage tech offers. If you are a retailer, will you adopt or be left behind? The choice is yours.
Learn more about the technology of retail analytics and how you can leverage your customer data.