A quarter of a company's budget is dedicated to content production.
A simple check in Google will show that in 2019, the price for copywriting services lies within the range of $25 to $25,000 per page. Such a drastic variation often makes it difficult to estimate the budget for content creation, but often, a piece written by an expert in your niche will cost at least $300-400.
Whether outsourced or created in-house, it takes about three and a half hours to write an average blog post. But this number doesn't include time for content ideation, keyword research, creating a cover image or any other graphics, and uploading a post to a CMS. These activities, often skipped at the calculation stage, can double or even triple the costs and time spent on a single piece.
At the end of the day, creating content is an expensive thing. Creating meaningful, valuable, engaging content? Even more so. So what can you do about it?
What is content repurposing?
Repurposing content means finding new ways to recycle your content in a new format to adapt to a different audience or platform. Using a metaphor from the real world, it's like making a DIY shopping bag out of your old jeans.
Content repurposing is among the best ways to minimize costs for content production because it allows you to take advantage of the pieces that already perform well. As an additional bonus, it helps you maintain presence across various marketing channels without having to be obtrusive.
For example, you can create an infographic based on your recent post and upload it to Slideshare. New format, new platform, new audience. Or you can turn an engaging discussion from your social media into a blog post.
On one hand, you're using an existing piece of evergreen content, so you don't need to invest any time in ideation and research. On the other, it serves a different purpose, and because of the new format, adds up to the initial topic.
Keep reading for 12 hacks about repurposing your content in 2019!
Hack 1: Infographics based on your posts
This strategy works especially great when you have content that can be easily visualized. For instance, if you have an in-depth research with some stats, they can be repurposed as self-sufficient images. Another good examples of an infographics-worth material are how-to's and any list-based content.
To create infographics, I use Canva or Venngage. Both tools have plenty of predefined templates which extremely simplifies the creation process. Additionally, infographics not only allow you to post content on new platforms, but also re-promote your old posts on social media.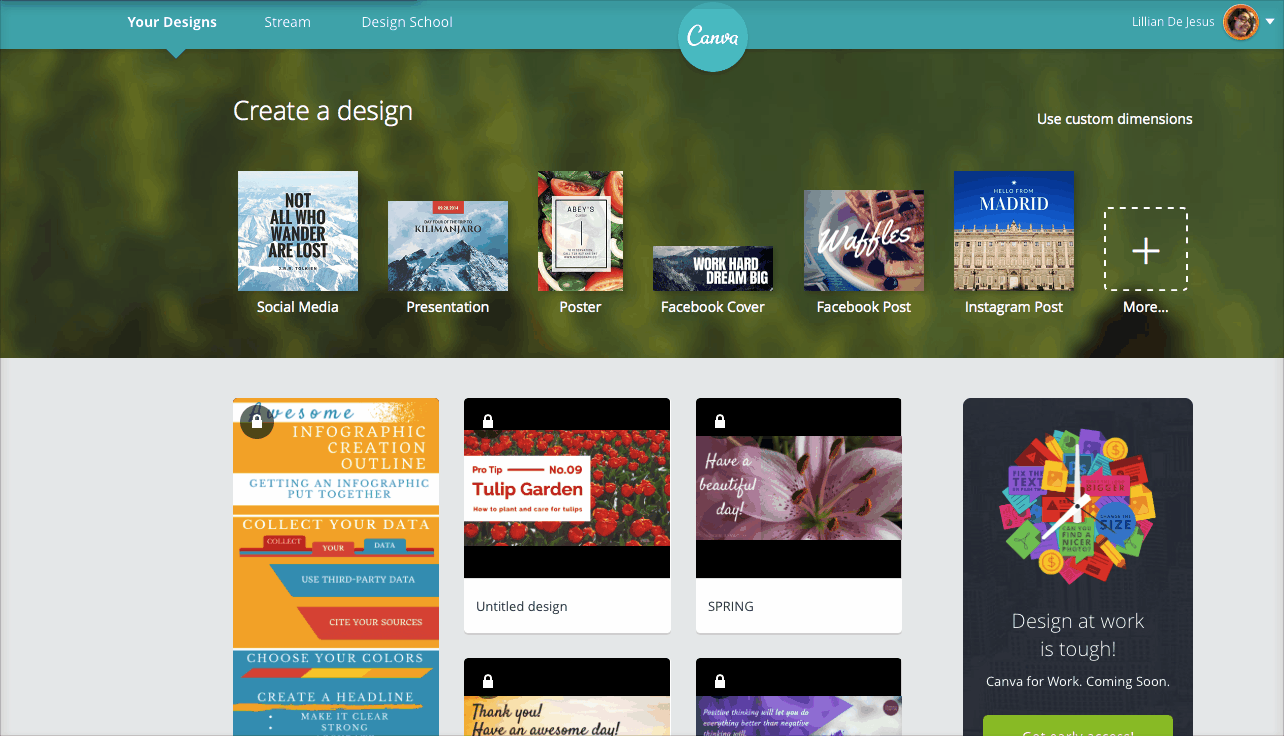 GIF courtesy of GIPHY
Hack 2: Turning your speaking gigs into blog posts
Do you speak frequently at webinars, podcasts, or live events? If yes, you should definitely turn it into written content. If you have an audio transcript of your speech, this post will be quite cheap to create. All you need to do is upload the audio to YouTube and grab the automatically generated subtitles.
Have you also invested time into creating a beautiful slide deck to accompany your speech? Then it deserves a second life in a blog post where it can generate you organic traffic. Plus, some users prefer written content over video, so this way you'll better accompany your audience's needs.
Hack 3: Curating longreads and creating downloadable assets
This strategy is quite popular among companies that focus on a lead generation. Voluminous, multi-angle pieces of content, or longreads, are a popular way to provide your audience with comprehensive information about a particular topic. If such post is too big to be consumed in one sitting, you can suggest your readers to download it as a pdf for future reading.
Hint: Motivate your readers to download the PDF by including bonus chapters that are not covered in the post!
Hack 4: Creating a course
This strategy will be beneficial for content creators who have a lot of written materials at hand.
Review your content and check whether you have enough posts that revolve around a particular topic. For instance, the two main topics that I'm constantly writing and talking about are link building through email outreach and content promotion. So, I'm certain that if one day I decide to roll out a course I'll have plenty of materials that I can use to build it.
Hack 5: Updating and refreshing old posts
Some posts require more updating than others, for instance, the how-to posts that feature digital tools and SaaS instruments. As all marketers know, digital instruments constantly evolve, their functionality and interfaces change, and a how-to post showing a 2018 version of the tool can be completely outdated in 2019.
If you decide to use this strategy, don't forget to add the date of the last update to the title of the page.
Hack 6: Turn your already published posts into video content
In case you have a YouTube channel that feels a bit lonely, this option should definitely be in your focus. Speaking of formats, there are plenty of options to choose from. You can:
Shoot a short video of yourself or someone from your company
Make an animated video based on one of your posts. In fact, you don't even need to outsource this task, as there are plenty of free animation software tools that can help you out.
Shoot an interview with an influencer at one of the live events that you attend.
The latter requires some preparation, such as organizing the shooting, getting geared up with the necessary equipment, and scheduling it with the person you want to involve.
Hack 7: Share old content on social media
The simplest way to give second life to your content is to republish it on socials. In case you don't want to repeat yourself, create a custom image or a short video to accompany the social media post. Don't forget to add a new text while posting: there's nothing more boring than a social media post with the old messaging.
Focus on the pieces that generated the most engagement. You can find them with the help of the BuzzSumo tool, which allows you to see what posts gathered the most attention on social media during a certain period of time.
Hack 8: Enforce your best performing posts with GIFs
As I've mentioned before, it always makes sense to repurpose your top content. To do that, first of all you need to identify your best performing posts, which can be done with the help of Google Analytics report.
For example, find content pages that are getting the highest number of views:
A GIF put at the beginning of a post helps you grab the immediate attention of the reader who would otherwise close the page right after opening it. Since GIFs work similar to videos, they are confirmed to be a super engaging type of content that helps you improve bounce rate and make users stick with your posts longer.
Hack 9: Update your content with expert quotes
Similarly to GIFs, adding an expert quote is what can be used for your best performing posts or the ones that you're currently promoting the most. Expert quotes add trustworthiness and credibility to your content. Also, don't forget that those quotes should be nicely designed and be relevant to your piece.
In case, you've never used this strategy before, you have two options:
Ask an expert to write a quote specifically for your content
Use existing experts' citations.
Both approaches are proven to be effective but require establishing a relationship before allocating a quote in your piece.
TIP: Don't forget your current customers are experts! Use their reviews and testimonials in your content to make it more engaging for potential buyers. Learn more about how to find the best reviews and get more using your G2 profile.
Hack 10: Constantly update your round-up posts with new answers
Created a gigantic round-up? That's great! Now, keep it updated with new contributions. Adding a new quote or a new sub-chapter allows you to have a legit reason to re-promote your content on social media. Plus, if you're interested in building relationships with influencers within your niche, that's a great way to make things happen.
We have a few round-up posts on our blog that we constantly update with new answers. This really helps us gain trust and establish meaningful relationships faster. Finally, Google loves pages that are constantly updated and seems to be ranking them higher on SERPs.
Hack 11: Turn an engaging discussion on social media into a blog post
There are plenty of insightful discussions happening on various social media channels. If you're active on Twitter or LinkedIn, it's very hard NOT to see those conversations since both platforms prioritize the posts that have recently gained a big number of replies and likes/shares in the feed.
Another hack is to use tools like Sparktoro that can show you the most trending topics and the actual people who were involved into a conversation. If you want to level up your promotion efforts, get in touch with participants of the conversation before the post publication and let them know you'd be happy with a shout-out.
However, Twitter is not the only place where lively discussions happen. For instance, it's always good to be a part of the closed Facebook groups that are related to your niche, since a lot of super insightful conversations are happening there.
Here's a discussion where various digital marketing experts share their thoughts about BrightonSEO conference:
Hack 12: Convert your posts into an email marketing funnel
This one doesn't require tons of work. If you've already created several how-to posts and case studies, then email marketing funnel will be exactly what you need to connect the dots. Also, that's a great way to repurpose your content to warm up the leads that you've recently obtained. And of course, don't forget to enrich your funnel not only with educational materials but also case-studies about your clients' success stories.
In case you're using any marketing automation software, you can also send emails that are relevant to the posts that your leads have recently read. Basically, it can be provide content recommendations based on their interests similarly to what e-commerce companies do when they suggest products that are relevant to the ones you've just viewed.
Takeaways
Your top performing content is what deserves repurposing first. If your audience expresses interest in it, give it a second life in a new format. This way, you're not only creating additional value for your readers and viewers by adjusting to their likings. What's more important, you increase your exposure and can reach more people without having to create content from scratch.
Want to learn more about content creation? Read our comprehensive guide on content marketing as a whole!