It's evident how important interacting with your users and responding to customers is for brand identity and trust.
Well, now that you know how to ask for feedback, pick the right reviews to reply to, and speed up the entire workflow, it's time to set up the KPIs to boost your app performance and ratings.
Feedback is the most essential part of customer support; it helps resolve user complaints, increase customer loyalty, and boost app retention rate. All these benefits directly relate to the customer support team.
However, there are other fields where app reviews are handy as well: user acquisition, app store optimization, and product development.
Replying to reviews affects three areas
User acquisition, app store optimization, and product development are three areas affected by replies to reviews. We'll explore each of these additional benefits below.
1. User acquisition
An app's average rating and featured reviews are the most essential parts of user acquisition via app stores. For instance, say you invest a huge chunk of your marketing budget into paid search advertisements through Apple Search Ads, bringing more visitors to your app page.
The first thing they would see is a 4.3-star rating right under the app icon: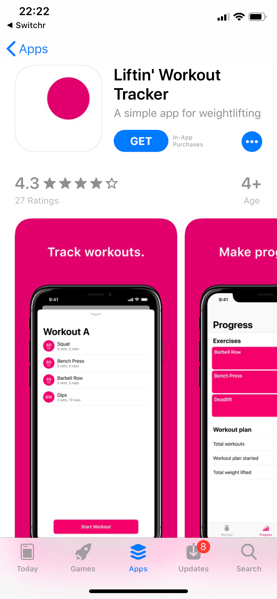 They scroll down to find out that other users are not satisfied with the app and don't recommend it or, even worse, advise against buying it, which means that you've just wasted your marketing budget.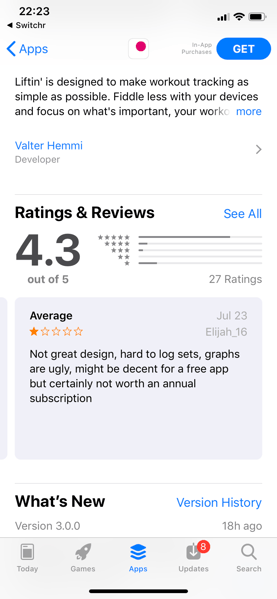 The reviews that get featured are the most important ones for install-to-conversion rates because most users get an impression of an app from the first reviews they read. If most of these are complaints, this will have a negative impact on the number of installs.
Make sure you are on top of all the feedback shown on the app page including six reviews on the App Store, three reviews on Google Play, and four reviews on Google Play web store. This will assure your potential users that you care about them and strive to make your product better for them.
Additionally, every country has its own specific reviews, so it's important to work on different countries and locations separately.
2. App store optimization (ASO)
There is a misconception that app store optimization (ASO) is all about keywords. In actuality, it requires a complex strategy that incorporates keywords, screenshots, ratings, and reviews. Text optimization helps users find an app among thousands of others. Graphics and positive reviews convince users to install the app.
An app's average rating, the middle score of user reviews, is the app data that is seen everywhere, including featured cards, search results, and the app page.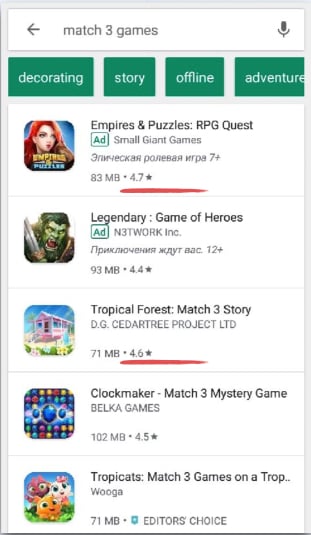 Forty percent of users claimed that they trust reviews more than personal recommendations, and an app with a 1-star, 2-star, or 3-star rating loses half of the possible downloads, making all ASO efforts go to waste.
A low rating also prevents an app from getting featured. Below is the analysis of the average rating of apps and games that Apple features the most. The results show that the app must have a 4.5-star or higher rating to be liked by users.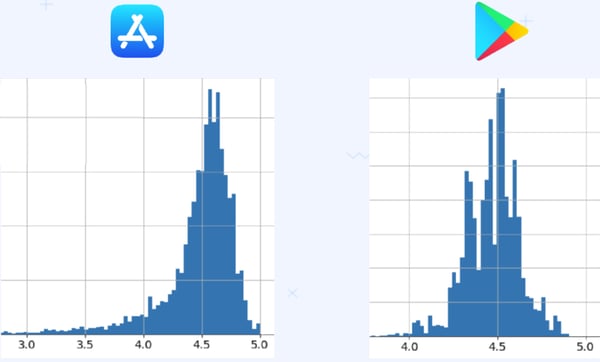 Remember, your users won't pay for pretty images alone — they require something more convincing: The assurance that other people like the app.
Replying to reviews encourages users to upgrade their ratings to your advantage. For example, you can help them with a subscription or let them know that their favorite feature has been fixed.
3. Product development
An app's average rating is the first indicator when something isn't right with an app or game. Whether it is being featured when the servers are not ready for a high load or has bugs in the new app version, ratings help to quickly discover the problem from user reviews, especially 1-start and 2-star ones.
For example, here are the results of the Pes 2019 game the day after getting featured in June. It shows a staggering number of 1-star reviews, which means that the developer and support weren't ready for it.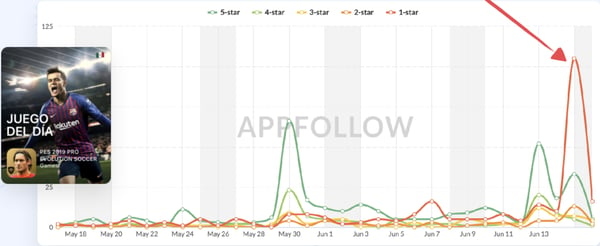 By analyzing user feedback, problems can be spotted quickly, discovering drawbacks and user needs, improving the product accordingly.
Getting back to the previous example, we were able to identify the main reasons for bad user reviews, including freezes and crashes along with feature requests that began to show up right after being featured.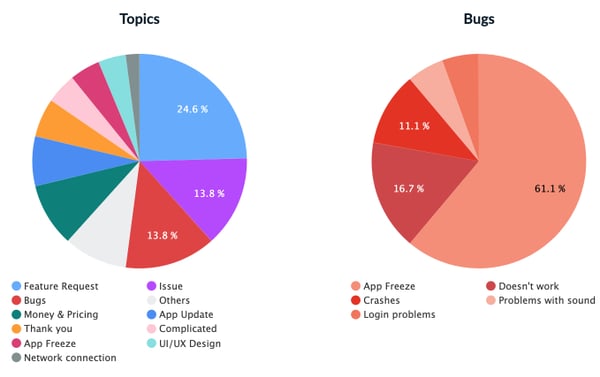 Understanding these sometimes hidden issues, bugs, and navigation problems helps developers plan their backlog and release better app updates.
In this case, the developer's replies serve as a customer development technique that helps to understand how users think.
Don't hesitate to ask questions right there. Each reply posted will be sent to user's emails. This approach requires fast reaction time to engage with the users while they are still willing to share their feedback. Make sure to react to these reviews within 24 hours.
Conclusion
The combination of customer feedback from app stores is crucial in understanding how user acquisition, ASO, and product development can be affected by replying to user reviews.
App stores aren't the only place you can use customer feedback to better your product. A G2 profile will provide review data you can use to improve marketing campaigns and ultimately drive future sales.