The New York Times. The Wall Street Journal. Forbes. Across every industry the hot topic for the future of business seems to be remote work.
What was once considered a perk for Silicon Valley tech companies is quickly becoming a mainstream employee benefit. And with more people being allowed the opportunity to work remotely, it's also quickly becoming a perk that many jobseekers won't agree to work without.
How many people work remotely in the United States?
Studies show that the number of employees working remotely is steadily climbing. According to the US Census, 5.2% of U.S. employees worked from home, that's about 8 million people.
You might think remote work is a trendy new perk, but there's actually a long and rich history of remote work dating back as far as humans have been around. The current state of remote work is different depending on who you ask. Companies often offer different WFH options to their employees resulting in everything from teams with a single remote worker to entire remote teams.
Remote work statistics
In an effort to show the impact remote work has had on the way we do work, we've put together a list of some of our favorite remote work statistics. These stats cover everything from how employees feel about remote work to how your company can benefit from a remote work policy.
Interested in finding stats about a specific part of remote work? Use the links below to jump ahead:
Remote work demographics
We've talked about how many people in the US work remotely, but what about globally? Who are these digital nomads and what motivates them to work away from the office?
Here are some stats covering just that:
70% of employees globally work remotely at least once a week. (

IWG

, 2018)

1 in 10 global employees work outside of their company's main office location five times a week. (

IWG

, 2018)

The top three industries for remote work are transportation, IT, and digital media. (

Gallup

, 2019)
Remote workers in the U.S. work remotely full-time 66%, more frequently than the global average. (

Owl Labs

, 2019)

Most remote workers have unlimited vacation, yet take 2-3 weeks of vacation per year. (

Buffer

, 2019)

84% of remote workers prefer to work from home as opposed to a secondary location. (

Buffer

, 2019)
Remote work and performance
Do remote workers outperform in-office workers? How much more productive can your team really be with a WFH policy? These stats shed light on how remote work affects performance.
Remote work and employee retention
Curious if remote work could help you retain current employees? These statistics cover how a telecommuting policy can impact employee retention and happiness.
Companies saw a 50% decrease in resignations when employees were allowed to work from home. (

Stanford

, 2017)

51% of employees would change jobs for a more flexible, remote schedule. (

Gallup

, 2019)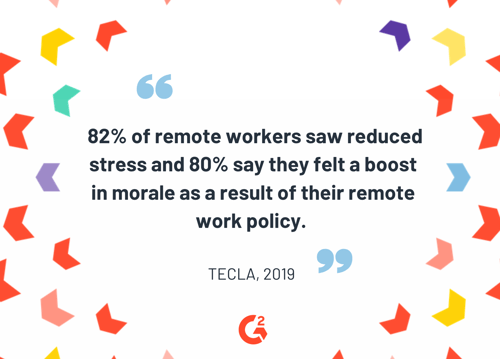 82% of remote workers saw reduced stress and 80% say they felt a boost in morale as a result of their remote work policy. (TECLA, 2019)

58% of remote employees say the ability to work remotely has made them more satisfied with their jobs. (

IWG

, 2018)
Remote work and money
Did you know your remote work policy can impact your bottom line? Check out these stats to discover how everyone can save a little extra dough with remote work.
Remote work and recruiting
Remote work isn't just good for your current employees, it's also an incredible recruiting tactic. These statistics prove how remote work can help you attract top talent.
Remote work challenges
It's not all sunshine and roses. As with any company policy, there are a few downsides to full-time remote work. These stats show the most common pitfalls of a remote work policy.
Is it worth it? Let me work it
You don't have to be an enterprise-level company to have a remote work policy. What you need is trust in your employees, open communication, and a willingness to try! Anyone can allow their employees to work remotely and there's a good chance they'll thank you for it.
Interested in letting your employees work remotely and don't know where to start? Check out this guide on building a remote work policy from scratch.