Do you think you're a good judge of character? The position of a recruiter may be the perfect job for you.
Being a recruiter can be a satisfying and exciting career. However, in order to land an interview, you'll need a killer resume and cover letter that highlights your skills and qualifications.
If you've been a recruiter already, you've likely seen a few hundred resumes come through your Applicant Tracking System (ATS). You know what constitutes an attractive resume – and what recruiters or hiring managers are looking for.
For the role of a recruiter specifically, there are a few ways you can go above and beyond to make your resume stand out. Check out these tips to help upgrade your resume and cover letter and progress you further along a human resources career path.
More of a visual learner? Feel free to jump ahead to our recruiter resume example or cover letter example.
Recruiter resume and cover letter tips
I'm sure your resume and cover letter are likely good in their current form. These tips can help take your documents from good to great, landing you an interview and ultimately a job.
Highlight your qualifications
You want to make the best case for yourself through your application materials. Include information about relevant experience you have in recruitment and any HR certifications you may have.
Mirror the job description
One of the most effective methods to ensure that your documents get seen is by pulling keywords from a recruiter job description and mirroring them in your own resume and cover letter. Many recruiters utilize resume parsing to automatically filter documents that don't include terms and keywords that are also in the job description.
Create consistency between your documents
It's important that your resume and cover letter are consistent with each other, both in content and design. A recruiter cover letter should contain all the details of your skills and qualifications that your resume doesn't include.
TIP: Familiarize yourself with recruiter salary levels so you're prepared for the next step of the process.
Recruiter resume example
This example recruiter resume can be used to format and draft your own resume for the desired position.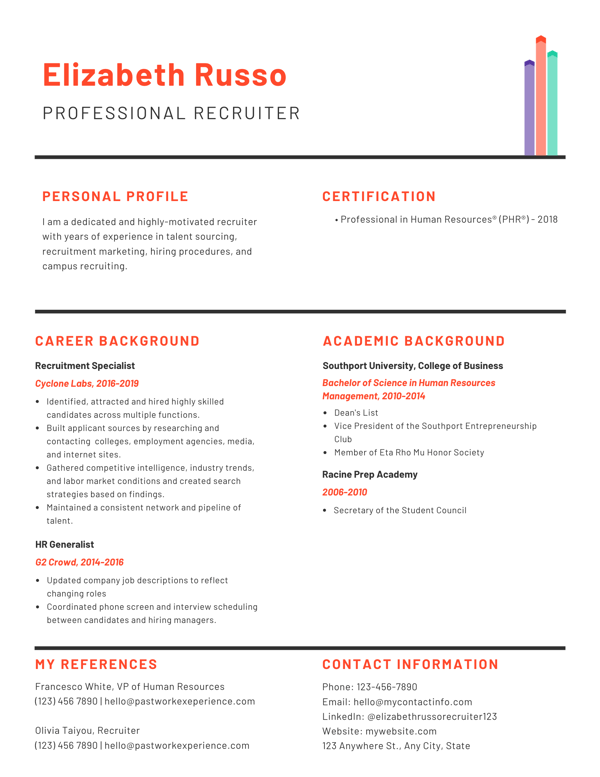 Recruiter cover letter example
This example recruiter cover letter can be used to format and draft your own cover letter for the desired position.

You're almost there
Now that you have the resume you need to land the role of a recruiter, it's important to establish yourself as the best candidate by familiarizing yourself with the right software. Applicant Tracking Software is used by companies of all kinds – find the one that's best for you and your business today!