Real estate buyers, like most other consumers, begin their buying journey online.
It's more than likely that they're going to do their research on the internet before ever speaking with an agent directly. If they get to your website and see a lackluster personal biography, it's not going to make the best first impression. It might even deter them from working with you altogether.
Luckily, this is easily preventable. In this article, we'll share tips for writing a real estate agent bio that is engaging and memorable, and provide real examples for inspiration.
How to write a strong realtor bio
The real estate business is competitive. What might seem like a minute detail, such as a biography, can actually make a big impact when it comes to attracting new clients. Your bio is one of your first opportunities to make a lasting impression, and you want it to be a positive one.
Use these tips as a general guideline when writing, but don't forget to let your personality shine through.
Let's get started.
TIP: Just starting out and haven't made your website yet? Check out the highest-rated website builder software on G2 and read reviews from real users before you make a decision.
Share your background experience
This is your opportunity to share your background experience and why you chose real estate as a career path. Tell your audience a story. Explain why you're passionate about real estate and what professional experience in your past led you to this point. Remember that this isn't a sales pitch, it's a conversation.
Outline your skills and qualifications
Time to get braggy. Have you won awards or received accolades for your work? This is a good time to include them. Share what makes you qualified to represent a client. What skills and expertise do you have to offer? Include that too.
TIP: It's important to be concise and highlight the skills and qualifications that are most relevant here. You don't want your audience to lose interest.
Include your value proposition
A value proposition tells your audience what services you promise to provide to them, and why they're better than your competitors. It's easy to claim that you will help a buyer find their dream home in the least amount of time, but that's what every agent claims. Take it a step further and really hone in on what makes you special and why you'll go the extra mile.
Add a personal touch
A bio should be informative, but also personable. Talk to your audience and let your personality show in your writing. Mention your hobbies and passions outside of work. Find a way to connect with your audience. Put simply, people want to work with people they relate to.
Provide your contact information
This step might seem simple, but it's an important detail you don't want to miss. Include your full name, email and phone number in your biography. Additionally, add a professional headshot so your audience can put a face to the name.
Best real estate agent bio examples
Below, we've pulled a few real-life examples from agents who are killing the "About Me" game. Remember that you never want to copy another agent's biography, but you can use them for inspiration when writing your own.
Example #1: Emily Sachs Wong
The first example comes from Emily Sachs Wong, an agent out of Chicago, IL.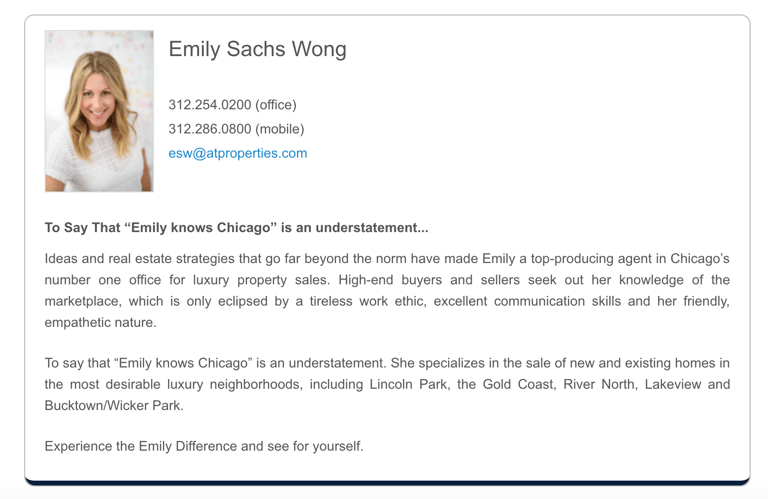 Source: ESW Chicago
Why it works: This bio is strong because it's short, to the point and provides immediate value. At the top, you see a professional headshot and contact information. When you're done reading you know exactly what Emily is all about, and why you should choose her company for your real estate needs. Using the term "the Emily Difference" helps build upon her personal brand and resonates with readers.
Example #2: Brian Chan from The Serhant Team
The next example is from Brian Chan, an NYC-based agent at The Serhant Team.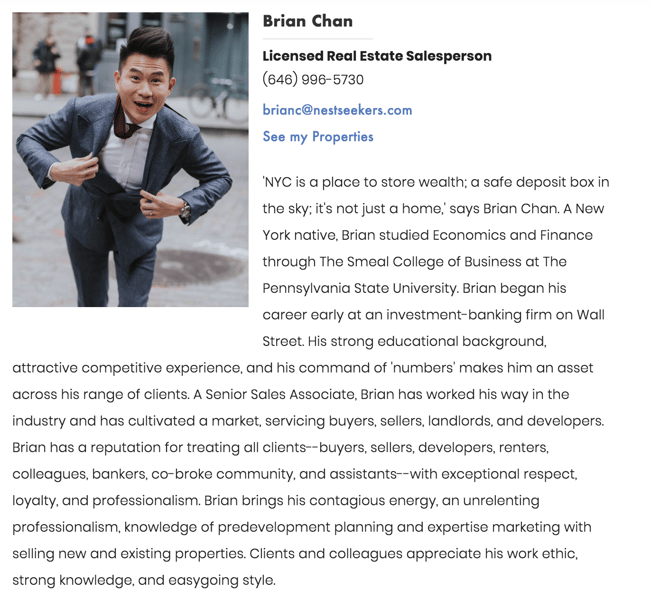 Source: The Serhant Team
Why it works: Brian's bio is effective because it tells a story. At the beginning, you learn about his background and career transition into real estate. By the end, you have an idea of what value he brings, and the way he does business. As a plus, check out that headshot. You can feel Brian's personality come through the page.
Example #3: Elise Rasco from The Agency
Our last example comes from Elise Rasco at The Agency. She's based in Los Angeles.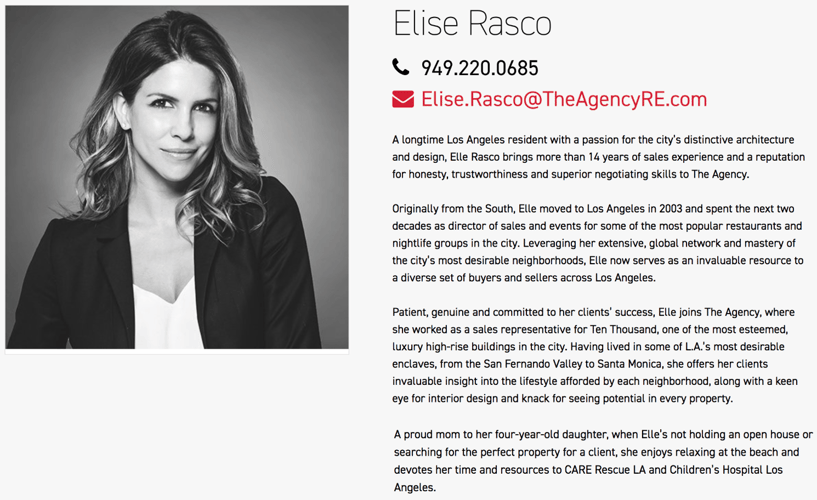 Source: The Agency
Why it works: This bio is impactful because it tells a story. It's a bit on the lengthy side, but for good reason. Elise explains her background, expertise, and adds a personal touch at the end. Sharing what you're passionate about outside of work helps create a personal connection with prospective clients.
Over to you
Now that you're equipped with the right tools and inspiration, it's time to start writing. This should be fun! After all, you're talking about yourself and your business. Nothing is set in stone and you can always go back and make changes if necessary.