If you're just starting out as a real estate agent, it can feel daunting to envision building your client base from the ground up.
After all, the real estate industry is notoriously competitive. Up and coming agents have to find a way to establish a strong personal brand. One that shows prospective clients how they differentiate themselves from other agents and brokers.
It's easy to throw money at different real estate marketing channels and cross your fingers that clients will come flocking your way. However, that's probably not going to be the best use of your time. You'll quickly start to notice that it takes more than a few marketing dollars to generate leads.
So, how do you market your real estate business effectively? For this article, we asked eleven real estate and marketing professionals to share their best tips and ideas.
11 effective real estate marketing ideas
Some marketing strategies are tried-and-true, others are fresh and out-of-the box. Either way, there is sure to be a method that works best for you and your real estate business. Just remember that finding new clients is a work in progress so it's important to be patient. You likely won't find hundreds of prospective buyers overnight, but with these tips and ideas, it could be faster than you think.
For reference, these ideas are ranked in no particular order. Let's jump in.
#1: Be active in online forums
"A fantastic way to market yourself as a real estate agent is to frequent high trafficked real estate forums and answer questions the public asks. Your answers should be elaborate and detailed, fully answering the questions asked. In these forums, you need to have a completed signature with your company name, license number, and website. You need to answer questions regularly. People need to see you are the go-to person and the authority on the topic. We have encountered that doing so have resulted in much better results than paid advertising and marketing. This method truly works better than everything else we have tried. We encourage everyone to be active and show off your knowledge and competence."
- Jerryll Noorden, Owner at We Buy Houses in Connecticut
#2:Take a personal approach
"With the advent of social media, it's now possible to be a lot more personable and genuine with your approach to self-promotion. Most people are more than just their job! Some of us are interested in sports, others take to the great outdoors every chance they get. As for myself, I'm a former competitive cyclist, and I still try to stay in shape with my own bike when I find the time. I've found that shared interests, or an interesting background can also provide an in-roads to gaining a client's trust. Your print and digital ads might get you the leads, but that's not where your marketing ends. How you present yourself to the client, from your demeanor, to the small talk you make about mutual interests, can help with closing a deal."
- Chris Baumann, Loan & Investments Team Leader at Socotra Capital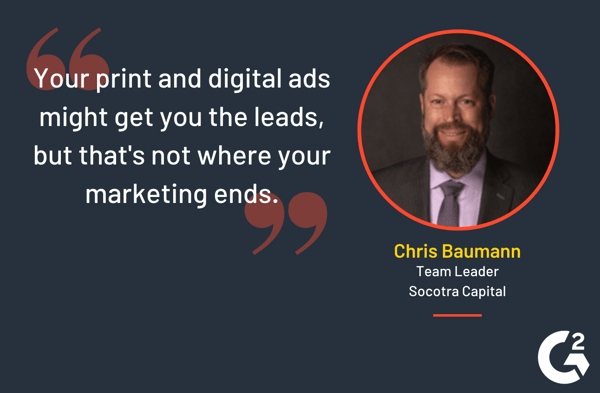 #3: Direct mail isn't dead
"Direct mail still has a place in 2019, and unique mailers can end up on someone's fridge. Stand out by offering your services along with a tasty seasonal recipe, or even a standard grocery list template. Skip the boilerplate mailer and grab a homeowner's attention with something creative."
- Andrew Helling, Real Estate Agent and Editor at REthority.com
#4: Leverage SEO
"I'd recommend agents work on local SEO to become an authority for key real estate related terms. This is a strategy we have used and had success with in NYC. Especially in smaller towns, it probably doesn't take much effort to stand out on Google. For example, say there are lake homes nearby. Let's call it Lake Blue. With some very basic SEO strategy, you could rank for Lake Blue homes for sale which would put you in front of a lot of buyers.
The best part of this is it's pretty much free. As long as you're writing good content and going through SEO basics, Google takes care of the rest. That's the tip of the iceberg and with additional research, your readers can do an even better job."
- James McGrath, Real Estate Broker and Co-Founder at Yoreevo
#5: Know your audience
"There is no one-size-fits-all approach to real estate marketing. It all depends on your target market. For instance, agents in San Francisco are selling to more tech-savvy millennials so using social media, targeted digital ads and hosting events at hipster venues in SF are approaches that they might use.
For me, my audience is older suburban residents in Marin County and to market to them, I use direct mail (as many of them don't engage online for home buying and selling). I also get involved in homeowner associations, local charities, and other ways where I engage with people so they get to know me and trust me enough to represent them to sell or purchase a home."
- Julie Upton, Realtor at Compass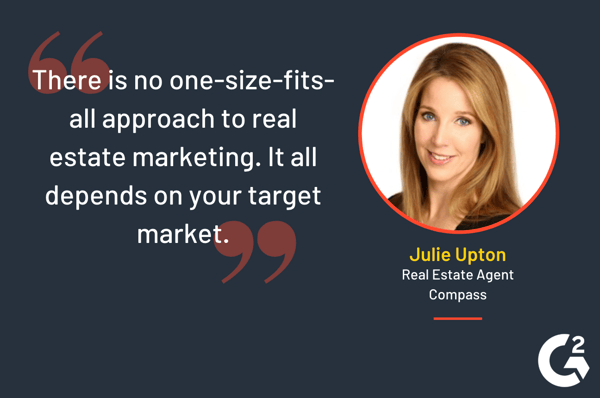 #6: Old school methods are still effective
"When you are getting started in the business, you need to spend your money on business cards and flyers. Leave business cards around town at places such as at local restaurants or with any of your service providers such as a barber or hairstylist. Delivering flyers around the neighborhood for open houses or current listings is another great way to get the word about your real estate services. Finally, whenever you can, drop into any conversation that you are licensed real estate agent."
- Michael Drake, President of PMG Home Loans
#7: Focus on frequency
"For branding purposes, it's best to focus on local awareness with frequency campaigns. This could be on Facebook, billboards, or any other channel. You want as many of the right people seeing you as possible, as often as possible. For example, using a customer testimonial video as an ad on Facebook with local targeting can be an excellent way of doing this."
- Kaleb Ufton, Director of Digital Marketing Strategy at EKOH Marketing
#8: Produce localized blog content
"Home buyers and sellers, like consumers in any other industry, begin the customer journey online. The important prospects are, of course, the ones in the agent's local area. Creating online blog content tailored to the local area will connect you with leads that matter. Just as importantly, you can use this strategy to quickly rank local content in the search engines. General content has already been written about hundreds of times over (and it's unlikely that it will ever appear on page one). A blog addressing a specific city will appear in the search engine results quickly as there is little or sometimes no competition."
- Earl White, Real Estate Agent and Co-Founder of House Heroes Realty
#9: Create impactful marketing materials
"I spent quite a bit of time creating marketing materials that are unique to me and my brand. This includes business cards, one page flyers, and my own website. Again, I wanted to have plenty of materials that represented the type of professional that I am, and I spent a fair amount of time and money designing and producing them. Remember that the agent themselves is the primary marketing piece, meaning a person will ultimately want to work with someone because of their qualifications, personality, and drive. The physical marketing materials are just there as a supplemental tool to help."
- Mark Cianciulli, Real Estate Agent & Co-Founder of The CREM Group
#10: Get featured in local publications
"Whether it's providing a quote and sharing your expert insight or writing a guest blog, putting your name out there within your target niche is a great way to not only market your business, but earn respect as a thought leader in the industry. The more people you are able to reach, the more chance you have of finding potential leads."
- Sacha Ferrandi, Founder at Texas Hard Money and Source Capital Funding
Related: Looking to brush up on your real estate terminology? Learn what a short sale is in real estate.
#11: Make use of QR codes
"The real estate buyer journey consists of online and offline touchpoints. I find it difficult to browse realty shop fronts and look at A4 flyers and not have a way to connect that A4 flyer that has my interest to an online listing of the location. Having rolled this out recently to real estate clients, they can see the benefit of connecting offline touchpoints with online listings to further the experience and make it easier for the person in the search phase."
- Shane Pollard, CTO at Be Media
Patience is key
It's not realistic to think that your client base is going to explode overnight. It will take time and effort to slowly implement your marketing plan and begin to get your name out there. However, with these ideas in mind, and the benefits of real estate software, you'll be on your way to establishing an influential personal brand that gets you recognized in your local real estate market in no time.
Have a real estate marketing idea you'd like to contribute to this article? Share your expertise with the 1.5 million monthly readers on the G2 Learn Hub.