Designing real estate landing pages is your secret weapon to increase your conversions like a pro.
To get the best results, though, you should focus on optimizing your landing page elements to ensure that you're getting the highest possible conversion rate. So if you want to turn your landing pages into powerful lead capturing tools, you need to get yourself familiar with the best real estate landing page tips out there.
6 tips for high-converting real estate landing pages
Landing pages are a crucial part of your digital marketing strategy because they are the means to capture visitors who clicked on search results, marketing promotions, emails, or social ads.
If you get from landing page creation to landing page optimization and lead generation, you should find the best ways to optimize your landing page. Let's get down to business to defeat low conversions with these amazing landing page tips.
1. Quality over quantity
Real estate success relies on having exceptional visuals that will excite your potential homebuyers about their future home. So, when you create a landing page for your real estate business, there are two important things you should focus on.
The first one is your message and the copy you'll use to communicate it to your visitors. High-converting landing pages need to highlight the value of your proposition at first glance, so finding the right words is crucial. Apart from your copy, you need to pay equal attention to your visuals. Low-quality images will break your landing page because your visitors will realize that you didn't put enough effort into them.
2. Optimize your copy
The first rule to successful real estate landing page copy is simplicity. The second rule is honesty. Simplicity and honesty are your secret weapons to nailing your copy every single time. If you think about it, your visitors don't like to see a value proposition that is too good to be true. Using precise language will help you avoid any frustration coming from unrealistic promises and surreal offers.
Here's a simple example from Redfin: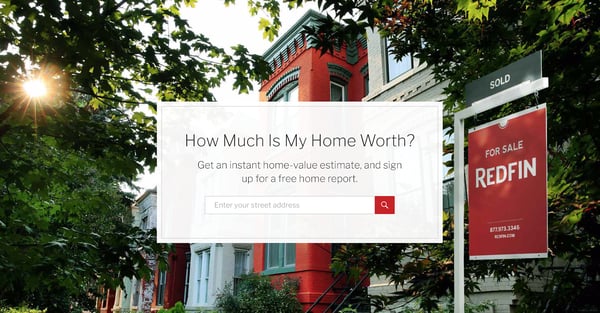 Delivering honest and straightforward messages will show your visitors that you are a trustworthy agency that has nothing to hide. This sense of trustworthiness and safety will lead your potential clients to click on your CTAs without second thoughts.
3. Use high-quality images
If you take a look at some real estate landing pages, you'll notice that they use images of houses or happy people enjoying the coziness of their new home. These visuals aren't random but cleverly selected to have an emotional impact on the visitors. To show your visitors that you are worth their time and money, you need to show them why they need to click on your CTA and convert.
For instance, HomeLight uses a high-quality image of a woman browsing on her laptop:

The happy woman is all that matters to the new visitor who arrives on the landing page to get their estimates. While most real estate websites use images of houses to make their landing pages aesthetically pleasing, using a picture of a human will allow your visitor to connect emotionally with your page.
According to VWO, replacing a generic image with an image of a person can double your conversion rate significantly. So, if you want to increase your conversion rate, use a friendly face to inspire your visitors to act.
4. Create a killer lead capture form
It's time to talk about your real estate landing page lead capture form. To ace your forms, you need to follow the same idea that your copy does, meaning that they need to be simple and straightforward. The first thing to ace your form design and increase your conversion is to avoid asking for too much information.
Let's see an example from Sotheby's: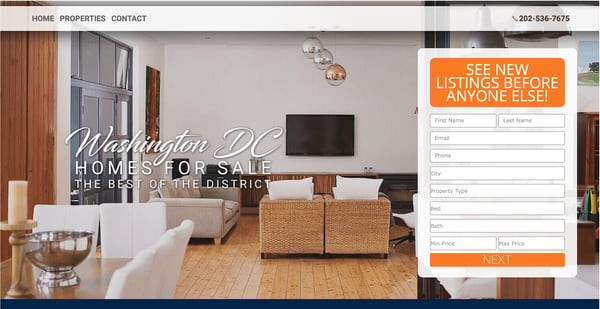 While a more complex form might help you segment your audience, your visitors might not even have the time to fill in ten fields at once. The additional "Bed" and "Bath" fields only add volume to the form and discourage undecided visitors from clicking.
Instead of discouraging them, give your visitors a real estate landing page form that's easy and fast to fill in. This way, you'll manage to boost your conversions and show them the real value of joining you.
Here's a great form example from David Mueller's real estate landing page: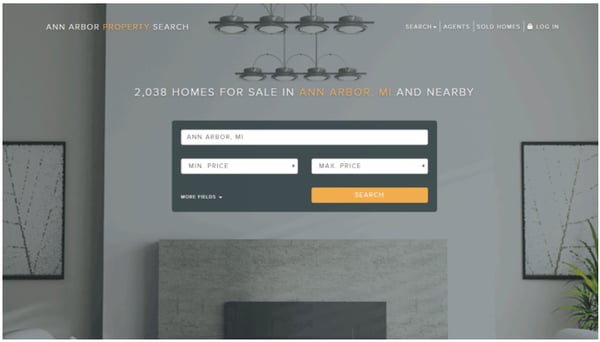 5. Responsive design is key
Millennial homebuyers favor online search to find more information about their dream house.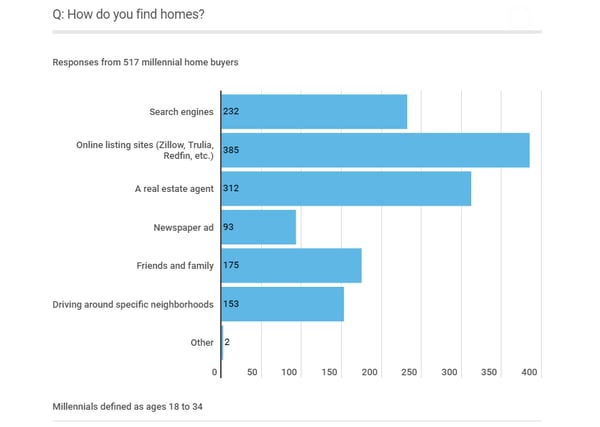 The majority of these homebuyers already have a mobile device, which they'll also use to search for their ideal house. However, is your desktop real estate landing page version enough to convert them?
Well, there are things that your desktop landing pages can do. Unfortunately, capturing your mobile visitors is something that your desktop landing pages can't do. If you want to convert your mobile users, you need the power of responsive landing page design.
The magic of responsive design is that it'll allow your pages to adjust according to your visitor's behavior regardless of screen size, platform, and orientation. This way, you'll deliver the best landing page experience across multiple devices.
Here's what a responsive real estate landing page looks like: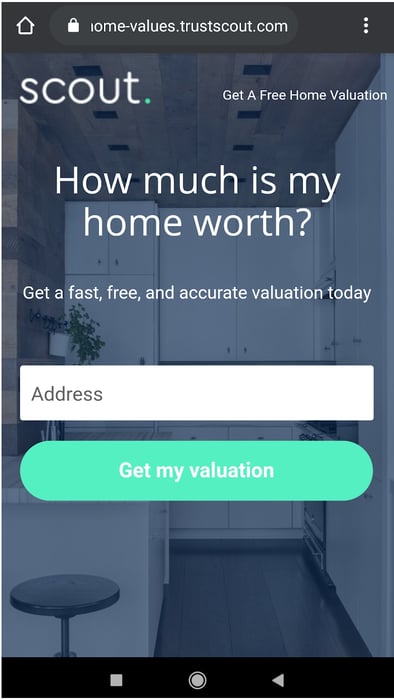 Your landing pages need to adapt; otherwise, your audience won't interact with them and look for other agencies. If you want to make sure that your pages win every single time, make sure to select a landing page builder that will help you to create responsive pages. Then, all you need to do is to get them out and capture your mobile leads!
6. Social proof all the way
From your website to your landing pages, social proof is the secret force that will boost your conversions. If you aren't familiar with the term, then let's start with the definition first. Social proof is a psychological and social phenomenon where people imitate the actions of others to determine which is the correct behavior in a given situation.
For instance, when a customer visits an online store, they'll come across numerous customer reviews. If these reviews are mainly positive, then your visitor will trust your business due to the bandwagon effect and buy a product. So, can you use social proof to improve your real estate landing pages as well? Of course. Now let's find out which social proof types are best for your landing pages.
Types of social proof for real estate landing pages
Depending on your goals, social proof can take different forms that will boost the success of your marketing efforts. For real estate landing pages, there are some standard social proof types you can leverage to maximize their performance.
Testimonials
Testimonials usually entail a customer's statement about your products or services. Positive testimonials extolling the virtues of your business are your best chance to incentivize your visitors to convert.
If you want to leverage their power make sure to ask satisfied clients to provide you with their experiences first. Then, all you need is to inject them into your page and show your audience that your real estate business fulfills its promises.
For example, Bungalow uses their clients' experiences to promote the credibility of its services and boost their conversions: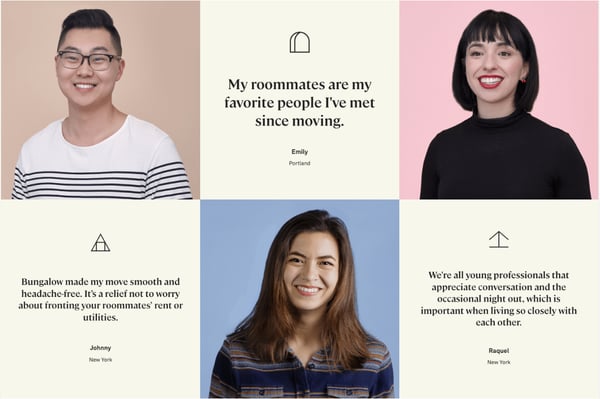 Number of trusted clients
When people see that you have an established customer base with thousands of satisfied customers, then they'll want to be part of the happy group. So showing them that X number of their peers is part of your agency will show them that you offer something valuable they need to grasp. To leverage the power of numbers, you can start by featuring the number of satisfied clients on your landing page.
Press logos
Press logos are more prestigious than a simple customer count. This type of social proof is more difficult to use since you need to have some form of acknowledgment from these credible sources. If well-known media sites have featured your business, then you can add their logos to your landing page to boost your credibility.
Here's Scout's landing page featuring famous media sites like NBC and Fox: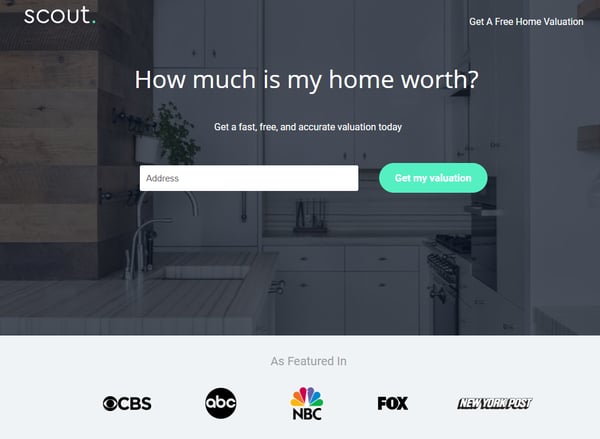 Trust badges
Your landing pages are the best type of marketing collateral you can use to increase your conversion rate. No matter how well-made your pages are, internet users will always be hesitant to click on your CTAs.
So, what can you do to show them that your page is safe and secure? To encourage your visitors to click on your CTA, you need to leverage the power of trust badges. Trust badges are usually small symbols placed on your pages to show your visitors that they are legitimate and safe to interact with.
Here's how House Values increases the effectiveness of their real estate landing page form with McAfee's trust seal: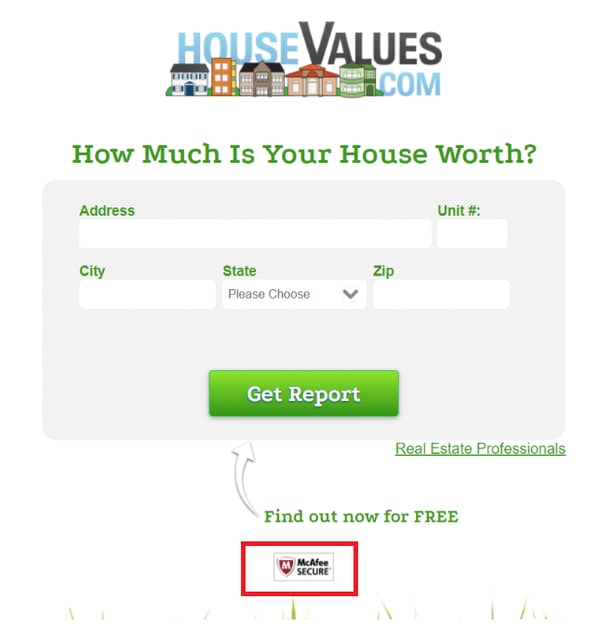 Drop the navigation bar
Navigation bars are essential website features that allow your visitors to navigate your page and find the information they need. While your navigation bar is a fantastic element to enhance your user experience, inserting it into your real estate landing pages can be distracting.
As the goal of your real estate landing page is to capture your leads, adding unnecessary elements that will drive them away from your CTA is not the way to convert more. To avoid that, you should drop the navigation bar and focus on amplifying the visibility of your CTA.
Here's a simple example from Trulia: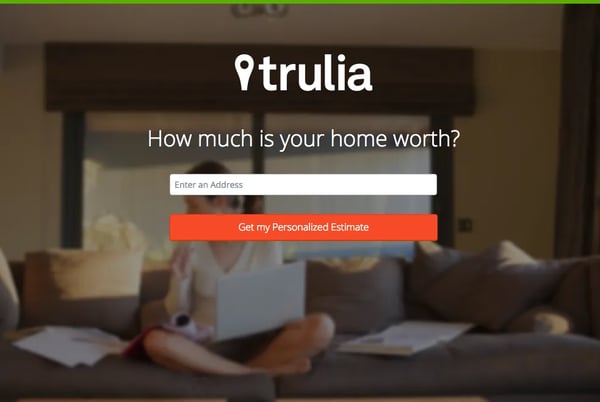 The lack of navigation links will focus your visitors' attention to your CTA, give them time to realize the value of your offer, and finally convert.
Craft an incredible call-to-action (CTA)
If you think that by adding a simple call-to-action on your page, you'll manage to capture those leads, then you have to rethink your landing page strategy.
CTAs are a key part of your landing page. If you don't come up with the perfect button, your visitors aren't going to click on it. Mastering the art of effective CTAs might be a little hard at first. However, when you find the perfect formula, you'll manage to convert your visitors like a pro. If you want to win the game of landing page conversions, start with the most effective CTA practices.
Choose the right copy
If you take a look around, you'll see that the majority of landing pages use specific words in their CTAs. Verbs like "Submit," "Continue," and "Get started" work well since they are simple and straightforward.
However, if you want to have high-converting pages, you need something more than generic action verbs that everyone uses. To nail your landing page copy, you need to use words that'll make your CTAs personal and urgent enough for your visitors to click.
Lori Ballen's "Get your home value now" CTA is a great example that has the right amount of personalization and urgency: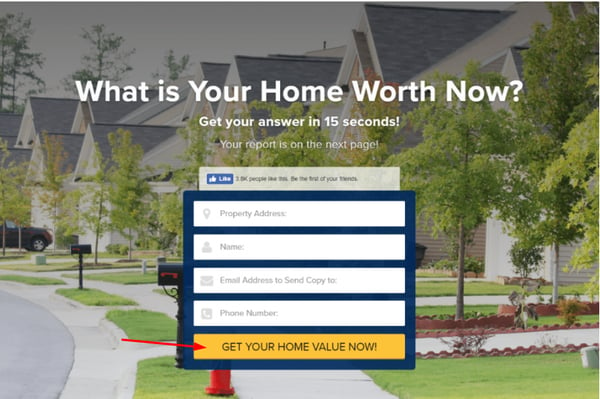 The phrase "your home" makes the visitor feel that this is a personalized experience, while "now" shows them that they can get their results right away.
Choose the right colors
If you want to make your real estate landing pages convert, then you need to make clear that your call-to-action stands out. It all comes down to the right color combination between your CTA box and your background. As a general rule, landing page CTAs need to have the right color that will catch your visitor's attention at first glance.
According to a color study, stronger colors like red are able to increase memory and attention to detail. Others, like blue, can make people feel more creative and relaxed.
If you want to increase your landing page conversion rate, you need to pay attention to the effect of each color and use it. Then, try to find the perfect CTA and background combo that will make your visitors click.
Here's an example of a strong CTA from the Bay City Group: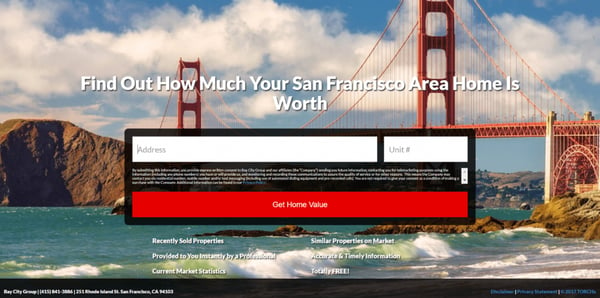 Find the right CTA placement
The right copy and colors will undoubtedly increase the performance of CTAs. Still, there's another element that you need to pay attention to and that's the right page placement.
Nobody wants to play hide and seek with your CTA, meaning you should make sure that your button is easy-to-spot and click on. Strategically placing your CTA underneath a compelling headline will help your visitors realize the value of converting.
Here's a great example from Rex that places the CTA after their irresistible headline and copy: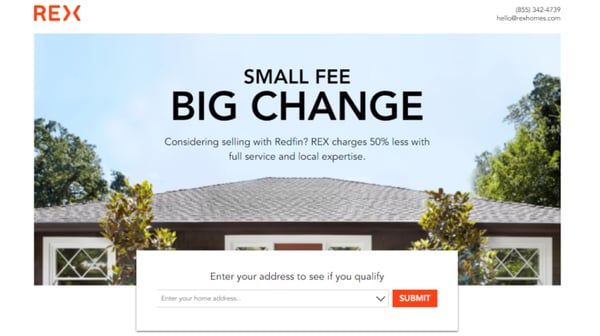 Ready to convert!
Landing page creation is easy. But if you want to convert your visitors and lead them towards conversion, you need to make them perform. To break free from low-converting real estate landing pages, you need to find out the best optimization tips that will save you valuable time and give you better results.
Having quality landing pages with amazing forms, visuals, and copy is all you need to get your conversion rate to higher heights. So take your time, master the art of landing page optimization, and in no time you'll have the best real estate landing pages to promote your agency like a pro.
Now that you have all of the expert-level tips you need to build your real estate landing page, find the right landing page builder on the market to help you achieve your goals and boost your engagement!