Working as a real estate agent is a lot like running your own small business.
It's up to you to get your name out there, build a client base, and start selling real estate properties. If you're not an experienced marketing guru, the thought of coming up with a strategy can be daunting - especially when there are so many different channels available, many of which are costly.
If you're looking for a budget-friendly, yet effective way to kick off your real estate marketing strategy, Facebook is a good place to start. In this article, we'll share 7 helpful tips for creating effective Facebook ads that will help you grow and maintain your client base.
Creating effective Facebook real estate ads
When it comes to digital ads, Facebook is the place you want to be. It's more than likely that your audience lives online, at least to some extent. To launch an effective real estate marketing strategy, you need to meet these prospective property buyers and sellers exactly where they are.
Below, we'll share 7 tips for creating impactful Facebook ads to put you on the map and engage with your target audience of real estate buyers and sellers.
Tip 1: Segment your audience
Most real estate agents serve just one or two local markets so it's imperative that you design your Facebook ads to target the segment of the population that is most likely to need your services. Getting as many eyes as possible on your ads is great - there's no doubt about that. But for example, if you service the Chicago real estate market and users in Sao Paulo are the ones viewing and clicking on your ad, then you're just wasting marketing dollars on an audience that isn't very likely to buy from you.
Tip: Learn more about what a short sale is in real estate.
Facebook allows you to segment users in four main ways:
Location: You can target people by country, state, city, county and even within a designated radius of a specific address.
Demographics: Using this option, you can segment your audience by major demographics such as age, language, and gender. You can get even more granular with the data and filter by job title or political views.
Behavior: Behavioral data allows you to target Facebook users based on what type of mobile device they have, their purchase history, and even life events like travel plans.
Interests: This option is particularly helpful because you can target people that have expressed interest in your industry or service.
Nobody knows your local market better than you do. Pinpoint the exact characteristics that make up your target real estate buyer persona and set up your Facebook Ads settings to reach this specific audience.
Tip 2: Know the basic components of a Facebook Ad
Before you can think about the content of your advertisement, you'll want to familiarize yourself with all of its main components.
Facebook ads appear on users' timelines and look similar to other posts they would see from their friends or businesses they follow. The main difference is that ads will have gray text indicating that they are "sponsored" to alert users that they are seeing a paid advertisement.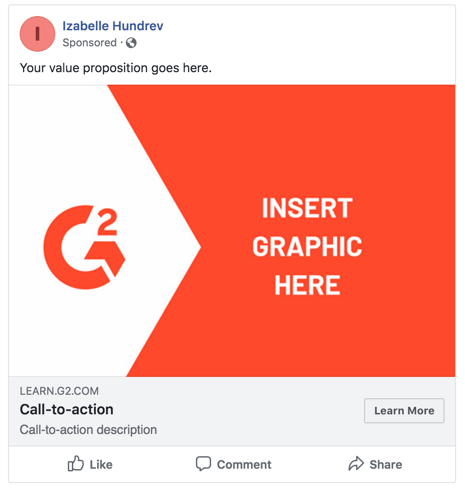 As you can see, there are three main components of a Facebook Ad. Be prepared to come up with an attention-grabbing image or video, a call-to-action with an optional description, and lead-in copy that includes a strong value proposition. More on this next.
Tip 3: Experiment with images and motion graphics
Real estate advertisements are often fairly dull. Most of them look pretty similar: a smiling real estate agent standing next to a house that's for sale with bold text proclaiming that it's going to fly off the market! While that may be a quick and easy way to promote the properties in your portfolio, it's not going to stand out from the same ads other agents in your market are running.
This is your opportunity to get creative. Instead of sharing a picture of a home that's currently for sale, include an animation or use a carousel ad to showcase multiple properties at once. People work with real estate agents that they like and relate to, so don't be afraid to let your unique personality show. That being said, don't forget that your ultimate goal is to generate qualified leads so always keep things professional.
Tip 4: Use video to your advantage
Put yourself in the shoes of your prospective clients - what do they see while scrolling through their Facebook feed? What stands out? If someone is used to getting seeing a flood of generic real estate ads over and over again, consider how a video might look on their timeline.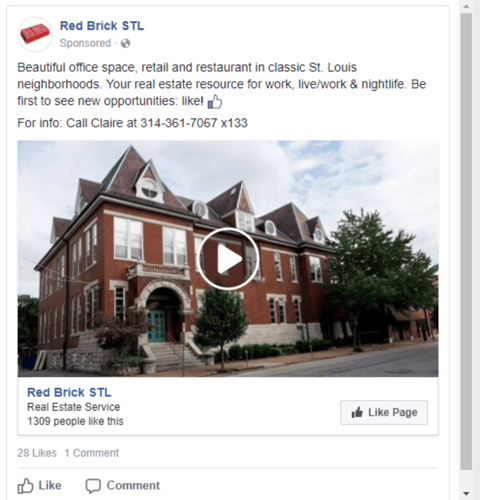 Source: Red Brick STL
Through video, your content comes alive and provides significantly more value to your audience. A video could feature current listings you have available, a testimonial from a loyal client, a playable ad, or even a recruitment video if you're trying to get agents to join your brokerage firm. The "Play" symbol alone stands out and entices users to click on your ad.
Tip 5: Write authentic and transparent copy
Believe it or not, you don't need to be a professional copywriter to write ad copy that entices your audience. Think about the overall message that you're trying to communicate through your Facebook ad. Where are you leading your audience? What are their pain points?
The most important thing to remember is to sound authentic and be transparent in your message. It's your job to establish credibility in your local community and gain your audience's trust. The easiest way to ruin your reputation is by over-promising or being untruthful in your advertisements.
Tip 6: Master the art of the follow-up
So your ads have started getting clicks and generating leads - that's great! But now, what? Without a plan in place for how you're going to sort through and follow up with the leads you get, you may never see a return on your Facebook advertising dollars.
Depending on how big your real estate business is, you can do this manually or choose to automate the process. Facebook Ads Manager comes with a dashboard that will help you track ad performance. From there, you can organize leads into an Excel spreadsheet and use that as your main database for tracking activity. This can be an effective system if you're starting small, but it's more than likely that you might need something a bit more sophisticated, such as real estate CRM software.
Note: Looking for a real estate CRM solution but not sure where to start? Head to G2 to read reviews from real users and learn more about real estate CRM software.
Tip 7: Monitor performance and make adjustments
Last but not least, you need to monitor how your ads are performing and make changes along the way. Every audience is different. What might be appealing to millennial property buyers living in the Bay Area isn't necessarily going to work for a suburban middle-aged audience in the Midwest.
If you notice your ads aren't performing well, switch up the content. Test out different lead-in copy and images. Try creating a video if you've only used still graphics up until this point. It's going to be a process of trial and error. An ad that performs well initially could lose steam over time, so always be formulating new ideas to refresh your Facebook ad presence.
One piece of the puzzle
Facebook ads are just one part of a bigger marketing strategy that will help grow your business. It's unlikely that you're going to see explosive growth from Facebook alone. However, Facebook ads, when paired with other strategies such as word of mouth marketing or print advertising have the potential to create the perfect storm for a booming real estate business.
To keep your marketing strategy consistent, learn how to create a strong real estate website complete with a memorable realtor bio.