Every industry has jargon. Real estate is no different.
Like other professions, the world of real estate is filled with different terms and buzzwords that are widely used by the people who work in the space. For everyone else, a lot of this language is just plain confusing.
When it comes to job titles, you often hear "broker" and "real estate agent" used interchangeably. However, these titles don't exactly mean the same thing and even require different skill sets and responsibilities in order to earn them.
If that's the case, then what exactly is the difference between a broker and agent? To clear things up, we'll break down each job title, what they do, and how they're different.
Real estate broker vs agent
These job titles are pretty similar, so it's easy to see how they can get mixed up. While both of these positions are related to real estate, the main difference comes down to licensing and experience.
What's the difference between a real estate broker and an agent?
In real estate, an agent is an individual who is licensed to sell property in their state. A broker is someone who is licensed to own their own real estate firm. A real estate agent cannot work on their own, they must work under a licensed broker.
As you can see, there's still quite a bit of overlap – especially when it comes to what people in these roles do in their day-to-day. Next, we'll look at each position more in-depth.
It's important to note that these definitions are generally applicable to most states, but there are always exceptions. Some states, like Colorado, have stricter real estate regulations and assign unique definitions to these terms. It's always best to check the requirements in the state where you live if you're seeking further clarification.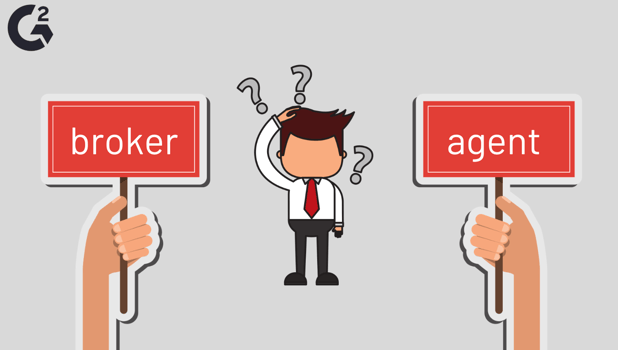 What is a real estate agent?
An agent is the title that most people think of when talking about real estate professionals. For people looking to get into the industry, this is the starting point. Agents are responsible for meeting with clients, hosting open houses and doing everything else involved in selling property.
In order to become an agent, an individual must take a series of real estate classes and pass a final licensing exam that is unique to the state in which they live. To legally sell property, an agent must work under a licensed broker. Agents cannot operate independently.
Most agents make money through commission, which is usually a percentage of the property's selling price. The payment structure can vary greatly, depending on the brokerage for which an agent works. As a starting point, being an agent allows an individual a lot of opportunity to gain experience as they begin their career in real estate.
What is a real estate broker?
A broker is an individual who has taken their real estate career beyond the agent level. To become a broker, an individual needs further education and must take a separate licensing exam. Once all the necessary licensing requirements are met, a broker can sell property independently or choose to open a brokerage firm where they manage and supervise other agents.
Brokers have a lot more freedom to structure their real estate career path. If they choose to operate as an independent agent, they have more flexibility in their work life since they're not working for someone else's firm. They also have the option to open their own brokerage firm and hire real estate agents to work under them. Having a broker's license also opens the door for opportunities in property management.
All of these options allow the broker to explore different commission structures that will ultimately play to their benefit. It's more difficult to become a broker, but many see the payoff as well worth the continued education.
What about realtors?
To make things more complicated, you may also hear the realtor title being used. A realtor is an individual who is a member of the National Association of Realtors (NAR), a trade association for real estate professionals. By becoming a member, realtors agree to abide by a strict Code of Ethics laid out by the NAR. It's important to note that becoming a member of the NAR is not exclusive to agents or brokers. Property managers, appraisers, and even counselors are able to join the NAR as members.
Final thoughts
It's no secret that real estate job titles can get a little confusing. The differences might be minor, but it's important to be well-informed on the subject, especially if this is a career path that interests you. You can now be sure that next time you hear someone refer to a broker or agent, you'll be in the know.