Digital survey sharing methods like SMS messaging, emails, web intercepts, and chat link URLs get excellent response rates and quality feedback because they are simple to use and catch respondents when the experience is fresh in their minds.
So you might be wondering how you can get the same level and quality of response rates for your company. The answer? QR codes.
How to use QR code surveys to capture user feedback
A QR code survey can help your business in extending these advantages to capture feedback on physical interactions in the real world, enabling you to collect opinions and comments on the go.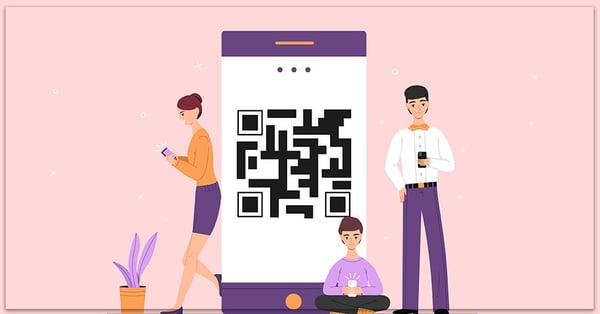 First off, what is a QR code?
A QR code is short for Quick Response code, which is a barcode in the shape of a square that is placed commonly in printed ads, product packaging, and receipts. When you scan it with your phone, an app or web page usually opens.
QR codes were initially launched in 1994 in Japan to monitor the manufacturing process. Since then, QR codes have exponentially grown and expanded their reach to almost every industry due to their easy-to-understand functionality and the multitude of ways they can be used.
Today, they are used to share consumer experience surveys, add friends on social networks, make payments, and much more.
Why use a QR code?
QR code survey apps are becoming popular because today's mobile phones don't need a specific scanner application to recognize the code. The latest iOS and Android devices have a built-in capability to scan and read QR codes without a scanner app.
QR codes are being used widely all around the world to make payments. The familiarity quotient of QR codes among people is at an all-time high, which makes this medium a very useful aspect for conducting surveys.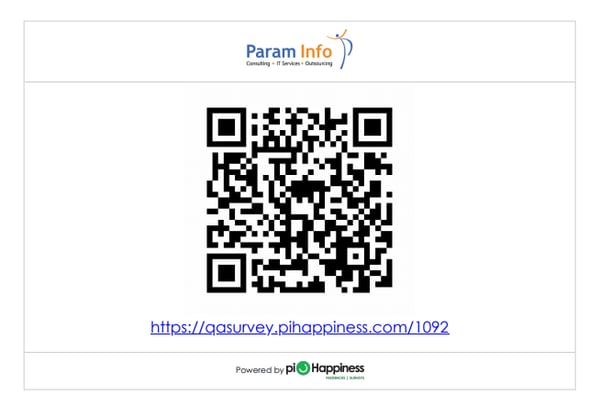 Source: pihappiness.com
If you manage physical store locations, you can place your QR code form on your receipts. Customers can simply scan the code with their mobile phone camera to deliver feedback on their experience.
If your job involves giving presentations at conferences and you wish to get feedback from the audience, you can place a QR code survey in your presentations. Viewers can easily scan the code and provide you real-time feedback.
Thus, QR code surveys enable you to capture feedback at consumer touch points that are conventionally hard to assess.
Use cases for QR code feedback
You can facilitate a QR code review to capture real-world opinions on your product or service. It is a good alternative to online follow-ups, for which you need access to customers' personal details.
Use QR survey codes to gather quality feedback from in-person transactions and events. You can utilize QR codes for survey types such as CES, CSAT, NPS, and others.
With the convenience provided by QR codes, a customer doesn't have to follow through a process of registration or filling in details or signing in to provide feedback. A simple scan and filling out a provided template is all they have to do – which not only makes it easier for the customers to use QR codes, but also encourages other customers to provide feedback who were unwilling to do so before.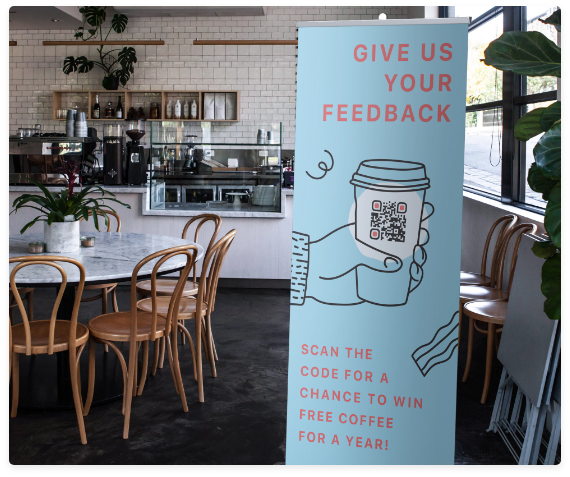 (Source: qr-code-generator.com)
Efficiency of QR codes for feedback
A shipping service company used receipt-based online surveys for measuring its customers' retail experience for three months. This receipt-based survey had a URL at the bottom of the receipt that redirected the customers to an online feedback survey. While the survey was optimized and short, many customers refrained from clicking on the URL, and the client experienced a very low response rate.
After experiencing a low response rate, this client shifted to providing a QR code instead of a URL in its customer receipts. The response rate started growing, and upon the completion of the program, the client noticed that the customer response rate for surveys more than tripled.
The URL was added in the page that the QR code led to, and the client experienced that the respondents who entered this URL manually separately also increased by a wide margin.
Service or product experience feedback
A QR code survey is ideal to capture feedback on real-time experiences, and you can utilize it in the following scenarios:
1. Product packaging
Add a QR survey to get general feedback on your product's packaging. This will help improve packaging skills and allow you to stay ahead of your competition in terms of satisfying customers. The customer, before even opening the package, will have the opportunity to provide feedback, which will carry through till they open it.
This process can provide you worthwhile feedback right from the beginning of the product delivery and through its unpacking, giving insight on which areas you need to improve.
2. Assembly instructions
Include a QR code in the user manual that customers can scan if they find it difficult to assemble a product. If their feedback is negative, you can extend assistance without them needing to call your customer support. This helps in providing an added layer of ministration for customers and gives you insight into what part of instructions you can improve for the customers' better understanding.
3. Menus
Restaurant or cafe owners can print a code on their menus to garner feedback on service, food selection, ambiance, and much more. A QR code can also be provided on customer bills if your establishment accepts online wallets as a payment option. Even if not, a QR code can be kept in the establishment for customer feedback after receiving your services.
The bill can have a QR code that leads the customers to a different survey in which they can provide feedback on the quality of the staff service, as well as food or beverages they were served. This can be a small and visual survey just to capture customer happiness index with the restaurant or cafe's overall services.
4. Signage
Get QR code feedback by placing it on signs or flyers that customers can scan as they exit your store. For instance, car wash outlets can place a sign that users can scan after the wash ends to give feedback.
E-commerce companies can provide a QR code through their logos, emails, or messages to garner feedback from a customer sitting hundreds of miles away. The feedback received from a customer just after their engagement with your venture is fresh and true, and they are almost always willing to provide their feedback on it with a quick option like a QR code survey.
5. Websites
There are many e-commerce businesses that have a vast range of customers whose only option for providing feedback is through reviews or e-mails. You can provide a QR code survey for your e-commerce customers after every checkout. With the customers being served without having to leave the comfort of their home, they will surely be willing to provide feedback, especially if it can be done through a simple scan of a QR code
Event and conference feedback
With a QR code survey app, you can collect feedback in real-time from event attendees and resolve their issues swiftly to ensure their time is well spent at your conference or event.
You can include QR surveys in your event in the following ways:
6. Presenter slides
Make your talk or lecture more interactive by adding QR surveys. For example, if your topic is customer service, you can start the presentation with a survey to obtain the audience's rating of their latest consumer service experience.
You can get instant feedback on your app and analyze the comments to make your presentation more engaging. This method can also be used by teachers and instructors to collect feedback and motivate students to take part in various activities more keenly.
7. Printed banners
Place your QR code survey prominently on printed conference banners and position them across the venue for better visibility. This will give customers a very favorable opportunity to provide feedback without having to go through the trouble of conveying their feedback to you personally. With real-time feedback QR codes offer, you get an opportunity to provide real-time solutions to make your customers or visitors happy.
8. Tickets
A QR code can also be placed on a ticket. This will help attendees provide feedback even before the event the ticket is meant for in the form of queries. These queries can be addressed to other ticket holders too if prevalent enough. Moreover, a QR code on tickets gives event attendees the ease of providing feedback while they are attending the event.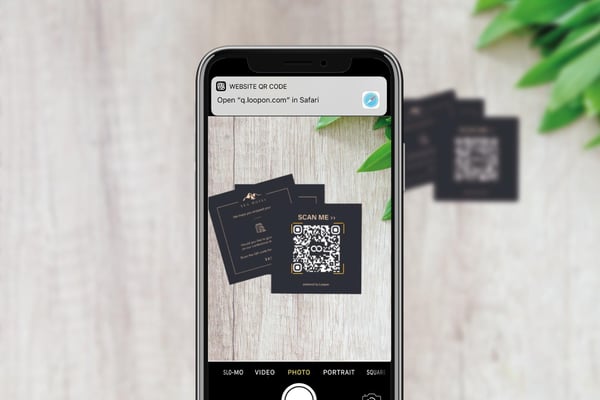 (Source: loopon.com)
Conclusion
QR code survey apps help improve your services and expand your reach logically with customer feedback data by allowing you to have a smooth-running business with a satisfied and loyal customer base.
Interested in finding the right enterprise feedback management software to help monitor your customer feedback? See which option will work best for your business.