The project life cycle has five steps: initiation, planning, execution, control, and closure.
Every one of these steps is imperative in making sure teams achieve project success and accomplish what they set out to do.
Project planning definition:
Project planning is the second stage of the project life cycle, after initiation and before execution. In this stage, all logistics are mapped out such as how we intend to solve this business problem, who we need to work on the project, and how much it's going to cost us.
But in a five-step process, it's easy to lose sight of what all the individual efforts entail. In this article, we're going to dive deeper into project planning and learn more about how one step can really make or break an entire project.
What is project planning?
They say that if you fail to plan, you plan to fail. I've certainly experienced this in small ways, such as failing to check the weather before traveling or forgetting to make a reservation for a large dinner party.
In regards to a project, failing to plan can create ghastlier results. On an extreme level, think "bankruptcy." On a less extreme level, think, "paychecks are cashed quicker than anticipated and multiple checks bounce."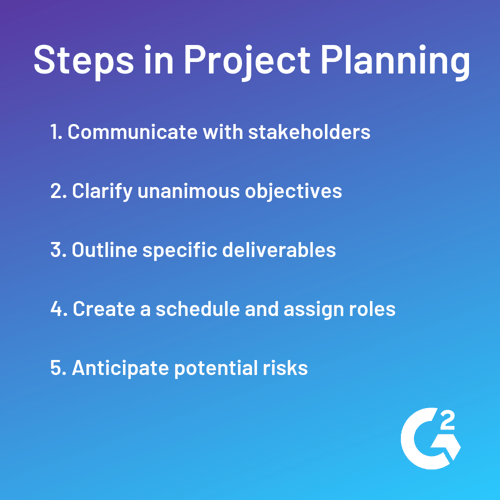 Proper planning can save your organization from embarrassment and even disaster. Let's talk about how you can best prepare for a project through a proper project plan.
1. Communicate with stakeholders
The first step in project planning is communicating with your executive team, as well as any project stakeholders. They will give you the clearest idea as to what your job is, and will help you determine parameters.
Sit down with them before doing anything else. This reduces the risk of you spending time creating a project plan, only to have leadership scrap all of it for a different approach.
2. Clarify unanimous objectives
Part of determining project success is seeing if you accomplished your objectives. That's why it's so important to document objectives beforehand and to make sure the entire project team is on the same page. A good project planner will prioritize setting objectives before any real work begins.
3. Outline specific deliverables
Deliverables are different from objectives in that deliverables often refer to quantifiable results. How many new followers were gained from a recent social media campaign? Those followers are your deliverables and can be measured concretely.
After you've identified objectives, you need to also sit down and develop deliverables. When you meet at a project's end, you want to know if your project, well, delivered. This also gives you a concrete goal to work toward.
If it's one week to project close and you're 100 Instagram followers shy of what you said you'd deliver, you might hit the streets with a funky costume and a bunch of business cards as a last-ditch effort to meet those marks.
4. Create a schedule and assign roles
After all the talk is done, you have to sit down and actually plan things out. What are your deadlines? What are your project milestones? Now's the time to get your calendar out and start listing tasks and naming dates.
Many project managers find it easier to do this within a project management solution. These tools can help you schedule a project, assign tasks to specific teams or employees, and communicate clear deadlines.
TIP: Project management tools can also update you on your team's progress in other stages of the project, which helps you determine if you're progressing to hit your deadlines and goals.
Planning all of this in advance causes less confusion down the line. When employees know what is expected of them, there are no surprises and they are typically able to complete their contributions in time.
5. Anticipate potential risks
A huge part of project planning is forecasting the risks that could crop up within your project. This is why many project managers develop a risk management plan to execute in case of emergency.
Examples of common project risks are: going over budget, not being compliant with local laws, lacking necessary licenses, having paperwork rejected, etc.
Take some time during the planning phase to brainstorm what could go wrong. No, not in a doomsday way, but realistically. As I mentioned before, it's much better to be safe than sorry.
6. Seek approval from higher-ups
After you've completed your part of the planning process, it's time to return to those same stakeholders and lay everything out. This ensures they get a chance to approve all the hard work you've done, and also takes some of the liability off of your shoulders should the project unexpectedly derail.
This is your chance to prove that your plan fits their objectives and will result in their desired deliverables. This is also the time to tell stakeholders what their role in the project is. Outline the resources you need and let stakeholders know of their expected involvement.
For example, if a stakeholder needs to reach out to their personal connection in order to get something approved, you need to tell them in advance.
All planned out
Planning a project may feel like the hard part, but you've only just begun! However, sufficient planning will set you up for the rest of the project to feel like a breeze. Follow these steps as I've outlined and you are that much more likely to achieve your goals!