Having a plan helps you reach your goals, stay under budget, and meet your deadlines.
I've discussed project planning at length: how to create a project plan, and what factors you can use to measure and determine project success.
In this article, let's break it down even further by going over a project plan template.
Advice for creating a project plan template
Let's recap and remind ourselves of the steps to creating a project plan:
Research
Outline
Communicate
Record
Publish
The plan is responsible for answering how you intend on solving a business problem or arriving at a solution. What's your timeline, and what are your project milestones? What resources, such as project management software, do you need in order to succeed?
A project plan will outline all of this information. Let's go through this process step-by-step.
1. Choose the project plan template that works for you
Instead of going to the trouble of creating your project plan from scratch, use a ready-made template such as one from SmartSheet.
There are a plethora of project plan types, such as a business plan, a work plan, and an action plan. It can grow tedious to have to develop all of these by hand.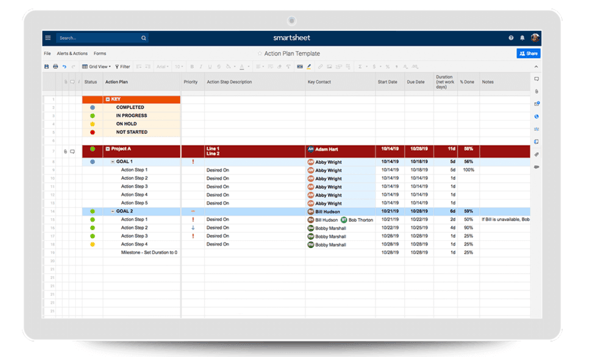 Image courtesy of SmartSheet
Instead of doing all this hard work over and over again, find the right template for your project and know that this will make the overall process easier for you. Your template is the foundation upon which we will build the best project plan under the sun.
2. Use a scheduling tool to plan timeline
Developing your project timeline should come early in the overall process. Instead of doing it by hand — a tedious and often inaccurate way to plan out deadlines — consider a scheduling tool or a visual scheduling tool.
No two timelines have to look alike or be done in the same format. You can do yours as a linear calendar, or create a Gantt chart to help you out.
Another visual tool for project planning is a mind map. Mind mapping is a great solution in planning because the format helps you easily create visual distinctions between concepts in your mind.
3. Use design elements in planning
Usually, I'd tell you not to worry about packing a lot of unnecessary detail into a document because it wastes time. When it comes to project planning, however, visual aids can help you to better make sense of what you're working on.
Color coding documents, using color contrast, and using small, graphic illustrations can be a big help in project planning. Color coding helps you stay organized and can help your brain remember the different process you've drafted up.
Color-coded tasks can also help your team prioritize their work. If something is a "red" task, they know it's important to get it done right away, whereas "green" tasks could be evergreen, requiring no real deadline.
Simple graphics are especially great should you plan on presenting your plan to a group of stakeholders or company executives. People want to know how something is going to work, and visualizations make that easier to communicate.
4. Use reports to keep people updated
One great thing about how far technology has come? The ability for business software to run reports automatically.
As someone who's planning for a project's success, it's imperative you stay updated on how things are going. Is the team meeting milestones as predicted?
Instead of approaching every team member and asking for an update or keeping a constantly flooded inbox, run a report on your project every week. These reports will offer different information depending on your settings, and the tool itself.
But at its most basic, they should be able to tell you where everyone is at in regards to their specific responsibilities. Automated reports can also offer insight as to whether you're under or over budget.
5. Create a project timeline plan
You're probably already using a project management tool to keep the bigger picture in mind. But what about something simpler? Sometimes we just want to know what's in front of us that day.
That's where a simple, project timeline plan can come in handy. You can make one yourself, or download a digital template online.
What matters most is that you're using it the right way: to de-complicate your workday. A project timeline plan does not ask you what you're up to a week from now. It asks three simple questions: What now? What next? What later?
By answering these questions, you're able to move toward the bigger tasks without feeling so overwhelmed by many small tasks you have to complete before you get there.
Be sure to give the individual steps simple names, too. This keeps you and others from being fearful of the task before you've even begun.
6. Don't be afraid of a flow chart
Flow charts can be used for many things. In the case of project planning, you could use a flow chart in two ways. The first is to illustrate the flow of a project, or what steps are connected. Doing so shows employees and team members, "Once X has been completed, we can begin work on Y."
Image courtesy of Visual Paradigm
The second is to show how various projects are connected. Right now we're growing our team, but tomorrow we're building a new neighborhood. A flow chart shows people: this is how these two projects are related to one another.
Planning is caring
When you create a quality plan, you're setting up an entire team to succeed. This project plan template article has given you an idea of what resources are necessary to create your perfect project plan, but it's up to you to get out and do the work.
To learn more about the project planning process, learn how to write a project charter.