I used to think there was only one type of marketing, and it was simply the act of promoting and selling.
A Bachelor's degree and one year into a marketing job later and I've learned otherwise.
Here's the thing: I don't think I'm alone on this one. In fact, I think a lot of people consider marketing to be pretty one-note. But there are actually dozens of types of marketing, covering every stage of the buyer's journey. For example, there's digital marketing, brand marketing, guerrilla marketing, social media marketing, and the list goes on.
Crazy, I know. I was surprised too. While I can't go into each type of marketing in this article, I will talk about one type of marketing that has become increasingly popular, and that's product marketing.
Here's what to expect:
Product marketing
What is it exactly? Well just as it sounds, product marketing is the process of bringing your product to market. Sounds really simple, but for some reason, many find it hard to grasp.
Understandably so. Product marketing is a bit complicated because it's one of the few job functions that touches product development, marketing, and sales.
What
is

product marketing?

Product marketing is a combination of marketing efforts with an end-goal of driving demand and sales of a company's product or service. Typically, most of the actual product marketing comes into play in the post-product development stage, but that doesn't mean to say that product marketers don't also work closely with project managers during the development of the product, even if more behind-the-scenes.
Product marketing vs. product management
Product marketing vs. product management. What's the difference? The two are commonly misunderstood and for good reason.
Let me clear up the confusion.
Product management is both development and product-facing. It has to do with the actual development of the product and the product's lifecycle. Once the product information is finalized, product managers send it off to the product marketers.
Product marketing, on the other hand, is customer and market-facing. It focuses on post-product development efforts such as product positioning, messaging, product demonstrations, trade show presentations, marketing collateral, and more.
While the two serve different purposes, their relationship is important. Think of product marketing as a complementary effort to product management. Without a product marketing strategy, the product won't be successful. That being said, it's crucial that product managers and product marketers work closely to ensure that from start to finish, the product is successful.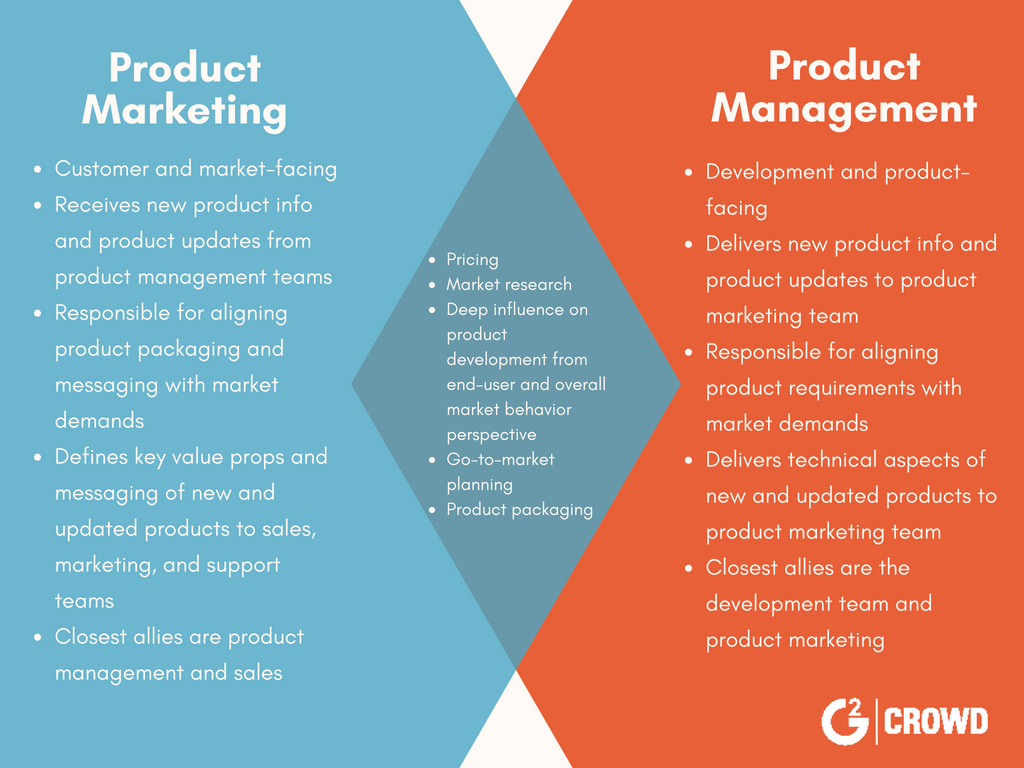 Once the product is developed and ready to go to market, that's where your go-to-market strategy comes in (who would've thought, huh?)
Build a go-to-market strategy for your product
A go-to-market strategy (GTM strategy) outlines a company's plan to reach its target customers and outperform its competitors. In other words, it's a blueprint for rolling out a product and delivering it to the end customer.
A GTM strategy is a subset of a company's marketing plan, the market strategy portion to be specific. Typically associated with a product launch, GTM strategies address how to expand into new markets, sell new products (services), or do both. They should cover the what, why, how, and when of your product launch.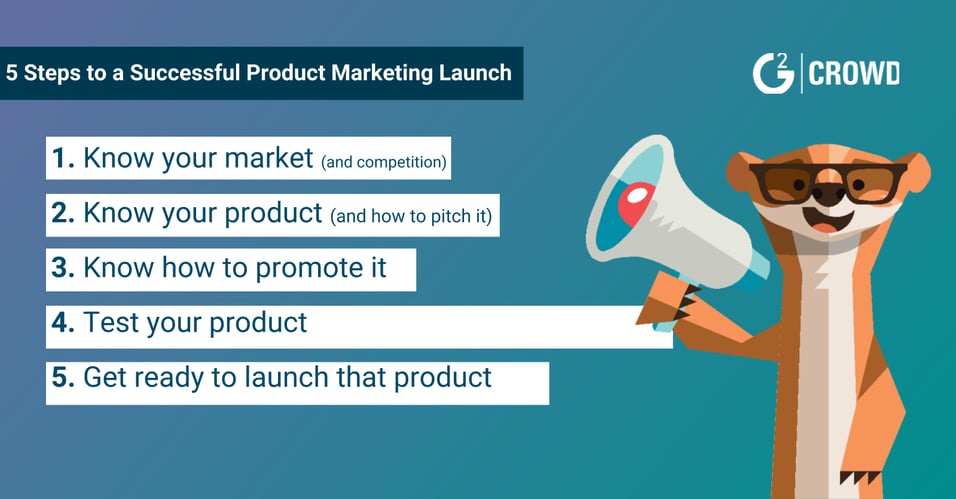 Your GTM strategy should (at the very least) touch on two things:
1. Your target market
2. Your marketing mix (often known as the 4Ps)
Considering your go-to-market plan is covering how you plan to deliver your product to your customer, you'll need to know who your end customer is and how to reach them. So, here's a quick overview on how to go about it:
Define your target market
To define your target market, you'll need to fully understand personal elements such as age, gender, income, and occupation, as well as the way they behave and make decisions.
Market segmentation is the first step you should take to better understand your target market. This method allows you to focus your marketing efforts on specific customer segments so you can better tend to their specific wants and needs.
There are four main ways to properly segment your market: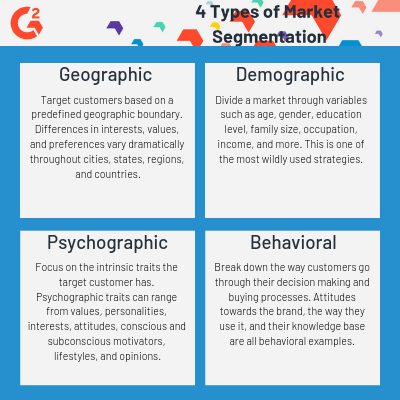 Geographic (city, country, continent, climate, etc.)
Demographics (age, gender, race, location, etc.)
Psychographics (personality, values, interests, lifestyles, etc.)
Behavior (benefits sought, buyer stage, intent, etc.)
Once you've segmented these groups, you can determine which group you want to target and how to effectively reach them.
After you've defined your target group, you should create a customer profile with personas. Creating a buyer persona allows you to have a strong representation of your ideal customer based on market research and real data of your current customers.
Be sure to spend time on your buyer personas. If you don't, you could miss getting your message across to those who you need to hear it most.
Create your marketing mix
Often grouped with the 4P's, 7P's and 4C's of marketing, the marketing mix is the box that holds all the tools you will need to bring a product to market and successfully reach your intended customers.
Let's take a quick look at the 4P's, 7P's and 4C's that make up your marketing mix:
The 4P's of marketing
The 4P's of marketing were first introduced in the 1960s by E. Jerome McCarthy and have become the gold standard that marketers use while creating their strategies.
Product
It's important that you make sure that you have the right product for your target market. If the product isn't in demand, marketing it will be nearly impossible. As a marketer, your job is to figure out how you can offer a better product than your competitors.
Price
Price is not only what your customers are paying for your product, but it's directly related to your organization's profits. Something to keep in mind: pricing can play a part in shaping the perception of your product in consumers' eyes. Pricing too low might make your product look inferior to competitors, but pricing too high might mean the cost outweighs the benefits for some consumers.
Place
You'll need to position and distribute your product in a place that's convenient and accessible to your target market. This means you'll need to understand your target market inside and out to determine the best placement and distribution strategy to reach them.
Promotion
Marketing and promotion will vary depending on your product and budget. Thankfully, this "P" gives you the most leeway. It all comes down to where and when you can get your marketing message to reach your target market. For example, you may consider various tactics such as:
Public relations (PR)
Advertising
Direct mail promotions
7P's of Marketing - A bonus 3!
Three additional P's were introduced into the mix during the 1980s by two marketers, Bernard H. Booms and Mary J. Bitner, who believed that the original 4 P's ignored the customer service aspect of the marketing strategy. The 7P's added include people, process, and physical evidence.
People
This element refers to every single person that is present throughout the purchase cycle, including the interactions they have. This is important for the customers' experience with your brand, so ensure that your company is providing excellent customer service skills to keep comments and opinions positive.
Process
Process refers to the flow of activities that must occur to deliver the service you are trying to provide. The process of shopping in a retail store begins the second your customer steps through the door and ends upon completion of the last interaction.
Physical evidence
The last phase is the environment where the service occurs. This is not just where the product is physically sold, but where the customers and employees interact and communicate with each other.
The 4C's of Marketing
The 4C's of marketing were created by Robert F. Lauterborn in 1990. Each of the 4C's is an adaptation to their related 4P's and focuses entirely on the customers. This adjustment was created because Lauterborn argued that marketing strategies should focus on the people, not just the brand.
Consumer wants and needs
This element is very similar to the first P, "product". The difference between the two is that Lauterborn believed extensive consumer research should be done to comprehend if there truly is a need for the new product. The wants and needs of customers should drive the creation of any new product or service. To understand the wants and needs of your target market, use reviews to get customer feedback as well as competitive insights.
Cost
This element goes beyond the actual price of the product or service being offered. The cost can be the opportunity cost, the loss of a potential gain from an alternative, or even the customer's time spent or gas burned to obtain the item.
Convenience
There should be little to no effort exerted by the customer to obtain your product or service. Ensure your offering has multiple touch points of visibility to make your product as accessible as possible.
Communication
The last element, communication, suggests that your marketing and advertising efforts should speak to the customer the way they need to be spoken to. To make sure your message is being heard by the right people, you must utilize communication channels that make sense to the segment.
Plan your product launch
When it comes to the product launch, there are three stages:
Pre-launch
Launch
Post-launch
Let's take a look and see what each stage entails.
Pre-launch
The pre-product launch is all about doing your research and testing to get the product ready for launch. This includes things like researching other products on the market, pricing your product, interviewing current (and potential) customers to identify customer pain points.
During this stage, you'll cover three of the 4P's: product, price, and place. This is where your marketing mix comes into play. When are you planning on releasing the product? How are you going to position the product? How, and where, will you sell the product? These are all questions to consider during the pre-launch stage.
You'll also want to create launch content prior to your product launching. Product marketers should work cross-functionally with teams in the organization to understand what content is needed by each team. Some examples of launch content include:
Landing pages
Demo decks
Social media posts
Product Launch
You've prepared for the launch, and it's finally time to introduce your product to the market. This is the stage where you drive action by promoting your product (the last of the 4P's).
During the launch stage, you'll want to build awareness and build it fast. How can you do that? Here are a few ways:
And just like you test your product, you want to test the way you market your product, too. A/B testing tools can help you identify the ad copy, landing pages, and calls-to-action that convert best for your brand.
The options are endless. But the point here is to start driving brand awareness and sales.
Post-launch
Unfortunately, successful product launches don't just end once you've introduced the product to the market. In the post-product launch stage, product marketers need to interact with the target market to ensure that they are not only satisfied with the product but also, that they're having the best experience possible with your product or service.
After the product has launched successfully, product marketers should focus on driving demand and usage of the product. This may include leveraging case studies, customer retention programs, referral programs, and monitoring customer feedback.
Post-launch customer feedback in the form of customer reviews is especially important. Be receptive to both positive and negative feedback. If you can listen to the customer's feedback and work to better the product, you're demonstrating your devotion to making the best product possible for your customers, earning their loyalty.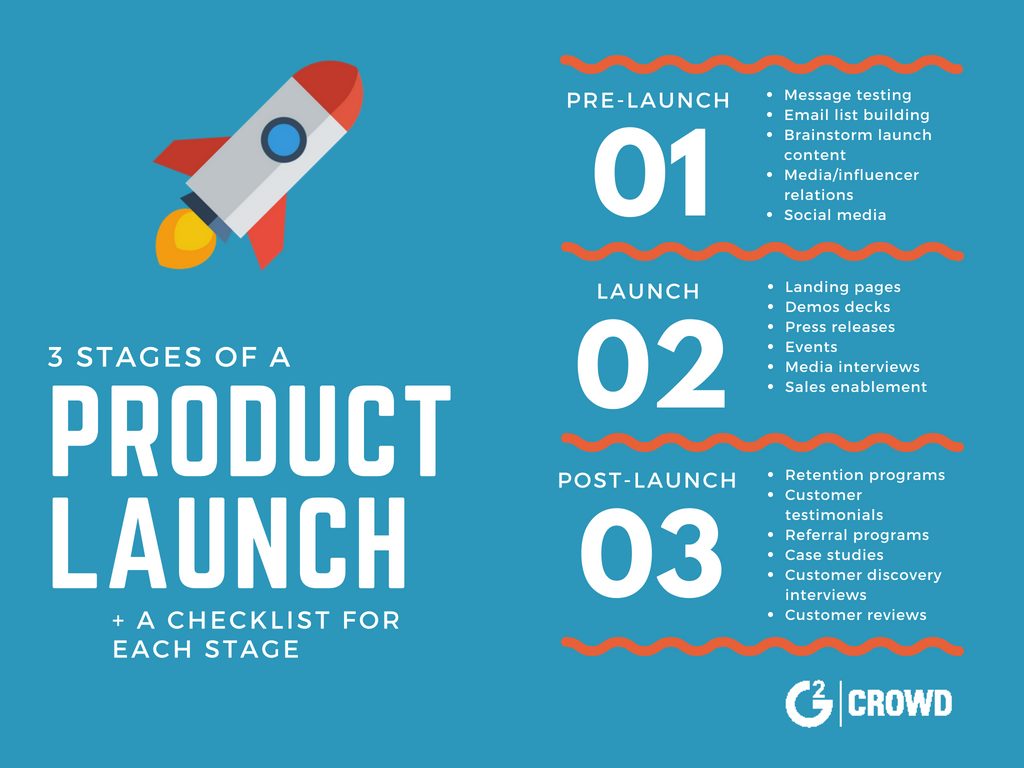 How to market a product
Now it's your turn. How can you successfully market your product? Here are my top tips to successfully market your product:
Create personas – I know I mentioned this a little above, but it's worth mentioning again. It's that important. Creating a customer profile when defining your target market is essential. You can have the greatest product or service in the world, but it won't be successful if you're not reaching the end user. It's crucial to understand exactly who you're targeting.
Communication – I can't stress this one enough. Not only do you need to be in communication with the end user, but you need to communicate internally with your team. You should plan to work closely with the project management team from start to finish. Don't wait for the product to be built and then market it; start planning right away along the product roadmap.
Listen to your sales team – Your sales team interacts with your target customers day in and day out, so they have a pretty good idea of what customers want. They will most likely be able to help you understand the trends of your market.
Listen to your customers – Don't solely rely on feedback through your sales team. Go straight to the customers and hear it from them for yourself! Talk to customers directly, conduct surveys, and collect feedback so you know what areas need improvement.
Explain your product well - Make sure messaging around your product launch is easy to understand. Explainer videos to break down exactly how your product can benefit users is a great way of tackling this problem.
Growth strategies
Now that you've launched your product and have a solid marketing strategy in place, you'll want to start thinking of ways to expand your brand. Whether that means new market ventures, getting to know new customers, or coming up with a completely new product, this section will cover every growth strategy you'll need to know to accomplish your goals.
Customer Reviews
One of the biggest hurdles for a new product is building brand awareness. Review platforms provide a place to do just that. The people who go to review sites are looking at them because they're ready to buy. In addition to building your brand, once you have reviews, you can use them to show prospects the features in which you outrank your competitors.
G2 is an example of a review platform for software companies. As shared by Allen, a VP of Marketing, "What I like best about G2 is that we're able to leverage our happy customers as a competitive advantage in sales cycles. Using G2, we can show our prospects a side-by-side comparison of how satisfied our customers are against each of our major competitors. These quantitative metrics have made a huge difference for us."
Claim your free profile on the platform your prospects are researching products, then start asking for reviews. (You never know, customers might already be reviewing your product!)
The Ansoff Matrix
The Ansoff Matrix is a useful tool for any business that is looking to grow their brand by either developing a new product or infiltrating a new market.
The grid provides a straightforward plan of attack based on your chosen growth strategy while judging the associated risk involved.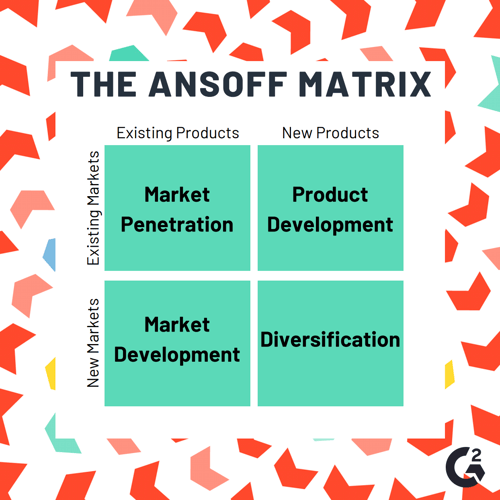 Brand extension
A brand extension strategy is for any company ready to expand its product or service offerings to stay competitive within its known (or unknown) market.
There are five main approaches for any brand extension strategy:
Line extension: extend a product in the same category.
Companion product extension: create a product that is an obvious complement to your original product (ex. Gillette razors and shaving cream)
Customer franchise extension: utilize a popular brand name to dive into a new industry.
Company expertise extension: use specific knowledge and skills to enhance new categories.
Owned benefit extension: Leverage your reputation to enhance another product.
Co-branding
Also referred to as a brand partnership, co-branding is a strategy for two or more companies that wish to share financial and creative resources for the sake of forming a powerful marketing alliance.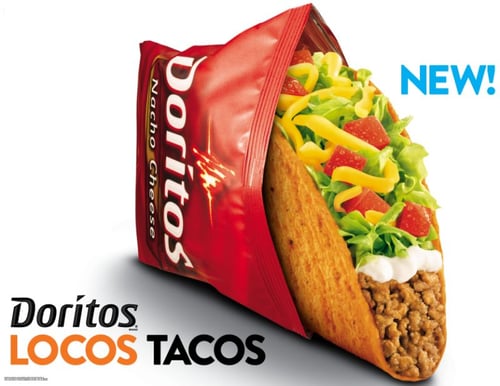 Taco Bell and Doritos are an excellent example of co-branding. Doritos created a delicious product for Taco Bell's tacos that turned into a massive win for both companies.
There are many positives to co-branding, but the negatives are worth taking a look at:
Customer experience
Keeping customers happy though positive customer experience is crucial for any business. An awesome product marketing strategy means nothing if your customers aren't happy with your brand and aren't willing to buy your product.
By cultivating personalized experiences, you are able to create strong relationships that boost brand loyalty, reduce customer churn, and ultimately create brand advocates that will increase revenue in the long run.
Create wow-worthy experiences for your customers to keep them loyal to you. If you're interested in what it takes to create awesome experiences, check out what these seven industry experts have to say on their favorite customer experience examples they've had with a brand!
That's product marketing!
Phew! We've done it. We've covered one of the most commonly confused types of marketing in just a few minutes.
And now that you have a better understanding of what product marketing is, what it involves, and how to market your own product, it's time for you to apply these tips to your own product marketing strategy!
Stay ahead of your competition with daily marketing insights from G2.
Don't worry, we will only send you the good stuff.