Every company runs into problems.
But, not every company has the resources to come up with solutions to those problems internally. Luckily, there's a fix for that.
Enter: the operations research analyst.
What does an operations research analyst do?
Operations research analysts are responsible for using their technical expertise to help companies solve complex problems and improve their existing processes.
While the job title might seem straightforward, the role is anything but. Operations research analysts are highly skilled problem-solvers that thrive in challenging work environments and enjoy working with numbers. As a career, the field offers high earning potential and shows no signs of slowing down.
In this article, we will cover exactly what operations research analysts do on the job, as well as share salary, industry, and education information.
What is an operations research analyst?
An operations research analyst is hired by a company to develop solutions for complex business problems through data analytics, mathematical problem-solving, and other advanced techniques. The goal is to help the company improve its existing business operations to be more efficient and cost-effective.
Demand for an operations research analyst is found across almost every industry and vertical. Typically, the position is a full-time role, where the employee is hired by the company to work for them on an ongoing basis. In some cases, the employee could be brought on as a contractor to handle specific projects from time to time.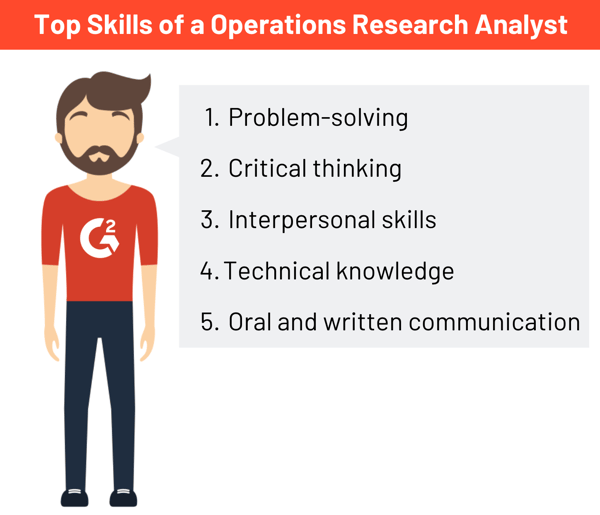 Skills and responsibilities
Regardless of industry, the day-to-day responsibilities of an operations research analyst are typically very similar. Most of the work is done in an office setting, but analysts may be required to travel to client sites for certain projects every once in a while.
At a high-level, the role consists of a variety of duties:
Collect, analyze, and test data using complex mathematical models, simulations, and predictive modeling.
Evaluate information and data to determine the root cause of the problem and strategize how to develop a solution.
Use advanced computer software to analyze and test data to identify different potential outcomes and simulate future events.
Collaborate with management to ensure the project outcome is meeting executive leadership's expectations.
Weigh the costs and benefits of possible solutions to a problem and evaluate which course of action will be the most cost-effective in the long-term.
Keep a careful record of their findings and write a report or memo to present to management or other stakeholders that are involved in the project.
The right candidate for an operations research analyst position is someone who is very analytical and possesses strong critical-thinking skills. An operations research analyst is often required to work in a team so it's imperative that they have interpersonal skills and are comfortable working cross-functionally. Aside from soft skills, strong technical knowledge of advanced mathematical concepts is absolutely essential to success.
TIP: Curious to learn what exactly it means to analyze data? Check out this beginner's guide to data analytics to gain a better understanding of the subject.
Operations research analyst degree requirements
To gain full-time employment as an operations research analyst, most employers require at least a bachelor's degree. It's uncommon for colleges and universities to offer a degree specialization in this particular field, so most working operations research employees have degrees in related topics such as mathematics, computer science, business, or engineering.
A master's degree is not required to gain entry-level employment; however, it may become necessary down the line in order to secure a high-level position. Additionally, it can help prospective candidates stand out among other applicants during the interview process. When pursuing a graduate degree, it's important to find a program that's focused specifically on operations research or a related field such as math or computer science.
Operations research analyst salary
According to U.S. News, the average median salary for an operations research analyst in 2017 was $81,390. The top 25% of earners made $107,720 on average, while the bottom 25% earned a median salary of $59,780.

Employment lookahead
The future is bright for people entering the operations research job field. According to the Bureau of Labor Statistics, employment for operations research analysts is growing much faster than average for other occupations. Overall employment is expected to increase by 26% from 2018 to 2028.
A day in the life
If you're data-driven with a knack for numbers and problem-solving, then a career as an operations research analyst could be the right fit for you. As businesses continue to seek new ways to improve their processes and be more cost-effective, the demand for individuals that are able to do this kind of work will continue to grow.
Operations research analysts frequently use statistical analysis software to test and analyze data. Discover the best statistical analysis software on the market that gets the job done.