A company is a complicated web made up of many individuals, departments, and teams.
And when it comes to business operations, it sometimes can seem like there are too many areas to handle. It's great to have a sizable team to dive into the weeds of sales, marketing, product, and other areas. But who is taking a look at all of a company's overall goals to determine proper courses of action?
An operations manager is firmly in the driver's seat of a company's business operations.
What is the role of an operations manager?
An operations manager oversees, analyzes, and makes decisions regarding the overall productivity and systems within a company to ensure maximum efficiency.
What does an operations manager do?
Operations managers play a crucial part in all aspects of business operations. Because we're diving into such a high level position, we'll go over specific key responsibilities and qualifications of this demanding role.
Job responsibilities
First, we break down the key responsibilities of an operations manager's day-to-day work. These responsibilities range from making policy decisions to influencing company culture.
Here are some common job duties for an operations manager:
Oversee corporate financial information, budgets, and business strategy
Supervise supply chain and inventory
Manage corporate strategy, forecasting, and planning
Research consumer info and conduct market research
Create company policy and compliance measures
Optimize employee workflows and processes
As an operations manager, you'll be expected to work with both people and processes. This means you'll be expected to be flexible in your day-to-day tasks. One day you might be balancing the budget, the next you're revamping entire team workflows.
There's never a dull moment in business operations! Let's take a closer look at some of these job requirements.
1. Policy and strategy decisions
First and foremost, an operations manager is called to make a plethora of policy and strategy decisions related to a company's operations. This can include working with HR software in recruiting to address certain business needs, ensuring all required legal documents are addressed and in compliance with relevant rules and regulations, as well as contributing to determining a roadmap for the company.
2. Research of new tech, more efficient business methods
An operations manager always keeps tabs on ways a company could improve their current methods of conducting business. From identifying inefficiencies in current workflows (for example, unnecessary meetings or extra steps for approvals from managers) to looking at future projects and examining the best ways to plan out those processes, one of the chief concerns of an operations manager's work is time.
3. Budget setting, managing cost
Operations managers also have a business's financials high on their priority list. Efficiency is usually thought of in terms of how quickly a project can be done in terms of time, but financial efficiency is just as, if not more, important for a business.
Operations managers evaluate the most efficient, cost effective ways to execute a project in the least amount of time. Setting budgets and managing costs are always on the mind of operations managers when evaluating projects and employees.
4. Overseeing inventory
Along with taking a view of a company's operations comes management and awareness of inventory. Size, scale, and how tangible inventory is of course dependent on what type of industry a business is in. However, in order for an operations manager to have a sense of where budgets should be set and which processes should be improved, knowledge of physical inventory or development of intangible products such as software is necessary.
5. Building company culture
Finally, with a role as versatile as an operations specialist, the ability to work with many different departments and teams from a leadership role creates an opportunity to heavily influence company culture. Operations managers typically have years of experience behind them, and know what a successful company culture entails.
While culture is hard to measure analytically, a good operations manager sees opportunities to boost morale within a business and seizes them, whether it's through their treatment of fellow employees or how they facilitate conversations between different teams and departments.
What experience do you need to become a business operations manager?
As with any job, there are required skills and experiences you'll need to beat out the competition. These aspects of an employee's background are needed to enter a career as an operations manager:
Bachelor's degree
An operations manager position requires at minimum a bachelor's degree, typically in a business-related field. Some schools may have specializations in operations management or related fields.
However, any base coursework in business will be helpful for entering an operations management role. Many operations managers also will have or are working towards a graduate business degree such as an MBA.
As you advance in the field, pursuing a certification or license can give you a competitive edge. A few options you can explore are:
Most companies expect a few years of experience for entry-level roles as well, so exploring internships before you begin your job hunt is important. Seek out opportunities in related fields through volunteering, continued education, and more.
Management or leadership experience
A major boost to the profile of any prospective operations manager is previous management or leadership experience. Much of being an effective operations manager is the ability to effectively communicate with other employees, and management experience is an easy way to let potential companies know that you have been able to fulfill a similar role.
An operations manager is constantly faced with tough decisions about broad workflows and processes. Any employee being entrusted with making high-level decisions should have experience leading other employees and shaping a business beforehand.
Basic business background
As this is a leadership role, basic business background and knowledge is an expected part of any operations manager's resume. In order to evaluate the processes within a business, you need to have at least a little bit of experience working with those processes first hand.
Communication and relationship building skills
With hands in so many different departments within a company, an operations manager must be skilled at relating to different employees from different areas within a company. Part of what makes operations managers stand out apart from previous business or management experience is how effectively they can communicate to improve the systems in place within a company.
Many businesses are filled with employees used to conducting their work a certain, fixed way. A good operations manager will be able to break through the ossified routines of a business when noticing inefficiencies through effective communication with the employees entrenched in these inefficient processes.
What skills do you need to become a operations manager?
The role of a business ops manager touches every part of the company. It's a role that combines employee success with business efficiencies. This requires anyone in the role to have a good mix of both hard and soft skills.
Here are a few of the most sought after skills for operations managers: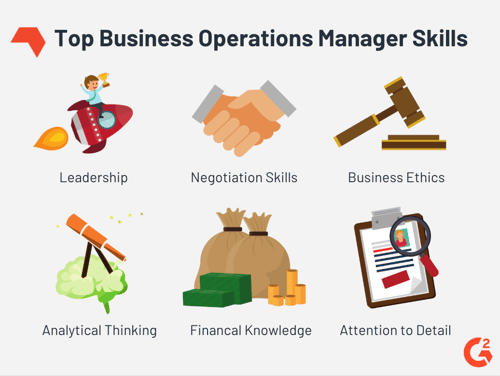 Becoming a business operations manager means you'll need to be able to balance a multitude of things on your plate. Miruna Florea from Planable tells those interested that " the first thing that you should know is that you'll have to handle many different tasks, but trust me, that's the beauty. This job is a continuous journey of challenges that will teach you a lot."
Worried about how your skills line up with those above? Miruna says, "a business operations manager needs to be a very organized and focused person. Also, if he is made of pragmatism, logic and a drop (or two, or maybe some more) of creativity, he's the one for such a role." However, don't worry. You don't need to be perfect to do well. Miruna advises to "do everything correct, be aware of everything, but try to relax more. The human mark sometimes is better than any perfect job done."
Most of your day-to-day tasks will rely on hard skills, such as math or financial knowledge. Larger projects that involve working with employees will flex your leadership and communication skills. It's important to focus on both skill sets to make yourself the most effective in your role.
How much does a business operations manager make?
According to Glassdoor, the median salary for a business operations manager in 2019 is $80,960 annually.
This doesn't factor in your location, skills, years of experience, or any advanced degrees you may have acquired. Always check job search sites like Payscale, LinkedIn, or Glassdoor for a more accurate look at your salary expectations.
Ready to operate?
These responsibilities and requirements of an effective operations manager show just how essential and challenging the role can be. However, they also show a great opportunity for anyone who wants a job that touches all aspects of business operations careers.
With business and leadership experience, a career as an operations manager is a way to increase how essential an employee is to a company while also gaining high-level responsibilities that directly impact the way a business operates.
Ready to start applying for business operations manager jobs? Learn how to write a resume that communicates your skills.