When optimizing a site for search, you can't afford to take a one-time approach.
To achieve and maintain the rankings you want, you need to regularly monitor and evaluate whether your SEO practices are in line will Google's constantly changing standards. Maximizing opportunities for on-page SEO will increase your organic traffic, a key part to executing any marketing strategy.
Considering that Google pushes between 1,000 and 1,500 changes every year, this can seem like a daunting task. And unfortunately we can't rub a crystal ball and predict their next big algorithm update.
TIP: Help manage, monitor, and optimize your on-page SEO with the best SEO software for 2019.
However, by implementing a strategic SEO plan for 2019, you're future-proofing your site for success in the coming years.
That's why I've compiled a list of actionable ways that you can use to rank on page one in 2019.
Ranking factors to utilize for on-page SEO
Make it mobile friendly
Page speed: Low loading times are best
Use https for secure content
Click through rates
Content quality matters
Avoid duplicate content
Stay away from crawl errors
Low bounce rates are ideal
Get inbound links
Create internal links
TIP: Help manage, monitor, and optimize your on-page SEO with the best SEO software for 2019.
Some of these factors may seem technical; if you're new to building on-page SEO, start small and pick one or two tactics to work on, then build from there.
If you're just getting started with SEO, here's a quick guide on what on-page SEO means.
What is on-page SEO?
On-page SEO refers to the strategies websites take to help optimize their on-page content to maximize their organic SERP (or search engine results page) rank.
When you write a blog post, nine times out of 10, the goal is to get traffic to your website page. (This is also known as inbound marketing.) The purpose of your writing is for people to read it.
In order for your content to be read, people have to be able to find it. And, people finding your post goes back to that Google algorithm. This determines what pages appear when people enter their query into the search bar.
10 On-page SEO strategies in 2019
On-page SEO is how you get a high ranking, making your page appear early in Google search results -- even getting to the first page.
Here are the 10 steps to make it happen.
1. Make your site mobile-friendly
The fact that your site should be mobile-friendly isn't breaking news.
Unless you've been living under a rock, you know Google has made it clear that mobile is a priority.
And with mobile making up 52% of all website traffic, that priority isn't changing any time soon.
In fact, it's been more critical than ever since the announcement of their mobile-first index.
This shift started rolling out in March 2018, meaning that Google will now crawl, index, and rank pages based on the mobile version of their content.
As Google Webmasters explained in a tweet, this doesn't mean that sites without a mobile-friendly design won't be indexed -- but that "it's about time to move from desktop-only and embrace mobile."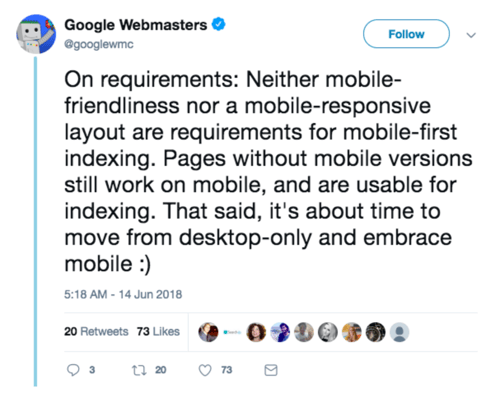 So if your site provides a poor mobile experience, this can now also have an impact on your desktop rankings and customer experience. With 60% of visitors expecting customer service to be handled on websites, mobile apps, and mobile chat, a poor mobile experience can affect your brand's reputation.
If you're not sure whether this could present a problem, you can use Google's Mobile-Friendly Test tool to check your site.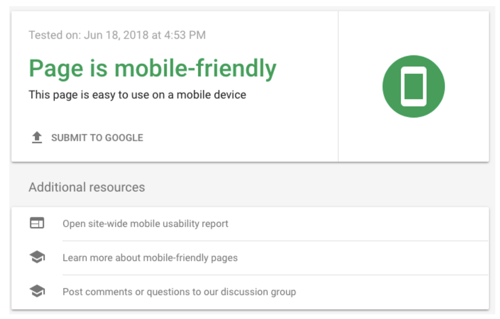 This test will give you a quick, straightforward answer as to whether your site is mobile-friendly.
It will also show you any issues that could prevent your page from loading and displaying properly.


If you find that your site doesn't provide a good experience on mobile, this report will give you a solid starting point for addressing the problem.
Want an example of peak mobile optimization and friendliness? Many chatbots can help improve your mobile experience. Here is an entire website based around a chatbot that can deliver content to you:


Now that's mobile friendly. And in 2019, experiences like this are what drives traffic and positive user experiences.
2. Get better SEO results with increased page speed
Page speed is another ranking factor that's grown increasingly important over the past few years.
Google announced in January 2018 that while it had already been using speed as a ranking factor for desktop searches, it would begin using page speed as a ranking factor for mobile searches in July 2018.
So if your site takes too long to load, your rankings could suffer.
Fortunately, it's easy to see where you stand with Google's PageSpeed Insights.
Simply enter your URL, and you'll see an overview of your site's performance on both mobile and desktop, in terms of a basic score and your load speeds in First Contentful Paint (FCP) and DOM Content Loaded (DCL).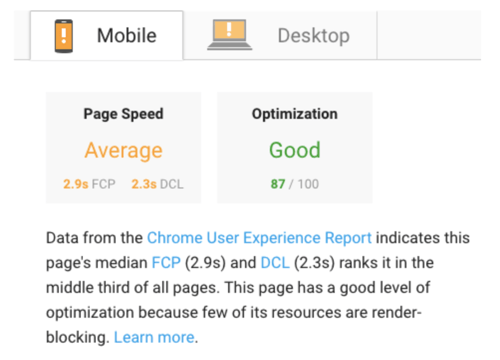 Like the mobile-friendliness test, it also provides suggestions for improving performance.
If you're on WordPress, most of these issues can be quickly resolved with easy hacks using plugins. First, use plugins like Autoptimize to minify your code, and make sure to optimize and lazy load your images. Second use a CDN like Cloudflare to ensure your website has a global network of servers to quickly serve your files. Finally, leverage browser caching with your web host or by choosing the best web host.
By implementing site speed plugins, one local salon client was able to get their site speed from 75 to 98 in less than five minutes.
If your score isn't currently where you'd like it to be, these suggestions can help you get your site in line with Google's standards — and avoid any damage to your rankings.
3. Make your content secure with HTTPS
HTTPS stands for "HyperText Transfer Protocol Secure." You may notice the beginning of website pages starting with HTTPS, instead of HTTP, as many website urls used to have.
Notice that old url, "HTTP", is missing the critical letter "s" for "secure." HTTPS keeps content safe from hackers. This is something that matters to Google, when it confirmed back in 2014 that HTTPS is a ranking signal.
But considering that encryption wasn't yet a widespread priority, it was still entirely possible to maintain strong rankings without it.
Now, that's changing. In fact, 65% of domains in the top three positions for high-volume keywords are already secure.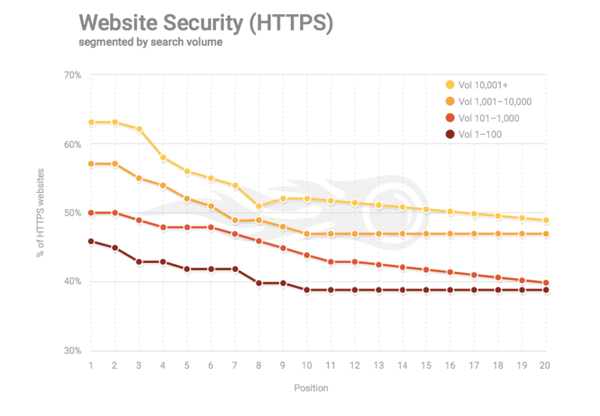 And while that percentage drops for lower-volume keywords, there's now a clear correlation between encryption and high rankings.
So if you haven't yet switched your site to HTTPS, there's no better time than now. And if you're comfortable making technical changes to your site, resources like this one from Quicksprout can walk you through the process.
Then, once you've made the switch, you can use a tool like the SEMRush HTTPS Implementation Report to find and fix any errors.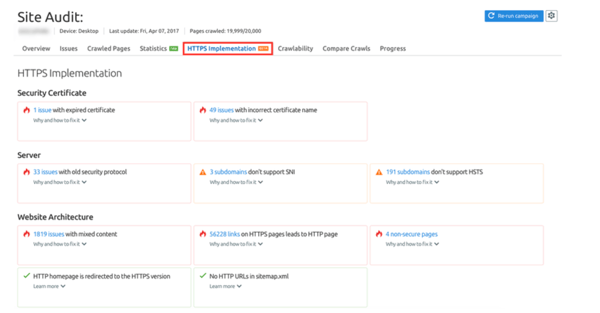 (Image Source)
This way, you can be confident that your site is secure — and that a lack of security won't prevent you from achieving the rankings you want.
4. Increase click-through rate (CTR)
There's a reason cold outreach results often suck: No one knows who you are, what you offer, or why they should pay attention.
Well, the same applies to today's SERPs.
SERP stands for "Search engine page ranking." It is the list of pages that appear in the search results on Google or any other search platform.
People scan for who they know. They click on brands they're familiar with.
In the past, you could safely assume that strong rankings would translate to high traffic numbers.
But as click-through rates (CTR) decline, that's not necessarily the case. In fact, one Wordstream study showed a 37% drop in organic CTR from 2015 to 2017.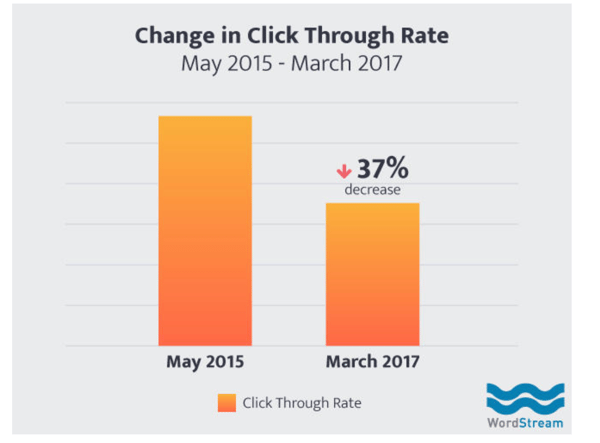 This means that even if your rankings have remained relatively steady, you could be seeing less traffic.
While several factors could be contributing to this, one of the most significant is that Google's search results now contain additional types of results like Featured Snippets.
What is a featured snippet? Well, think of any time you type a word, phrase, or question into Google, and the answer automatically appears without needing to click through to a web page. This is a featured snippet.
Here is an example of a featured snippet result for "How much do YouTubers make?"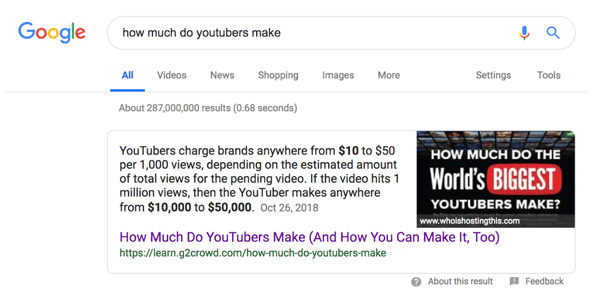 And, beyond featured snippets, the search engine's changes to meta descriptions in 2017 and 2018 could also have an impact on CTR.
First, the average description length climbed to 230 characters in November 2017.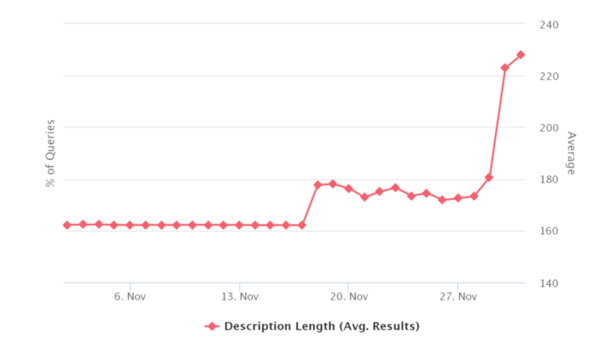 Meta descriptions are one of the few pieces of information a searcher has to go on when deciding which result to click. As a result, many site owners scrambled to update theirs — which could've easily had an impact on their CTR.
So as you evaluate your site, take a look at how effective your site is at attracting traffic from search results.
You can track your CTR in Google Search Console by navigating to Status > Performance.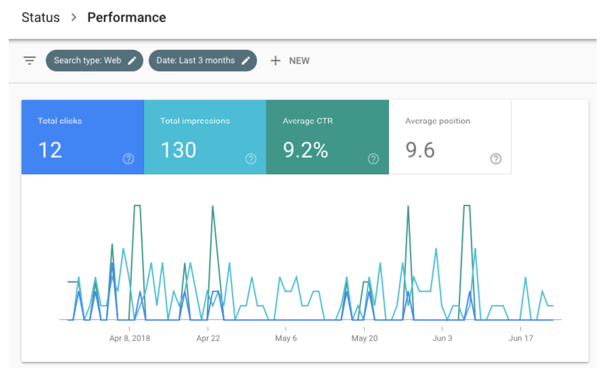 This will give you an idea of how effective your site is at catching searchers' attention.
And if you're not happy with the results, you may want to experiment with different strategies for appearing in Featured Snippets.
5. Create high-quality content that's optimized for SEO
Content is an essential part of any site audit.
And by this point, you're probably aware that content length has an impact on rankings. In fact, pages that rank within the top three positions are an average of 45% longer than content in the 20th position.
And it's not just the words you use, but the formatting as well. Proper use of headers - H2s and H3s, can greatly impact your ability to rank and be included in featured snippets.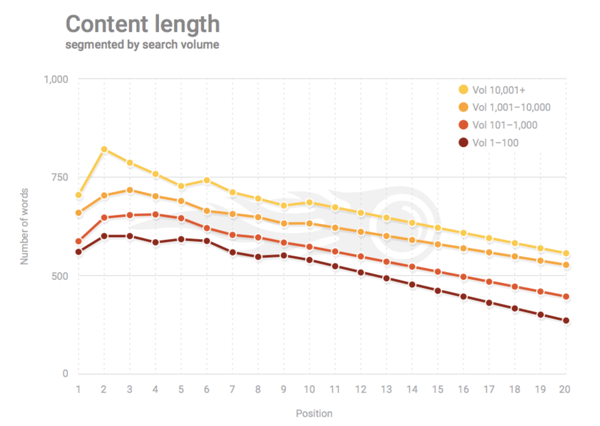 So as you audit your site, it can be helpful to find "thin," low-quality pages. One of the easiest ways to do this is to crawl your site with a tool like Screaming Frog, then sort your pages by the word count column.
If you notice any pages with extremely low word counts, this could indicate that they're lacking in helpful content.
That said, it's important to remember that word count isn't the only factor that matters.
Your primary goal should always be to provide quality to your visitors — and you won't reach that goal by focusing solely on the number of words.
So don't settle for the cheapest content you can buy, because besides being boring, it could be chock-full of potential plagiarism and grammar mistakes, too.
If you can, try to produce a diverse range of content types, too. For example, like adding videos to your long-form content to give users multiple ways to consume content. This is a strategy Snowboard Addiction used to generate $1 million in sales.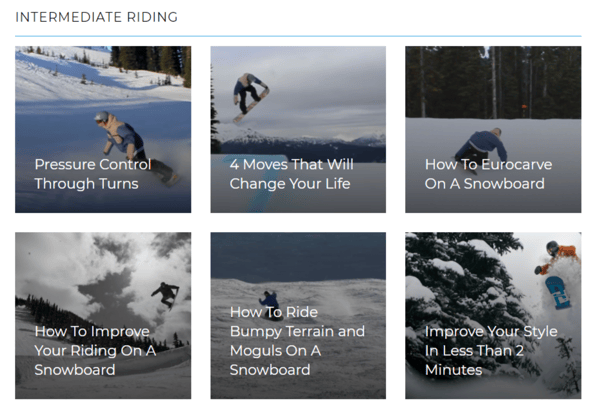 Related: Don't spoil your chance of ranking before you even hit publish. Learn what

keyword cannibalization

is and why it's important.
6. Avoid duplicate Content
You likely already know that duplicate titles, headings, meta descriptions, or body copy can create issues for SEO.
But you'll want to pay particular attention to this if you started your new site on a platform web content management platform, such as HubSpot or WordPress.
When you create a site with one of these content management systems, you have many options for customization. You can change the structure of your menus, static pages, and virtually everything else that impacts how users and search engine crawlers navigate your content.
The problem with some sites is that the default setup for categories and tags can often create duplicate content issues.
That's because each category and tag will have their own page that features all relevant posts.
If these pages include the full version of each post (instead of brief, 1-2 sentence snippets), they can compete with the original post -- causing lots of duplicate content issues.
You can determine whether this is an issue for your site by performing a site search ("site:www.yourdomain.com"). Go to the last page of results and look for the following message at the bottom of the results page.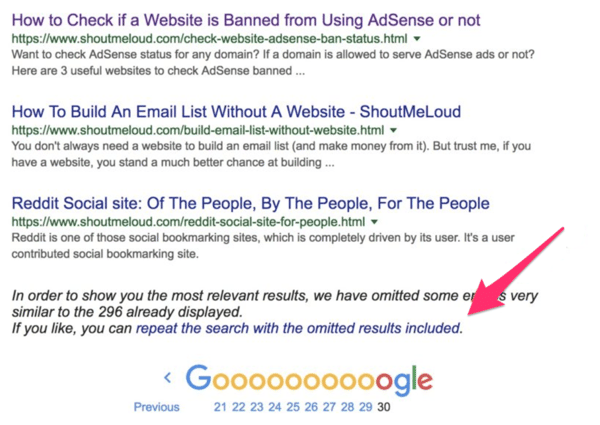 Click "repeat the search with the omitted results included," and you'll see all of the pages from your site in Google's index.
If you find that your category or tag pages are creating duplicate content issues, your first option is to add "Read More" tags to your posts, so that only a portion of them will appear on these pages.
Or, if you'd rather that these pages not appear in search, you can de-index them altogether.
With a plugin like Yoast, that's as simple as updating your Search Appearance preferences.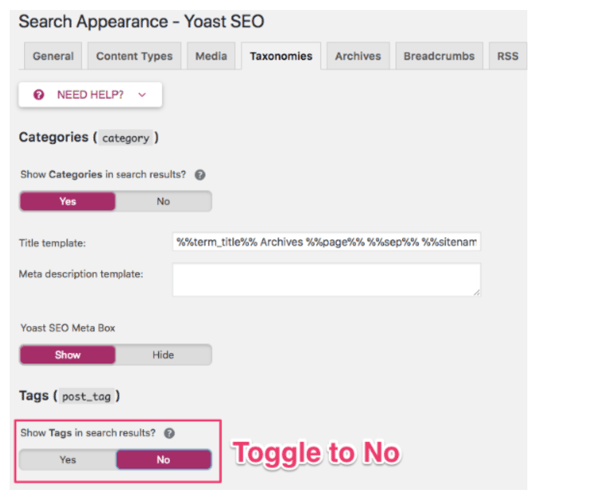 Still, you can check for duplicate content issues by running a Screaming Frog report, then sorting your pages by title.


If you have any identical (or extremely similar) page titles, this could signal that you have multiple pages with the same content on your site.
TIP: Having a keyword mapping strategy can help brands decrease the change of duplicate content on their site.
7. Fix crawl errors
While the majority of the factors I've covered so far impact your site's ability to rank, crawl errors can prevent it from being indexed in the first place.
Fortunately, these types of errors are easy to identify in Google Search Console.
Navigate to Crawl > Sitemaps > Add/Test Sitemap. Then, add an updated sitemap with the pages on your site that you want indexed.
Once your sitemap uploads, you'll see the following report comparing the number of pages submitted compared to the number indexed.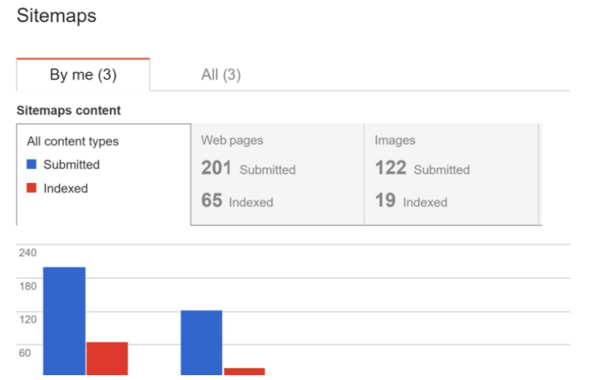 If there's a significant difference here, this could signal that issues are preventing your content from being crawled.
In this case, you'll want to check out the Crawl Errors report to figure out what those issues are and address them as quickly as possible.
8. Decrease bounce rate
Bounce rate has always been an important metric for site owners. After all, high traffic numbers won't do you any good if all of your visitors immediately leave.
What is bounce rate? Imagine someone asks Google a question. Your page appears in the search results. They click on that page, find their answer, then close the page without viewing any other content on your website. This is a bounce.
And while Google says that bounce rate isn't a ranking factor, there's a clear correlation between high rankings and low bounce rate.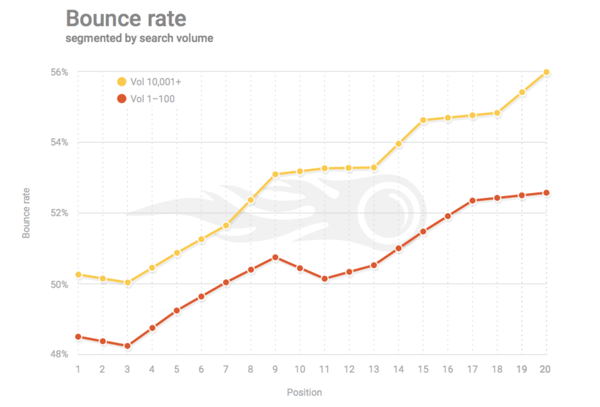 As you can see in the graph above, the average bounce rate for pages ranking in the top position for high-volume keywords is around 50%. That number increases to 56% for pages ranking in the 20th spot.
To be clear, this chart only shows correlation -- not causation. This relates more to website usage and content engagement to show that people actually like what they're reading.
Still, as you audit your site, it's worth your time to look for pages with particularly high bounce rates.
If you're able to identify and fix issues that could be causing your visitors to leave, you can increase the chances that they'll stay long enough to convert. Make sure to add internal links to related articles near the top and bottom of your posts to lower bounce rates.
And while it's unclear whether that will have an impact on your rankings, it can still make a difference in the value that each of your rankings has to your business by translating more of your organic traffic into customers and clients.
9. Use inbound links
Links have always been a staple in the SEO world. They're how Google and other sites assess your level of authority, and they can make all the difference in your ability to rank well.
It should come as no surprise, then, that domains with higher numbers of backlinks consistently outrank those with fewer.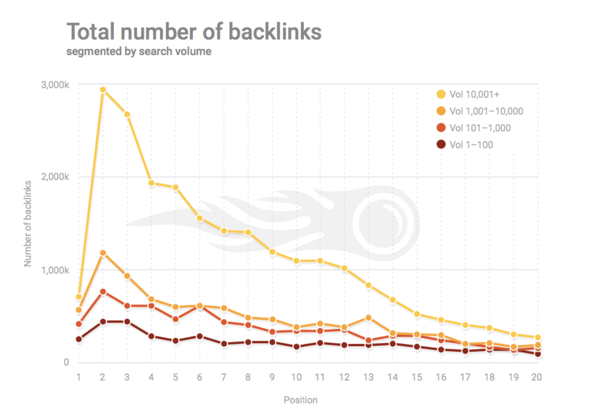 Still, much like with content, quantity isn't the only thing that matters. To improve your authority (and your rankings), your links need to come from reputable sources. For example, writing quality guest posts on high Domain Authority (DA) sites is a great way to get high-quality inbound links.
You also need an audit process which includes a backlink analysis.
Fortunately, SEO tools with a Backlink Checker, such as Ahrefs and Unamo, make this relatively easy. First, it provides an overview of your site's referring domains and pages.
Here you can see an example from Ahrefs: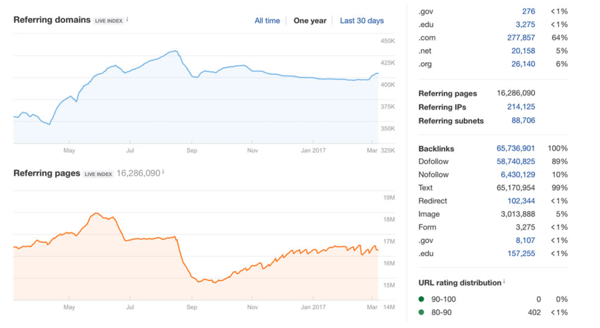 You can use this report to get a high-level overview of all of the sites linking to yours. Then, you can use additional reports to learn more about the specific domains in your backlink profile.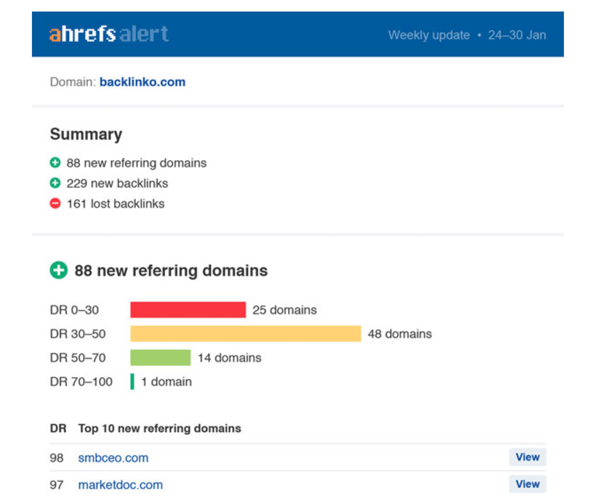 If you find any links from spammy, low-quality sites, these could potentially harm your ability to rank well.
In that case, you can ask Google not to take them into account when assessing your site using Google's Disavow Links tool. There are potentially dozens of tools you can use combined or separately, so choose whichever you are most comfortable with. Be sure to use a password manager, too.
This way, you can prevent bad links from damaging Google's perception of your site — and ensure that your backlink profile provides an accurate reflection of your quality.
10. Build internal links as part of your on-page SEO strategy
When SEO professionals discuss links, backlinks from other sites often dominate the conversion. But your site's internal links are also extremely important.
From a user standpoint, internal links help visitors find the content they want. Look for opportunities to interlink your content. When you create a new blog, add links to it from your old posts.
However, if internal links are, this can damage user experience.
But from a search engine standpoint, internal links are how crawlers make their way through your site and find your content. As a result, broken links can prevent search engines from correctly indexing your pages -- making it impossible for them to rank.
This is a common issue after significant site changes, as redesigns and other updates typically involve redirects.
When done correctly, redirects don't have an impact on SEO. But when done incorrectly, they can make it difficult for both users and search engine crawlers to navigate your site.
Fortunately, finding these issues is easy.
Run a site crawl with a tool like Screaming Frog, and take a look at the Status Code column.

Pages that are working correctly will show either a 200 (OK) or a 301 (Moved Permanently) code.
If you see any pages with a Status Code of 403 or 404, this signals that you have broken links on your site.
In this case, you'll want to address them as quickly as possible and remove any barriers for your visitors and crawlers.
---
Building your on-page SEO strategy
Maintaining strong rankings in search results requires checking in on your site's optimization on a regular basis. It also means making it a priority to keep up with algorithm updates and other trends in search.
As Google and other search engines place increasing emphasis on user experience, though, optimizing a site for search is becoming more about providing a great experience for your visitors.
That's why some of the most critical elements to include in a 2019 on-page strategy, like mobile-friendliness, page speed, and content quality, are directly tied to how users access and navigate your site.
Beyond these, many of the factors you'll want to pay attention to remain largely the same.
After all, Google's goal of providing great content for their users hasn't changed — and neither have many of the elements they use to evaluate how well sites meet this goal.
Ready to learn more about SEO? Discover the best local SEO software for 2019.