Can't find a comprehensive nonprofit statistics round-up? What gives?
Or maybe the real question should be, who gives? No matter what burning questions you have about nonprofits, this statistics round-up has the answers. We've collected high-level data points covering everything from who is giving, how much they're giving, and where they are giving.
Looking for information about a specific area of nonprofits or fundraising? Use the links below to jump ahead:
Nonprofit growth statistics
If you're looking for a bright spot or some good news, look no further than these statistics about nonprofit growth. While it does seem that the number of individual donors is down, the amount of money being poured into nonprofits remains on the rise.
Individual giving statistics
While individual giving overall is down, we're seeing newer demographics getting involved in charitable donations. This is a good sign for the future of charitable giving and nonprofits overall.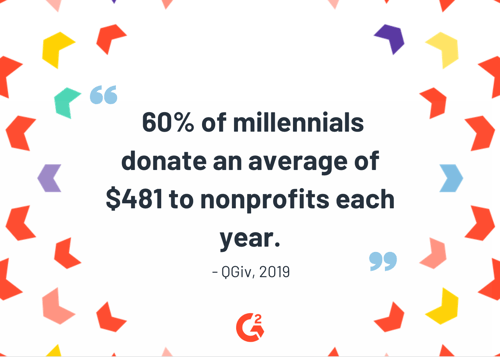 Nonprofit financial statistics
Just how much money is being poured into nonprofits annually? These statistics show the value behind donations and individual contributions. The health of the nonprofit sector looks great with numbers like these behind it.
Volunteering statistics
There's more to supporting nonprofits than just writing a check. Volunteers provide the manpower to help accomplish nonprofit goals and missions.
Online fundraising statistics
The latest trend in fundraising is using digital marketing and social media platforms to reach donors. Think this trend is a passing phase? Maybe these stats about online fundraising will change your mind.
Give it up for generosity!
Despite what conventional thinking might have you believe, generosity is on the rise. The next time someone asks if nonprofits have the impact today that they used to, show them these statistics to help change their mind.
Or better yet, download our free nonprofit stats one-sheeter and give them something to think about!