The nonprofit sector is getting a serious tech upgrade.
It was announced today that Microsoft's Tech for Social Impact (TSI) team is going all in on charities with a brand new digital platform. The new initiative is aimed specifically toward small nonprofits with fewer than 10 employees that often find themselves juggling multiple jobs at once. It's called Microsoft for Nonprofits.
Microsoft for Nonprofits
This new product offering from Microsoft marks a major investment the company is making in building support around the nonprofit community.
What is Microsoft for Nonprofits?
Microsoft for Nonprofits is a new series of digital solutions offered by Microsoft to help small nonprofits digitally transform their marketing, communications, and outreach strategies online.
The series of software solutions aims to help nonprofits digitally transform by arming them with both the access to best-in-class, nonprofit-specific technology and the ability to effectively utilize it.
Interested in learning more about Microsoft for Nonprofits and digital transformation? Click the links below to jump ahead:
What's included in Microsoft for Nonprofits?
Microsoft's Tech for Social Impact team is launching a series of solutions that help nonprofits transform themselves in the digital space with nonprofit-specific technology Here's a high-level overview of what they'll be offering.
1. Microsoft 365 Business for Nonprofits
Microsoft 365 Business is an integrated solution that brings together the best-in-class productivity of Office 365 with advanced security and device management capabilities to help you securely run and grow nonprofit organizations. Nonprofits can get Microsoft 365 Business with up to 10 seats donated, and then pay just $5 per additional user per month.
Curious what Microsoft 365 Business can do for your nonprofit? Read reviews from real users like you.
2. Microsoft's Digital Skills Center for Nonprofits
Microsoft's Digital Skills Center for Nonprofits, in partnership with TechSoup, is a one-stop learning path platform full of product training and skill-building content to help nonprofits be successful with technology. New content and courses will be added regularly to encourage ongoing learning and growth.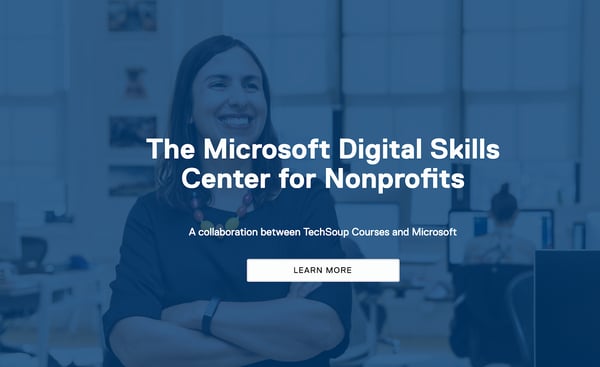 The Microsoft Digital Skills Center offers beginner, intermediate, and advanced courses that will train nonprofit employees on how to get the most out of their Microsoft products. They are even advanced courses in Excel and Powerpoint to take your nonprofit marketing to the next level.
3. Microsoft Nonprofit Operations Toolkit
Available Oct. 1, Microsoft Nonprofit Operations Toolkit is a solution that utilizes Microsoft Power Platform to streamline common operational tasks, like project and award management, to reduce costs and build trust with funders.
For nonprofits to make the greatest impact, they must have both the access to technology and the ability to effectively utilize it. Microsoft is offering nonprofits the chance to master both in order to bridge the digital divide.
Why is adopting digital transformation important for your team?
Nonprofits aren't known for being tech-savvy, but that doesn't mean they can just ignore that aspect of the job all together. We're living in the middle of a digital revolution. Companies that refuse to keep up with the latest tech trends are more likely to fall behind their competitors. Here's why your digital transformation is the future of business.
1. Increasing your productivity saves your team money
According to G2 Grid data, companies that implemented an Office Suite Software saw returned ROI on their investment just eleven months after implementing the software. We've also found that 87% of people who use Office Suite software would recommend a similar product to their peers.
Our State of Software Happiness Report also shows that a whopping 95% of employees feel more productive at work when they're using the right software.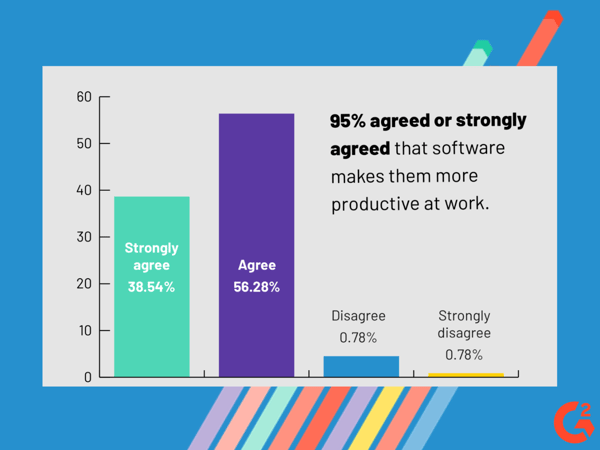 A more productive team means less time wasted and more money saved. For a small nonprofit, those wasted minutes could add up to huge financial loss.
2. Better software solutions increase employee retention and happiness
Our State of Software Happiness Report also shows that the impact of bad or ineffective software impacts the employee experience in a negative way. According to our research, nearly 25% of employees have considered quitting their job over bad software.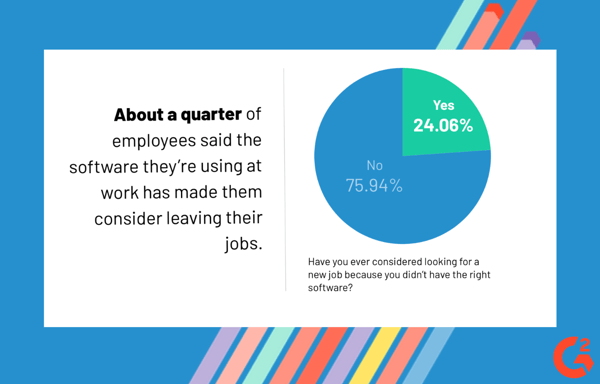 In an industry known for burnout and a lack of tech savvy awareness, the nonprofit sector is prime to deal with this problem. The right software solution won't just make your employee's job easier, it could keep them from quitting out of frustration.
How can nonprofits leverage digital transformation?
Microsoft is just the latest tech company investing in the nonprofit sector. Corporate social responsibility has become a major focal-point for businesses. For tech giants like Microsoft, that means educating small nonprofits on the right way to digitally transform their entire business.
Here are three quick tips for how you can use digital transformation for your nonprofit:
1. Get smart on the latest tech
Nonprofit employees need to know how to use the technology they're adopting. There are plenty of ways to do this. Using verified G2 user reviews to vet technology before you purchase it is one thing we recommend.
Another? Use the resources available to you. Taking advantage of the Microsoft's Digital Skills Center for Nonprofits, or LinkedIn Learning courses can help you sharpen your skills and become a more informed consumer.
2. Keep your organization and data secure
20% of nonprofits report under-funding infrastructure, including technology. Many smaller organizations aren't equipped to protect themselves against cyber-attacks, and this under-funding makes nonprofits easy marks for hackers.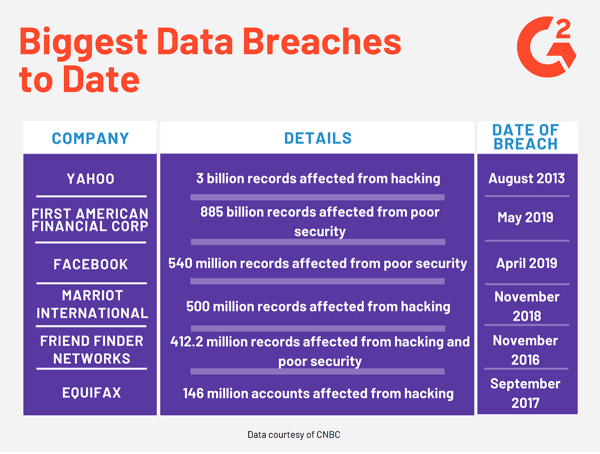 Protect against external threats and data leaks with built-in privacy compliance tools and customizable data loss prevention policies to protect data, while also allowing the right employees to access the right data across multiple devices and platforms.
Looking for a solution to prevent data breaches? Keep your tech-stack compliant with the help of G2 Track.
3. Tap experts
Alongside the launch of Microsoft for Nonprofits, the team also reminds nonprofit professionals that Microsoft has a community of partners that help accelerate a nonprofit's digital transformation and get them set up with the best solutions for their organization's needs.
G2 also has a variety of experts contributing nonprofit-centered content to our Learning Hub every day from both inside and outside our organization. If you're looking to add expert content to your blog or website, you can tap G2 writers to contribute to your network today.
There's a G2 expert for you: Meet our writers and find an expert to write for your blog or website today!
Being a small nonprofit doesn't mean small ambitions
Your nonprofit is making big moves to change the world – you deserve the right tools to help make that happen. Microsoft for Nonprofits is just the latest innovation giving nonprofits the power to control their message online and amplify their cause to millions around the world.
Interested in learning more about how to digitally transform your nonprofit? Check out these tips for using social media to enhance your nonprofit marketing strategy.